DIY sunnies are craft projects that will help you give old pairs of sunglasses a makeover. These DIY sunnies are fantastic projects for the summer. Aside from being season-appropriate, they are incredibly easy and fun to do, as well. I suggest that you get together with your favorite girl friends and make an afternoon of it. Enjoy!
---
1

D&G-Inspired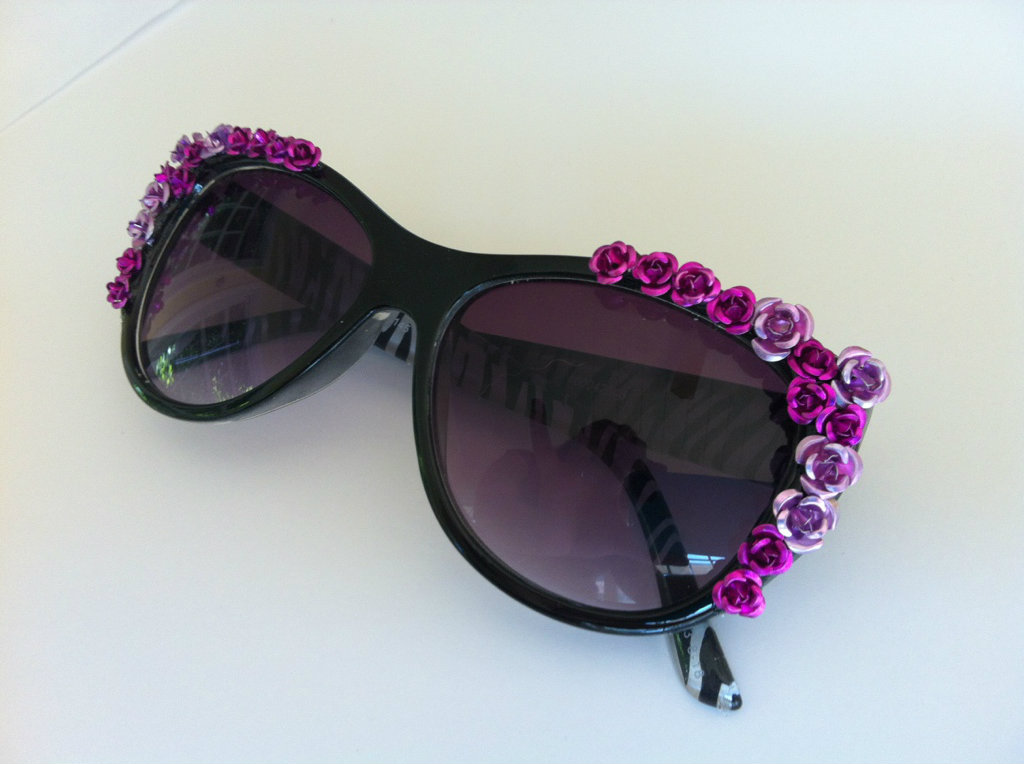 There were sunnies like these worn by models during the D&G A/W show. To make your own, you will need an old pair of sunnies, tiny decorative flowers, and super glue. Design variation: use different-colored flowers. You can also decorate the entire frames.
---
2

Polka Dot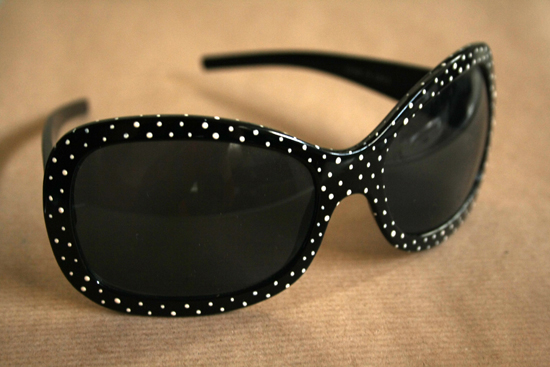 How fab are these DIY sunnies? The great thing about this craft project is that it's very easy to do. You simply dab toothpick on paint and then put dots on the frames of your sunglasses. You can even paint the sides as well. I bet this idea will be extra fab if you pick colored glasses with complementing dots.
Trendinig Stories
More Stories ...
3

Mod-Podged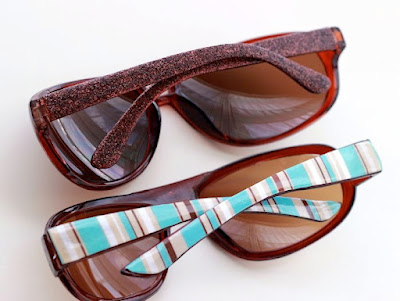 Yes, you can use Mod Podge to give fashion accessories their much-needed makeover. For this particular DIY idea, you will stick pretty paper to the sides of your sunnies. You will also need a product called Dimensional Magic to give the sides of your sunglasses a resin-like finish.
---
4

Pearly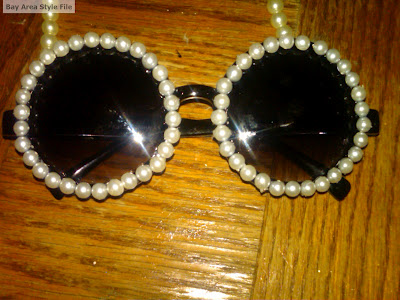 The steps for making these** DIY sunnies** are pretty much the same as the D&G-inspired ones. Instead of using plastic flowers, you will need pearls, of course. Design variation: add pearls only to the upper corners of your frames.
---
5

Studded

If your style is mode edgy and less girly, this is the** DIY sunglasses tutorial** for you. You will need studs, sunnies, and super glue. You simply glue the studs along the top of your sunglasses' frames and that's it! Use less pointy studs if you don't want your sunnies to look like weapons.
---
6

Juicy Couture-Inspired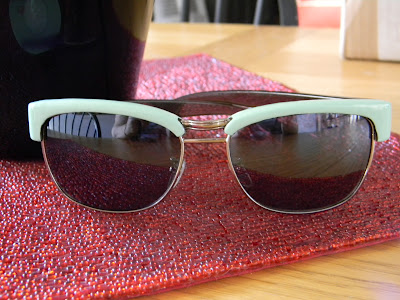 This is another DIY sunnies project inspired by a designer pair. For this particular craft tutorial, you will need shades in retro style, mint nail polish, and acetone. You will need the acetone to clean your frames before painting them in this yummy mint color.
---
7

Color Pop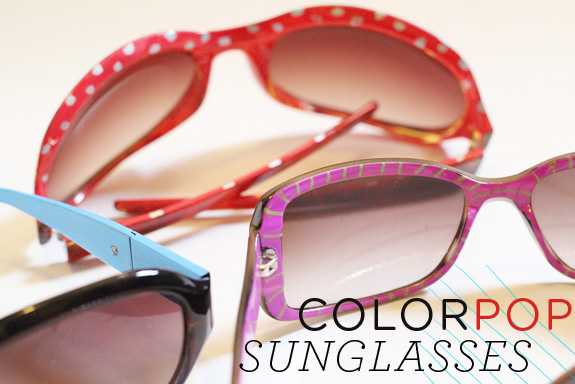 For giving sunnies a colorful makeover, you will need oil based Sharpies. This DIY sunnies idea is great for those who don't really want a very obvious transformation; you will be painting only the "non-public" sides of your frames.
---
8

Sparkly Cat Eyes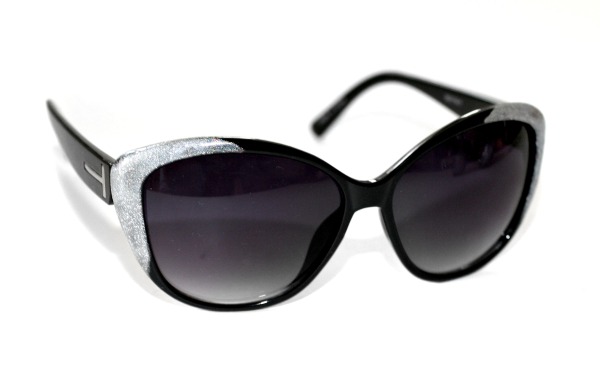 You will also need nail polish for doing this** fun DIY sunnies tutorial**. Design variation: instead of using cat eyes sunglasses, you can also use the usual wayfarers or retro style. You can also choose to paint the entire frames.
---
9

Rhinestoned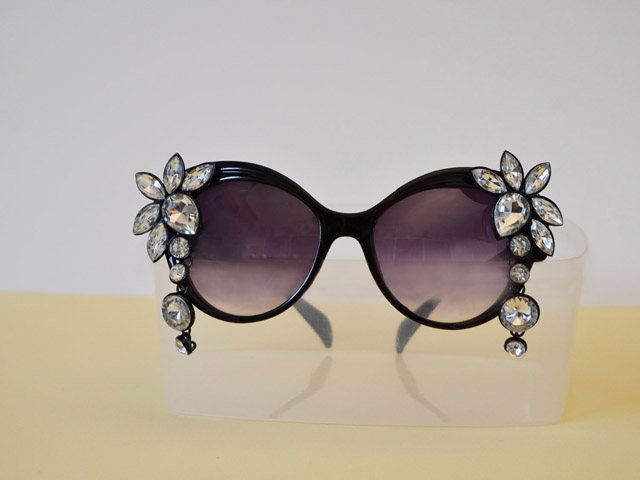 How cute are these? This is a fun craft project because you can pretty much use items that I'm sure you already have in your vanity. In fact, the rhinestone decorative details used for the pair above were earrings.
---
10

Hand Painted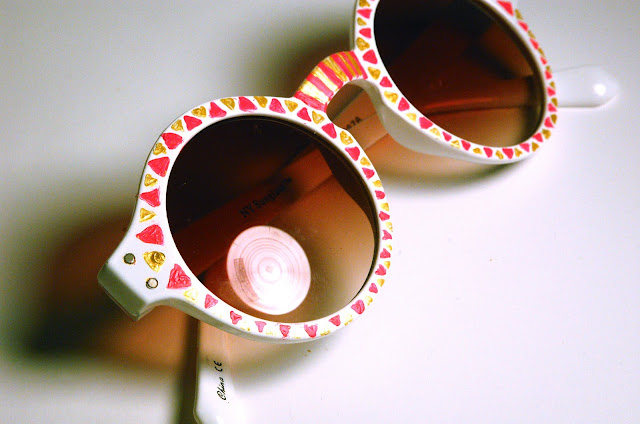 Feeling extra creative? Give an old pair of sunglasses the hand painting treatment! I might try this idea and paint little turquoise and plum flowers on my old sunnies.
Aren't these DIY sunnies fun? Hope you find inspiration from this DIY list! I'm off to find my old pair of sunglasses so that I can try one of these DIY sunnies tutorials.
---
Popular
Related
Recent