Booties for Fall are a must to get now that the seasons are changing! I am so geeked and excited to see some of the leaves falling and the colors changing. It means, out with the sandals and in with the booties for fall! What girl doesn't like to show off her new booties for fall in all of the festive colors? Below, I've come up with 7 chic, fab and flirty booties for fall that I know you ladies are going to love!
1

Floral Peep-Toe Bootie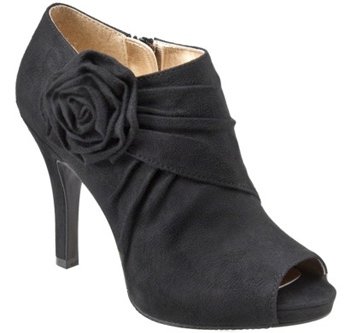 Price: $25.48 at target.com
Seriously ladies, I'm obsessed with these little booties for fall. They are so friggin' cute! The peep-toe still gives you a little sexiness to it and the floral detail keeps you in style. I'd totally wear these to the office once fall really hits!
2

Buckle up Bootie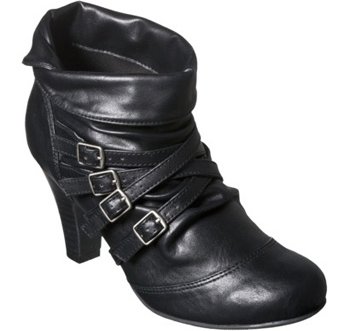 Price: $29.99 at target.com
So I kind of have a thing about buckles. I think that they are high-fashion, a little Gothic and totally chic. That's what this bootie is all about! It's black, it's leather, it's got some embellishments of silver on it – what more could you ask for!?
3

Jersey Fashion Wedge Bootie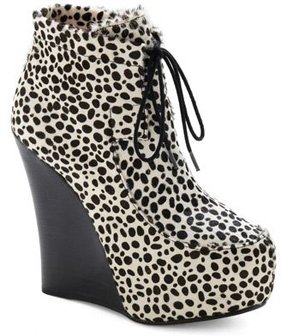 Price: $209.99 at modcloth.com
As you probably already know ('cause I watch Jersey Shore, Jerseylicious and of course the Jersey Housewives), I love Jersey fashion. I'm too pale to pull it off, but with these booties for fall, I think that I could pass for someone who lived in Jersey. They are high, they are loud, they are animal print and – hey, they look awesome! Meow chicas!
4

Bowtie Chic Bootie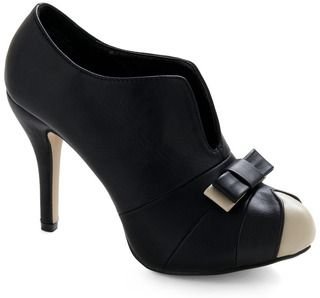 Price: $42.99 at modcloth.com
You may have already noticed the bow trend going on. Personally, ribbons and bows have never been my thing, but this pair of booties for fall really make me love the bow. It's simple, it's got a little color to it and it's the best office bootie. Vintage, sassy and fashionable all at the same time – this bootie has got some attitude!
5

Lady Gaga Bootie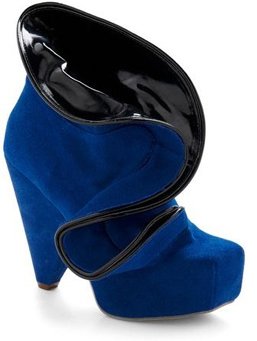 Price: $152.99 at modcloth.com
Have ya'll seen some of Gaga's fashion-forward outfits? While the meat dress and arriving in an egg isn't for me, this bootie will get a reaction. It definitely looks like something Ms. Gaga herself would wear. The color is bright, the shape is strange and I love the patent leather on the inside. Throw these booties on with your little black dress and you'll get noticed all right!
6

Fur Booties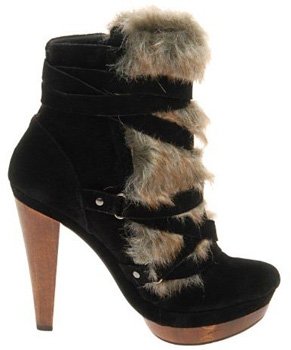 Price: $55.00 at amazon.com
When Fall hits, I am all about the fur – faux fur mind you. These ankle booties are so hip and so stylish that I almost ran up my credit card even more buying them! I love the mixture of faux fur, suede and ribbon – did ya get a look of that heel too? Man, if I wore these, I think I'd have to hold onto someone everywhere I walked but guess what? It's worth it!
7

Lace & Leather Bootie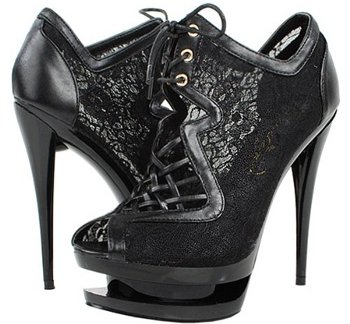 Price: $44.00 at amazon.com
Finally, we get to the heart and soul of autumn: mixing soft fabrics with hard fabrics. In this case, it is lace and leather. Naturally, I think that these two should go together all of the time, but when they produce a bootie like this? Wow. Simply wow. What don't I love about it? I love the laces, the design and the high, high heel of it!
Booties are something that I could wear every single day of every single season. Booties for fall though are some of the best. I love the mixing of hard with soft, fur with suede and all of the cute designs that are coming out! What types of booties for fall do you ladies like? Share some tips that you use when you are looking for a deal on booties for fall!