Incorporating bright, bold colors into your wardrobe can be a daunting task, especially if you tend to favor more subdued tones and traditional garments; you might be wary about finding fabulous ways to wear neon. Unfortunately, the safe go-to palette of soft grays and soothing lilacs has lost ground to the colors du jour, namely the cheery primary colors and increasingly intense and unconventional hues popularized by cutting edge celebrities like Katy Perry, Lady Gaga, and Rihanna. Like many new age pieces, neons pose a particular challenge to trendsetters unsure of how to use flashy colors as tasteful embellishment rather than a gaudy throwaway. Here are a few simple but fabulous ways to wear neon that run that gamut from blatant in-your-face color to subtle neon hues meant to add a simple splash of color to a well-established wardrobe.
---
1

Bendie by Jessica Simpson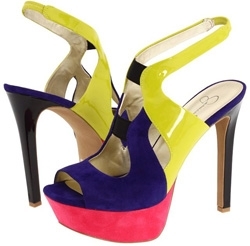 Price: $89.00 at zappos.com
Though not generally a fan of celebrity clothing lines, I was pleasantly surprised by Jessica Simpson's voguish collection of platform heels and stilettos, and think it represents a fabulous way to wear neon. Reminiscent of Jeffrey Campbell's funky vintage feel, the collection generally incorporates a hippie, boho allure. The Bendie, however, is pure downtown club scene: a daring fuchsia platform literally puts you above the competition while eye-catching cutouts guarantee to get you noticed. Spice up your most beloved LBD or pair with a glowing yellow frock for a touch of mod.
---
2

Aqua Cream Eyeshadow by Make up for Ever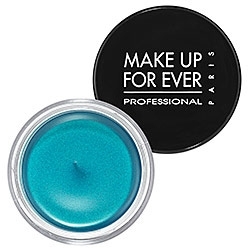 Price: $22.00 at sephora.com
Nothing spells confidence like a woman who's willing to rock an intensely pigmented shade of shadow for a night out on the town. Experiment with this long-lasting, creamy shadow, ideally suited for blending and shading. Create a turquoise smoky eye and pair with a sheer, black top or feel out your monochrome side with a pleated dress in the same hue.
---
3

Current/Elliott Boyfriend Denim Shorts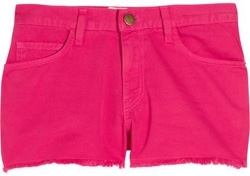 Price: $150.00 at net-a-porter.com
Though it may be somewhat counterintuitive, neons can go casual. A prime example is this pair of luscious berry-colored boyfriend shorts by Current/Elliott. Show off your feminine curves this summer in these flawless cutoffs constructed of rigid denim. Wear with a cropped band t-shirt, leather cuff, and gladiators sandals for a look that's sure to impress.
---
4

Kristopher Cane Two-Tone Leather Platform Sandals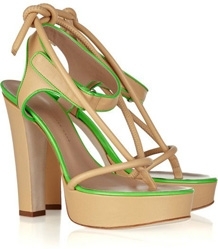 Price: $325 at net-a-porter.com
If you're particularly shy, the thought of donning some sort of neon garb may make you feel a bit queasy with self-consciousness. But, as we all know, sometimes less is more. Christopher Kane certainly obeys this age-old rule with this leather platform currently on sale for 50%. For a really fabulous way to wear neon, glam up this sexy nude leather and lime green piping with a mint bodycon dress and tangerine bangles.
---
5

Barneys New York Medium Envelope Gusset

Price: $68.00 at barneys.com
If you go gaga over purses, it's likely that you have a pretty decent collection of bags in your closet. Along with your classic black and brown leather, durable canvas, and soft suede, every girl should most definitely possess a brightly colored carryall for those days when her outfit is begging for a little extra oomph. Snatch up this sienna envelope clutch from Barneys for just such a day. Pair it up with a nude linen dress and pearls or a black mini and bright top.
---
6

Melissa Odabash Equador Bikini

Price: $170.00 at net-a-porter.com
With summer comes some long-awaited quality time with the beach, and a sexy bathing suit is definitely a fabulous way to wear neon. Not only will it set you apart from more tame bathers, but neon also looks notoriously great against well-tanned skin. Ooh là là. Layer a light wrap over your suit and enjoy the shade from a wide-brimmed woven hat.
---
7

Members Only Bomber Jacket

Price: $98.00 at amazon.com
This jacket was originally available at Urban Outfitters, which is known to pander to the hipster crowd, but quite often this nationwide chain produces pieces perfect for all. This cropped, neon bomber jacket, available in several neon shades, pairs a stylish cut with jaw-dropping color. Wear over a simple white v-neck with Daisy Dukes or chase that illusive country club look with a white mini and collared polo.

Since it's the perfect season for bright colors, there are many more fabulous ways to wear neon. Would you splurge on these items, or does neon still seem like a no-no? Be sure to let me know!
More
Comments
Popular
Recent