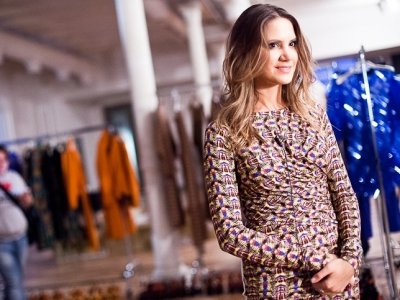 When I think about young designers, I imagine a world of fabulous innovative creations, yards of never before seen fabrics, and beautiful accessories. Fashion and accessory designers produce items that are compelling and practical in addition to being quite fashionable. These young artists are making their mark on the fashion world with their fantastic creations. I hope you enjoy this sampling of seven young designers who rock.
1.

Christian Siriano, 28

Guilty confession - Christian Siriano kicks off this list of young designers because I love his shoe designs! In addition to shoes, Christian also designs clothes and purses. His creations look as if they were plucked out of some fabulous movie! Christian began designing clothes at age 13 and continued his studies at design school in the US and London. Christian cites his parents' support as a major part of his success. In 2008, Christian competed in and won Project Runway. becoming the youngest winner in the show's history.

Check out his designs here christiansiriano.com
2.

Mary-Kate and Ashley Olsen, 28

This lovely duo became famous as child actors in the late 1980s and later branched out into movies and fashion. Mary-Kate and Ashley started their first line while they were still teenagers. The self-titled line was designed for preteens and debuted at Wal-Mart stores. As ladies grew up and their fashion tastes changed, MaryKate and Ashley created another two lines: the vintage/boho line – Elizabeth and James and the high-end couture line – The Row. Their most recent line Olsenboye marks a return to affordable department store pieces.

Check it out the multiple collections walmart.com; elizabethandjames.us; therow.com; jcpenney.com
3.

Kira Plastinina, 21

Kira Plastinina's entrance onto the fashion scene was incredibly fast. At age 16, Kira started her fashion career with sketches for a line and interest in a global market. Kira's father believed in her vision and provided the necessary financial backing to bring her designs to the world. The Kira Plastinina collection debuted in over one hundred Kira Plastinina boutiques in her native Russia and beyond. Today, many boutiques have closed but the collection is available in Russia and via the official website.

The designs are pretty and fresh, check them out at kiraplastinina.com
4.

Bella Weems, 17

The first time I saw an Origami Owl necklace I was in love. Have you seen them? They are lovely! Bella Weems is the very talented teenage brain behind this wildly successful business…and she's only 17! When Bella was 14 she wanted to buy her first car. Bella's mom encouraged her to start a business and earn the money to purchase her own car. Et voila: Origami Owl was born. After a little business research and inspiration from another young designer Bella began her journey as designer/entrepreneur.

Drool over them here at origamiowl.com
5.

Courtney Allegra, 16

Courtney Allegra's fashion rise happened pretty quickly. She began designing clothes at age 12 and at age 16 unveiled her first ready-to-wear collection: The Courtney Allegra Collection. Courtney's designs are brightly colored and edgy. She uses a wide variety of materials and textures like leather and metal in her pieces. Courtney's designs are influenced by her travels throughout Europe. The Courtney Allegra Collection is available online at her official website.

Have a peek here courtneyallegra.com
6.

Cecilia Cassini, 14

This little lady has been everywhere! I remember seeing her early designs (yes, early!) when she was about nine years old and it was all about the giant bow. Wow, has she come a long way in a relatively short period of time. Cecilia Cassini has been designing and sewing since she was six years old when she received her first sewing machine from her grandmother. Her current designs replace the extra large bow with sequins and rosettes. Her colorful designs have appeared in magazines like People and Vogue.

See it here: ceciliacassini.com
7.

Isabella Rose Taylor, 12

Just this past fall of 2013, Isabella Rose Taylor became one of the youngest designers to ever show a collection at New York Fashion Week! Isabella began designing when she was eight years old. She likes layers and describes her designs as hippie meets grunge. This girl is seriously talented. Her personal motto is one that we could all use: "Blood, sweat, and glitter" – put passion, hard work, and a little bit of fun into everything you do to achieve success.

See the collection here: isabellarosetaylor.com
8.

Melissa Jade, 12

Melissa Jade Aiello creates one-of-a-kind commissioned t-shirts. Each commissioned piece features a hand drafted sketch of any number of famous people. Melissa's t-shirts are so popular that she was featured in Vogue UK online. When Melissa was nine years old her mother and a teacher encouraged Melissa to turn her knack for sketching into wearable art. Melissa's brand, Tessby MissyX, launched in 2010 and is widely popular. Good luck getting your hands on a Tees by MissyX shirt; the site is overwhelmed with international requests.

Have a peek @ teesbymissyx.com
9.

Moziah Bridges, 11

Mo's Bows is a catchy name for an incredibly creative line of fashion: bow ties! When Moziah Bridges was nine years old, his grandmother gave him his first sewing machine. He has been designing and sewing bow ties ever since. Young Mr. Bridges loves bow ties so much that he began making his own using materials he loves. Mo's Bows are available online and in boutiques across the southern U.S. Moziah was also profiled in Vogue UK online. Moziah wants to attend fashion design school when he gets a little older. As if his passion and ambition to create a style he loves isn't enough, Moziah created a special charity bow tie: Go Mo Scholarship Bow Tie to help send kids to summer camp.

Peep his style at mowsbowsmemphis.com

These nine young people are creative and inspiring. I'm also seeing a fantastic pattern of familial support of creativity and expression. What's your passion?