How many times have you "double tapped" or "liked" a motivational fitness picture on Facebook or Instagram? Now imagine you could bottle up that motivation and bring it with you to the gym... well, you can, by wearing an inspirational workout t-shirt! And I've rounded up 9 of the best ones out there to push you to further your mileage, squat lower, and ultimately sweat more!
---
1

This is Why I Squat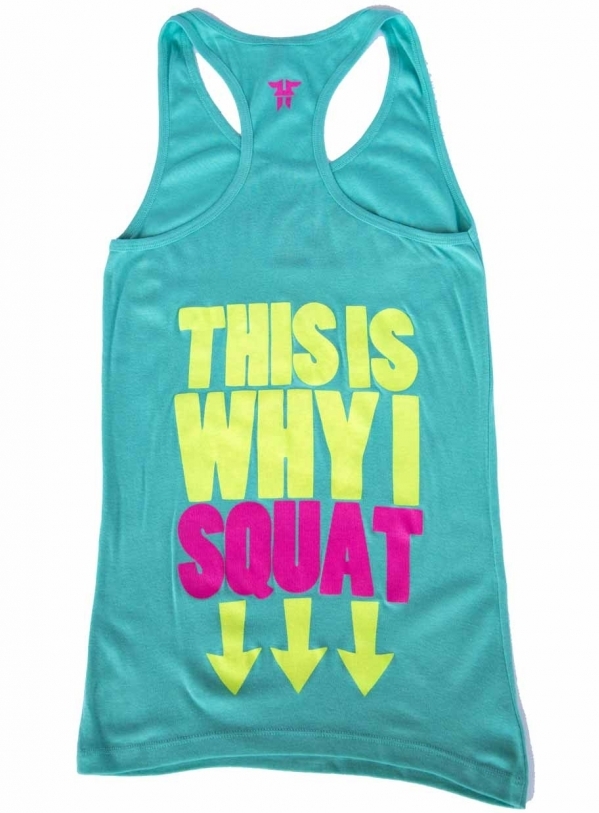 The CrossFit enthusiast and the common squatter alike will love this "This Is Why I Squat" inspirational workout t-shirt from HIPFIT. This fitted tank top reminds you that even when your legs are on fire or your butt feels like it's falling off, you're earning a great booty for your hard work! So why shouldn't you brag about it (and show it off)?
---
2

Eat Clean. Train Dirty. Live Hard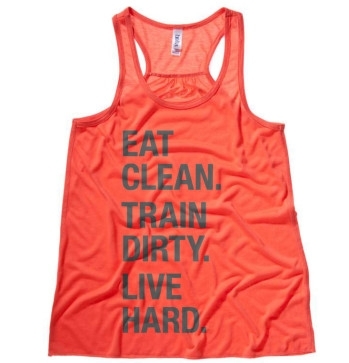 Sometimes inspirational workout t-shirts can help you remember why you started living a fit or healthy lifestyle to begin with. Are you struggling to maintain a gluten-free or Paleo diet? Remind yourself the reasons for your eating and training choices with this "Eat Clean. Train Dirty. Live Hard" tank top from The People's Bootcamp.
---
3

Everything's Fine, Just Keep Running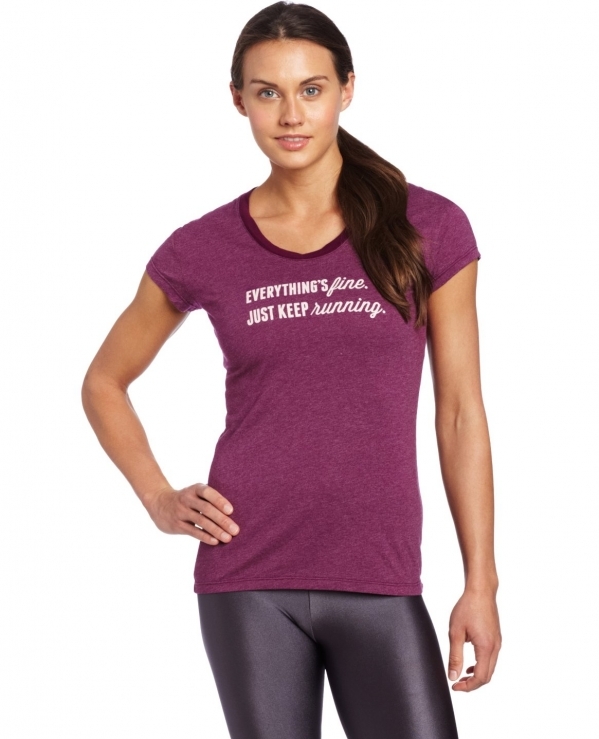 The perfect inspirational workout t-shirt for marathoners, runners, or cross-trainers who log long miles on the road, Oiselle's "Everything's Fine, Just Keep Running" inspirational workout t-shirt provides a mantra that will keep you going. The crewneck, 50% cotton, deep lavender fashion piece will keep you looking great, even after you're drenched in sweat!
---
4

No Matter How Slow You're Going ...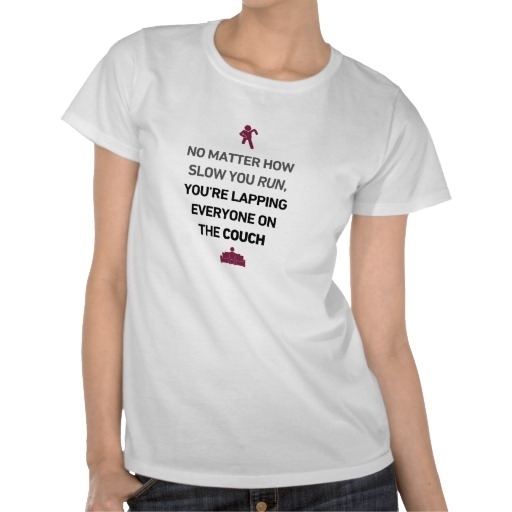 Let's face it – we can't all be beasts at the gym. But what this inspirational workout t-shirt from Zazzle does is applaud whatever fitness efforts you are able to give today. Whether it's a walk around the block, a few miles on a trail run or an intense bootcamp session, you're still lapping everybody on the couch, and bettering your body.
---
5

Never Let up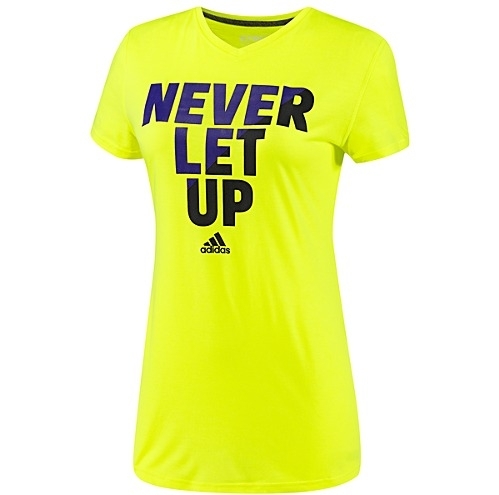 When the going gets tough (or the treadmill you are on seems impossible), giving up is very, very tempting -- as tempting as dessert, free cupcakes in the office kitchen, and second helpings! This women's Adidas t-shirt gives its wearer the push needed to keep you going. Stay strong!
---
6

Suck It up, Buttercup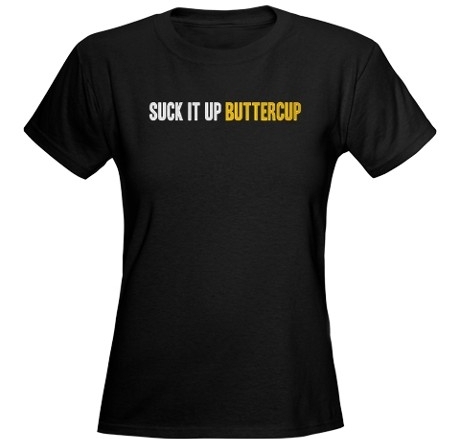 Sometimes, tough love is what you need. And that's exactly what you'll get from this "Suck it Up, Buttercup" inspirational workout t-shirt from CafePress. Your excuses and complaints aren't allowed while wearing this tee!
7

Run like Ryan Gosling is Waiting at the Finish Line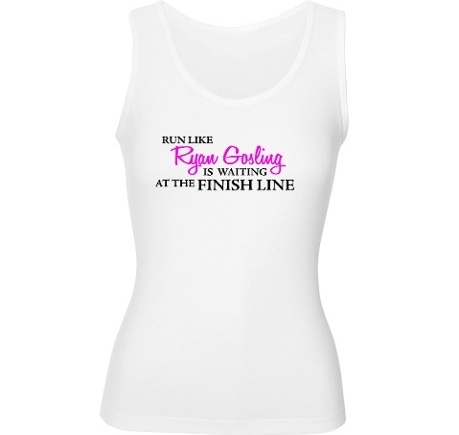 If the promise of toned legs, great abs and strong arms isn't doing it for you, get motivated to keep running by the man of your dreams. Run and train harder for arguably the most attractive man alive with this "Ryan Gosling is Waiting at the Finish Line" inspirational workout shirt from Cafe Press.
---
8

Sweat Every Day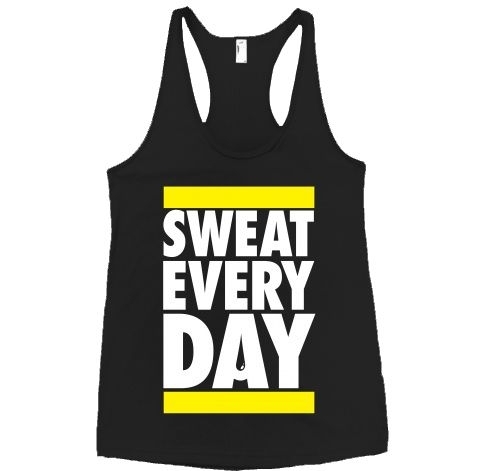 Combine the super softness of American Apparel clothing with the motivational workout phrase "Sweat Everyday" with this t-shirt! The mid-lightweight fabric and slimming cut make it the perfect tank to sweat hard in, as you'll have plenty of ventilation to dominate your HIIT regime, CrossFit class or track workout. Plus, the black color of the shirt will hide all of the sweat that's pouring out of you!
---
9

I Don't Sweat, I Sparkle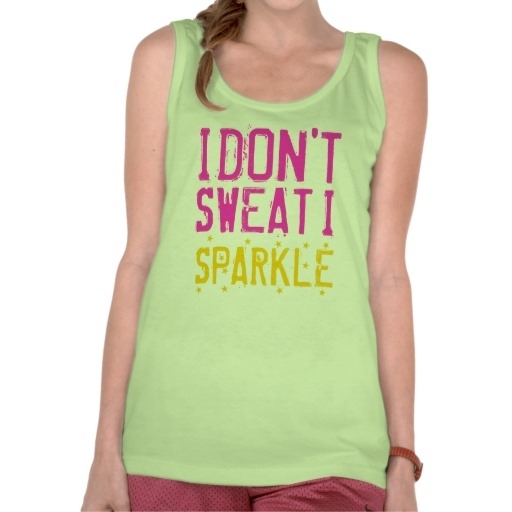 Working out provides natural endorphins to make you feel good, and eventually look good. So don't be shy about those sweat marks on your back. This "I Don't Sweat, I Sparkle" inspirational workout shirt is here to help you own the efforts exerted (and perspiration allotted!) to achieve the body of your dreams.
You can keep "double tapping" and "liking" all of the fitness motivations you see, but that won't get you to the gym or to your goal weight. Outfit yourself in one of these inspirational workout tshirts for the motivation you need to sweat, glisten and sparkle in style! Which of these tees do you like best?
---
Comments
Popular
Related
Recent