I am totally loving this years' LFW trends. Sure, there have been some bizarre outfits, but most of the London Fashion Week shows have been focused on totally-wearable outfits this season, as well as the high-fashion looks that we all wish we could wear. You totally don't need to wait for the high street to release its own interpretation of the looks this year, although upcoming collections are sure to be centered around these trends. Here are the LFW trends that you can embrace right now!
---
1

Jasper Conran's All White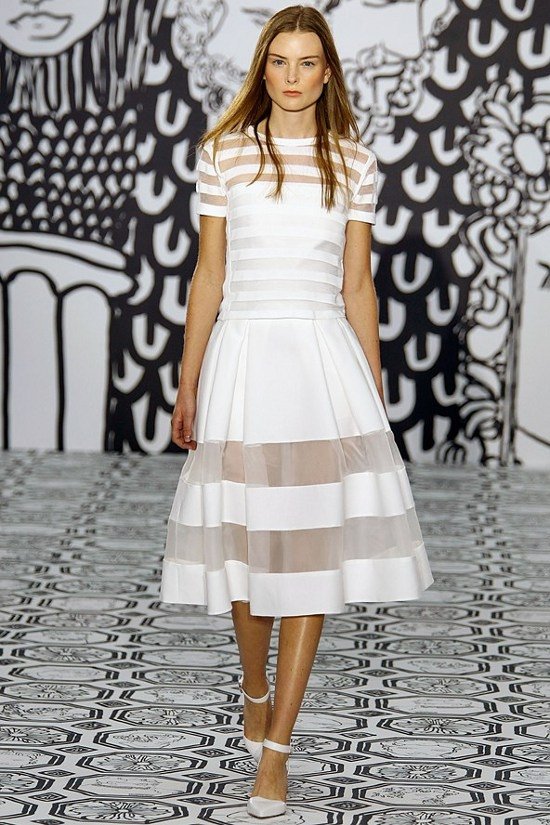 Jasper Conran's Ready-To-Wear collection was packed full of LFW trends, but this has to be one of my favourite looks. White is set to be huge this year, and the catwalk made sure that there were plenty of great ways to wear it for everyday fashion. This look is perfect for spring and summer days, looking chic as well as being cool. I love the matched top and skirt combo, but for a more casual look, try wearing a gorgeous skirt like this with a denim shirt or plain vest top.
---
2

Tom Ford's Sequins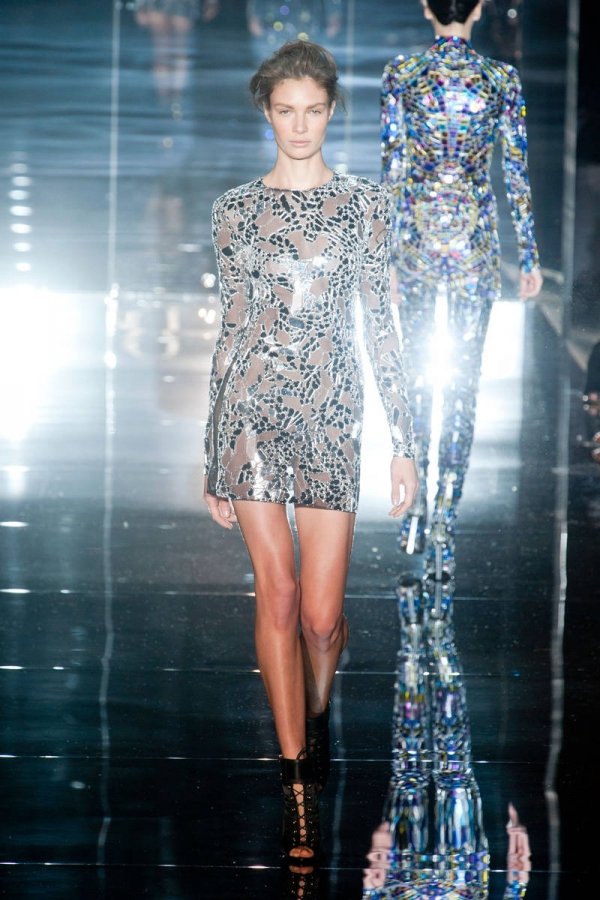 Tom Ford's show was packed full of designs that are certain to catch the eye. Sequins, shimmer and glitter were everywhere, but they were styled in such a way that made them eye-catching yet grown up, with no risk of looking like you were playing princess. I love this structured minidress, which combines long-sleeves with a bold color and some amazing texturing. Just add strappy heels, and you'll know that you look amazing.
Trendinig Stories
More Stories ...
3

The Daks Wide Trousers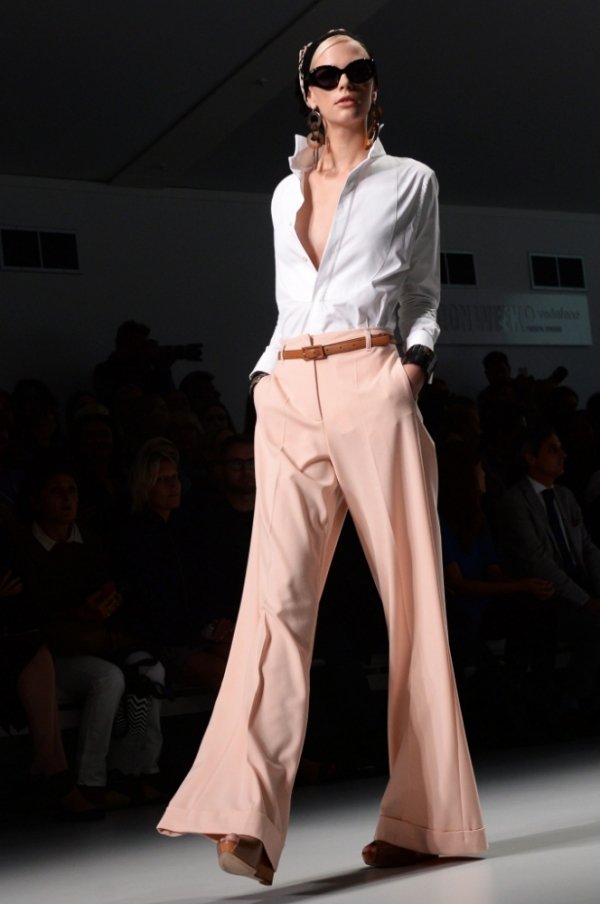 This outfit combines three hot trends. Pastel colours, masculine tailoring and wide leg trousers are all totally hot, and this look is chic enough that you could wear it out with friends or to work. I love the pastel peach trousers, and the undone shirt is very glamorous. To make it more work friendly, especially if you've got boobs, try wearing a white cami underneath. This is uber chic – I'll definitely be wearing this soon!
---
4

Whistles White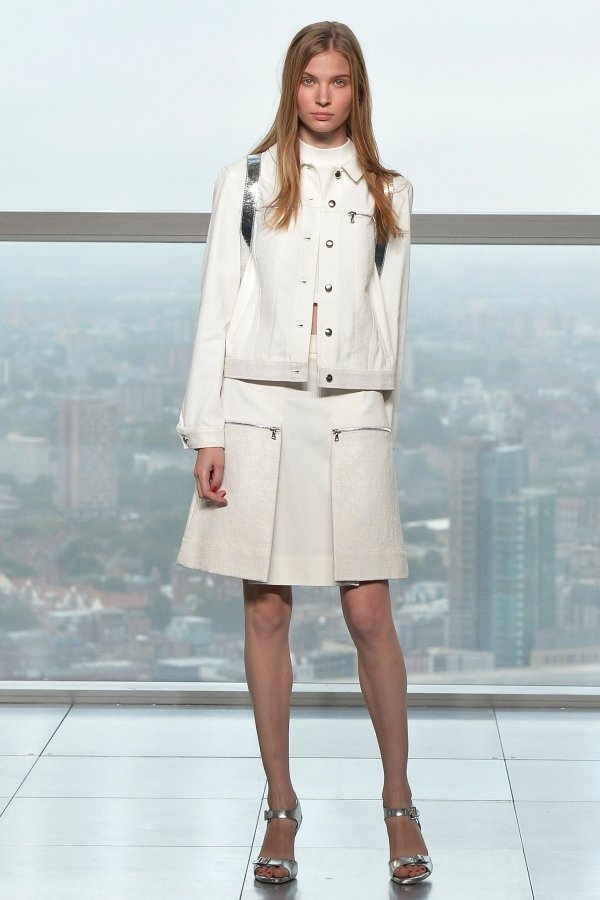 Whistles also went with a very white look, with a whole collection of white sundresses, shirt dresses, loose shirts, tailoring and trousers. They pepped the look up by teaming it with silver heels and oversized bags, and keeping hair and make-up natural. If you're looking for a carefree everyday look, white will definitely be right up there this year. Keep your eye out for tailored shirt dresses to be right on trend.
---
5

Fyodor Golan's Textures
Fyodor Golan's 2014 collection looked totally Chloe-inspired. Big texture was matched with timeless colours, like this duck egg blue dress. I wouldn't recommend opting for something as bold as this – it looks like the model's dress has blown up, and that's never a good look if you're not on the catwalk – but the trend is definitely here to stay. Shop for a textured or layered mini, and team it with a casual short-sleeved t-shirt or cami. I love the addition of a bright lipstick to really make the look pop, too.
---
6

David Koma's Monochrome

This look will dominate the office-wear scene this year. Geometric shapes are flattering and different, without being risqué, and monochrome is just gorgeous. It adds a formal touch to any outfit, and it suits almost everyone. For work, try adding a trench coat and satchel. ASOS and Jane Norman already have a lot of dresses in this style, so you can even get ahead of the trend now.
---
7

Pearce Fionda's Glam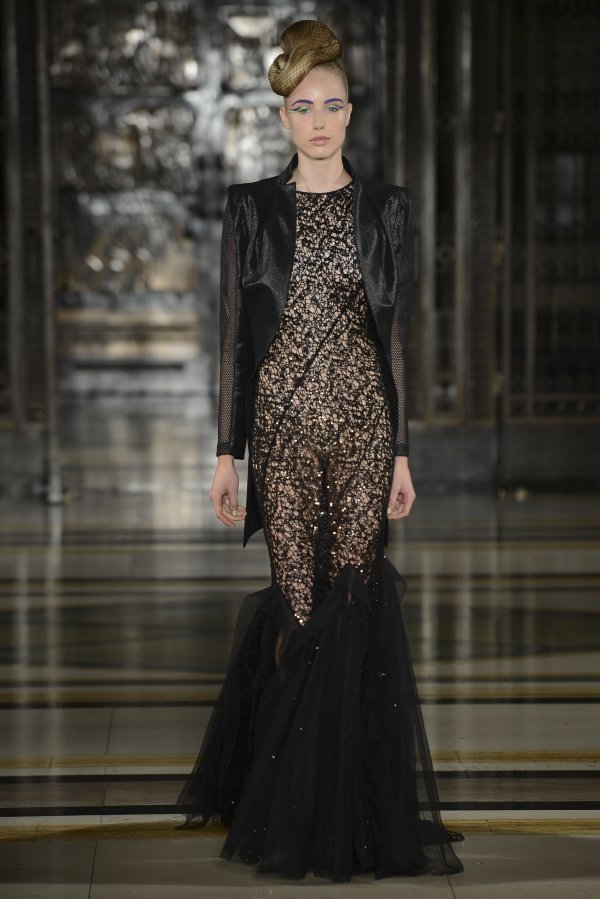 Okay, so you might not get the chance to wear all the LFW trends – this gorgeous and very glamorous Pearce Fionda dress would require a really special occasion, for example. If you do have a suitable event upcoming, though, definitely take inspiration from this show. Fishtail dresses with very textured bottoms were a hit across all the shows, and I love the lace look of this dress. It's the addition of a leather jacket and chic updo that really sells it, though. The perfect carefree yet glamorous look.
We'll definitely be seeing some of the men's LFW trends infilitrating women's fashion soon, too. This year's shows were full of blazers and sharp tailoring, and there were some gorgeous suits on show from WIMIRY. Which of these LFW trends is your favorite? Will you be wearing any of them?
---
Comments
Popular
Related
Recent