There are some of the cutest lingerie sets around at the moment, and what girl doesn't love a gorgeous, flirty set of lingerie to brighten up her day? Every so often I get the urge to splurge on pretty matching sets, as they give me a much needed boost (no pun intended). Here's my pick of the cutest lingerie sets around this season.
---
1

Underella by Ella Moss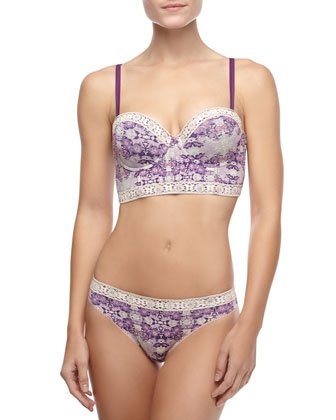 Vintage, 50's styles are popular this season, and long-line bras are super cute! I think this pretty lace trimmed set is one of the cutest lingerie sets out there - it's definitely one you'll want to show off, yet it's comfy enough for everyday too.
---
2

Rust Lace Balconette Set by Topshop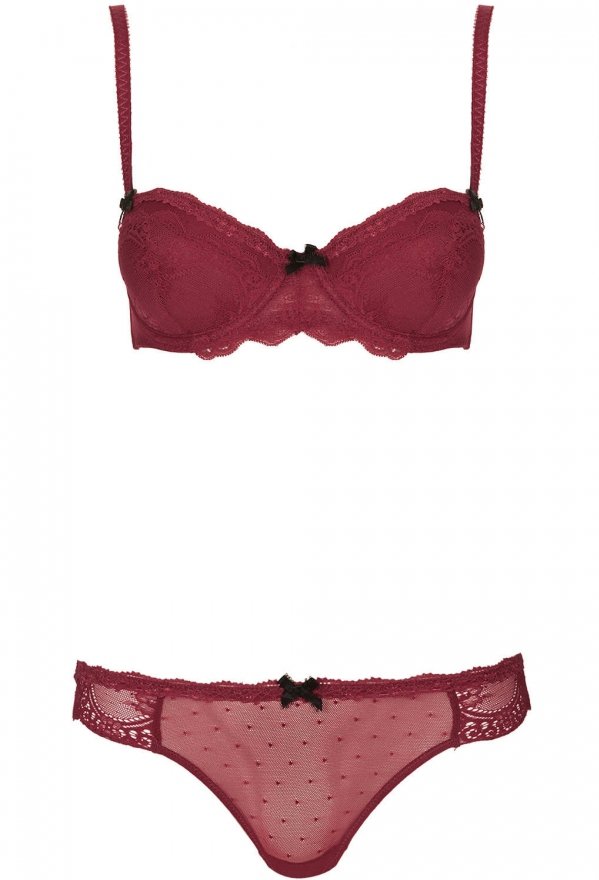 Rust is on trend for the autumn/winter season and will see you well into spring too - I love the delicate lace and color of this balconette bra and thong set from Topshop.
---
3

Mellow Yellow by Topshop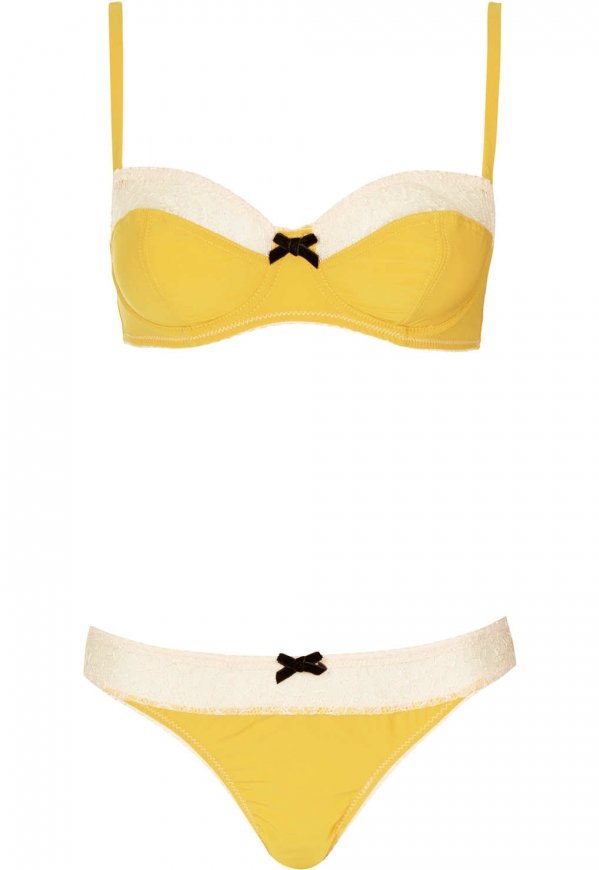 This set is gorgeous - perfect for spring - when it finally arrives! The bright chartreuse is teamed with pretty white lace and a little black bow. So adorable!
---
4

Lace Triangle Set by Etam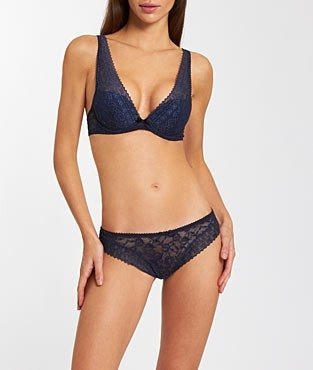 I love the soft, comfortable yet feminine look of this lace triangle bra, and the navy color makes it perfect for everyday wear - it's also available in a range of brighter colors if you fancy something more vibrant for spring!
---
5

Zuri Set by Agent Provocateur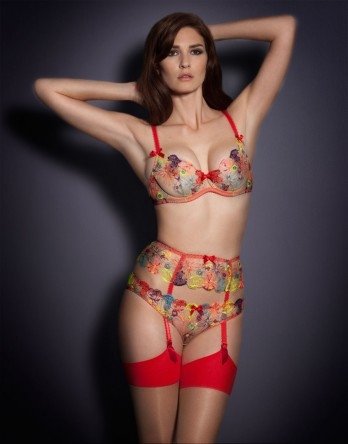 If you're feeling flush, you can't beat Agent Provocateur for sexy, feminine lingerie. This set embraces the beauty of spring - sheer tulle gives a nearly-naked look whilst the pretty embroidery and accents of bright scarlet add interest. I love this set!
---
6

Malicieuse Set by Princesse Tam Tam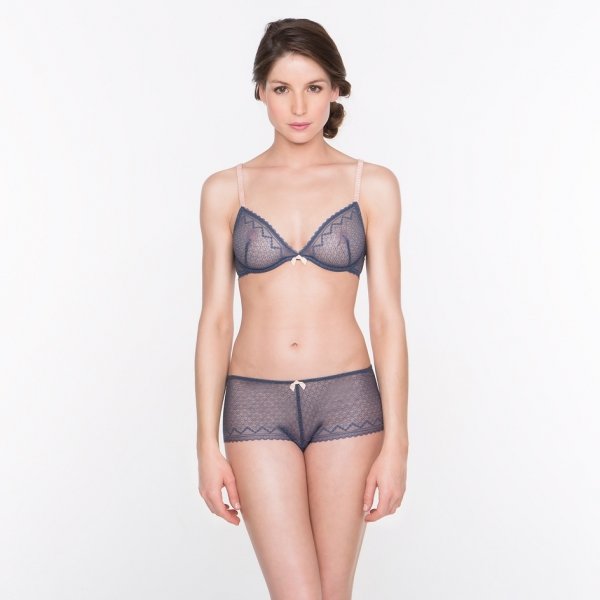 I love Princesse Tam Tam's lingerie - the French definitely know how to create pretty underwear! This set is subtle enough to wear everyday yet has pretty detailing. The storm grey lace with blush pink ruched straps is just gorgeous, and you can choose from briefs, boxers or a thong to match.
---
7

Phoenix Set by Agent Provocateur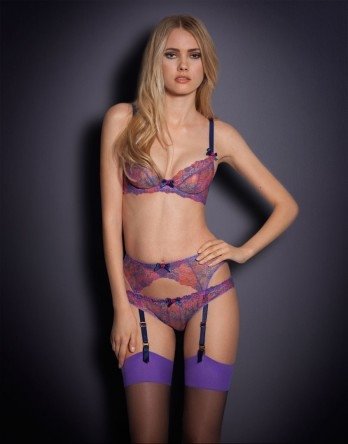 Whilst Agent Provocateur are known for their sexy styles and usually focus on red or black lingerie, this pretty set adds something a little different. It's designed to look like a spray-paint effect, with multicolored lace in rich petrol blue and bright pink. Matching suspenders, thong and brief are available - ooh lovely!
---
8

Printed Silk Chiffon Lace Set by Autograph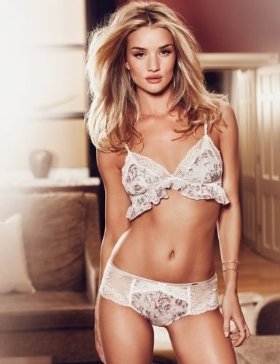 M & S have a reputation in the UK for being the place women go to for their everyday lingerie staples - but their collaboration with Rosie Huntington-Whiteley has changed things. Their newest range is flirty, feminine and fun and this printed silk chiffon set is perfect for spring. The non-wired bralet with flirty ruffles is so cute - I love this!
---
9

Amethyst Silk Lace Set by Autograph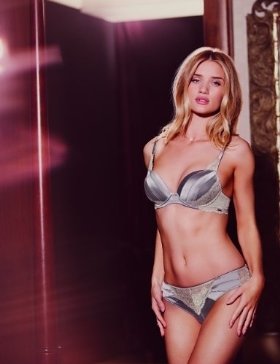 Another set from the Rosie Huntington-Whiteley range at M & S, this amethyst silk set with French designed rose lace is gorgeous - it comes in a range of other colors too if you don't like the lilac shade. It's very vintage, and you can choose from a matching pair of brazilian panties or silk midi knickers. Lovely!
So there you have my pick of lingerie for the season - just writing this has given me the urge to buy some gorgeous new sets. Do you have a favorite lingerie brand? I'd love to know!
More
---
Comments
Popular
Recent