Printed t-shirts are a great way to wear your favourite patterns or motifs this summer. All things printed and patterned are on-trend at the moment, and a t-shirt is an easy way for you to wear the trend. Geometric prints are especially eye-catching but you can't go wrong with a simple motif or pattern either. Check out our pick of printed t-shirts for the summer ahead.
Table of contents:
1

Polka Dot Printed T-shirt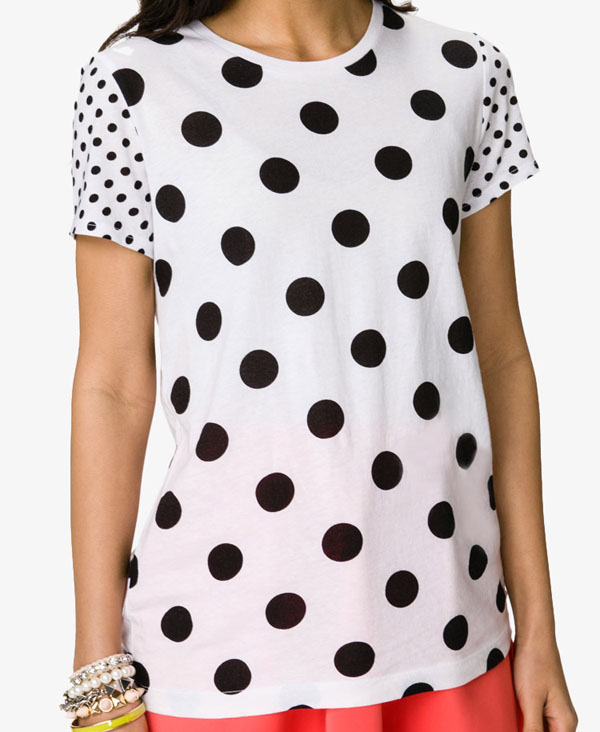 You can't go wrong with polka dots this summer. Dress them up or down, and style them to suit a range of different occasion. Wear a polka dot t-shirt with denim shorts and strappy sandals for a relaxed daytime look or team it with a pencil skirt and blazer for something more corporate. This polka dot t-shirt from Forever 21 is a steal at just under $9. You can also find more polka dot printed t-shirts by Fred Perry and Marc by Marc Jacobs.
2

Geometric Printed T-shirt
Geometric prints are certainly having a moment right now. They can look retro or futuristic, depending on the design. This summer team your geometric printed t-shirts with cropped pants and patent shoes for a polished, slightly sophisticated look. While this particular shirt by Marni will set you back a cool $400, you can find more budget-friendly buys from ASOS and People Tree.
3

Crystal Printed T-shirt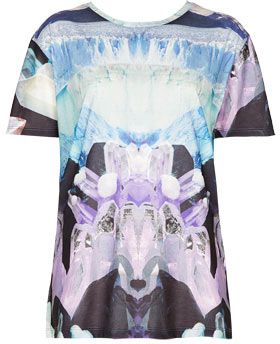 For something a bit more psychedelic and out there, you can't go past a crystal printed t-shirt. A crystal printed t-shirt would look great worn with denim shorts and sneakers for a cool festival-ready look. This Topshop t-shirt will cost you around $50 and you can find more crystal print t-shirts at ASOS and Dorothy Perkins.
4

Anchor Printed T-shirt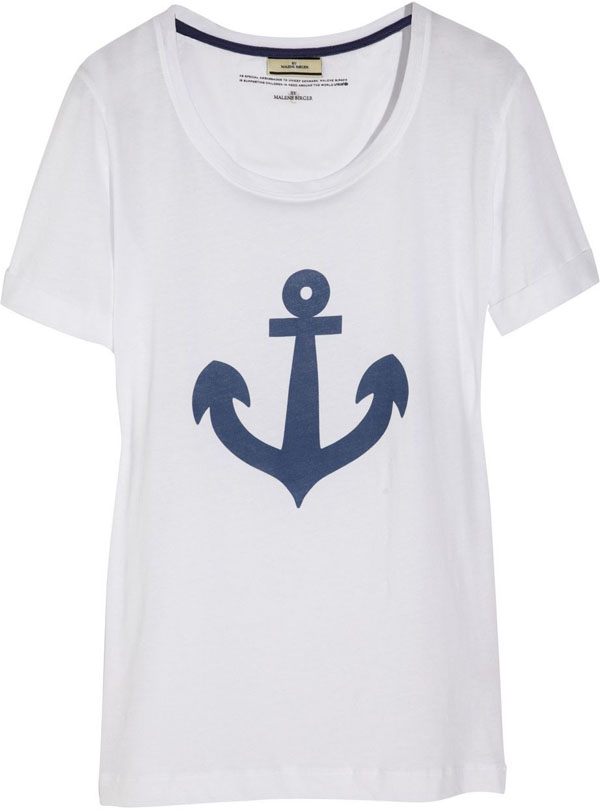 This simple anchor printed t-shirt is great for pulling off a nautical inspired look. I'm predicting anchor prints will be a pretty popular trend this summer, and this t-shirt would look great tucked into a denim skirt and worn with tan lace-up shoes. This By Malene Birger t-shirt will set you back around $95 but you can find similar t-shirts by Modcloth and J.Crew.
5

Collage Printed T-shirt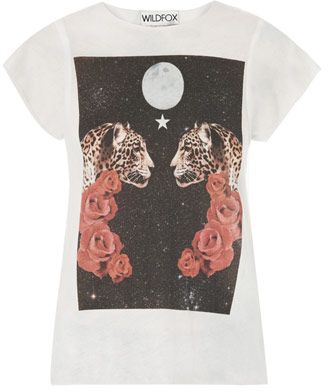 Keep an eye out for interesting, unexpected prints this season. This t-shirt by Wildfox Couture features a unique collage-style print. Wear it with anything from black shorts to printed pants. This t-shirt is pretty expensive at around $100 so be sure to hunt around for more bargain buys.
6

Floral Printed T-shirt
Floral prints are popular all year round. This summer, wear your florals in the form of a cool and casual t-shirt. Style your floral t-shirt by wearing it tucked into a skater skirt and with cute ballet flats. This silk t-shirt is by Topshop and pretty pricey at $140. You can, however, find more budget-friendly buys by Oasis and Mango.
7

Palm Print T-shirt
Really get into the summer vibe by donning a palm print t-shirt. Palm prints seem to be pretty popular this season and a palm print t-shirt would look great tucked into tailored shorts or teamed with this summer's must-have dungarees. This Mango shirt costs $30 and you can find similar t-shirts in this budget at ASOS and Topshop.
8

Pastel Tribal Printed T-shirt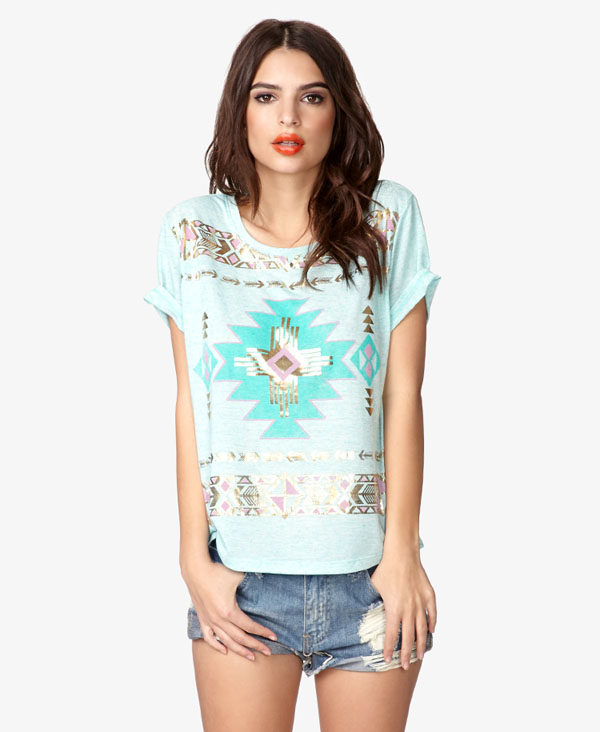 Tribal inspired prints have been pretty popular lately. This summer, wear one in a light pastel print to work a chilled out look. This t-shirt from Forever 21 costs around $13 and would look great teamed with anything from denim cut-offs to coloured jeans. You can also find more tribal-inspired t-shirts by American Apparel and Dorothy Perkins.
These are just a few printed t-shirts to get you through the summer months. The range of prints and patterns available is huge and there's something to suit all styles and budgets. Which of these printed t-shirts do you like best?
Please rate this article