Tiered dresses, skirts, and even tops are white-hot this summer, and one peek at the line-up in your fave shops will tell you why — the trend is super-flattering, flirty, and fun! If you're looking to add the trend to your wardrobe, I can help! Here are 7 sweet tiered dresses…
1

Homeland Honey Dress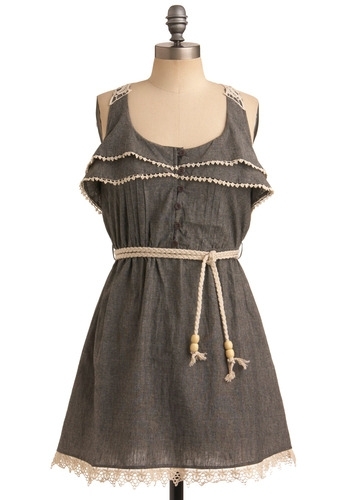 Price: $47.99 at modcloth.com
How sweet! This semi-sheer tiered dress is just adorable, made of a light-weight linen/cotton blend, ideal for hot summer days in the country or the city. I love the neutral easy-match charcoal grey color, and the crocheted details are so cute! And I like that rather than being tiered at the hem, this one's layered at the neckline. Unique!
2

Summer Samba Dress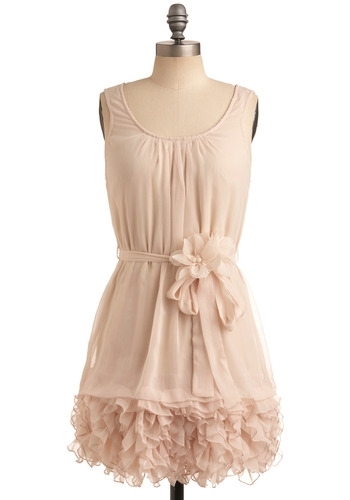 Price: $49.99 at modcloth.com
Oh la la! So gorgeous! This tiered dress is frothy and frilly, with loads of tiers at the hemline and a sweet sash belt with a flower detail at one side. It's light-weight and semi-sheer, ideal for a romantic beach wedding or a garden party.
3

Predict the Fuchsia Dress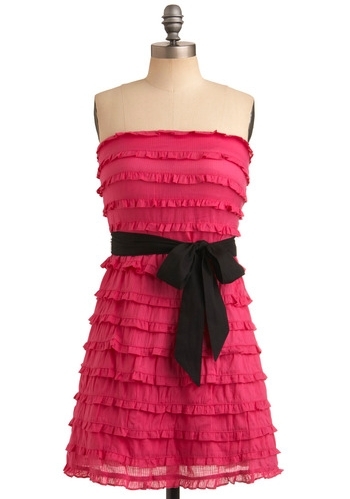 Price: $79.99 at modcloth.com
This tiered dress has rows all the way down, from neckline to hemline and every inch in between! It's a lush pink color, and I adore the black ribbon belt! Pair with black wedges or pumps and don't' forget to grab a matching shrug… though this dress is so hot, you might not need one!
4

Natural Waves Dress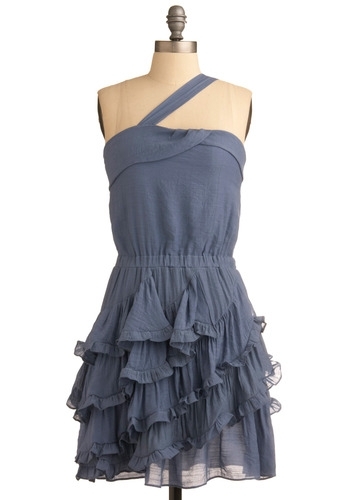 Price: $52.99 at modcloth.com
Take off your jute-covered sandals and take a long stroll down the beach in this superlatively sweet tiered dress. The hue will likely match the waves rolling in on the sand, and the one-shoulder style will garner you plenty of sincere compliments.
5

Real Appeal Dress

Price: $72.99 at modcloth.com
Who says bridesmaid's dresses have to be ugly or unflattering? This tiered dress would make a splendid alternative to a dowdy, frumpy gown, done in a gorgeous salmon color with flattering tiers at the bodice and waist. Pair with metallic heels (copper is my recommendation) and your bridesmaids will thank you!
6

Bows Just Wanna Have Fun Dress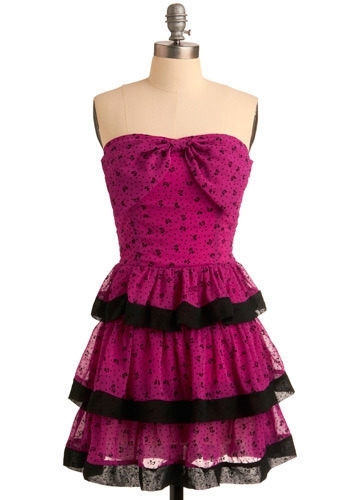 Price: $49.99 at modcloth.com
This dress reminds me of something Molly Ringwald would have worn in one of her 1980's teen angst movies… it's tiered with black lace trim, a bow at the bodice, and a fun black print on a hot pink background. Pair with lace anklets and black pumps, and, if you dare, a big black bow in your hair!
7

Ready for Ranunculus Dress

Price: $52.99 at modcloth.com
How pretty and sweet and flattering! This tiered dress looks like the ideal one for a summer wedding, or a bridal shower, or tea in the garden… or really, any other summer-time special occasion! Wear it with wedges and your favorite pair of sunglasses.

With so many cute tiered dresses to choose from on this list alone, it's going to be hard to buy just one… so you might have to try two! I adore the one with the bows… it's so retro! Which of these tiered dresses do you like best, and how would you wear it? Do tell!