Summer is here and that means it's time to take a look at the hottest summer fashion trends for spring/summer 2017 according to whowhatwear.com. We're talking 1980s inspired trends, saturated colours, stripes, florals, and radical mix 'n' match styling. It's all about what makes YOU happy, and that really is the best part! Without further ado, here are the hottest summer fashion trends for the year.
---
1

Super Brights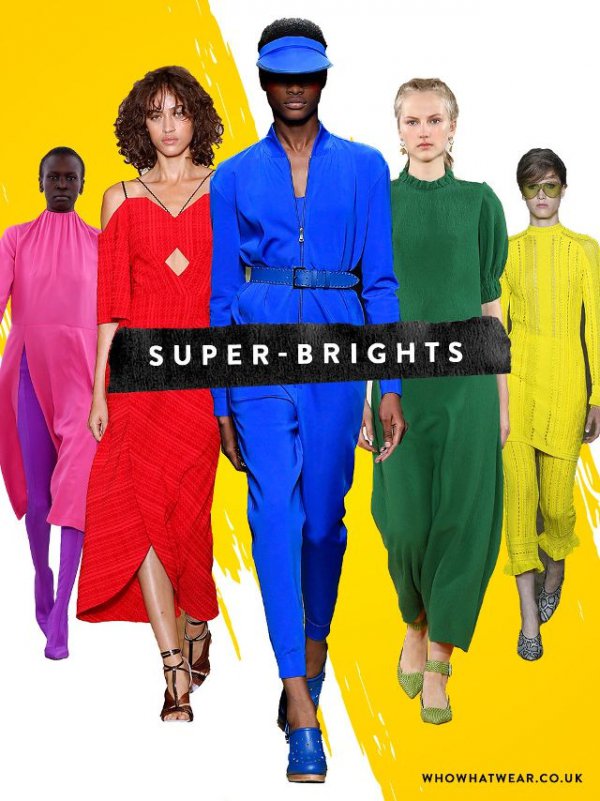 From Left to Right: Balenciaga, Roland Mouret, Max Mara, Emilia Wickstead, 3.1 Phillip Lim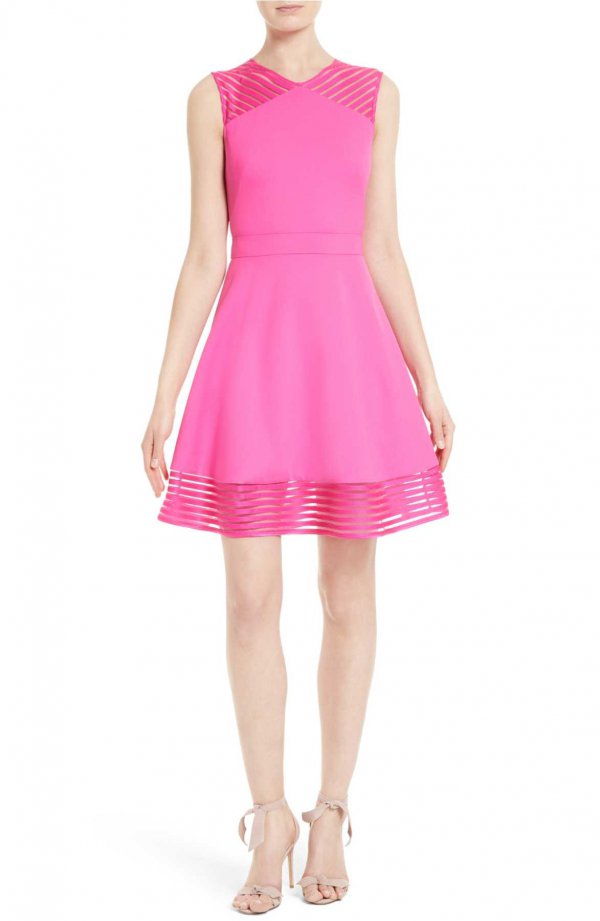 $186.93 at shop.nordstrom.com
Pink—and lots of it—played a very bold part of the Paris Fashion Week schedule, with the likes of Balenciaga, Céline and Valentino all employing the most shocking shades of this pretty hue for demure dresses. Without frills, prints or girlish detailing, the power of pink was clear to see.
But if that isn't your vibe, take your pick from the multicolour closet of S/S 17. From Kermit green to sunshine yellow, there's only one rule: Wear LOTS of it.
---
2

80s Redux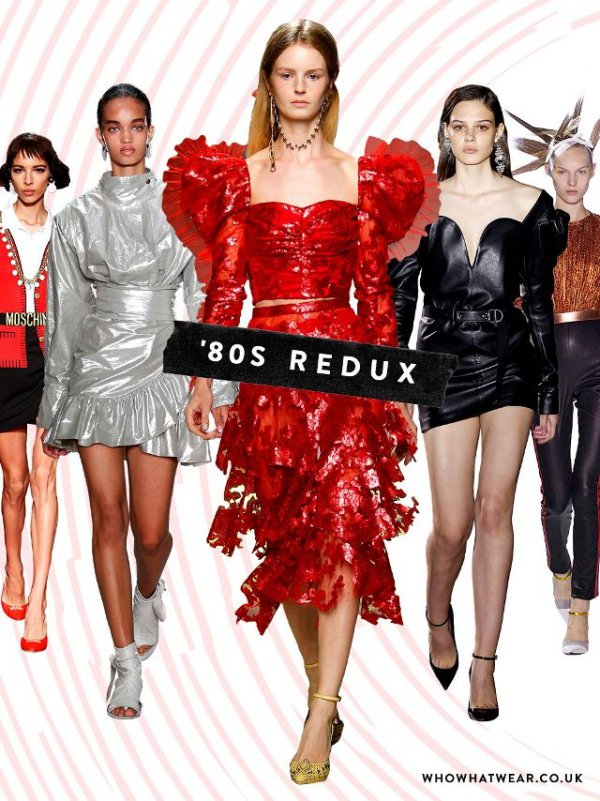 From Left to Right: Moschino, Isabel Marant, Rodarte, Saint Laurent, Haider Ackermann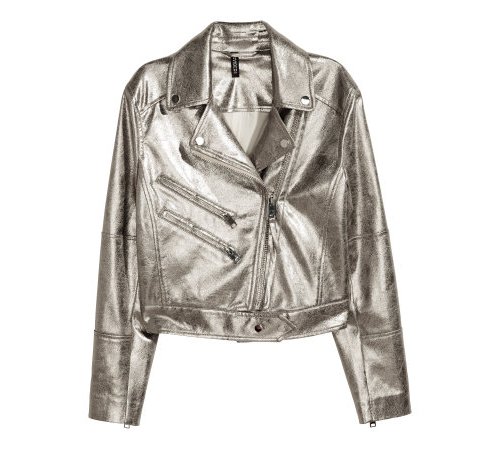 $29.99 at hm.com
Did you not believe us last season? We predicted that the '80s trend was no passing one, and the proof was all over the S/S 17 catwalks. If Isabel Marant—our appointed queen of boho—has even stepped into the realm of high-shine fabrics and draped volume, you know this isn't a decade dip to be ignored.
The essence of the new '80s redux really lies in after-dark wares. You probably won't find much of the mood filtering into daywear, but when it comes to going out, there's much to play with, from silhouette-enhancing nipped waists fastened with giant belts to flirty hemlines balanced out by big shoulders. Crystal earrings and sky-high stilettos are key—and no one did them with more ferociousness than Saint Laurent's new creative director, Anthony Vaccarello.
3

Head-to-toe Florals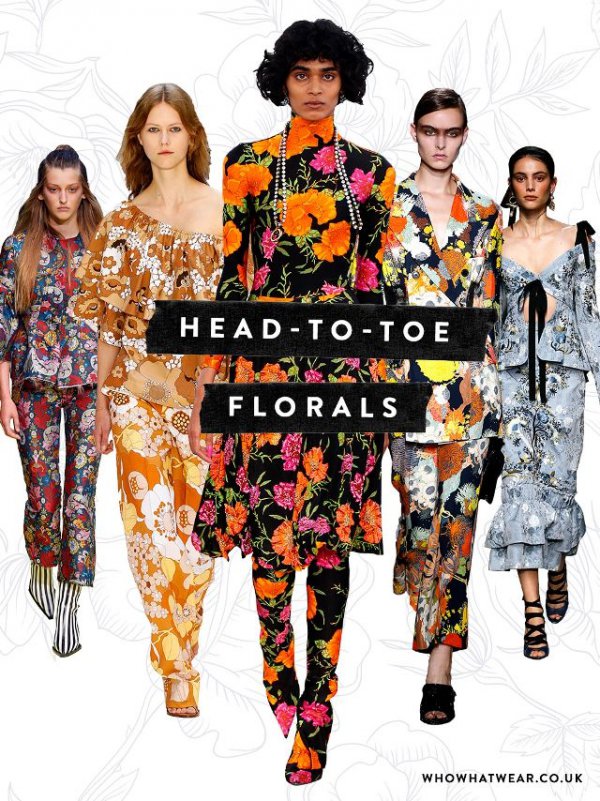 From Left to Right: Marques'Almeida, Chloé, Balenciaga, Dries Van Noten, Erdem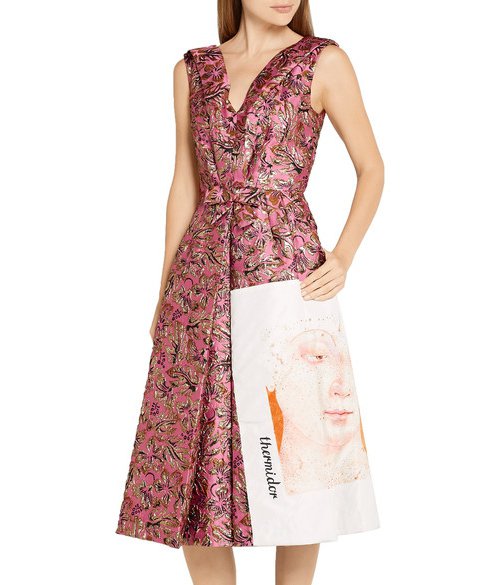 $1642 at net-a-porter.com
"Florals? For spring? Groundbreaking," recites every person who has watched The Devil Wears Prada ever. Well, actually, this time around, they really are. So rad in colouration, scale, fabrication and mood that designers thought it best to go full throttle in full blooms from head to toe—shoes included.
From double doses of Rococo-style jacquard florals with ruffles and raw hems at Marques'Almeida to subdued, blousy '70s bouquets at Chloé and neon carnations at Balenciaga, there is nothing standard about these arrangements. No ditsy prints here in this S/S 17 version of the fashion trend, thanks.
---
4

Mix & Match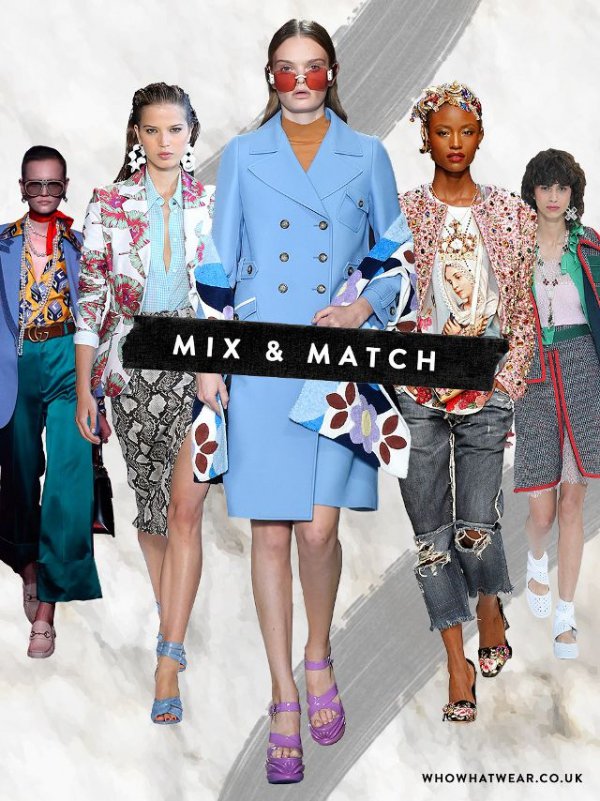 From Left to Right: Gucci, Altuzarra, Miu Miu, Dolce & Gabbana, Chanel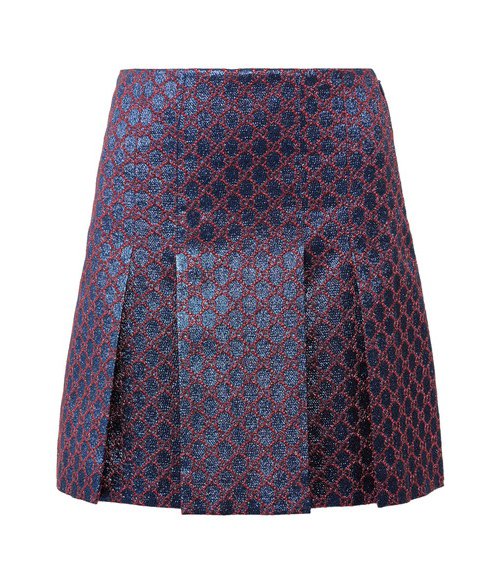 $1123 at net-a-porter.com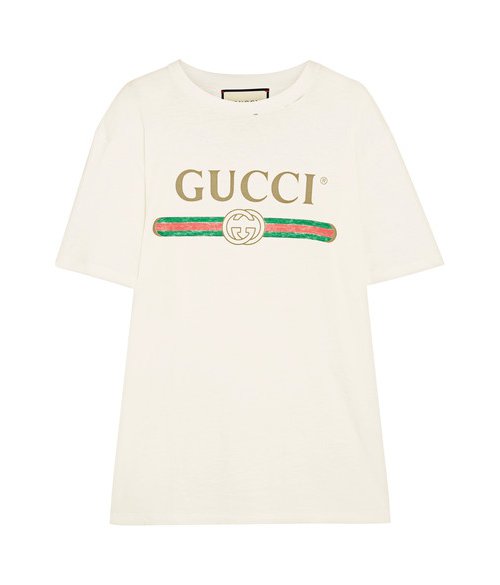 $496 at cache.net-a-porter.com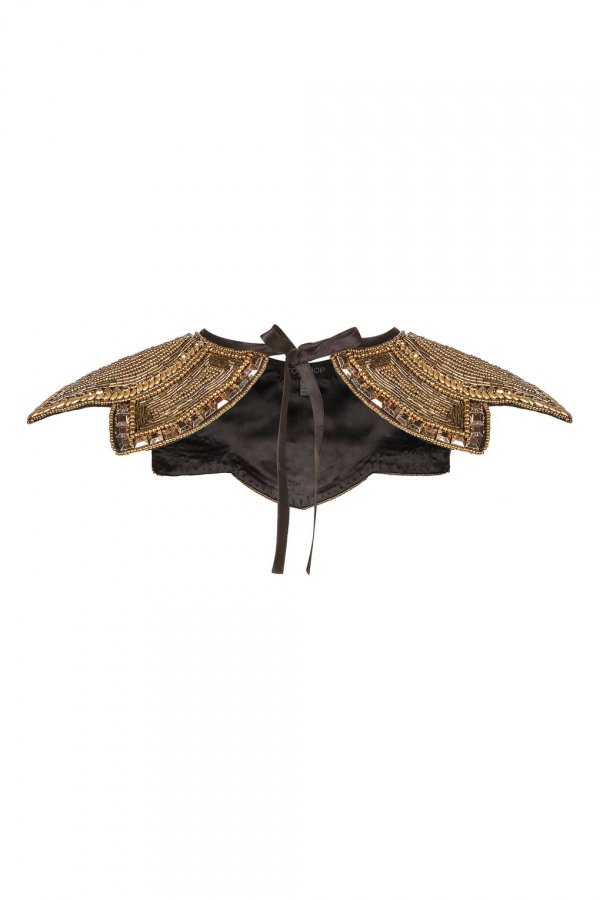 $115 at us.topshop.com
Inspired undoubtedly by Gucci opening the doors to an everyday kind of eccentricity, many designers are pushing forward with the concept of mix and match. If that sounds daunting, don't be afraid. There's something inherently wearable about the new wave of eclecticism, and you'll often find that individual pieces are entirely easy to wear on the regular. Take Dolce setting jeans against madcap combination of bejeweled accessories, trophy jacket and motif tee—a great going-out outfit.
How to approach this with ease? A strict colour palette will help, but otherwise, just think about accessorising to the max: See the way Miu Miu's blue coat is lifted into further gloriousness via a printed stole, tinted frames and lilac platforms?
---
5

Playing Peekaboo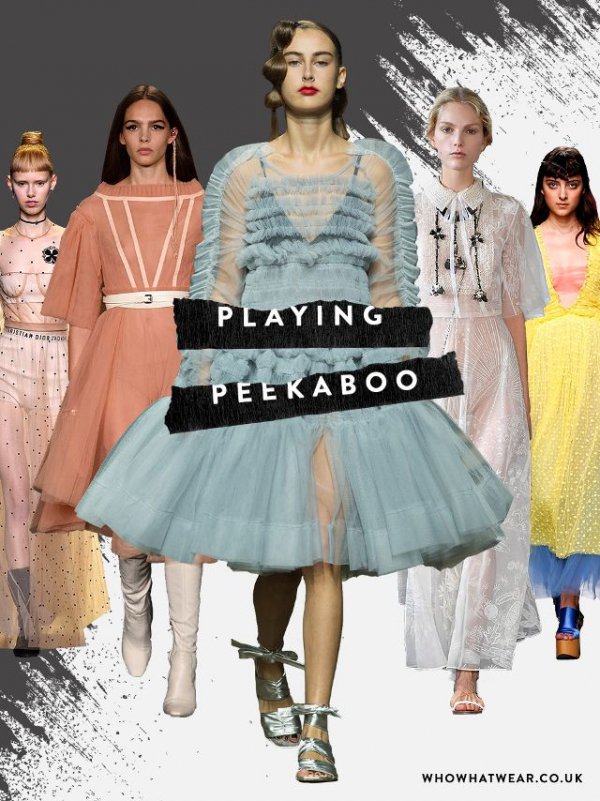 From Left to Right: Dior, Osman, Molly Goddard, Valentino, Rochas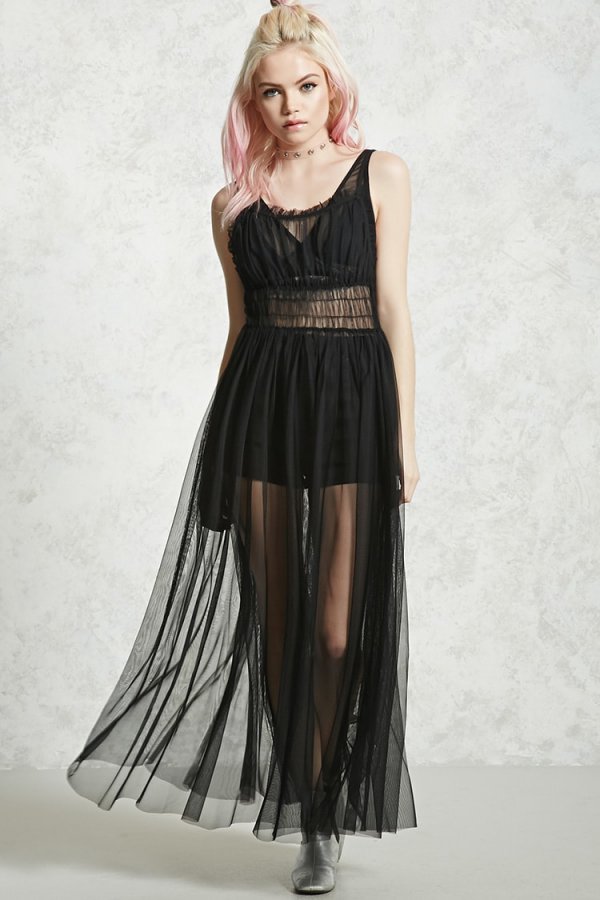 $19.90 at forever21.com
So how to wear this semi-opaque spring/summer 2017 fashion essential? Firstly, remember this is a million (pretty-punk) miles away from the A-list world's "naked dress" obsession. You don't want tight, and you don't the want modesty-saving embellishment, because you'll be layering it up. It's also dependent on how bravely you'll dare to bare. Keep it casual by flinging a gossamer-light sheer slip-of-a-thing over jeans and a tee, or go the full nine yards and style out with a flash of giant knickers. The latter is not a formula for work, but it is a fast track to feeling au courant, for sure.
---
6

Post- Minimalism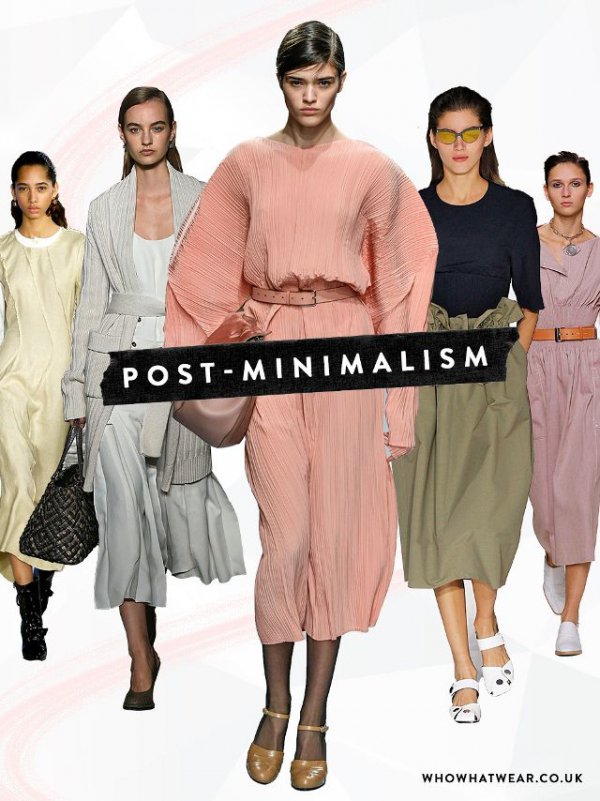 From Left to Right: Loewe, Bottega Veneta, Jil Sander, Stella McCartney, Hermès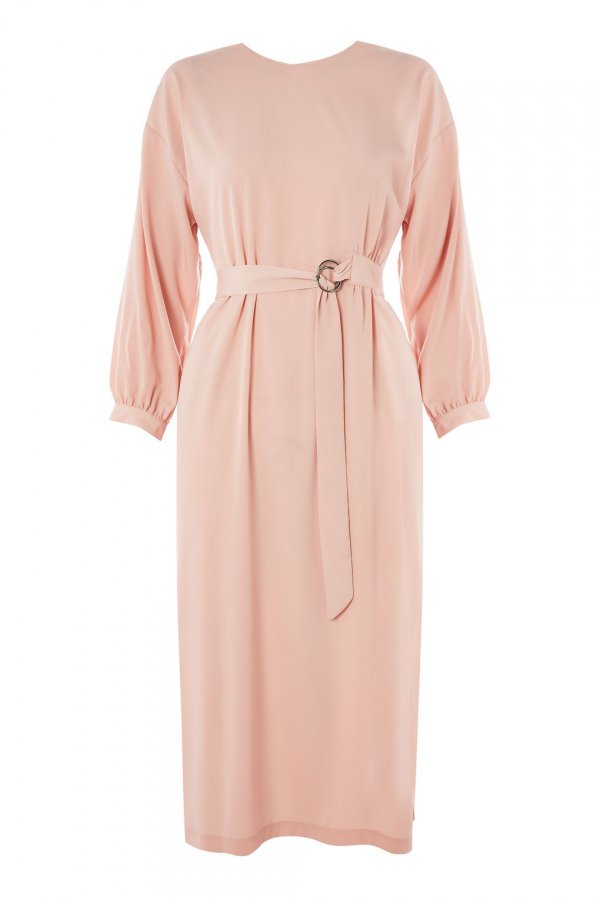 $90 at us.topshop.com
Just don't call it minimalistic. There's so much more to the catwalk's beautiful antithesis to all of the mix 'n' match madness we've already spoken out. This brand of purism comes armed with subtle details to make even the simplest item (take a cardigan, for example) seem like the most exciting thing you've ever seen.
From tactile fabrics (micro-pleats through to earthy, luxe, comfortable hessian) designers from J.W.Anderson to Stella McCartney have also played with volume, shape and a seriously practical spectrum of utilitarian colours that go with literally everything you own already. If your fashion approach has always been "less is more," join the gang.
---
7

Statement Stripes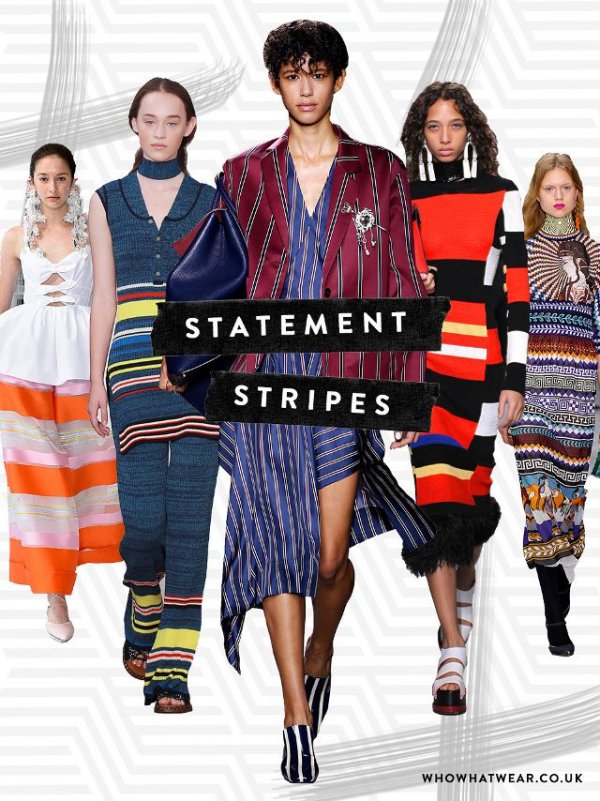 From Left to Right: Delpozo, Pringle of Scotland, Mulberry, Proenza Schouler, Mary Katrantzou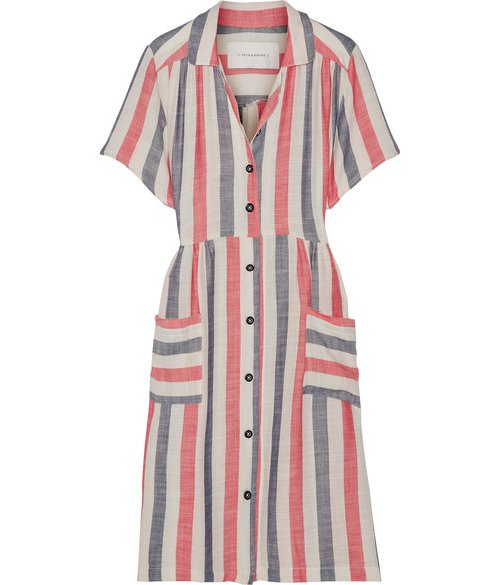 $289 at net-a-porter.com
Style Notes: The graphic, blocky, mind-boggling start to the stripe parade for spring/summer 2017's fashion trend offering started early on, with almost every major designer in New York choosing this as their pattern du jour. Proenza Schouler's chopped-up, highly Instagrammable take will surely feature in a thousand and one fashion editorials for the coming season, while we predict a shopping riot for the collegiate stripes pumped out by Johnny Coca on the Mulberry runway during LFW.
If flower-print wearers seem dedicated, don't think there's any less of an obsession when it comes to these alternative lines—designers were set on also styling these from head to toe too. Of course, you're more than welcome to nod to the trend with a natty striped knit or a barcoded pair of heels, but we do like this full-steam-ahead attitude.
So, which of these hot summer fashion trends are you most excited to try? I'm loving the mix and match. So many possibilities!
---
Popular
Related
Recent