The men in our lives would love for us to walk around the house in sexy lingerie and **intimate apparel **all day, but when we think of dressing like that we imagine being uncomfortable. Well ladies you are in luck and so are the men in your lives! Elizabeth Tigar fromUnderwearis here with us today to share the secrets about **The Art of Intimate Apparel **and how to love lingerie...
The art of intimate apparel: Everything you wanted to know about garters, thigh-highs and corsets, but were afraid to ask...
by Elizabeth Tigar
We've all seen seductive images of women in magazines rocking drool-inducing, sexy lingerie, but the reality of intimate wear is often a different story. Sure, these ladies can really work a garter belt—and more power to 'em—but the truth is that right now most of us are probably wearing a slightly less exciting pair of simple cotton panties and an underwire bra.
The problem isn't that everyday women can't wear these more exotic underthings. It's just that some may feel a little intimidated about how to wear them correctly or even about shopping for them in the first place. Others may just assume the sophisticated structuring of an item translates to discomfort. (What are all those straps for, anyway? And how are you supposed to breathe in that thing??)
But boudoir basics aren't something to be afraid of—they should be embraced and included in every woman's lingerie collection, whether for a special occasion or just to make the work day a little more interesting. Here's some advice on how to take your underwear from boring to brazen with three key items:
---
1

The Garterbelt...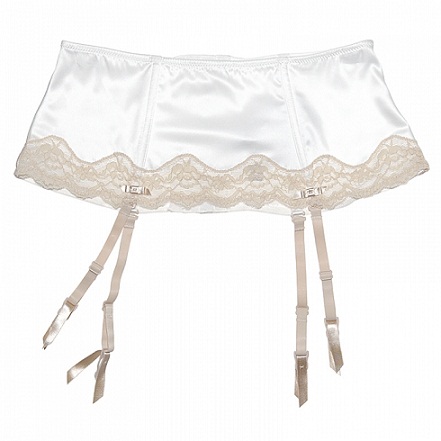 Photo Credit
Perhaps the most iconic of lingerie pieces, the garter belt is an item that harkens back to a simpler time when women's underwear was anything but. A garter belt is no longer essential to holding up your nylons, but it can certainly turn a low-key panty set into a real show-stopper. Buy in a smaller size if you want it to sit at your waist, a larger size if you tend to wear things lower down on your hips. Then, simply secure your stockings to each garter fastener and you're done! (Helpful hint: Put the garter belt on under your panty, it will make trips to the restroom--or forays in the bedroom--much easier.) You may not want to strap one on for everyday wear (although you could--try it under a pencil skirt for a more exciting twist on office wear), but for special occasions, nothing beats a silky, lacy garter belt for a sexy, vintage look.
2

Thigh-highstockings...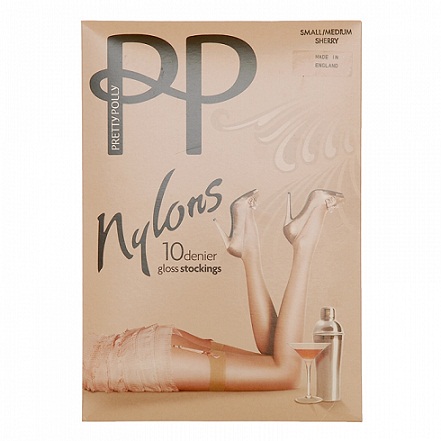 Photo Credit
Before you protest that thigh-high stockings are only meant for naughty maid costumes, think again. A retro glamour throwback, nylon or silk thigh-highs are actually very functional items that scream classic femininity with a hint of seduction(as opposed to your mother's panty hose, which tend to mutter something about warming up a TV dinner and turning in for the night). Thigh-highs today come in many varieties for every taste: some have hold-up tops for when you're sans garter belt, some feature lace, while others are fishnet, striped or even checkered. And after all, what would a garter belt be without a sleek pair of stockings to go with it? This seasons fashions are all about interesting hosiery! So embrace the thigh high. It's a much simpler way to rock legwear without all the bulk at the waist.
---
3

The Corset...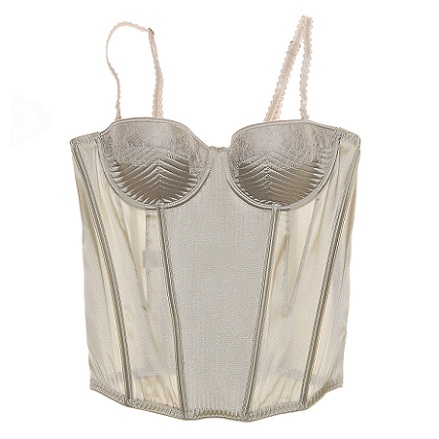 Photo Credit
Okay, so your regular wardrobe may not call for serious waist-cinching action, but there's just something about a corset that really kicks the sensual level up a notch. Perfect for bridal shower gifting or just spicing up your own lingerie collection, corsets—and their similar incarnations the torsolette and the waspie—are guaranteed to please. Some may include detachable garters for added versatility; some may feature hook-and-eye closure, while others may have traditional lace-up action. The key to lace-up corset comfort is easing into it initially, then tightening it completely once you've broken it in a bit. The next time you're looking to really "wow" your partner in the bedroom, pick up one of these beauties for extra feminine flair.
ElizabethTigar is the owner of Austin, TX, lingerie boutique Underwear. Visit www.shop-underwear.com.
---
Popular
Related
Recent