Blouses are a wardrobe staple. A well-cut blouse will take you through a range of occasions, from work to casual weekend lunches. This season, steer away from block colours and try your hand at two-tone blouses. The look is modern and chic, and a bit more eye-catching than your run-of-the-mill blouses. Take inspiration from some stylish two-tone blouses below.
Table of contents:
1

Sandro Ciseau Two-tone Silk Blouse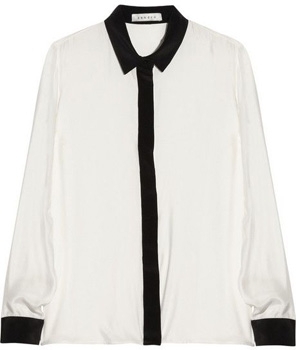 Price: $285.00 at net-a-porter.com
This modern interpretation of the two-tone blouse hits all the right notes. This blouse is made from lightweight silk and would look especially stylish worn out at night. Team it with black cigarette style trousers, patent pumps, and plenty of cocktail jewellery.
2

Topshop Cream Contrast Long Sleeve Shirt
Price: $75.00 at us.topshop.com
In a similar style to the previous Sandro blouse, this Topshop blouse is much more affordable. It comes in a black and cream colourway, and features self-tie detail at the neck. Wear it buttoned up with burgundy jeans and glitter boots for a fun and fresh look.
3

Topshop Short Sleeve Sailor Blouse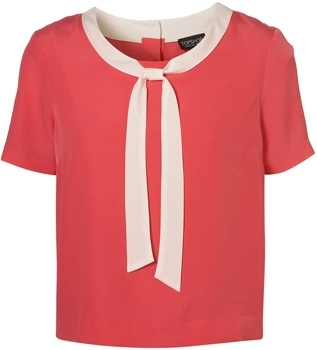 Price: $64.00 at us.topshop.com
Coloured blouses are a stylish alternative to the more classic black and white two-tone blouses. This one has a sailor-inspired design and features a tie detail at the neck and button-down back. Team it with high waisted denim shorts and patent loafers for a chic nautical look.
4

Theory Silk round-Neck Blouse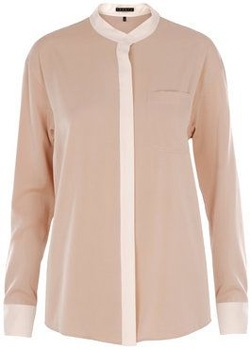 Price: $115.00 at matchesfashion.com
Neutral colours are still a popular choice. This blouse has a round neckline, front pocket, and contrast coloured trims. The round neckline is quite a casual cut, so wear it with light-coloured jeans and ballet flats for a casual everyday outfit.
5

Richard Nicoll Two-Tone Silk Crepe De Chine Blouse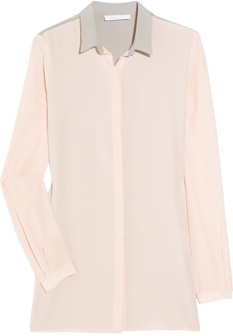 Price: $280.00 at net-a-porter.com
Blouses in pastel colours are a feminine take on a usually masculine-inspired garment. This lightweight semi-sheer blouse comes in a delightful blush pink colour with a light grey collar and contrast panel at the back. When styling this shirt, stick to a similarly neutral colour palette.
6

3.1 Phillip Lim Lapel Sleeveless Blouse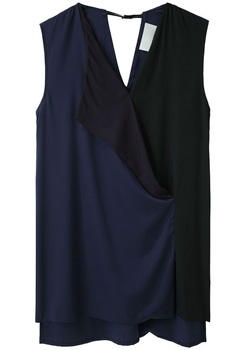 Price: $395.00 at lagarconne.com
This 3.1 Phillip Lim designis a different take on the two-tone blouse. It has a sleeveless design with draping details throughout. The navy and black colour combination is quite unassuming. The length of the shirt is quite long, so balance this out by teaming it with skinny bottoms.
7

Haute Hippe Two-Tone Silk-Chiffon Top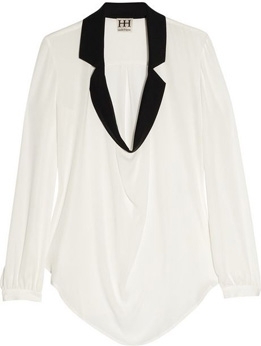 Price: $285.00 at net-a-porter.com
Black and white two-tone blouses are timeless. This one has a more contemporary cut, with a wide neckline and curved hem. It has long sleeves and simply slips on. For a modern take on things, team this blouse with metallic or sequinned bottoms and patent accessories.
Next time you go to buy a new blouse, think of these two-toned blouses. Consider picking one up in this style to add to your wardrobe. Which of these blouses do you like best?
Top Image Source: weheartit.com
Please rate this article