I'm so happy that football season is in play and we didn't have to worry about a lockdown for the rest of the year, especially with the guys in our house who love their Pittsburgh Steelers! My husband loves them so much that last year at our wedding we had a Terrible Towel groom's cake! But enough about the guys, what about us ladies who have a love for football too? Thanks to the Victoria's Secret Pinkbrand who has come out with a football clothing collection, women who love to be fashionable yet comfortable can now support their favorite team on gameday...
Table of contents:
6

Victoria's Secret Tailgate Tee...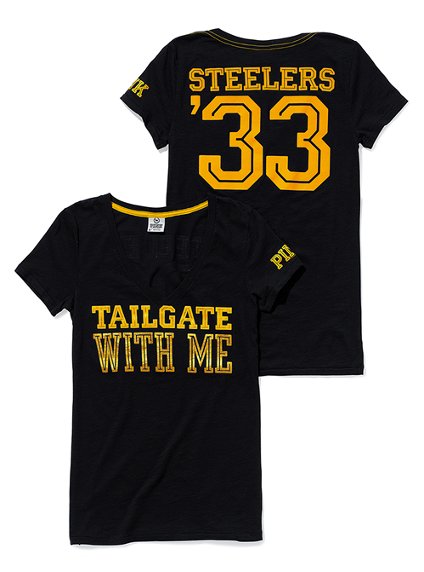 Price: $32.50 @ VictoriasSecret
I've actually never been tailgating at a game before but oh how I will rock this Pittsburgh SteelersVictoria's Secret rounded v-neck tee when I do! Many friends and family members have told me how much fun tailgating is; before, during, and even after the game! When you are partying, grilling, and drinking before the game you wan't to make sure you are dressed in the right gear, so gather all of your girlfriends and head on over to the Pink NFL shop to find your favorite football team.
5

Victoria's Secret Slouchy Football Tee...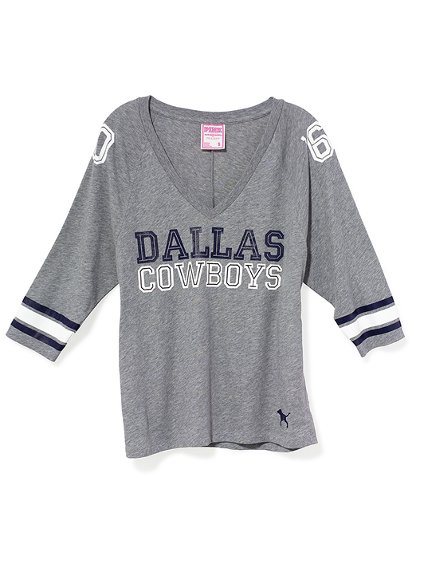 Price: $36.50 @ VictoriasSecret
I'm not sure whether it's the Dallas Cowboyplayers or the cheerleadersthat so many ladies seem to be in love with, but I know that my sister is one of the Cowboys biggest fans since the days of Troy Aikman! This comfortable slouchy Victoria's Secret tee would be the perfect gift and something for her to lounge around in as she watches the game on TV. I wonder if our two teams will be playing each other this year!
4

Victoria's Secert Bling Boyfriend Pant...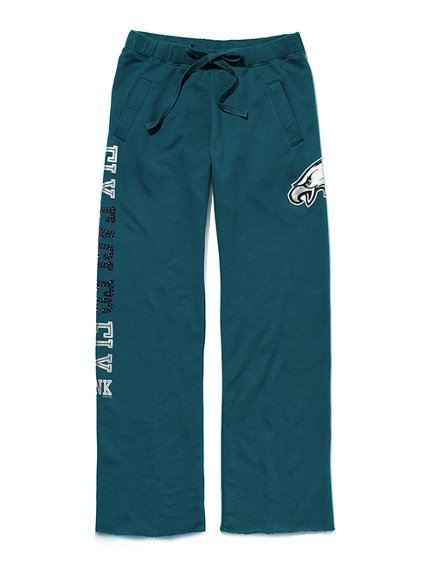 Price: $58.50 @ VictoriasSecret
Being born and raised in The City of Brotherly Love, I grew up cheering for the Philadelphia Eagles as I watched the gameevery Sunday with my dad. Although I may not be a fan of their team today, these Victoria's Secret Boyfriend Pants look like they would be really relaxing to wear on gameday, maybe I'll get my mom a pair for Christmas! I love the bling on the side; just the right touch of glamour to grab everyone's attention!
Continue Reading...
3

Victoria's Secret Pullover Hoodie...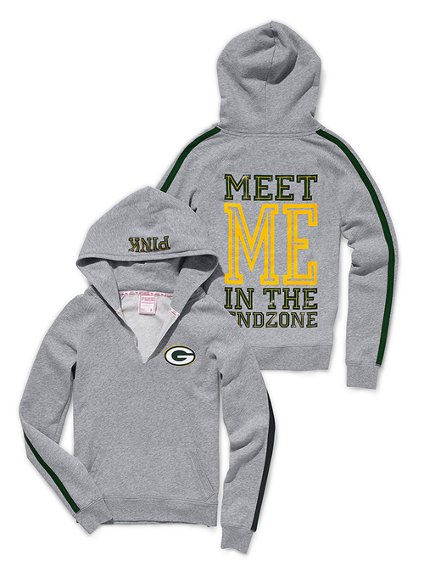 Price: $54.50 @ VictoriasSecret
When we talk about football we have to include gear from the 2010 Super Bowl winners who were just at the White House meeting the President! I think theGreen Bay Packersfans can honestly say, "Meet Me in the EndZone" when they wear this sporty pullover hoodie from Victoria's Secret Pink NFL collection. I love that all of the clothing items from this line look like something a woman would wear, but isn't too girly for afootball game!
2

Victoria's Secret Scoopneck Tee...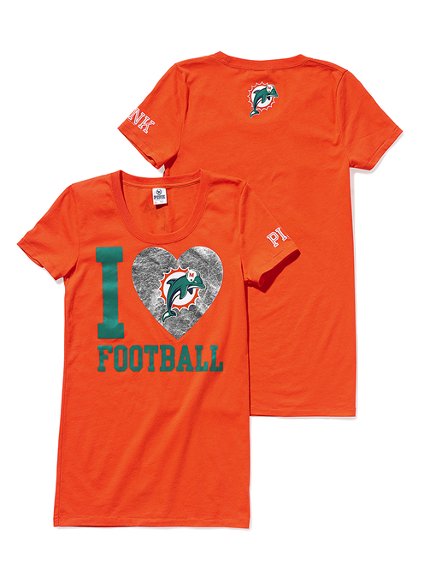 Price: $26.50 @ VictoriasSecret
Now that Jennifer Lopez, Fergie, and Marc Anthony are all part owners of the Miami Dolphins, I think we'll be seeing a lot more ladies wearing this Victoria's Secret Scoopneck Tee in the bright, hot colors that represent this Southern Floridateam. Everyone will know your love and obsession as you strut around in your "I Heart Football" shirt that shows off your team's logo. Do the Miami Dolphins hold your heart?
1

Victoria's Secret Bling Football Jersey...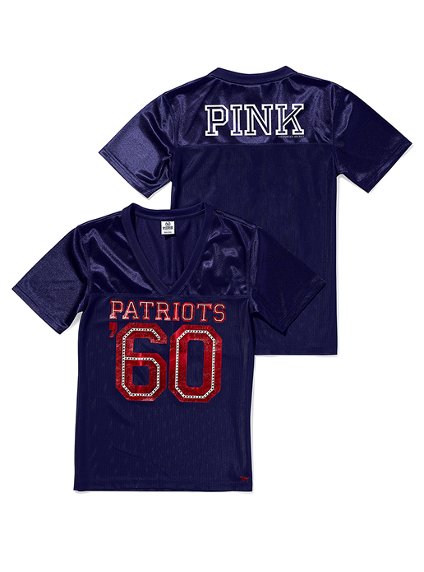 Price: $49.50 @ VictoriasSecret
Another must have when watching a football game is to have your favorite team's jersey and this blinged-outone from Victoria's Secret will not only let everyone know how much you love watching the sport, but it will also show off your love for Victoria's Secret's Pink line. This NFL collection isn't only for the game, but also to keep you feeling stylish as well.
Victoria's Secret might be yourfavorite placeto find the perfect bra or panty set, but now you can get so much more; from swimsuits and dresses to t-shirts and sweatpants! They are becoming a one stop shop for fashion and now you can even fit right in with the guys on game day with these hot clothing items from Victoria's Secret Pink NFL Collection.
Please rate this article