Military inspired pieces tend to come in and out of fashion every few seasons. Right now, the trend revolves around sleek and streamlined pieces with military accents. The military trend can work well in conjunction with a range of other current trends. Pair a military inspired vest with a pleated maxi skirt for a feminine look, or wear cargo pants with a structured blazer for something more utilitarian. Below are just a few modern military inspired pieces.
1

Topshop Chiffon Military Shirt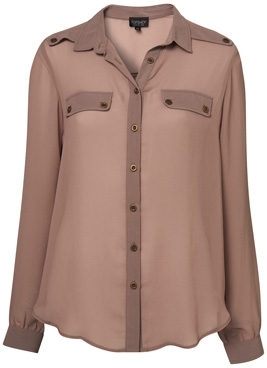 Price: $70.00 at us.topshop.com
The military inspiration for this blouse comes across in the shoulder tabs and brass tone button details. The front pockets are also very military inspired. A good blouse is a must have in any wardrobe, and this is a prime example of one of the more modern military inspired pieces. Pair this shirt with crisp denim jeans, black patent accessories, and a long pendant necklace for a casual evening look.
2

Under.Ligne by Doo Ri Military Zip Skirt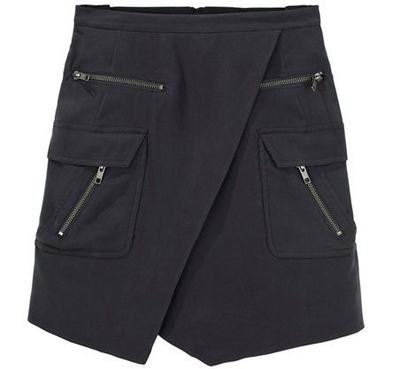 Price: $132.50 at lagarconne.com
This silk wrap skirt has such a terrific design. It features a decorative wrap front, cargo pockets with diagonal zip compartments, and horizontal zip pockets just below the waistband. This skirt is designed to be a slim fit and sits at the natural waist. Personally, I'd wear this with a loose scoop neck t-shirt and ballet flats.
3

Topshop Khaki Skinny Trousers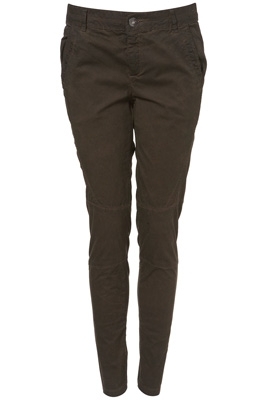 Price: $80.00 at us.topshop.com
These skinny trousers are a subtle take on the military trend. The only obvious military inspired detail is the khaki colour. They feature biker style stitching around the knee and thigh and have zippers at the back of each ankle. You could play up the distressed look of these trousers by pairing them with a crisp white blouse and nude patent wedges.
4

Topshop Khaki Jersey Sleeve Oversize Pocket Parka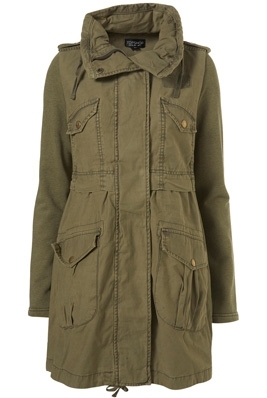 Price: $145.00 at us.topshop.com
Out of all the modern military inspired pieces out there, the khaki parka is one of the most ubiquitous. This offering from Topshop however, is as stylish as it is functional. The jersey sleeves are a modern touch and excitingly on-trend. This parka also features a funnel neck, oversized pockets, and zip opening. This parka is a flattering design and would look great thrown over feminine dresses or a casual jeans and tee combo.
5

See by Chloé Quilted Seamed Military Jacket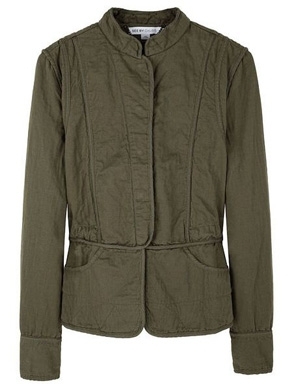 Price: $237.50 at lagarconne.com
This cotton military style jacket has quite a sophisticated design. The rounded stand collar is quite a modern accent, as is the concealed button down front. The jacket features front pockets at the hip, vented cuffs, and quilted detailing at the back yoke. There is also an inner drawstring for cinching in at the waist. This jacket would look great paired with tan trousers and sky high pumps.
6

Forever21 Suedette Combat Boots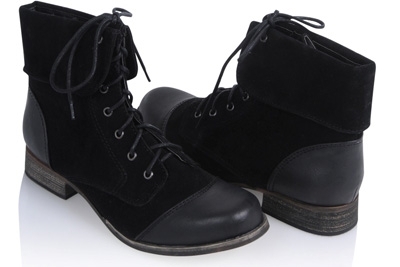 Price: $32.80 at forever21.com
These boots aren't overtly modern military inspired pieces, but the concept is definitely there. These combat boots feature contrasting suedette and leatherette materials. The wide folded lapels are my favourite design details. These boots would be useful for toughening up any outfit.
7

Disaya Military Striped Stud Earrings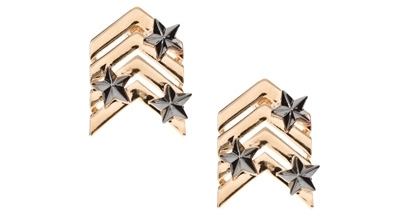 Price: $109.37 at asos.com
If military inspired pieces of clothing aren't your thing, try out these stud earrings. They are gold plated and feature a military style chevron design with contrasting stars. These are a great way of incorporating the trend into your wardrobe without having to deck yourself out in khaki. They are also subtle enough to wear on a daily basis.
This trend has filtered down from designer labels and is easily accessible in a range of chain and high street stores. Finding the right modern military inspired pieces can be quite easy. Which of the above pieces do you prefer?