I love socks. If I can't go barefoot, which is my preference, then I have to be able to prance around in cute socks, otherwise I'm just not happy. I've amassed quite a collection – but half of it is gone, courtesy of the dryer, or some horrible black hole that likes to nosh on my socks. Anyway, while shopping for new ones, I found the most adorable pairs of socks ever, and thought I'd share!
---
1

All Together Now Houndstooth Knee High Socks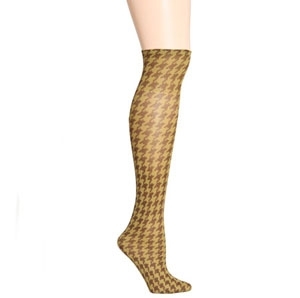 Price: $9.00 at shopruche.com
I don't know what it is, but I'm loving houndstooth patterns lately, so naturally, I fell in love with these socks. I love knee highs in general as well, so it's like a match made in heaven. These socks could work with so many different outfits – including the dark chocolate brown FakeUggs (TM!) I got at Payless last month.
---
2

Touch of Feminine Socks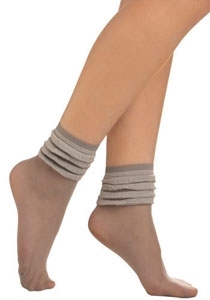 Price: $9.99 at modcloth.com
This may well be one of the most adorable pair of socks I have ever seen. I love the ruffles around the ankle! Plus, they're thin, so they'd work great for shoes that can't handle thick socks. I have several of those, and these would look really cute with them. They're definitely not for sneakers, but the right kind of dress or dress casual shoes would look fantastic with these.
---
3

Dot and Bow Ankle Socks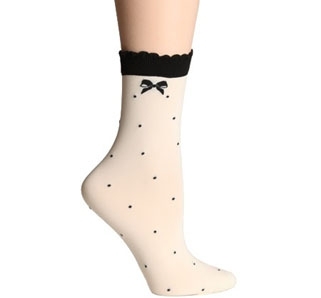 Price: $11.99 at shopruche.com
Oh em gee, these are so cute! The bow, the polka dots, the ruffle along the top. These are definitely flirty socks, so they'd look great with a flirty little skirt. Again, because they're thinner, they would work great with a number of different shoes – possibly even the kinds of pumps that can handle socks.
---
4

Fishnet Socks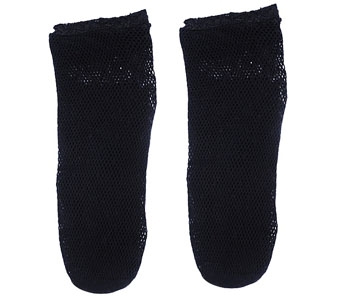 Price: $3.80 at forever21.com
These are simple but totally sublime. Fishnets always make adorable pairs of socks, because they can be worn with so many things. Although you can't make it out really well here, these have ruffled trim, and the tops are elastic, so they'll actually stay in place. Always a good thing!
---
5

Lacy Steps Gray Ankle Socks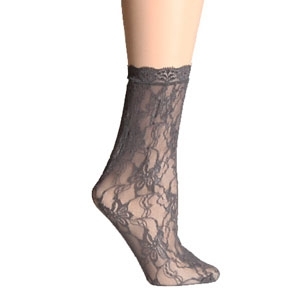 Price: $11.99 at shopruche.com
This is an incredibly adorable pair of socks. They are so pretty! I think grey lace is absolutely lovely; there's something vintage about it that makes it look beautifully antiquated. These socks are no obsession. Ruche recommends a pair of Oxfords to wear with these, and I tell you, I'd buy a pair so long as I'd have something awesome with which to wear these socks.
---
6

Pinky Toes Socks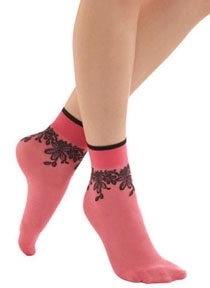 Price: $14.99 at modcloth.com
Y'all know by now that I'm crazy for pink, right? So how could I resist these? That scrumptious shade of bubblegum pink is fantastic enough on its own, but I especially love the floral design along the time – it looks almost like damask! These could be everyday socks or dress socks – but I know I'd end up prancing around the house in them for no reason at all.
---
7

Rhonda Floral Socks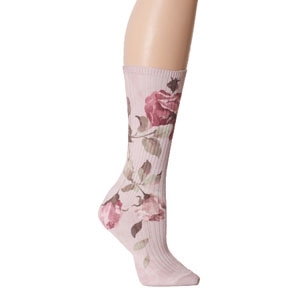 Price: $11.99 at shopruche.com
Normally, I'm not into this kind of floral, because it sort of reminds me of the wallpaper my grandma has in her kitchen. However, again, there's something so vintage looking about this adorable pair of socks that I simply could not resist. Plus, they're pink, so you know I'm sold. I mean, they're so delicate and feminine looking; sometimes I can't resist pretty-pretty things.
---
8

Multi-Colored Ankle Socks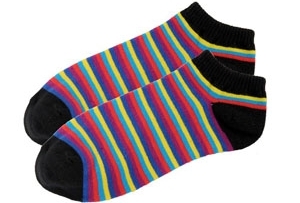 Price: $0.95 at forever21.com
First of all, can you beat that price? Second of all, I love ankle socks. Third of all, I love my ankle socks in acid bright colors, like this! I don't know why, but I do. My favorite pair currently is navy blue with a pink and green argyle design. Anyway, ankle socks are my preference when wearing sneakers or just hanging around the house. These are so cheap that … hold on a second, you guys, I have to do something real quick.
---
9

Perfectly Plaid Knee High Socks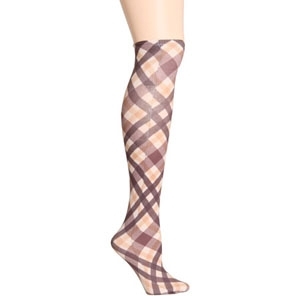 Price: $9.00 at shopruche.com
Okay, I'm back – just in time to introduce you to my favorite pair of socks I found! Plaid! I am ridiculously in love with plaid lately, and these are just awesome. Again, they're knee highs, which are too cool for school. I think I may have to take another moment to myself here...
So there they are, the nine most adorable pairs of socks I could find. In my quest to increase my collection, I'm pretty happy. I think I may have found the cutest socks in the world – for my taste, anyway. But what kinds of socks do you like to wear?
More
---
Popular
Recent