I am very particular when it comes to** men's sandals**, I even pick out my favorite pair for my husband to wear for the summer. I don't know what it is about the big, bulky, covering the whole foot sandal, but I hate them, especially on guys! You know the ones I'm talking about ladies! When you see guys on the beach with those hiking sandals or the ones that your grandpa would probably wear, you just want to give them a makeover. There is a time and a place for each** sandal style **and here are 6 great looking ones that I will share tips on where your guy should be wearing them...
---
6

The Sports Guy...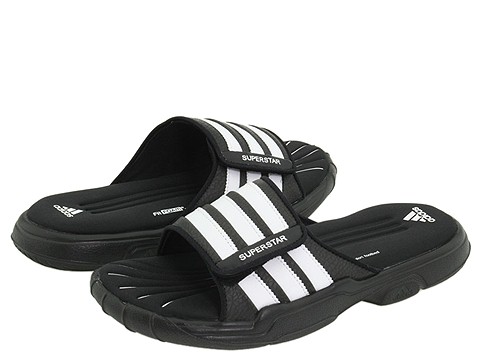 Price: $40.00 at Zapposby Adidas
Some guys don't really like to wear sneakers with shorts during the summer **while hanging out at the gameor drinking beers at the bar, so whats the next best thing...Adidas classic striped **slide-on sandals! Whats great about these slide on sandals is that your guy can still wear socks and this pair has comfortable fitfoam.
---
5

The Surfer Dude...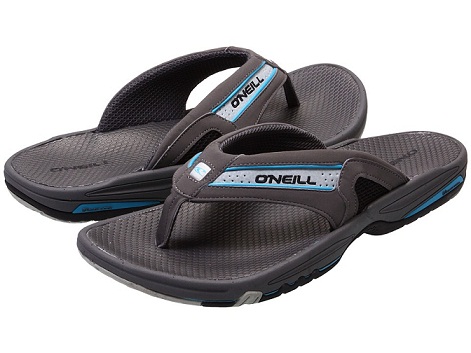 Price: $39.60 at Zapposby O'Neill
Is your guy always on the beach with his surfboard **waiting for the perfect wave? For men who spend their days in the sand and water they really need a **durable sandal **that will make it throughwet situations. This **fast drying **air mesh flip-flop **from O'Neillis just what your dude is looking for and can be worn in and out of the water!
---
4

Just Chillin...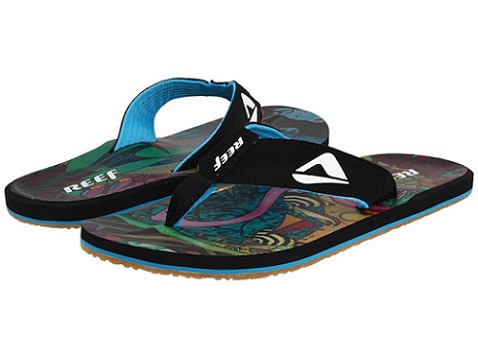 Price: $26.00 at Zapposby Reef
Whether your man is chillin' at home, the beach, or taking a stroll on the boardwalk, he still wants to have something comfortable for his feet to relax in as well. I love this** flip-flop from Reefwith the colorful print on the footbed and blue outline on the strap and bottom of the **sandal. Guys with all types of style will look cool walking around in these!
---
3

Hiking and Biking...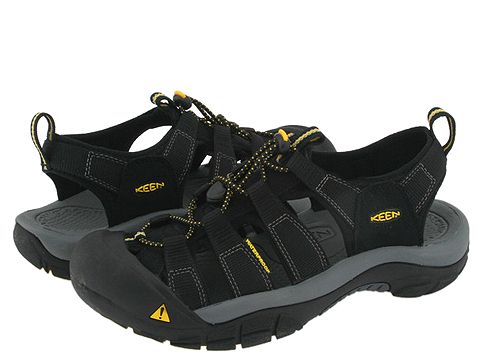 Price: $95.00 at Zapposby Keen
Attention all guys who think these hiking sandals **are for every day, on the beach, walking around the mall wear....they aren't! See the heavy duty **tread, the protection for your toes, and the strap that wraps around your foot, that means these are for those who enjoy hobbies like biking, hiking, boating, or heavy duty yard work. Okay, they may also be worn for those who have medical problems with their feet, but if you don't and you're just relaxing in the sand, please don't wear these or the ones with open toes!
---
2

Dressing up....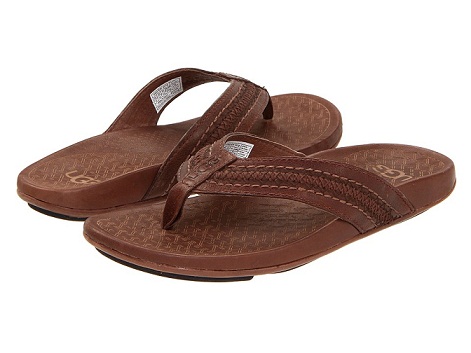 Price: $90.00 at Zapposby Uggs
For the guy who likes to wear sandals **for a more **dressy **but still a bit casual event, these brown leather ones from Uggsare my favorite. Unless you're from Italy, and even than, please don't wear the fancy sandal **with the brown wrap around. I see guys wearing those all the time with kahki dress pants and always think how feminine the sandal looks. These brown flip-flops by Uggswill look just as nice!
---
1

Casual and Relaxed...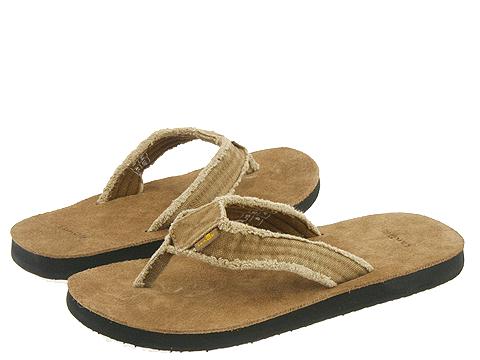 Price: $42.00 at Zapposby Sanuk
This rustic, casual sandal **from Sanukare for the guy who wants something to go with his jeansor shorts. He wants a flip-flop **he can wear every day, to the beach, to a party, to a bbq, or just driving around in the car. This is another great pair that all guys would be comfortable in; from the hippie to the truck driver. A pair even my husband would love!
What type of sandal do you see your guy in?
More
Comments
Popular
Recent