Essentials for Seaside Style **are easy to perfect — in fact, everyone can get the look, but you'll need to know how, which pieces to buy and how to wear them! If you're keen to look fab at the coast this season, you'll need to keep a well-kitted out section of your wardrobe especially dedicated to the **essentials for seaside style and beachy beauty. Keeping your cool under the glare of the summer sun isn't always an easy task, but with the right tools for the job, you'll be able to stay glam from the minute you step out onto the sand, to the moment you arrive at the beach bar for sundowners. To help you with this, I've done some research and had a bit of a think, and put together this list of 8 essentials for seaside style: enjoy!
---
1

The Right Swimsuit - the Most Important Essential for Seaside Style!

Feeling comfortable and confident on the sand is the first step to looking fab at the coast. In order to make sure that you don't spend hours sucking in your gut and trying not to bend over for fear of flashing your fellow beach-enthusiasts, you need to make sure that you pick out a bikini or a one piece in which you feel absolutely at home. Take this business fairly seriously; set aside a good portion of time in which to go shopping, and make sure the garment you purchase is flattering, comfortable and practical. A good swimsuit is definitely an essential for seaside style, and you have to be comfortable in it.
---
2

Shades

A fab pair of sunnies is crucial on the beach plus an essential for seaside style, and not just because they help you to look the part. Especially if you're spending the day on white sand, you'll find the glare of light reflected off the water and the shore can become unbearably head-ache inducing. In this sense, your shades will help both to save you from a migraine and to keep you looking great.
---
3

A Big, Beautiful Beach Bag - Keep All of Your Essentials for Seaside Style Here!

A day at the coast requires plenty of paraphernalia; you'll need to carry everything from sunblock, to sunnies, to your beach towel, reading material and sarong. In order to ensure that you can keep everything on this long list of style essentials with you at all times, you'll want to invest in a handbag that is appropriately roomy and also fairly resilient. Opt for something in a durable textile that can be easily wiped clean, or alternatively in a linen that can simply be washed.
---
4

A Broad Brimmed Hat

A hat is another essential for seaside style. Even if you aren't planning on wearing it all the time, it is very important that you are able to get the sensitive skin on your face out of the sun as completely as possible if you feel your layers of sunblock have been penetrated by harmful UV rays. Go for something classic and stylish; an oversized, bendable boater is often a great option, or, alternatively, you could simple opt for a chic fedora.
---
5

A Bright, Soft Beach Towel

A beach towel needn't simply be a practical item. Instead of picking up any old faded fawn bath sheet that happens to be lying in your linen cupboard, purchase something that is specially designed to be stretched out on at the beach. The bigger and broader the better, in my opinion; there is nothing worse that finding half of your body in contact with scorching hot sand.
---
6

Comfortable, Practical Flip-Flops - the "footwear" Part of Essential Seaside Style!

While you could equally wear a pair of gladiator-inspired strappy sandals to the beach, I much prefer to go for flip-flips. I find them infinitely easier to slip on and off quickly, and, if you opt for a durable, rubber variation, you'll find them a great deal more comfortable to wear when they're full of sand. They're absolutely an essential for seaside style.
7

A Sarong

A sarong is so useful during a long day at the beach. Use yours to cover up if you feel the sun getting a bit too strong, or tie it round your waist if you're a little self conscious and not keen to walk around in only your bikini. If you can, be colour-wise and try to find a variation that complements your swim suit.
---
8

An Easy-to-Wear Shift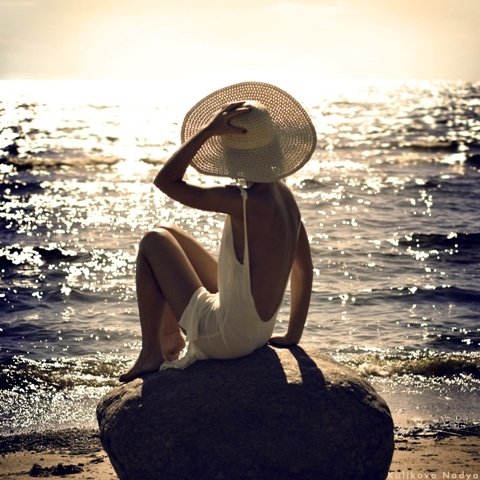 In order to make sure you're comfortable on your journey home from the beach, it's a good idea to come equipped with a loose fitting, a-line shift dress. Whether you go for a short tunic or a longer maxi-dress, you'll find this kind of forgiving garment a whole lot easier to wear in the situation that shorts and tank tops. Very structured clothes simply catch the sand that will inevitably be clinging to your skin, and this can lead to chafe and general discomfort and irritation.
Basically, looking good at the coast and on the beach is about striking a balance between comfort and aesthetics, in addition to finding the essentials for seaside style; if you feel relaxed and at home in your outfits, you'll invariably look better than if you're uncomfortable, sunburnt and constricted by a tight swimsuit that cuts into you and leaves you feeling self-conscious. That concludes my list of 8 essentials for seaside style; have you got any thoughts of your own to add? What are your essentials for seaside style?
Top Image Source: data.whicdn.com
---
Comments
Popular
Related
Recent