Having a pair of stylish sunglasses is good to have any time of the year. But as the seasons change, certain styles can be more appropriate than others. Summer is the prime time to rock some new, cute and sassy sunnies to shield your eyes and accessorize your outfit. Plus, who wants to spend hundreds of dollars on sunnies that might get lost or left behind somewhere! Take a look at some of these stylish sunglasses that are not only affordable but also trendy!
---
1

'SOLAR II' MULTI COLOR WAYFARER with REVO LENS 52 MM by 80's Purple

Let's start off our discussion on stylish sunglasses with these super cute mirrored babies! These remind me of spending the day in the sun and sand. These are the perfect shades to wear with a graphic tee and some cutoff shorts, or you could even wear these with a slightly more "formal" getup to add a fun and casual vibe! I also love that the temples on the sunglasses are a different color with a splatter pattern! Find them at 80spurple.com for $12.
---
2

Round METAL INSET SUNGLASSES by GoJane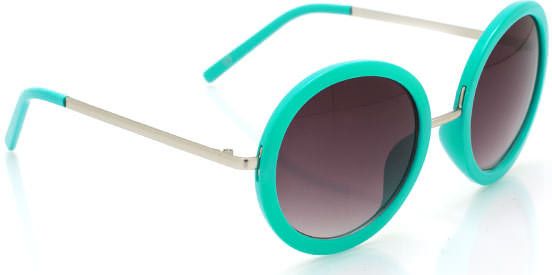 I absolutely love round sunnies but I have a round face so I can't really get away with wearing super big and round glasses. If you have a face shape that looks great with round frames, this pair of sunnies with gradient lenses looks cool and casual. This is the perfect pair of shades to wear when you need to run to the store without any makeup on! Get yours at GoJane for $5.50.
3

Pretty Floral Sunglasses by Wet Seal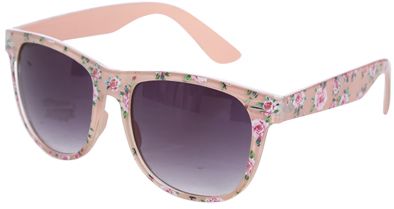 If you're looking for some sweet and feminine sunglasses for summer, these floral sunglasses could be a great match! You can find these in mint and blush, and they will be a great way to hide your peepers and protect your delicate eye area while you enjoy a day outdoors. These sunnies will add a girly touch to any outfit without breaking the bank! Find them at wetseal.com for $8.
---
4

Cat Eye Sunglasses with Flower Corner Embellishment by ASOS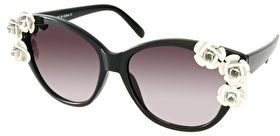 The next pair of sunglasses are on the more expensive side of affordable, but they're absolutely adorable, girly yet still very trendy. Wearing cat eye sunglasses can be a bit intimidating since it might evoke images of having to wear head-to-toe retro attire in order to pull off the look, but it's not so with this stylish pair! You can find these shades at ASOS for $23.76.
---
5

Classic Mirrored Aviators by Charlotte Russe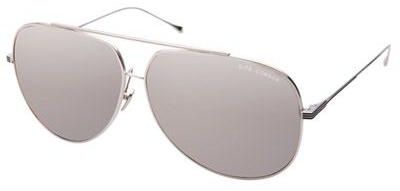 Aviators are one of the classic styles of sunglasses that I think will forever be popular. They're sleek, chic and they totally make you look like an undercover star! Another bonus to wearing aviators is that the style is one of the more affordable sunglasses you can get and they look good with just about anything you wear. You can't go wrong with these classic shades! Get yours at Charlotte Russe for $5.99.
Diane
is essential and my personal fav!...
---
6

Benny Mid Matte Frame Wayfarer Sunglasses by 80's Purple

If you love the timeless style of wayfarer glasses, 80's Purple's version takes the classic style and turns it up a notch! This pair of matte shades comes in both red and black frames with cool gradient lenses and perfectly complements a casual ensemble. They are perfect to accompany you for a day the beach or while running errands. Check these out at 80spurple.com for $12.
---
7

Smoke BAROQUE SUNGLASSES by Shop Jeen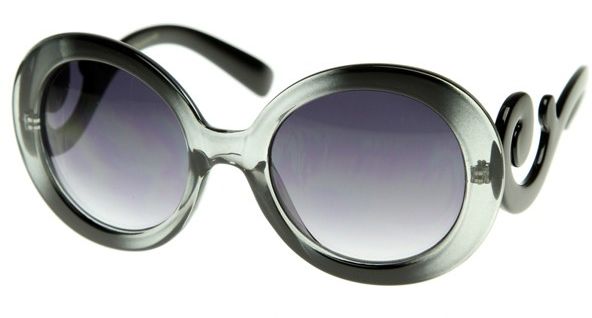 Shop Jeen's Smoke Baroque is another great pair of sunglasses for summer! These shades are super stylish and instantly add a chic touch to any outfit. Sunglasses are an easy way to instantly update an outfit and help you look glamorous even if you don't feel so glam. Wear these with jeans and a tee or even an LBD! They're $16 at shopjeen.com.
---
8

Women's round Sunglasses in Orange by Target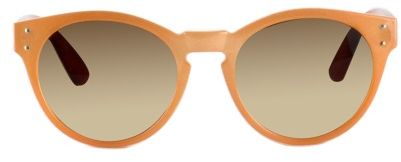 The last pair of affordable sunglasses that I want mention is simple yet sophisticated. These round frames are reminiscent of cat eye sunglasses and come in pastel orange with gradient lenses. These sunnies are super casual and would look great with your swimsuit, a romper or a plain white T-shirt and shorts! $16.99 at Target.
Have you found your sunglasses for summer already? If not, I hope this post gave you some ideas on some different colors and frames to wear! Sunglasses are an absolute summer must-have since you need to protect your eyes and they're an easy way to look put-together in seconds! What's your favorite style of sunnies?
More
---
Comments
Popular
Recent