Fashion brands with blogs are becoming more and more common. With the rise and popularity of fashion blogging, it was only a matter of time before fashion brands got on board with their own dedicated blogs. Content on these blogs may vary from moodboards to behind-the-scenes photos to streetstyle snaps. While the content may vary, what we do know is that a fashion brand with a blog can be a powerful marketing tool. Take a look at some popular brands with fashion blogs, below.
---
1

Topshop – inside out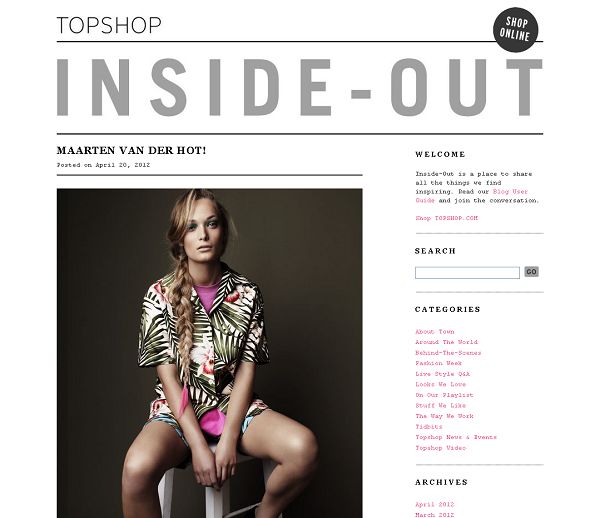 insideout.topshop.com
Topshop have really outdone themselves as one of the better fashion brands with blogs. The 'Inside Out' blog details the brand's inspirations as well as behind the scenes shots and sneak previews of seasonal collections. The content not only makes for an interesting read, it's visually pleasing as well. This blog is a great place to gain some insight into the goings on of the Topshop brand.
2

Topshop - Tumblr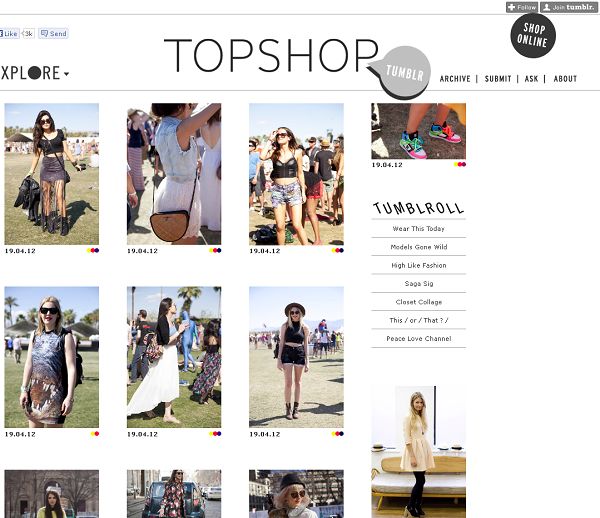 topshop.tumblr.com
Topshop have really got the blogging thing down pat, so I think they're worthy of another mention on this list. Unlike their 'Inside Out' blog, the Topshop Tumblr is purely street style inspiration, mostly snapped by resident Topshop photographers. Readers can also as questions and submit styled photos of themselves wearing their Topshop gear in the chance it will get blogged on the site, making it that much more interactive.
---
3

Forever21 – the Skinny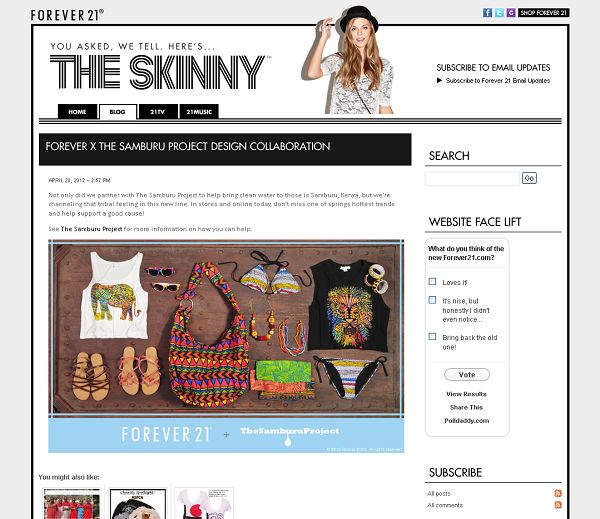 blog.forever21.com
This blog showcases Forever21 fashion and how to incorporate them into the hottest trends of the season. It also has giveaways, how-to content, and interviews galore. 'The Skinny' also has a video and music section, so it's not solely about the fashion. There's also plenty of social media buttons, so readers can engage through a range of platforms from Facebook to Twitter.
---
4

DKNY – Notes on a City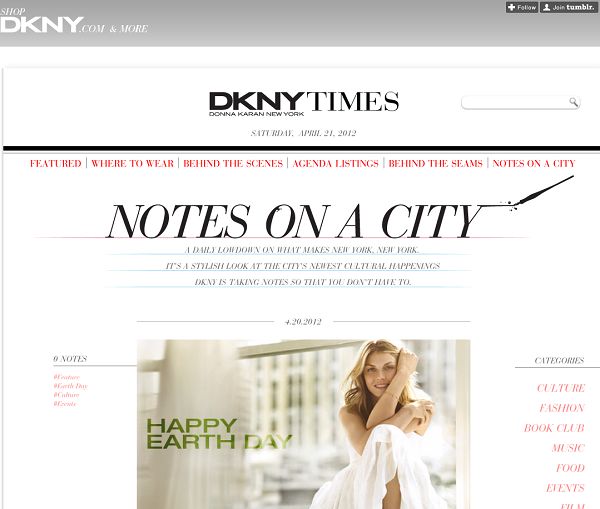 notesonacity.tumblr.com
The running theme through this blog is that the content focuses solely on "what makes New York, New York". This blog not only covers fashion topics but music, food, film, and beauty as well. It's a great way to get a rounded insight into the inspiration behind the DKNY brand.
---
5

Madewell – Madewell Musings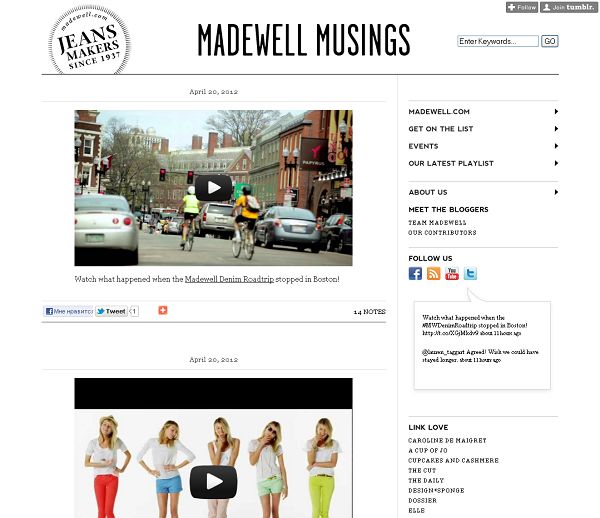 madewell.tumblr.com
The 'Madewell Musings' blog is an online extension of their in-store newsletter. It's a platform for the brand to not only highlight styles and trends of the month but for other random titbits as well. As far as fashion brands with blogs go, this one also has monthly playlists, travel-related articles, and even a few how-to themed posts.
---
6

Club Monaco – Culture Club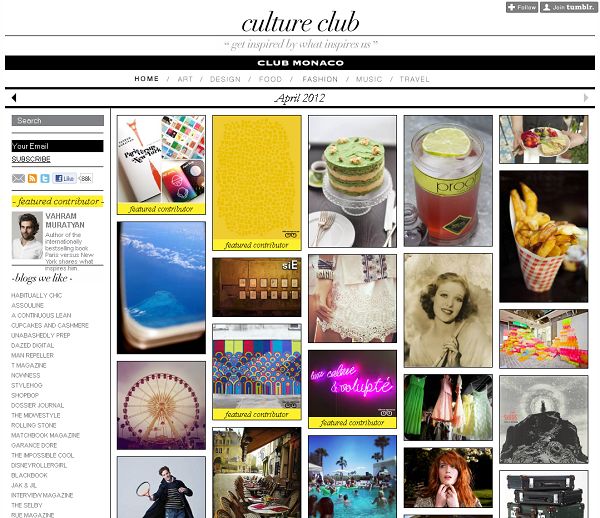 cultureclub.clubmonaco.com
The tag line for Club Monaco's 'Culture Club' site is "get inspired by what inspires us". As such, the main content of the blog is inspiration imagery. This kind of visual mood board is perfect for those who prefer browsing through streams of images rather than words.
---
7

Mango – Keep the Beat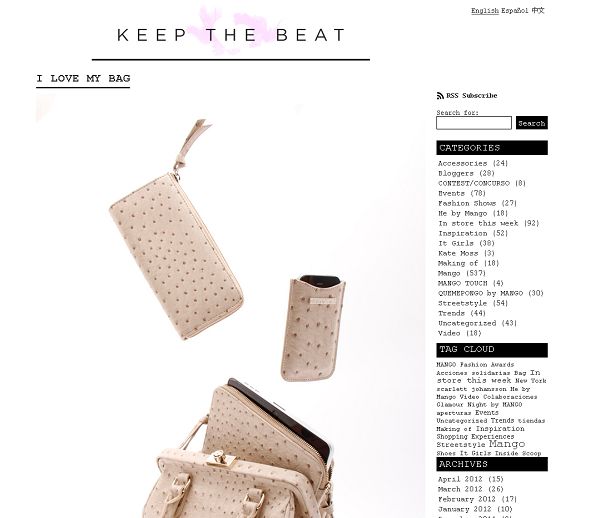 keepthebeat.mango.com
There's plenty of Mango branded content on this blog, mixed in with streetstyle and inspiration posts. It's all about keeping readers informed about the latest trends and Mango products – with links to allow you to shop online. The approach is fairly basic for this fashion brand with a blog, but it's effective nonetheless.
---
8

Oscar De La Renta – OscarPRGirl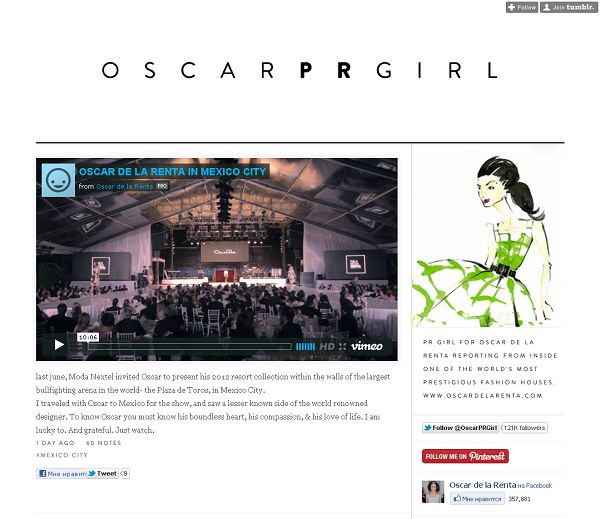 oscarprgirl.tumblr.com
Ever wanted to know what it was like inside one of the world's most prestigious fashion houses? Well this blog, run by the PR for Oscar de la Renta can lend some insight into the goings on behind the brand. It's fairly image based and is worth a browse for all the drool-worthy gowns.
A branded blog is a smart way for fashion brands to connect with consumers in this day and age. These are just a few examples of fashion brands with blogs. Are there any more brands with blogs you want to add to the list?
Top Image Source: pinterest.com
---
Popular
Related
Recent