Burberry jacket styles are quite timeless. The best Burberry jackets are the ones that have staying power in your wardrobe. Choosing a structured style is also a nice way to offset the flowing silhouettes of spring and summer dresses. Now, a Burberry jacket will set you back at least a couple of hundred dollars, so they're not something you'd buy on a whim. The following Burberry jackets are definitely what you'd call investment pieces.
---
1

Fitted Stretch Cotton Jacket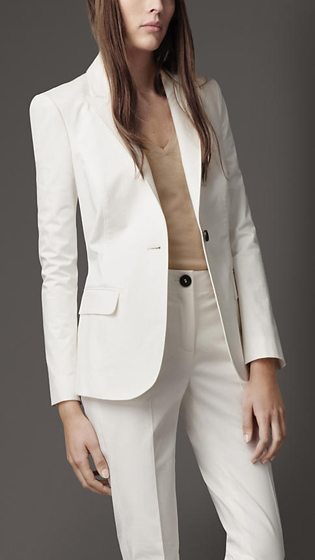 Price: $795.00 at us.burberry.com
A crisp white jacket is a must for the spring and summer months. A white jacket, like this Burberry jacket, is a great alternative to the classic black blazer. It has peaked lapels, a single button closure, and slit cuffs with multiple buttons. Wear this blazer over a short tan dress and with sandals for a fresh spring look.
---
2

Cropped Garbadine Trench Coat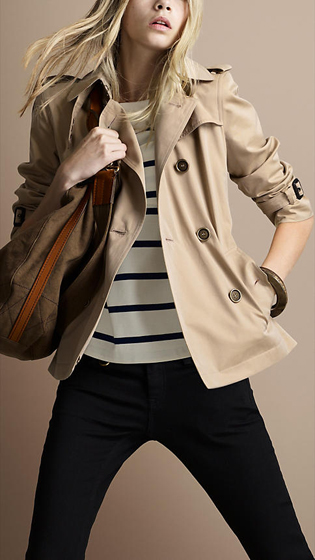 Price: $795.00 at us.burberry.com
The trench coat is a signature Burberry look. This cropped version is an updated take on the longer knee-length style. Wear it with a plain t-shirt, skinny jeans, and patent flats for a dressed down yet stylish look.
---
3

Lightweight Epaulette Jacket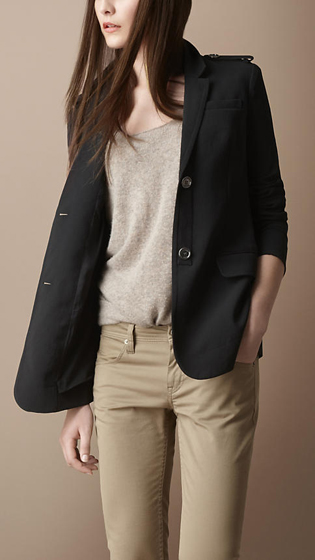 Price: $595.00 at us.burberry.com
During the spring-summer months, you'll want a jacket made from more lightweight fabric. This lightweight Burberry jacket is has peaked lapels, cut chest and flap pockets, and epaulette detailing. Wear it with a striped shift dress for something a little bit nautical inspired.
---
4

Pleated Peplum Jacket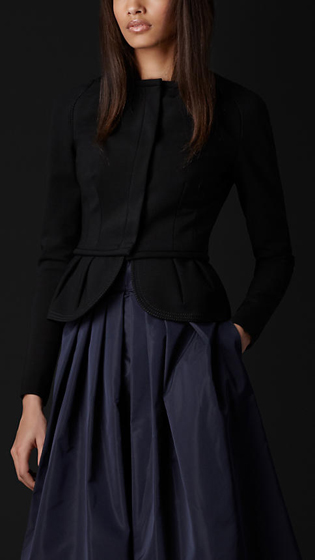 Price: $1995.00 at us.burberry.com
Peplum details are a big trend this season, so get on top of the trend with a jacket like this Burberry number. At nearly $2000.00 this one is way out of my budget, so I'll be looking for similar designs at a more affordable price point. For a sleek night time look, team a peplum jacket with cigarette style pants, a box clutch, and strappy heels.
---
5

Woven Peplum Jacket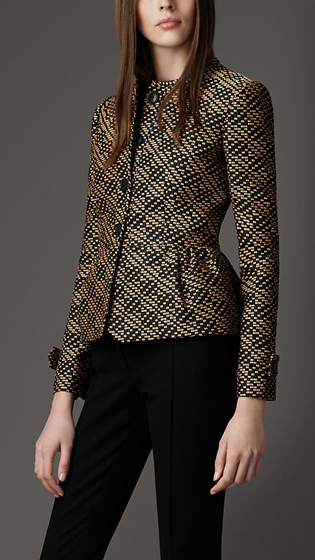 Price: $950.00 at us.burberry.com
Burberry jackets are well known for mixing classic tailoring with modern touches. This structured jacket features a distinctive woven pattern. This jacket would look great worn with tailored black shorts, heeled shoes, and gold accessories.
---
6

Pin Tuck Denim Jacket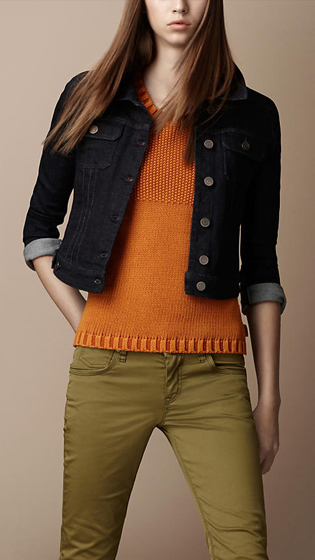 Price: $350.00 at us.burberry.com
You can't go past a denim jacket for a street smart look. Dark indigo denim is a classic, and this one has the potential to become a high rotation piece. It has a cropped cut and features pintuck pleats on the front and back. Wear it with a white dress and tan sandals for a fresh warm weather look.
---
7

Cotton Heritage Jacket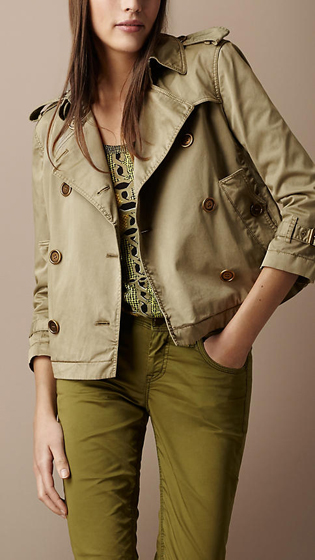 Price: $395.00 at us.burberry.com
This cotton Burberry jacket has a bit of a deconstructed feel to it. Despite being made from soft cotton, it still appears quite structured thanks to the heritage detailing. It would look great worn with cropped jeans and a slouchy tank top.
---
8

Lightweight Cotton Belted Jacket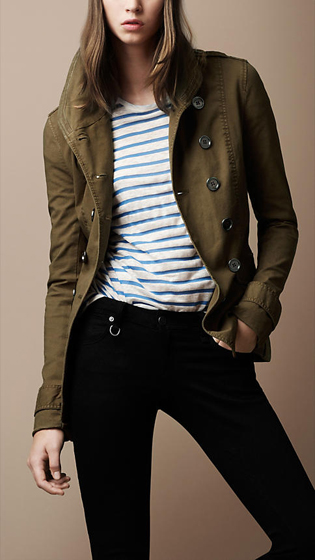 Price: $650.00 at us.burberry.com
A khaki green jacket is ideal for working a military inspired look. It features utility pockets, a waist belt, and engraved metal buttons. Wear it with a tank dress and ankle boots for off-duty style.
---
9

Burberry Seam Detail Blazer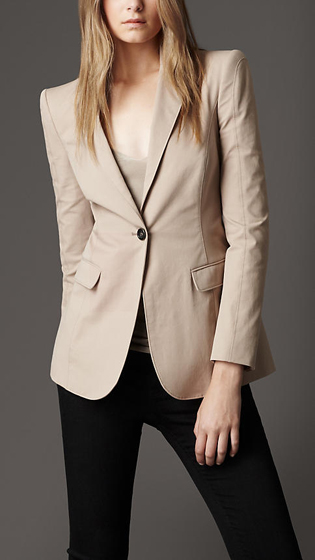 Price: $850.00 at us.burberry.com
This cream blazer will certainly add structure to your look. The shoulders are every so slightly pointed, and the blazer features a single button fastening at the front. This jacket would look great paired with a pastel colour palette.
Since I'm guessing most of us don't have the money to throw away on a Burberry jacket, we can always take design inspiration from our favourite styles. Which of these Burberry jackets do you like best?
Top Image Source: weheartit.com
More
---
Popular
Recent