I know spring is here, but that does not mean that you can't wear a few fun sweaters! The weather has not warmed up much on the East Coast, so spring is our (light) sweater weather! Here are some fun sweaters you can (and would want to) slip on during one of those chillier spring nights:
---
1

Sheer Sleeve Sweater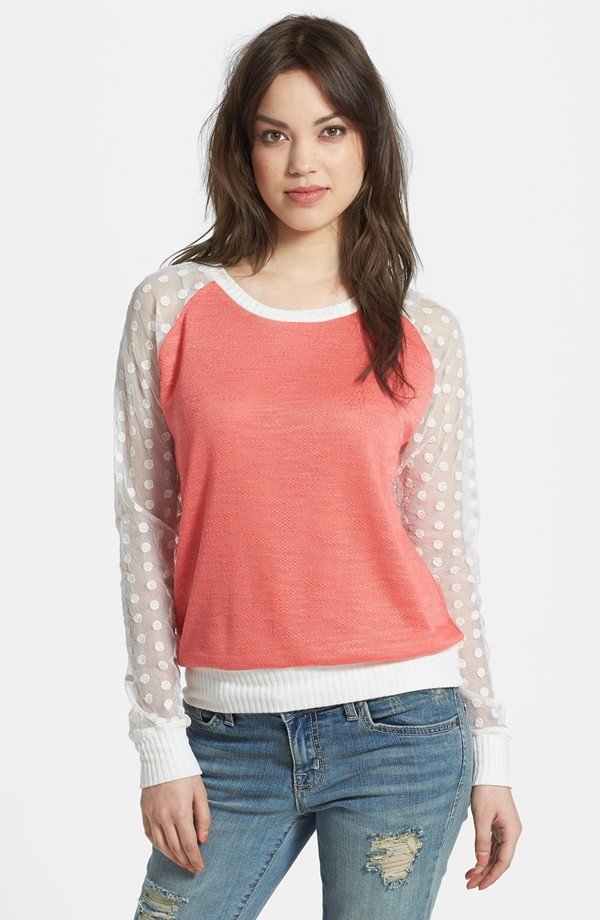 This is one of my favorite fun sweaters on this list! I love everything about this sweater: the colors, the style, and the price. It's a nice loose sweater and the sheer sleeves make it extra flirty! I would wear this adorable sweater with some leggings and ankle boots.
2

'Modern Art' Geometric Open Knit Pullover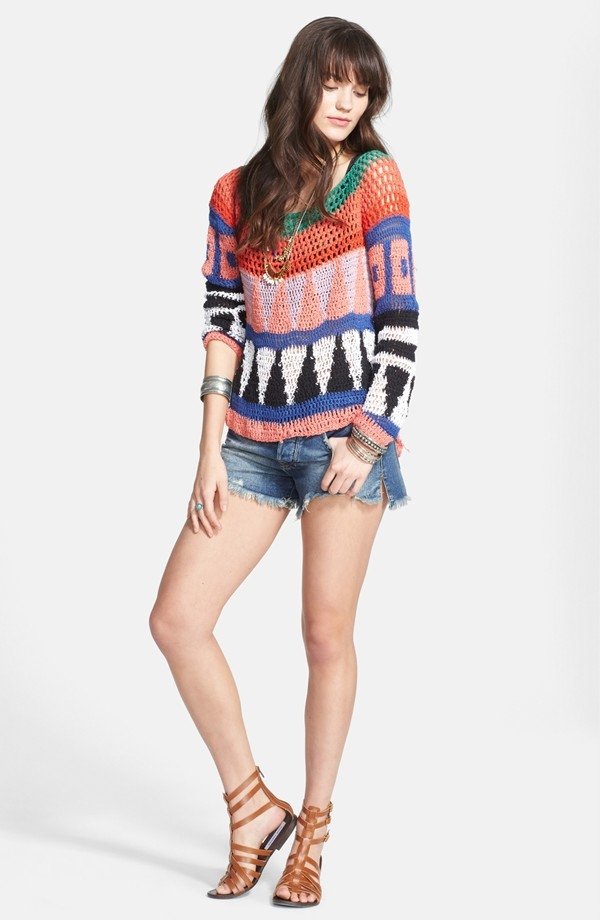 I love the colors on this sweater. Plus, the details and prints are just too much fun! I would wear this colorful work of art with denim shorts and cute sandals. There's not much accessorizing needed, as the sweater is super bold.
---
3

Ted Baker London 'Sugar Sweet' Print Sweater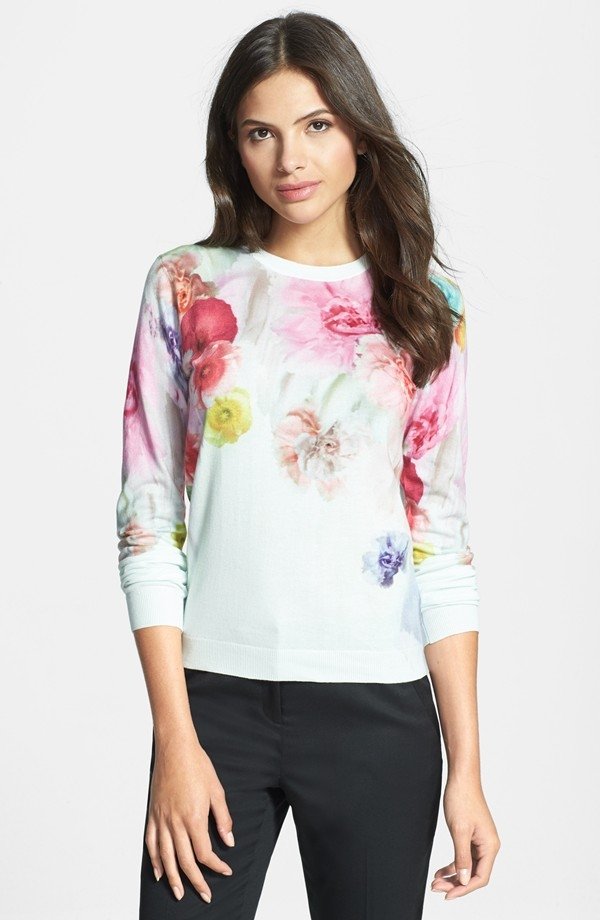 The name says it all! How sweet is this sweater? I love the floral print and it is cool how they are placed! It reminds me of a watercolor – perfect for spring.
---
4

Valentino Bow Detail Pointelle Sweater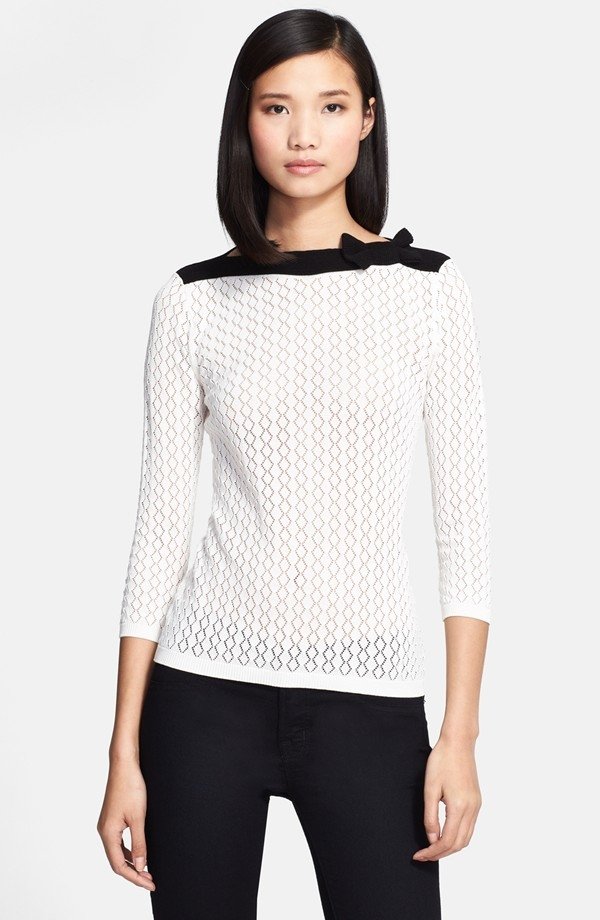 This Valentino sweater is keeping things sweet and simple! I like the interesting knit pattern and the contrast black bow adds an edge to this precious sweater.
---
5

Mixed Pointelle Knit Sweater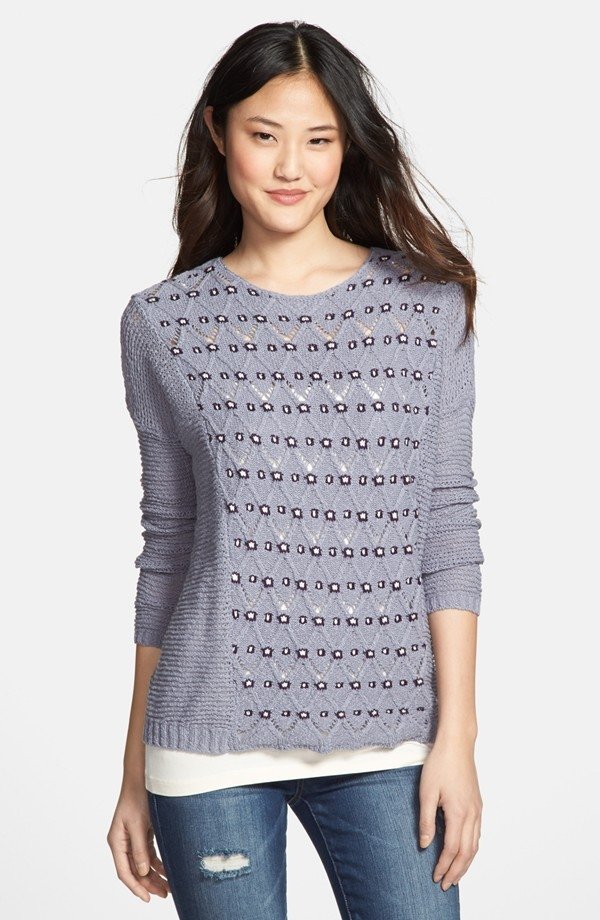 I have always been very careful with mixed prints because they can get tacky! This sweater is very stylish and is very Free People-esque! The front and back have a dot pattern and the loose sides make this a very casual and hip sweater.
---
6

'Floral Grunge' Tunic Pullover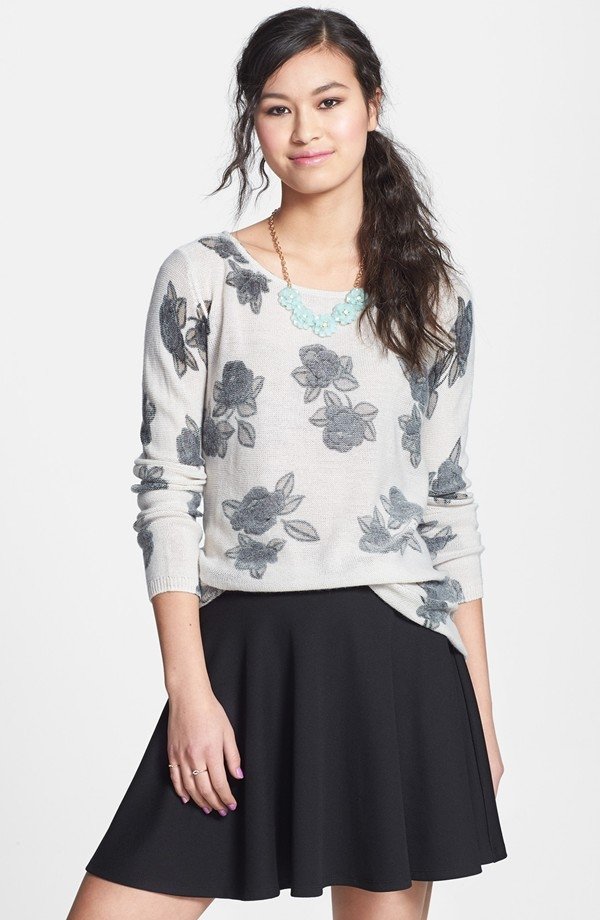 I love simple pieces, and this top is gorgeous! The floral print is bold and feminine, yet the sweater still remains very simple. I would wear this sweater with some jeans and cute flats.
---
7

Embellished Python Motif Sweater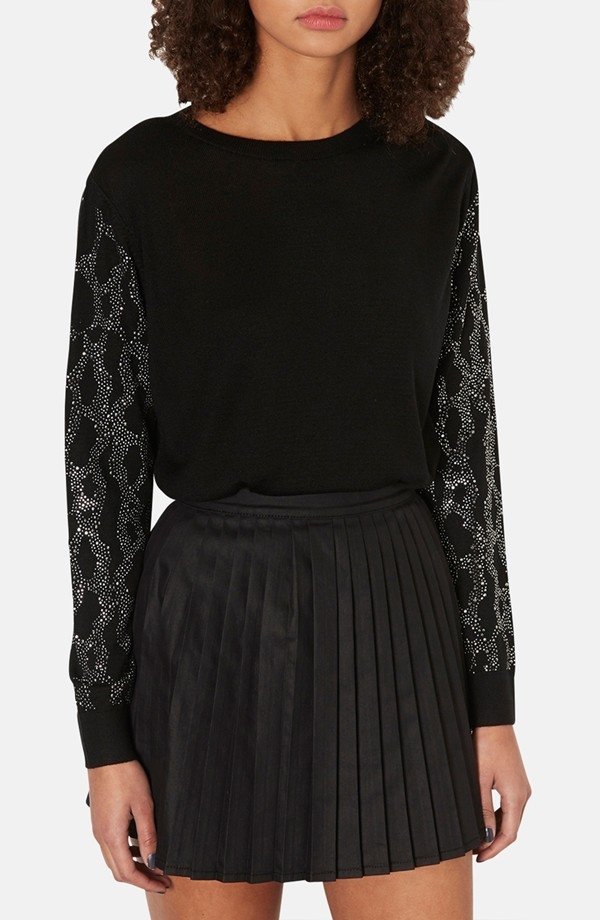 I'm not a fan of dark colors, but this sweater is amazing! I really like the metallic embellishments on the sleeves! This would be a great going out top, since it is pretty lightweight.
---
8

Open Weave Sweater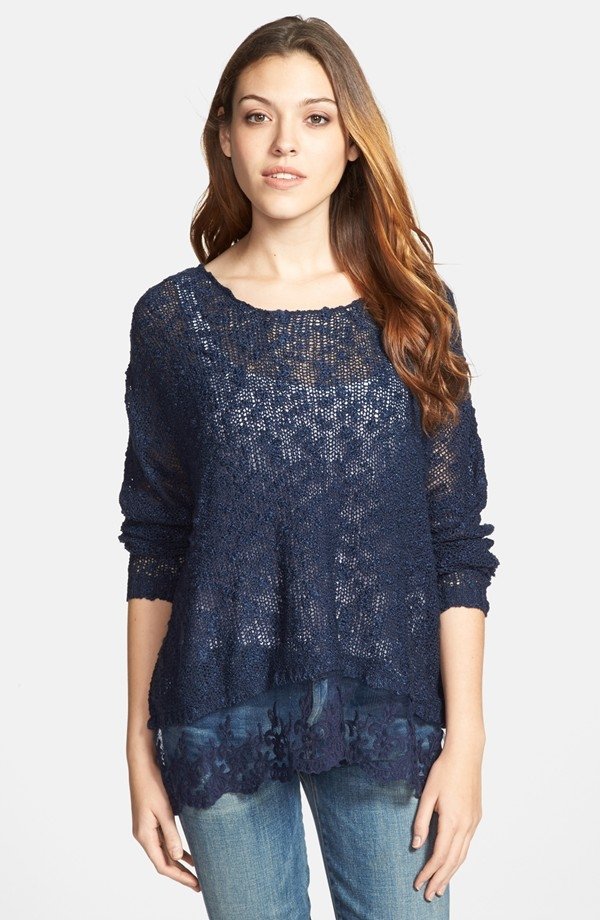 This is such a gorgeous and girly sweater! I like how slouchy this top is. You can definitely pull off the "no effort" look beautifully with this sweater! The lace hem is so cute. This sweater would look great with some leggings, so the lace pops.
---
9

Embroidered Mesh Detail Sweatshirt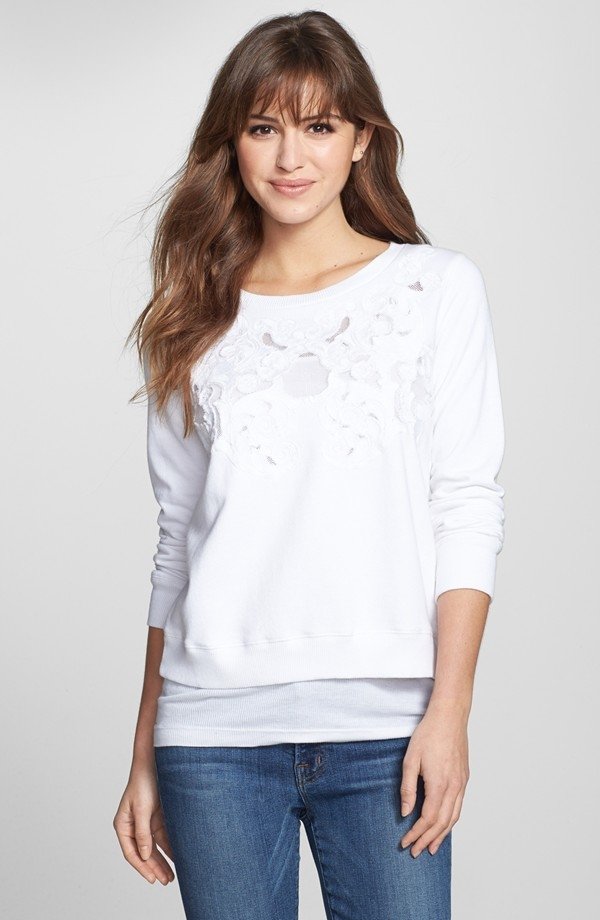 This soft sweater has fun embroidery at the front that really makes this would-be plain sweater a great spring day outfit! I would wear this cute sweater with light wash jeans, or if I'm feeling super chic, white jeans.
---
10

'Shane' Cashmere Sweater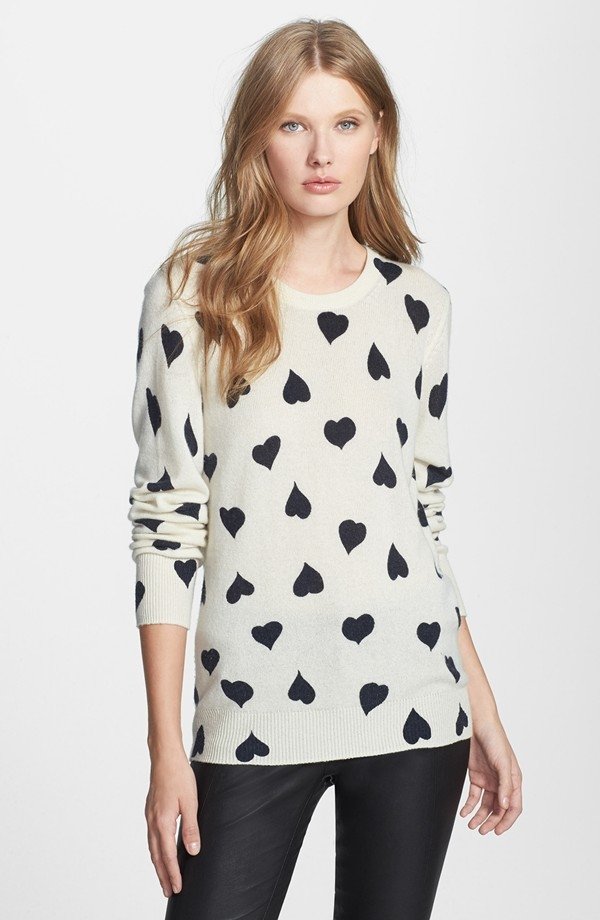 Hearts just make everything adorable! I would totally wear this cute sweater with some leggings to class. The scattered hearts are so eye catching that you won't need to accessorize much.
---
11

Embroidered Shoulder KNit Sweater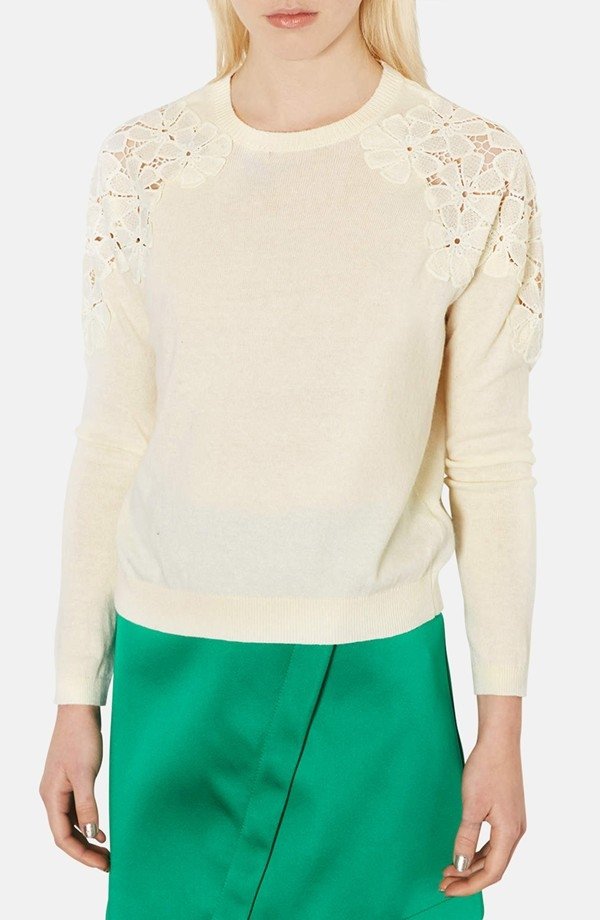 I adore all things lace, including this sweater! I absolutely love the sheer floral embroidery on the shoulders, making this piece less traditional. This sweater would look super cute with a pink (perhaps lace) skirt and some flashy sandals.
Which one of these sweaters would you wear? Where do you like to look for fun spring sweaters?
---
Comments
Popular
Related
Recent