Jean jacket ensembles are perfect for fall because you can stay warm in the cool morning and remove the jacket when the weather warms up in the afternoon. And all that without sacrificing your style. Jean jacket ensembles are adorable and easy to throw together, so get ready to be wowed by all these great looks. Add a jean jacket to your fall wardrobe and you'll be set for the whole season.
---
1

Cropped Jean Jacket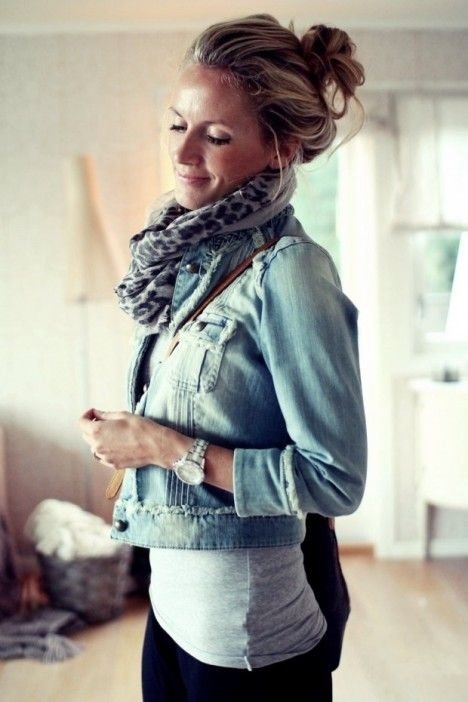 Via Let's talk about you baby ...
Jean jacket ensembles look really cute with a cropped look like this one. Perfect for layering with leggings or skinny jeans and a tank top.
---
2

Dress It up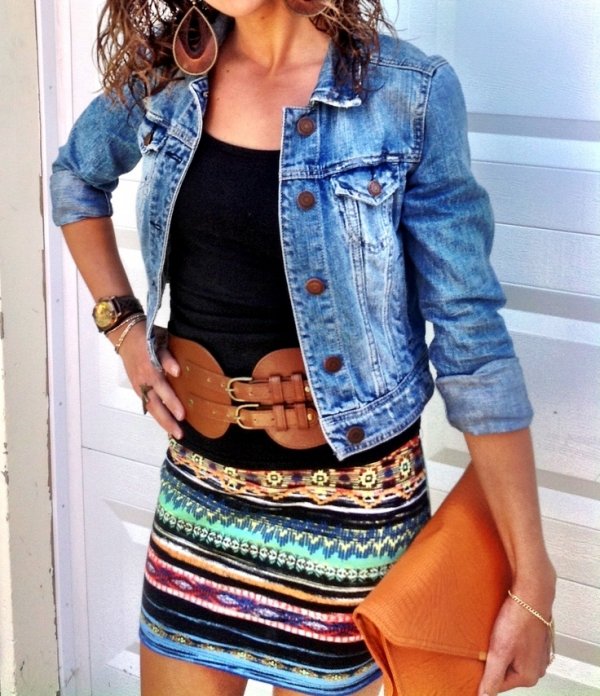 Via Eat Pray Wear Love
You can easily wear a jean jacket to work if you pair it with a nice outfit like this one. Although you might want a skirt that's just a bit longer for the office. I do love the print on this one though.
---
3

With Booties

Via The Skinny on Denim: 8 ...
The booties really give this outfit a fall look although you might consider some tights to keep your legs warm. The fringed clutch is the perfect accessory for denim.
---
4

Long Skirt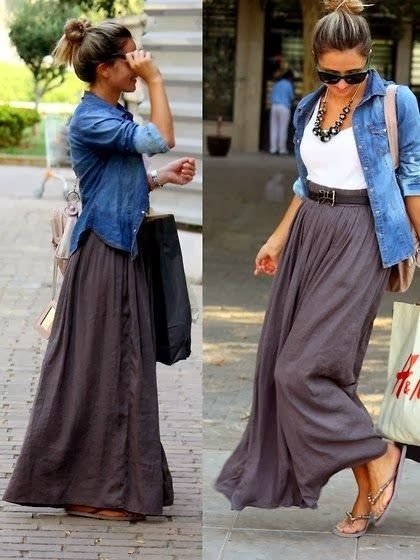 Via LOOK CON FALDA | Diario ...
I love the way this jean shirt jacket looks with the long skirt. This would be great for one of those in between days when it's not cold, but the air has a bit of a chill to it.
---
5

A Little Bit of Leopard

Via Favorite "PINS" Friday! - Walking ...
Denim looks wonderful paired with animal print, especially leopard. But, snake, zebra and giraffe prints would also look stunning.
---
6

White Cuffed Shirt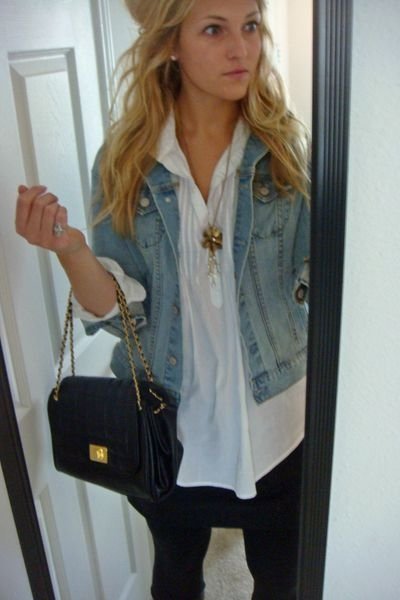 Via The long, black maxi skirt, ...
The jean jacket really gives this white shirt the personality it needs. I love this look with the black pants and purse. What do you think?
---
7

Bright Colors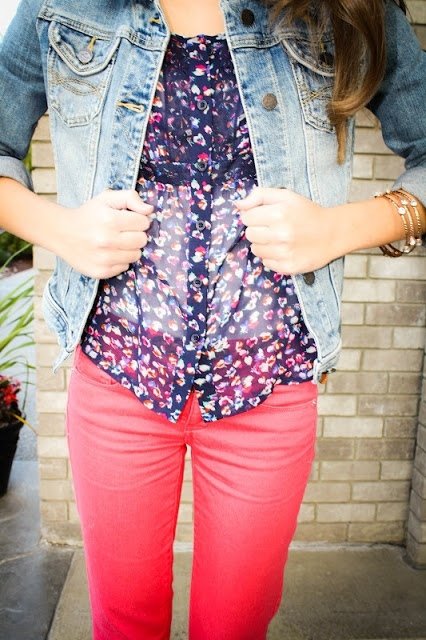 Via Twenties Girl Style
Denim is a neutral, which means you can wear your jean jacket with anything you want. This bright pink is a great choice, but purple, turquoise and emerald green would work just as well.
---
8

With Shorts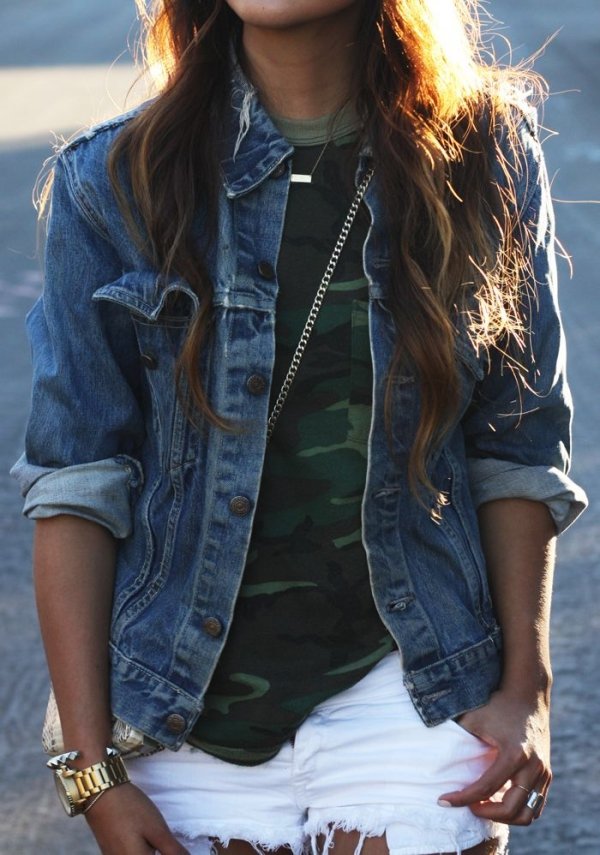 Via Camo Girl. | Sincerely Jules
A jean jacket is a great way to warm up a shorts outfit. I love it with the camo shirt and white shorts. This look would work great for warmer fall days, but might be too cold if the temperature really dips.
---
9

Add a Big Bag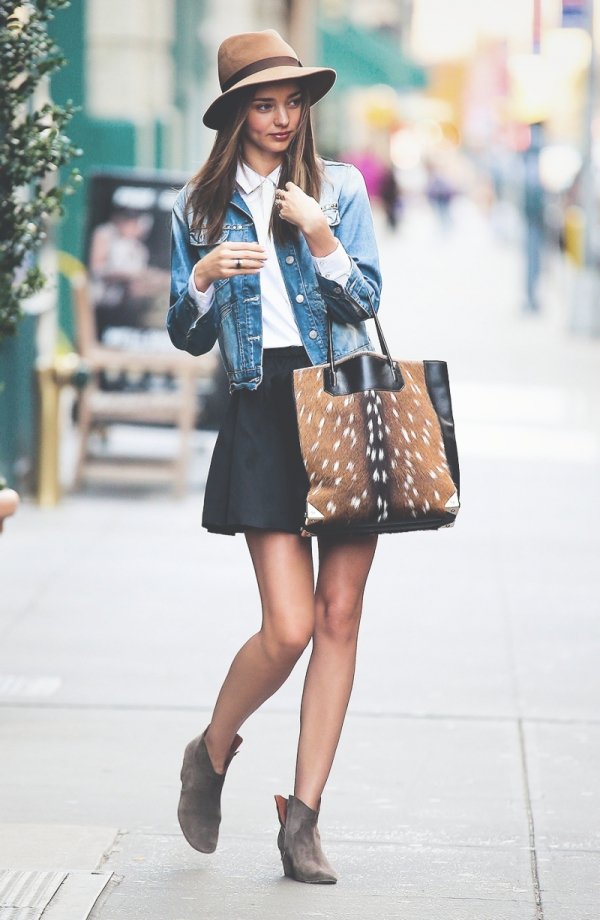 Via Style Inspiration : Miranda Kerr ...
The huge carry all bag in this look really emphasizes the awesomeness of the jacket. And the best part is that just about any bag looks good with denim so the options are limitless.
---
10

Stripes on Top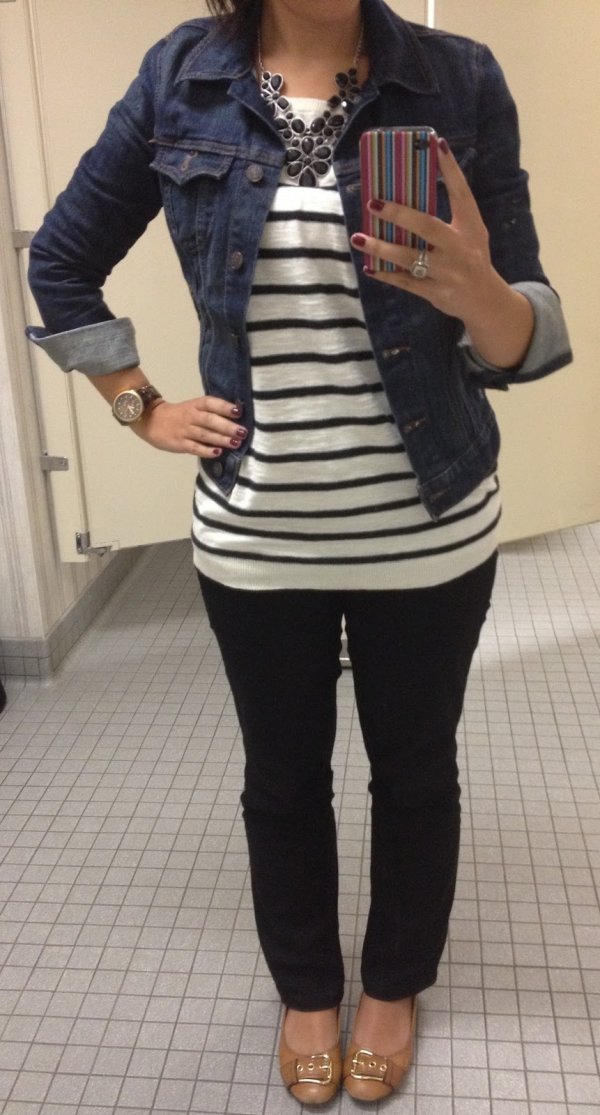 Via | Pretty Little Things: Black ...
Pair a jean jacket with a striped shirt for a fun casual look you'll love. This is probably my favorite look on this entire list.
---
11

Skinny Jeans on Bottom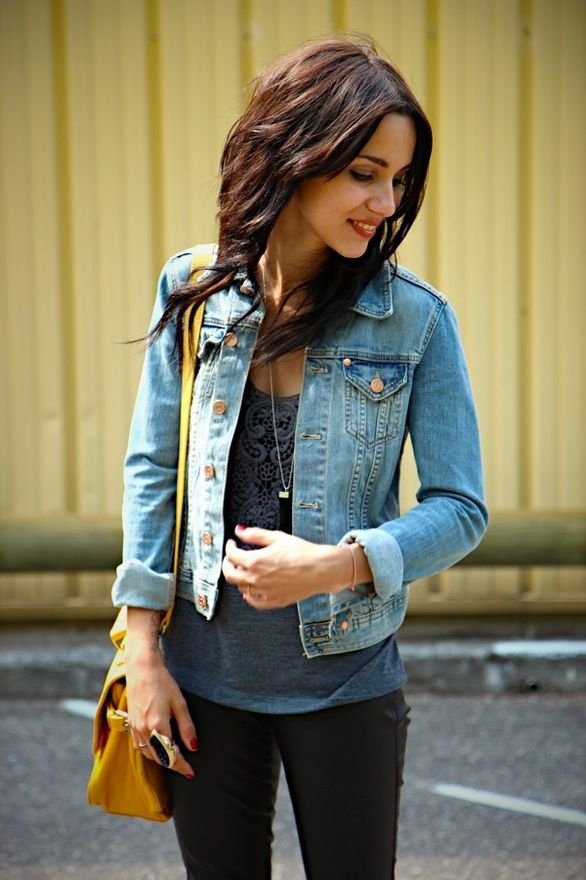 Via getgorgeousstyle.com
I love to pair a jean jacket with a long shirt and some skinny jeans. What do you think? Looks comfy and trendy doesn't it?
---
12

With a Fancy Dress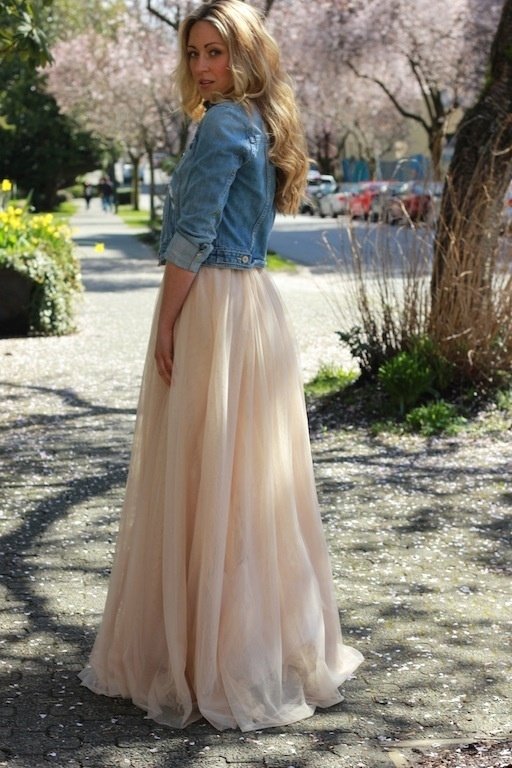 Via A Fashion Love Affair - ...
You might not think to pair a fancy dress like this one with a jean jacket, but it looks stunning, doesn't it? I'd wear this all over the place.
---
13

Totally Casual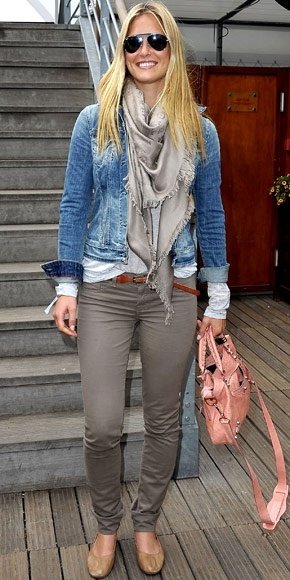 This outfit would be perfect for a fall weekend lunch date or day of shopping. Comfortable, but cute!
---
14

Add a Scarf

Via Outfit Posts: outfit post: white ...
A jean jacket is the perfect backdrop for layering with a fun scarf. Use any pattern or color you love best.
What's your favorite way to wear a jean jacket? I love wearing mine with a maxi dress or a pair of black pants. Is there an outfit on this list you plan to copy this fall?
More
---
Comments
Popular
Recent