Sexy Sweaters are probably my favorite thing about winter. I adore sweaters – they're versatile, comfortable, warm, and yeah, they're very flattering as well. You can find lots of sexy sweaters that are winter-ready – and they aren't all cropped, see through, or even form-fitting. You'll see some of those, sure, but for the most part the sexy sweaters I have to share with you are totally appropriate for the season, warm but absolutely gorgeous!
---
1

Knitted Spot Mesh Jumper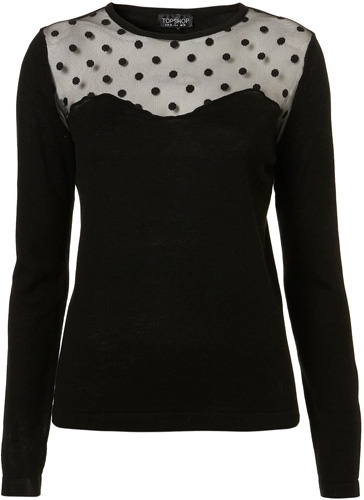 Price: $76.00 at us.topshop.com
Although this is one of the more expensive sexy sweaters on this list, I couldn't resist. I typically veer toward black sweaters, because black will ALWAYS be the new black, but it was the design of this that caught my eye. The optical effect of the sweetheart neckline made out of mesh is just too sexy! It creates cleavage in a tasteful but adorable way – you can't go wrong with that!
2

Jubilant Jungle Cardigan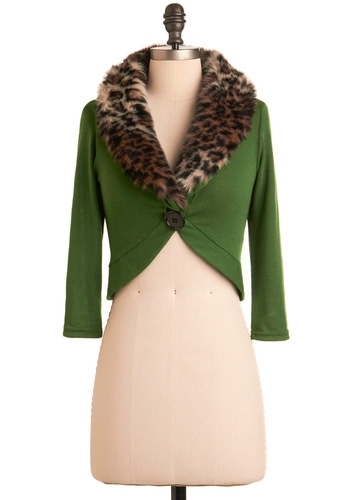 Price: $62.99 at modcloth.com
I tried to stay away from too many cardigans, but I couldn't resist this one. Both animal print and faux fur are extremely popular this winter, and this little number would look so cute with so many different outfits. Pair it with a dress or a fitted little tank, skinny jeans, and knee high boots, and you'll be a looker and a half!
---
3

Knitted Cable Collar Crop Jumper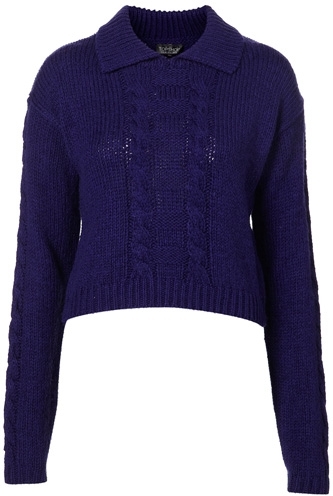 Price: $88.00 at us.topshop.com
Not all sexy sweaters have to be cropped, but some are. I love this one not so much because of its cropping, but because of its color, the long sleeves (a favorite of mine), and the demure collar. The juxtaposition with the cropped hem creates some serious sex appeal – and you just don't see enough indigo today!
---
4

Dermot Knit Cowlneck Tunic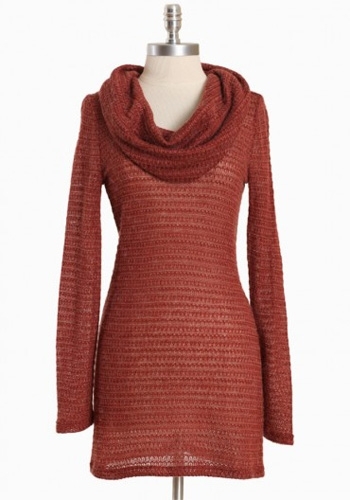 Price: $32.99 at shopruche.com
What don't I love about this sweater? I adore long sweaters, especially when they can flatter curves like this one. The rose/heather color is warm and sexual, and the cowlneck is low enough to give a hint of skin for some subtle but still sizzling sexiness.
---
5

Graduated Mohair Oversized Jumper by Boutique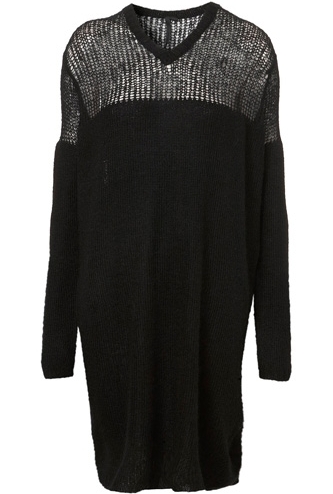 Price: $130.00 at us.topshop.com
A lot of sexy sweaters are actually oversized, and this is one of my favorites. I especially love the vee neck and the top detailing. Pair this with the right leggings or skinny jeans (not tights, though; I don't believe in the no-pants trend), and you'll be a bombshell. Remember, you don't have to let it all hang out to be sexy – this is just a different kind of hotness.
---
6

Street Style Starlet Top in Black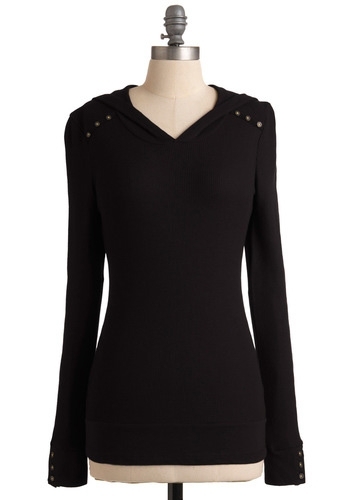 Price: $27.99 at modcloth.com
Yeah, can you tell I like black? I love this sweater because it's simple sexy. It doesn't have a lot of detailing, beyond the buttons and the accents on the shoulders. However, because it's basically a thermal sweater, it promises to cling in all the right places, and the too-long sleeves are right on trend, too. This one is definitely going on my Christmas list!
---
7

Knitted Cocoon Cable Jumper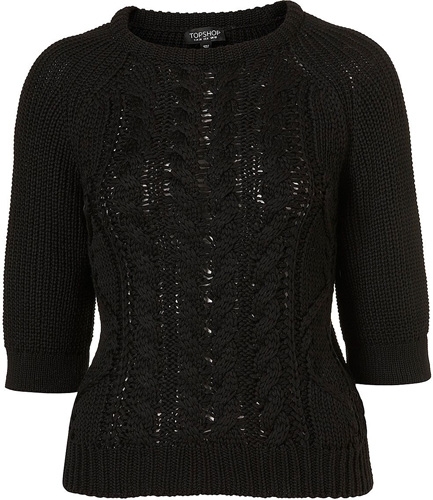 Price: $50.00 at us.topshop.com
Plenty of sexy sweaters are short sleeved, too. Actually, this one has three quarter sleeves, but you know what I mean. It's not just the form-fitting quality that makes it sexy, but also the cocoon shape and the subtle see through quality that teases with little glimpses of skin.
---
8

Do What You Love Top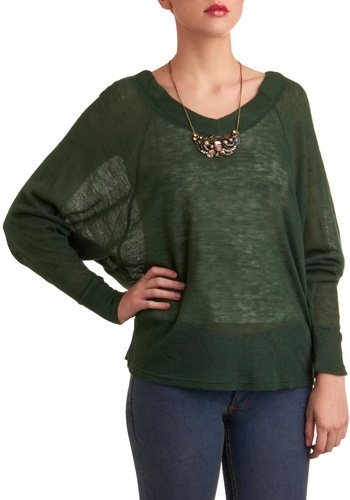 Price: $34.99 at modcloth.com
Speaking of see through, the slightly sheer style of this sweater makes it sexy. The color does as well, because it's not quite the norm. with the vee neck, the oversized sleeves, and the long cuffs, this creates an earthier kind of sex appeal ideal for dozens of occasions.
---
9

Knitted Shoulder Lace Top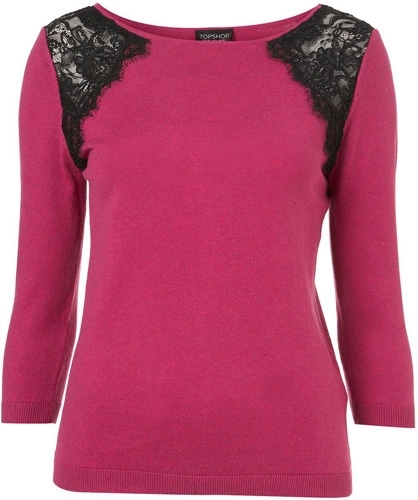 Price: $30.00 at us.topshop.com
You knew there had to be at least one pink piece on here, right? Lots of the sexy sweaters you see this winter incorporate lace, and that's why this one makes the list. It isn't too frou frou, but there's enough lace to make it pretty and feminine. The silhouette is classic but the neckline will show off your throat and hints of your collarbones, for a demure kind of sexiness.
You can find sexy sweaters no matter what your personal style, age, budget, size, or taste. Long sleeved, short sleeved, cardigan, or pullover, there are sexy sweaters that will still keep you warm in the coldest weather. Personally, I love either oversized options that show a little skin or sexy little form fitted numbers. I'm a big fan of sweater dresses, too, but that's another post entirely! To the point, when you buy sexy sweaters, what do you look for?
Top Image Source: weheartit.com
---
Popular
Related
Recent