This season sees pencil skirts getting a new lease of life. They've been streamlined, freshened up with bold prints and eye-catching block colors, and they are even popping up everywhere made of interesting textures such as leather, lace and sequins. Whether you're going for a classic work look or a sophisticated night out, here's the pencil skirts you'll be lusting after this season.
1

The Work Skirt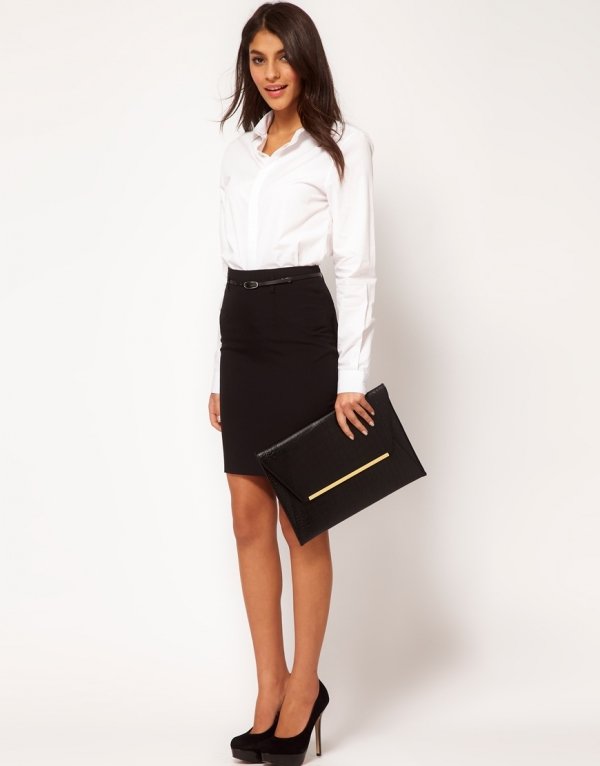 Pencil skirts are perfect for getting a work look that makes you both look and feel professional and sophisticated. This ASOS skirt is no different, combining hard-wearing and easy-to-clean fabrics with a flattering and comfortable streamlined shape. The black is brightened up with a shiny black belt, and it's just crying out to be teamed with a crisp white shirt or colorful blouse. You'll wear it all the time, and it's cheap as chips. Win.
2

The Brown Skirt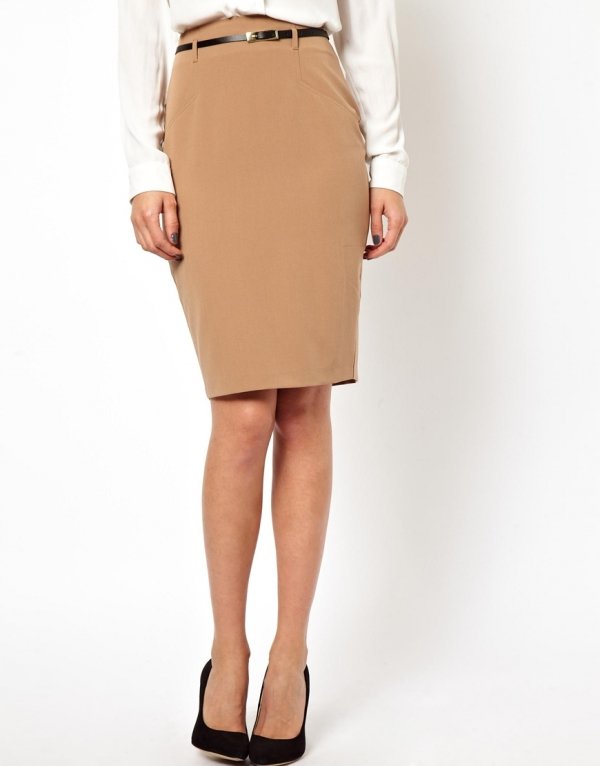 After something a little different? This striking camel skirt is right on trend, combining this season's hottest color with the great high-waisted fit. The pin buckle belt and jetted pockets keep it cute, and the kick split is ideal for vintage lovers. Keep it classic by teaming it with black shoes and a long sleeve white shirt a la the model – it's the perfect look for this skirt.
3

Go Bold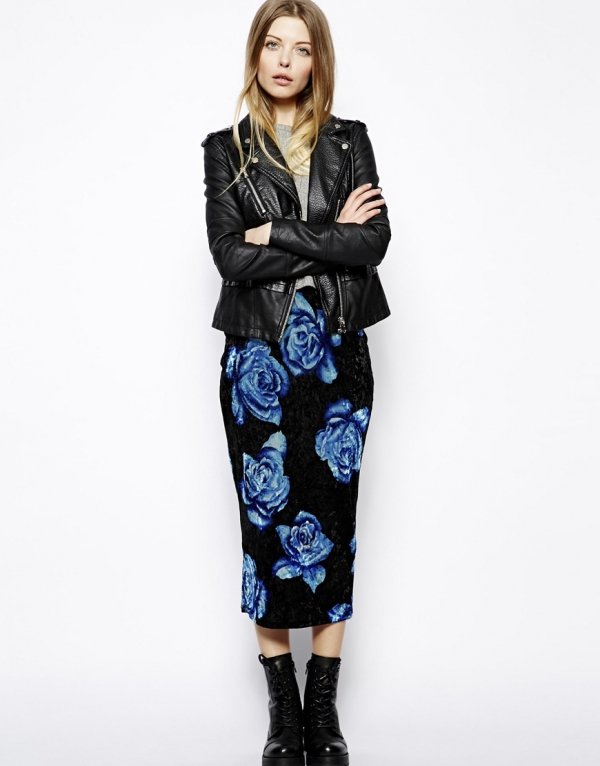 Pencil skirts don't have to be plain. This reclaimed vintage skirt teams a black backdrop with bright blue roses, and the velvet texture adds extra oomph. The combination of such a bold print and the flattering high-waisted fit makes this one skirt that you won't want to pass up – it might be tight, but it's got an amazing body skimming fit that will make you look incredible.
4

The Maternity Skirt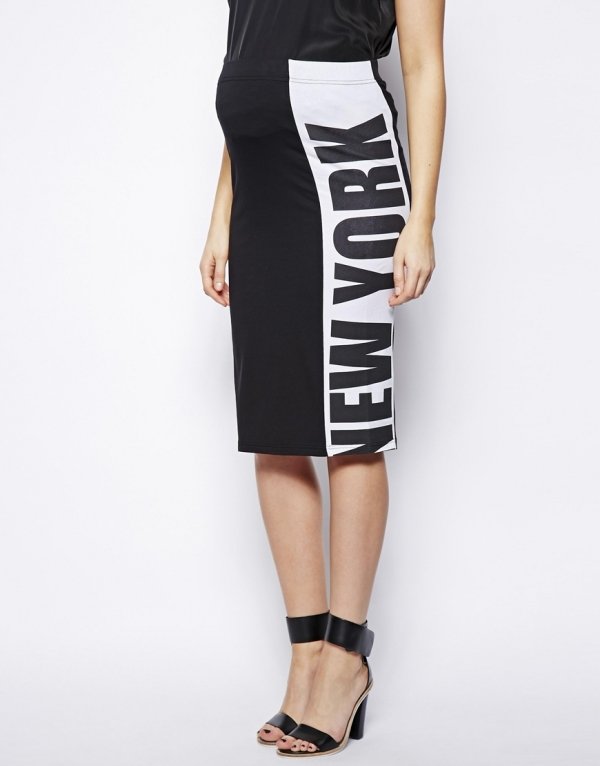 Yep, this look even looks amazing on growing bumps. This pencil skirt is designed to fit throughout the different stages of pregnancy, and it's made of a comfortable soft cotton jersey material. The high-rise waist is flattering and on-trend, but it's also elasticated, so you can stay comfortable! I love the printed sides, too, and the bodycon style fit. Try wearing it with a tucked-in black vest, or a billowing cami. Either way, you'll look amazing.
5

The Shiny One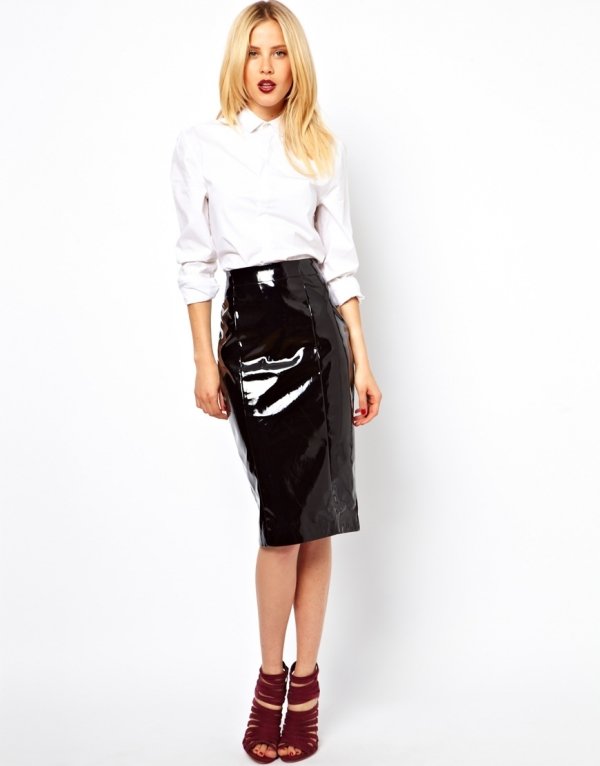 This patent PU pencil skirt looks like something the daring Ms. Cyrus would wear. The leather look finish is really glossy, meaning it will always draw the eye, and the high-waisted cut makes it ideal for teaming with cropped jumpers or tees. Its skin-tight design is sure to flatter any figure, too. Try teaming it with a cropped top, or an oversized jumper. You'll love both looks!
6

The Hemmed One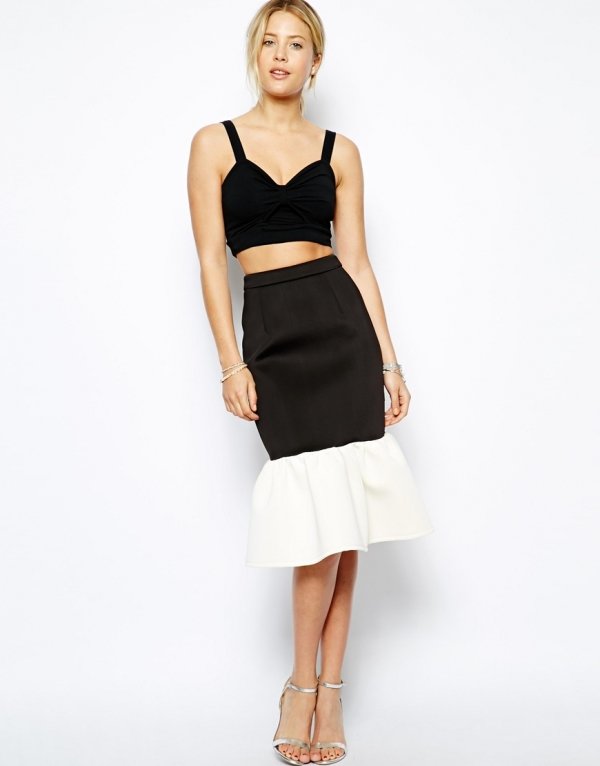 Bold and beautiful, this pencil skirt is made of a soft knit fabric that is ideal for cooler days. That's not the only reason we love it, either! It's rocking the color block design effortlessly, with the black skirt flaring out into a white peplum, and the pleated design gives it a youthful touch that you'll just love. Wear it with your strappiest shoes, and feel like fashion royalty.
7

The Organza One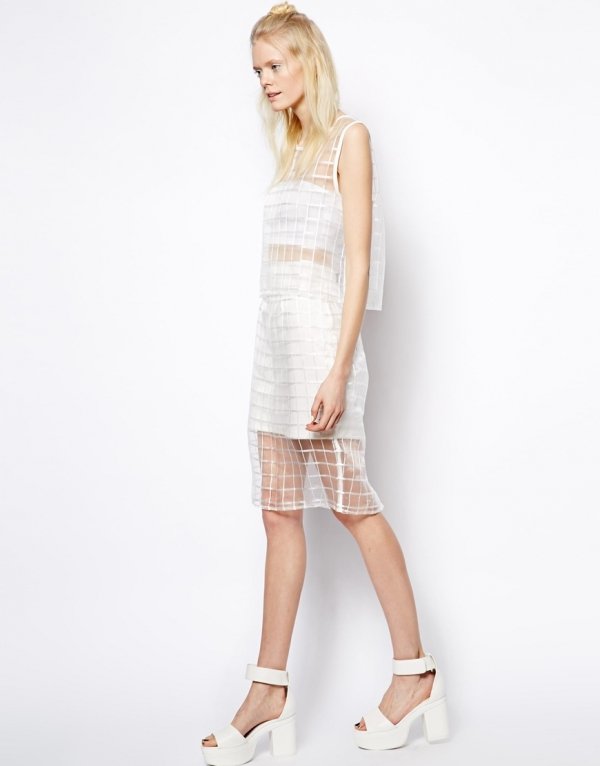 The celebs are loving see-through pencil skirts right now, so here's how to get the look if you're craving it. First, opt for a good quality skirt! This State of Being skirt is made of a poly fabric, which means that it is easy to care for, but it's heavy enough to stay down. Nobody looks good with their skirt blown up! The high waist and short length are accentuated by the sheer overlay, so make sure that you're all covered. You want to hint at being risqué, not show off your underwear. And just in case, make sure that your underwear matches your skirt, and has you covered! This is not a time for going commando. To own the look, try wearing an organza skirt with a ponytail, red lips, chunky heels and a cropped top. '90s chic.
I'm loving pencil skirts at the moment. From wrap styles to bold prints and neons, there are so many styles, and they are super easy to team with shirts, blouses, cropped tops and tees. They're totally versatile, and easy to care for. Which pencil skirts are you loving right now? Let me know!