The spring fashions from Torrid are officially in, so I've taken a break from spending way too much money to share some super hot looks with you! Okay, so, every girl has different style and my picks might not be your picks, but this will still give you an idea of what you'll find in Torrid's spring offerings. Whether you're looking for top trending pieces or lasting items that will work throughout the summer, fall, and winter as well, I've got you covered. Shop at the right time, and you'll even get some of these spring fashions from Torrid at an enviable discount!
---
1

Knit & Tribal Chiffon Hi-Lo Dress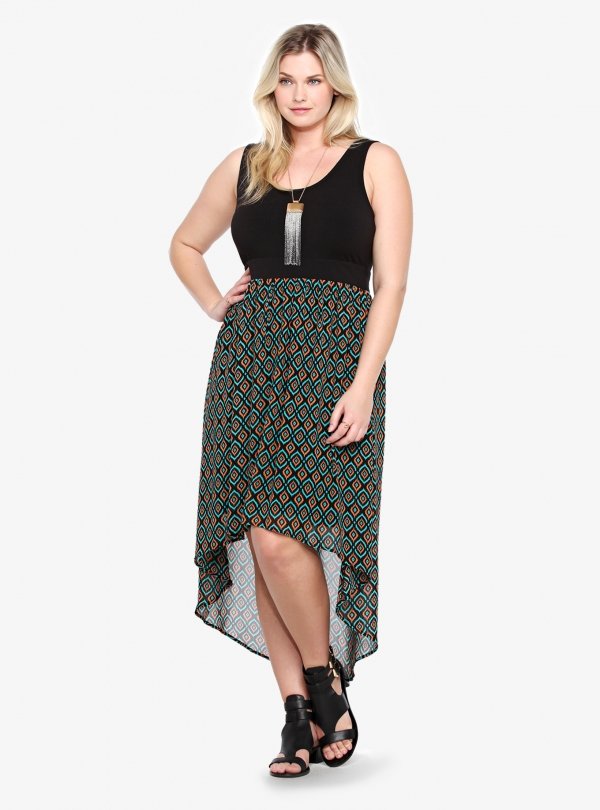 I really love the hi-lo trend, and this one's cute enough to last you all the way through summer and early fall. It's lightweight with plenty of stretch, and that chiffon skirt is so gorgeously flirty and feminine. The color scheme, however, lends some vibrancy and edge, so you'll stand out among the season's pastels as a serious trendsetter. This dress is one of my favorite spring fashions from Torrid, but the same silhouette is available in all different colors and styles.
---
2

Leopard Challis Skater Skirt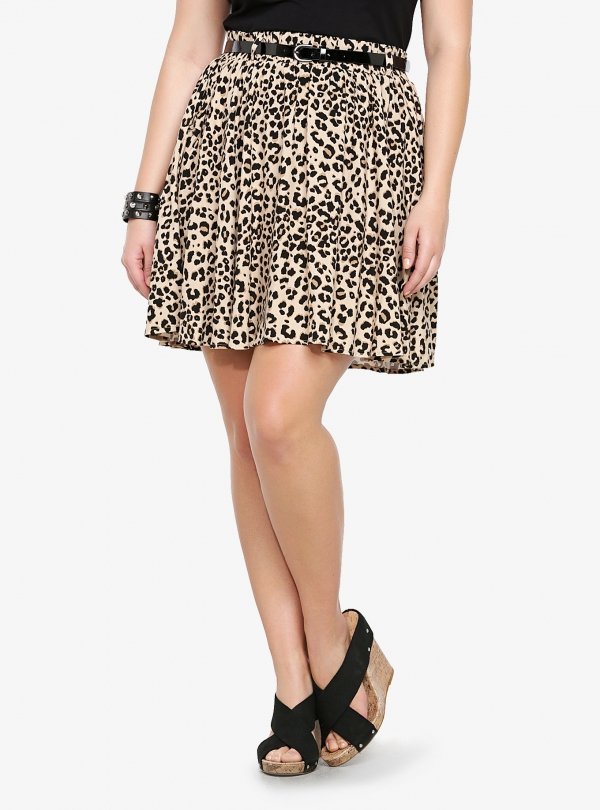 I'm not usually into leopard print, but this skater skirt just speaks to me. The hem almost bubbles, but you still get some gorgeous, flirty fullness. Plus it has pockets, and that's always awesome. I love that chic little belt as well – and hello versatility, because you can easily use that with other items already in your wardrobe. I can't help but think this skirt would look killer with some retro red heels, what do you think?
---
3

Twill Blazer in Olive Green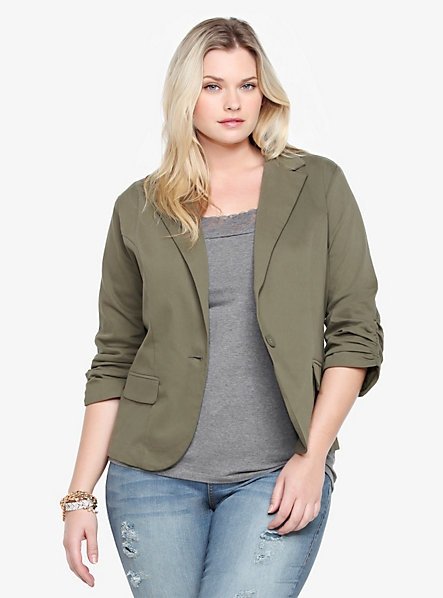 I'm really, really into blazers lately. They're both on-trend and timeless, because when won't you wear a blazer? They work at the office, or with casual off-duty looks when you're rocking heels and skinnies. This one presents a fun take on the military trend, thanks to the color, and the ruching on the sleeves adds a cool, casual punch.
---
4

Hashtag V-Neck Tee

I don't normally love graphic tees either, but lately I've been buying a bunch from Torrid (full disclosure: they're all Harry Potter related). This is one of them, because the fit is both comfortable and flattering, and for my money there's nothing sexier than a vee neck. The best part? The snark implied in all the hashtags! I actually bought this for Heather like five minutes ago – I told you I was spending money. Do you think it counts as research in this case?
---
5

Retro Chic Polka Dot Ruched Top

Torrid always has really ravishing retro pieces, and this is just so hot. You'll look and feel pinup pretty, between the polka dots, the flatteringly snug fit, and that gorgeous neckline. This top will do justice to all your gorgeous curves. I'm thinking red lip all the way, how about you?
---
6

Torrid White Label Cropped Denim Jacket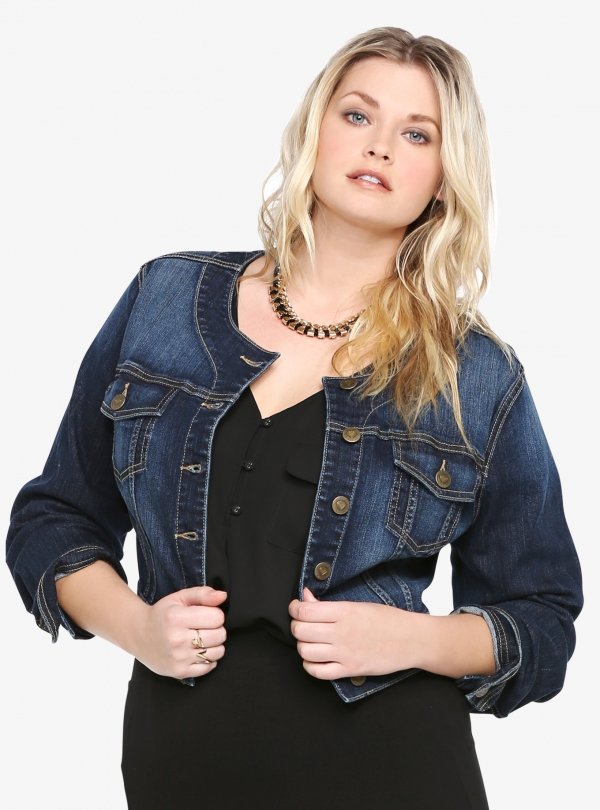 Spring practically cries out for denim jackets, but this is a marvelously modern take on the trend. The dark wash is dramatic enough to keep it from being too cheesy-'80s, and the cropped cut keeps it trendy and tasteful. You could wear this with any number of outfits, and it will easily carry all the way into fall. You can't lose!
---
7

Torrid Cropped Skinny Jean with Patches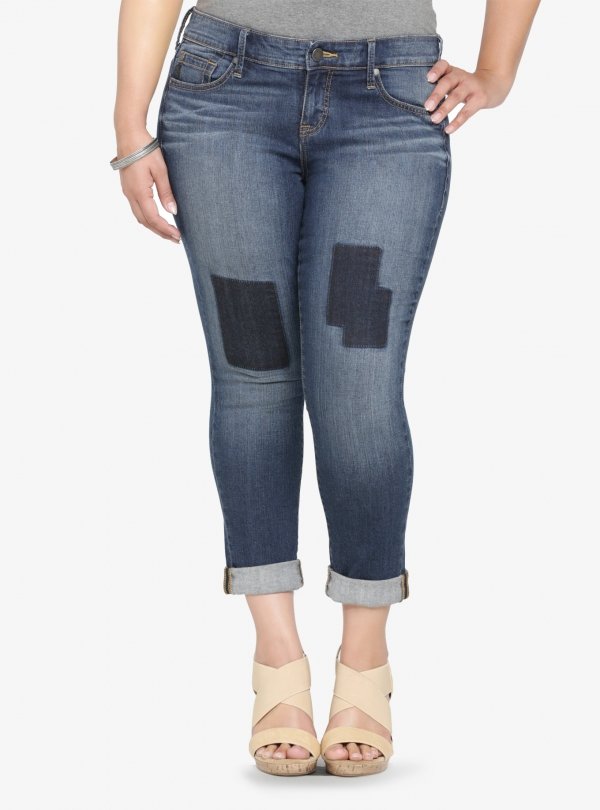 Spring's still a little too cold for shorts, which is why cropped jeans are likely to be out in full force. I quite like these, as long as they're pretty fitted – I'm a shorty, so baggy capris make me look stumpy. This pair is excellent, and saved from being boring thanks to the trendy patches. There are lots of distressed pairs available too, though, so have a look around.
---
8

Oscar Wilde Be Yourself Quote Tee
I really do hope that buying something I see when writing counts as research, because I bought this one for me. I'm a huge fan of Oscar Wilde, the fabulous king of the snarky turn of phrase. This quote, however, is beautiful, and sure to be a great pick-me-up when you're feeling down. The fact that it's emblazoned on a comfy yet sexy tee just makes it better.
---
9

Torrid White Label Boyfriend Jeans with Destruction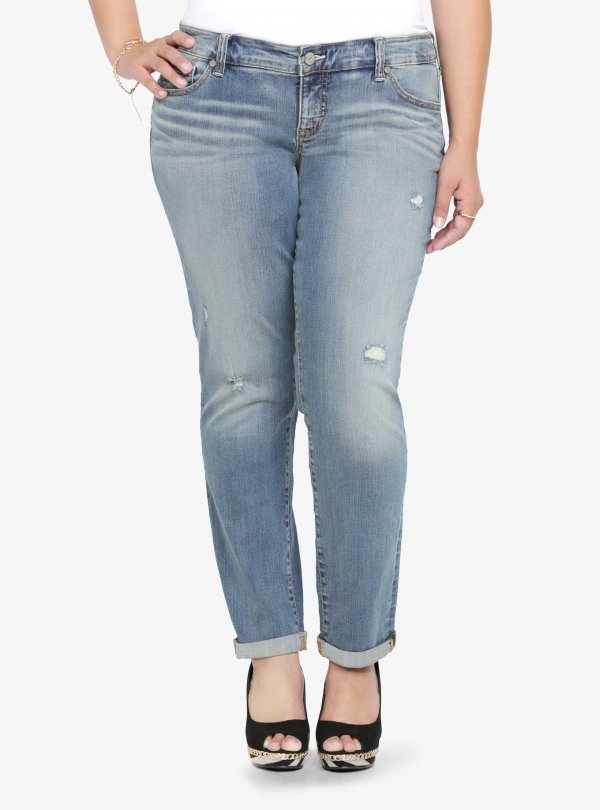 And finally, the perfect pair of jeans! Well, I think so anyway, but I'm a fan of destruction. Give me a pair of distressed jeans and I'll wear them for days. These are versatile enough that you could dress down for a lazy day or vamp them up with the right top and shoes to hit the town. That retro polka dot top, for example, or that gorgeous olive blazer would look fabulous with these jeans.
Your mileage may vary, so if you've been scoping other looks on Torrid, please share! How would you style any of these options, though? And when you're shopping for spring, do you look for pieces that will work for several seasons?
More
Popular
Recent