Move over, skinnies. Flared jeans are coming back and promise to be bigger than ever, no pun intended! Figuring out how to style flared jeans can be a little confusing after so many years of wearing skinny jeans. These're 7 tips to help you rock flared jeans this season.
---
1

With Boots, Ankle Boots, Heels or Flats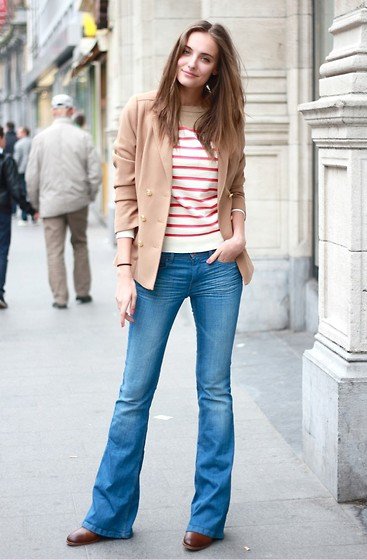 You can wear flared jeans with boots, ankle boots, heels or flats. But there're some basic rules to remember here. Riding boots aren't going to work out well unless you wear your flared jeans over them. In fact that's the case for most boots. Ankle boots and flats can be pulled off without a hitch. With heels, you want to wear a flared jean that has a longer hem line so they end at the correct length.
---
2

With a Solid Button up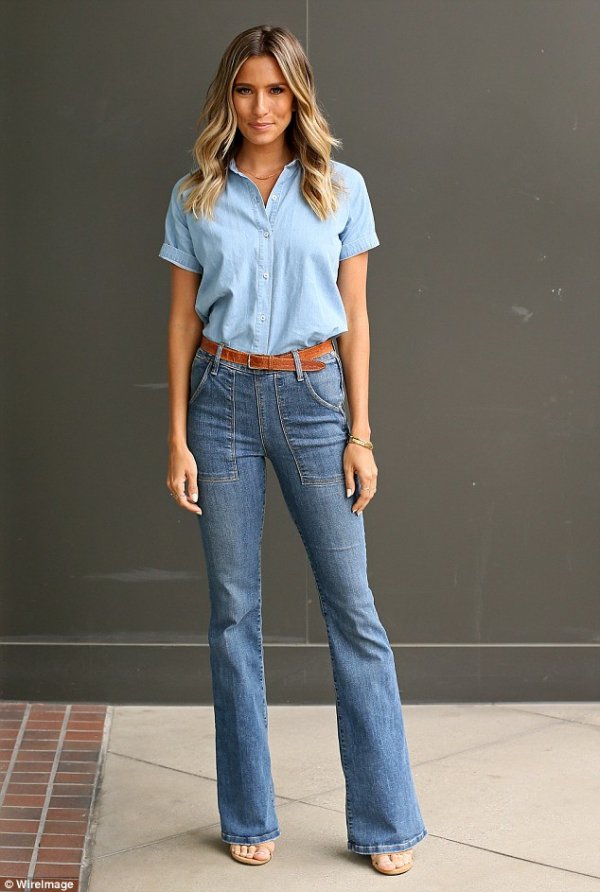 Flared jeans are going to be attention grabbing. Since they're making their re-entrance into the fashion world, they're going to be noticeable. Because of this, it can be best to keep it simple on top. A solid button up can work great. Tucking it in gives you a streamlined look where all the emphasis is on the shape of your jeans.
---
3

With a Turtleneck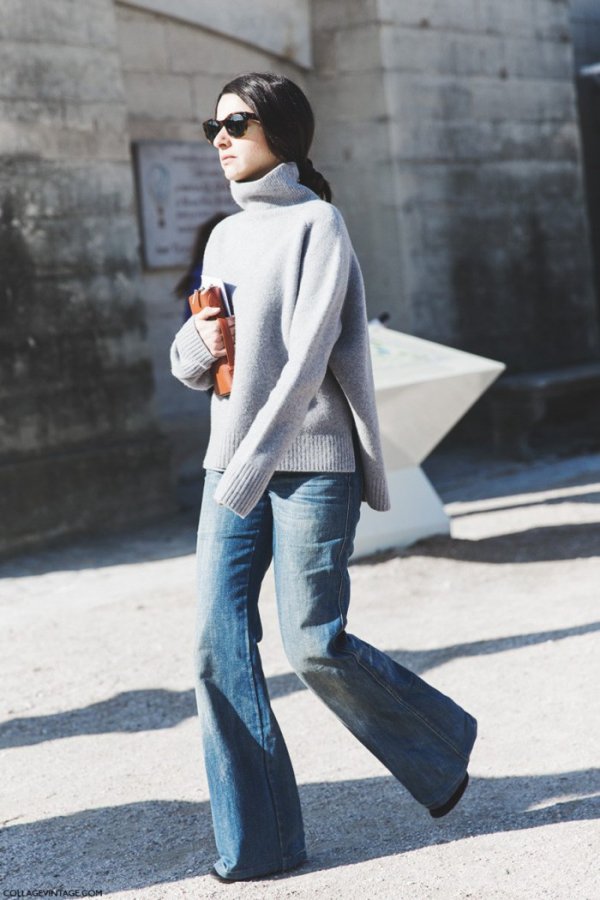 Turtlenecks remind me of Jackie O! This's especially true when it's a black turtleneck. The iconic pictures of Jackie O and Audrey Hepburn wearing black turtlenecks have always made me associate this look with one of elegance and grace. And the black turtleneck pairs especially well with flared jeans. It's how both Jackie O and Audrey Hepburn often wore theirs since flared jeans were trendy during their iconic fashion days.
---
4

Add Vintage Style Sunglasses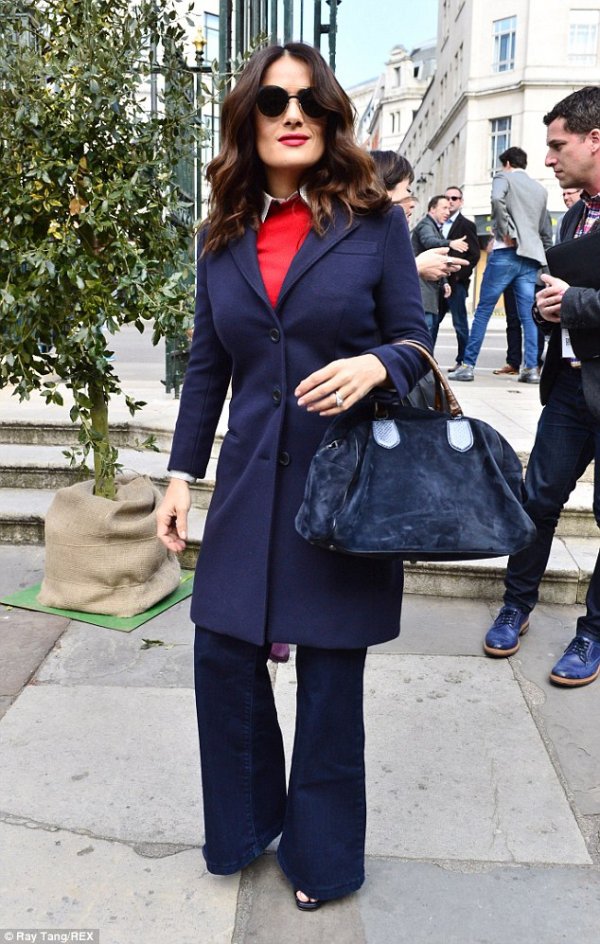 Vintage style sunglasses are the accessory you need with flared jeans. Flared jeans have had several periods of popularity but their first appearance was in the 60s and 70s. Vintage sunglasses and flared jeans is another look inspired by Jackie O, Audrey Hepburn and other famous women of their time. It's gives you an air of sophistication and glamour. Don't be surprised if others begin asking for your tips on how to rock flared jeans.
---
5

With a Blazer and Tee

For a more modern look, try wearing your flared jeans with a blazer and a tee. It's nice to wear a blazer in a colorful shade to make this look a little more interesting. You can go for a solid tee but a graphic tee is also a nice choice. Since graphic tees are practically everywhere these days, this makes your outfit feel more grounded. It can help ease you through your jeans transition.
---
6

Paired with a Neutral Bag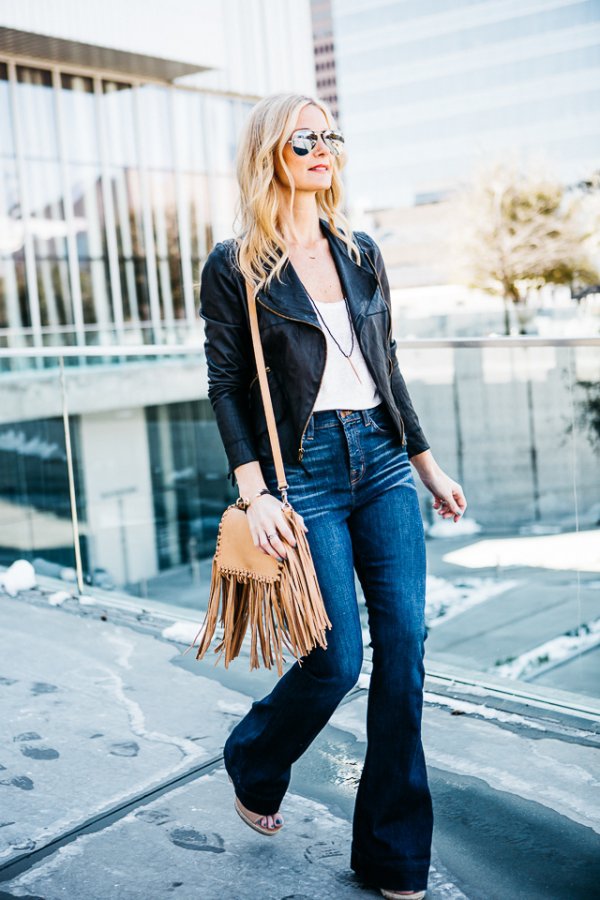 Everywhere I look I'm seeing flared jeans paired with neutral bags. Apparently this's the way to style your flared jeans. I can see the wisdom in it. There's no competition for attention; a neutral bag won't distract from your jeans. Go for a bag in black, charcoal, pale gray, brown, beige, tan, or even winter white.
7

With a Simple V Neck Tee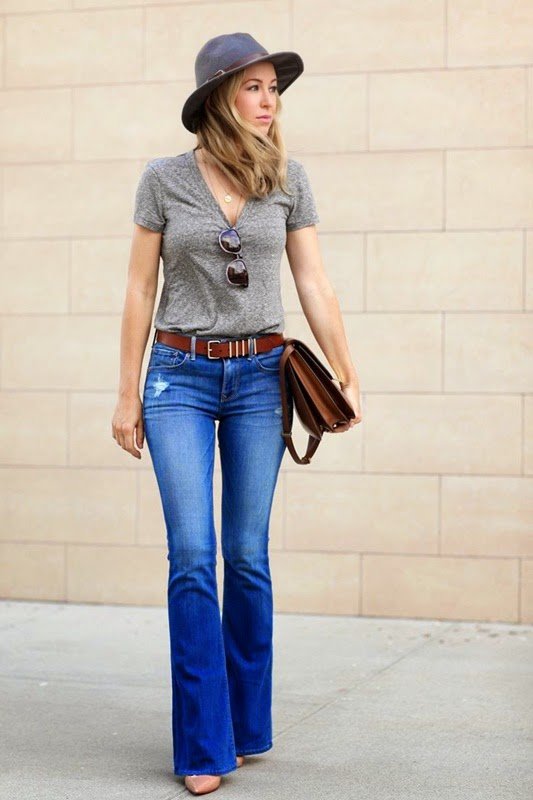 A simple v neck tee goes with so many things. You can wear it with a skirt, joggers, shorts or any of your jeans, including the flared jean. With the seasons of cooler weather upon us, you can pair it with a cardigan or choose a v neck sweater instead of a tee. It's a casual way of styling flared jeans. It's good to have options to dress up or dress down any pair of jeans.
These're 7 ways you can rock flared jeans this season. What're your feelings on the return of flared jeans? Are you loving the trend or hating it?
---
Comments
Popular
Related
Recent