Winter street style looks are a great place to draw inspiration from when putting together your cold weather outfits. Street style snaps are a great way to see how the latest trends work off the runway. Whether it's the magazine editor outside a fashion week show or just a cool inhabitant of a metropolitan city, there's always something you can take away from a good street style look. Get inspired this season by the following winter street style looks.
---
1

Baggy Leather Pants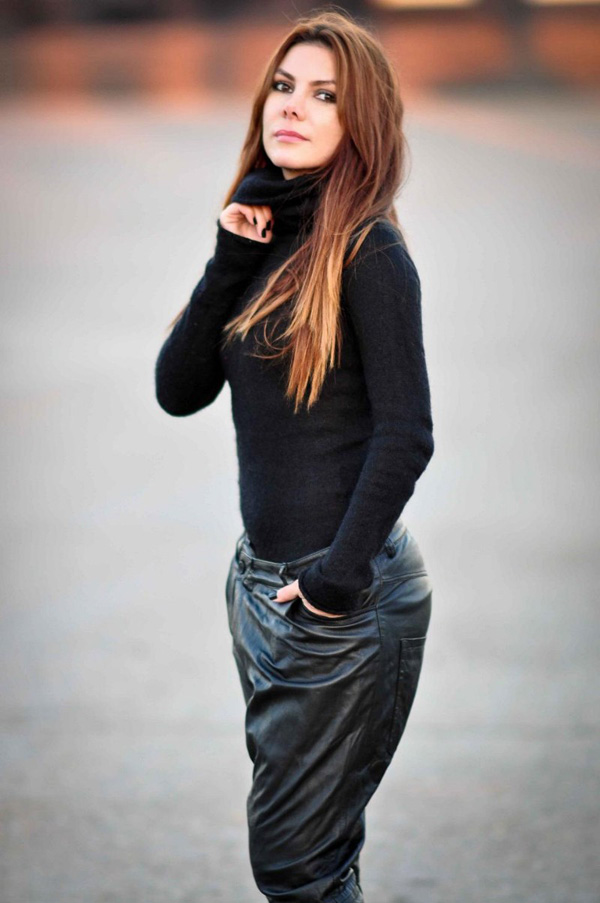 As far as winter street style looks go, "baggy drop-crotch leather pants" might not initially sound enticing. However, the tight leather pant is given the flick this season in favour of a more sport-luxe silhouette. Worn here with a structured jacket and high heeled shoes, the pants are given a more polished appearance.
---
2

Baroque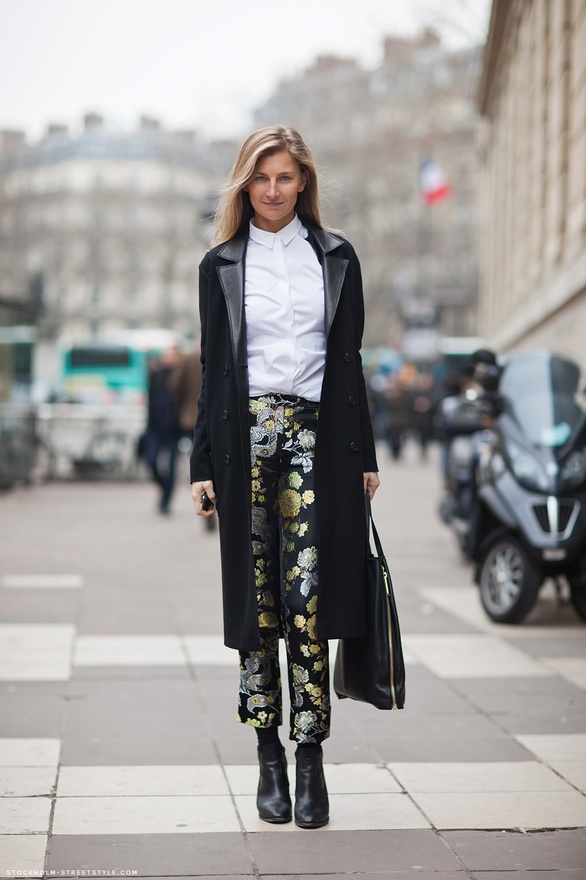 Baroque is a big buzz word at the moment. As far as trends go, this one is all about over the top excess. An easy way to make it work in real life is to go with a strong print. Scarf and paisley prints are a great way to mix this trend into your outfit. Finish the look off with some costume jewellery and statement shoes to really take it to the next level.
3

Cape Coat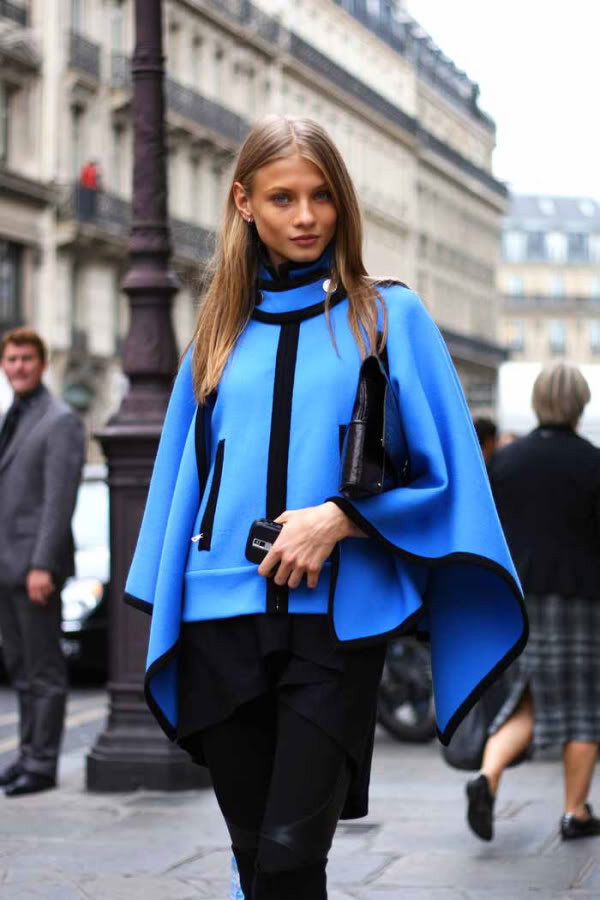 Embrace the cape this winter as an alternative to the common coat. They can look retro, ladylike, or extremely modern depending on how you style them. Neutral colours like black and tan are safe options as they can transition into your everyday wardrobe much more easily.
---
4

Chunky Heels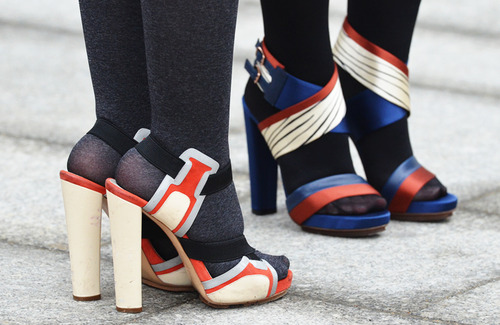 Lately there's been a lot of focus on the statement shoe. Whether you opt for a platform heel or maybe an edgy ankle boot, a chunky heeled shoe is the perfect sturdy footwear option for your winter outfits. Wear them to balance out more girly outfits, like Alexa Chung does here.
---
5

Chunky Knits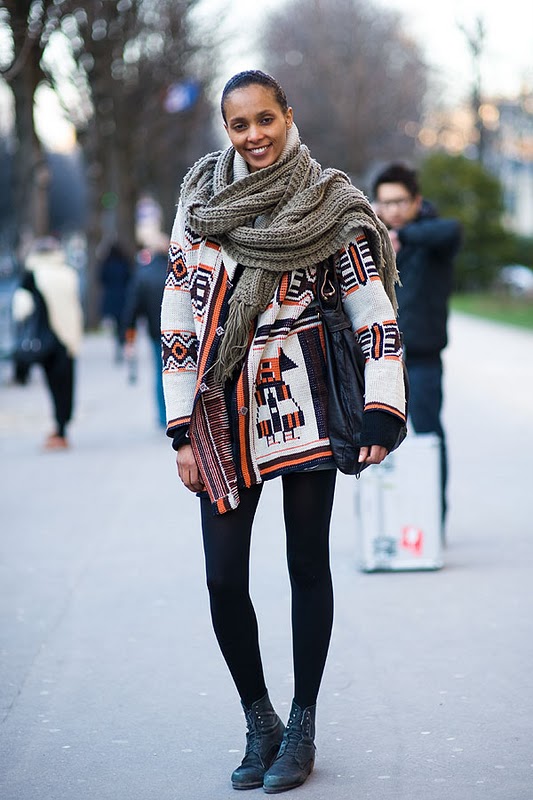 If you haven't already, it's time to add a chunky knit to your winter wardrobe. Chunky knits, whether in a simple design or something more outlandish, will keep you warm and stylish when the temperature drops. Fitted knits look great with fuller skirts and bottoms while slouchier, oversized knits look great with leggings and skinny jeans.
---
6

Cobalt Blue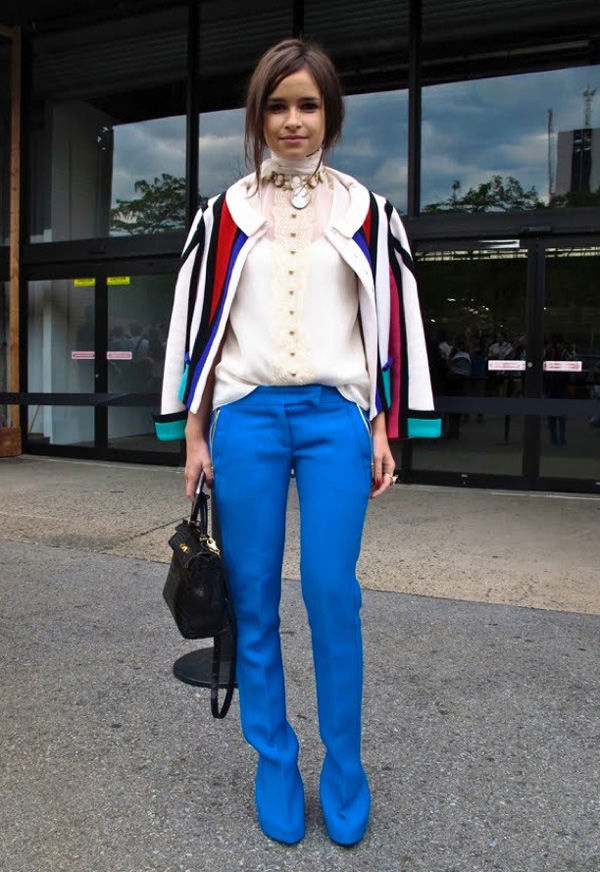 Be brave and make a statement this season in cobalt blue. This electric hue is perfect for adding some spark to your look. Whether it's with cobalt clothing or a cobalt accessory like a clutch, there are a number of versatile ways for you to incorporate this trend into your everyday outfits.
---
7

Colorful Faux Fur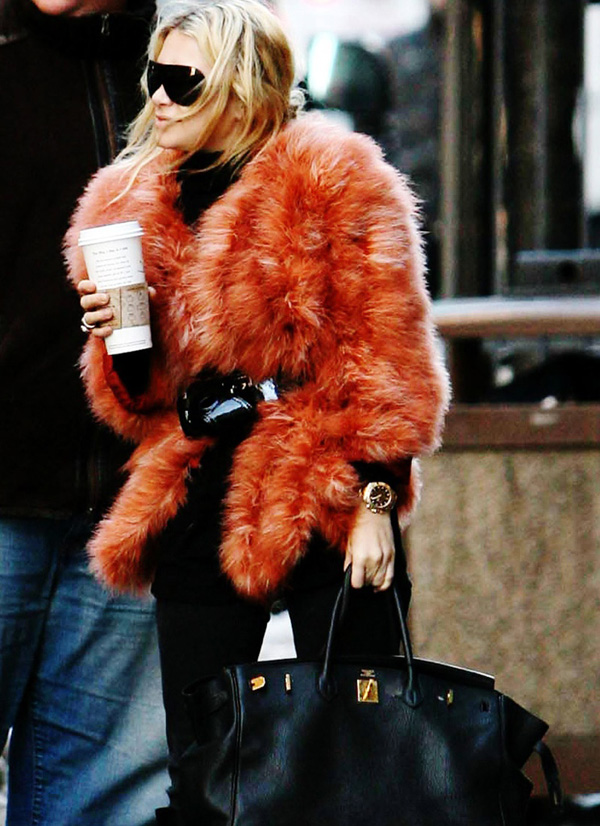 Faux fur jackets are a firm favourite come winter. This season, it's all about the kooky and quirky. Faux fur jackets are given a twist in a range of unexpected colors. They're the perfect way to brighten up an outfit while still staying toasty warm!
---
8

Corduroy Jacket
Corduroy is enjoying a bit of a comeback right now. A corduroy jacket can be a stylish way to incorporate this fabric into your winter outfits. Keep it completely contemporary in either a sleek black or bright and colorful hue. Also look out for garments in more modern cuts like this biker style jacket.
---
9

Cropped Pants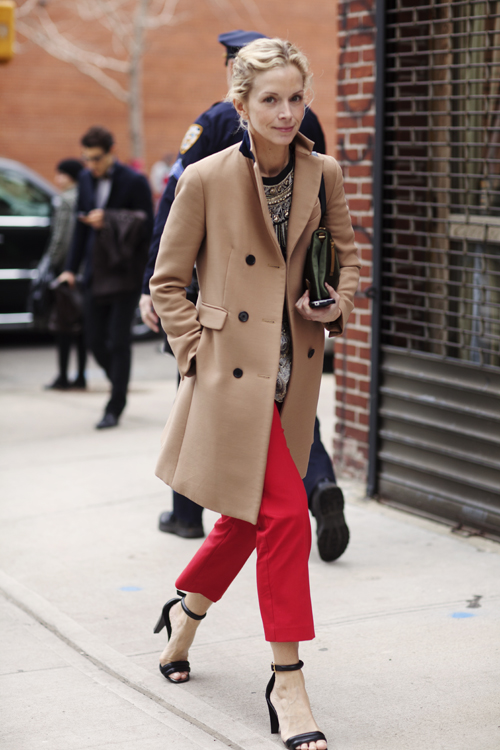 Cropped lengths are all the rage right now. It seems like every pair of pants you try on this season finish above the ankle. While they may leave your ankles feeling a little exposed this winter, they're perfectly designed for showing off a statement shoe.
---
10

Flare Pants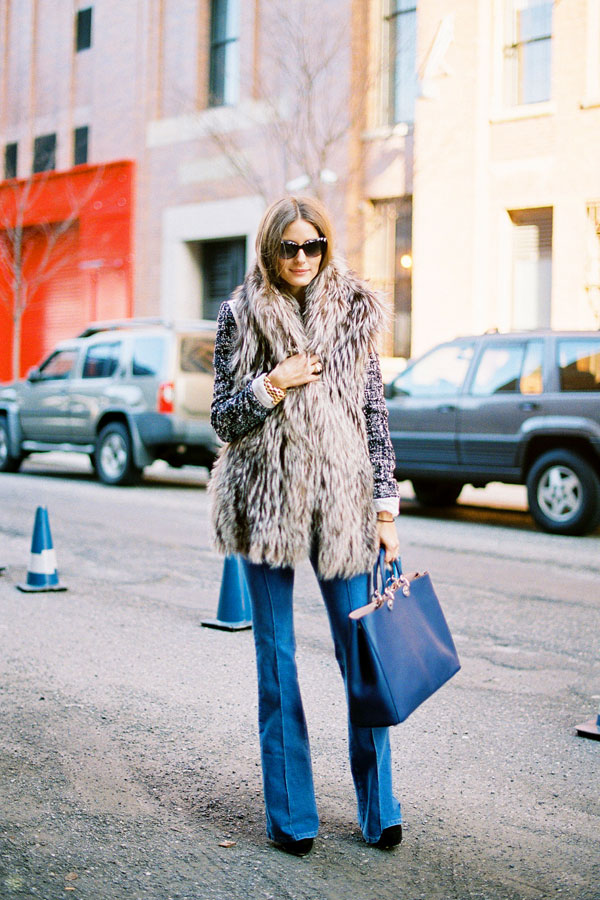 Retro revivals occur every couple of seasons and the flared silhouette has stuck around for some time now. They can be super flattering and make your legs look like they go on for days. Team them with a platform shoe and longline vest in a nod to all things retro.
---
11

Graphic Sweater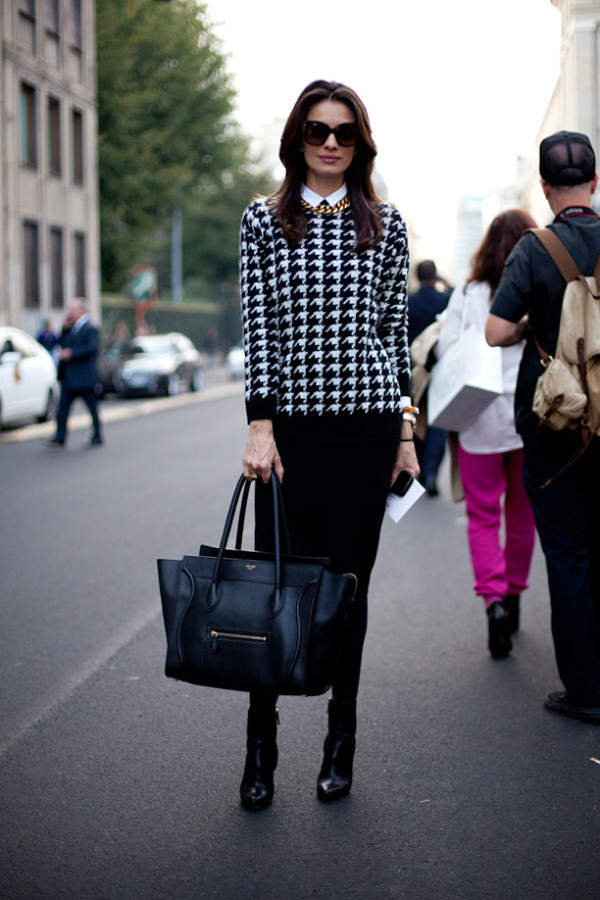 Have fun with your winter looks in a graphic sweater. Whether it's a bright and bold pattern or something more traditional like a houndstooth design, the graphic sweater can really take your outfit from zero to hero.
---
12

Hats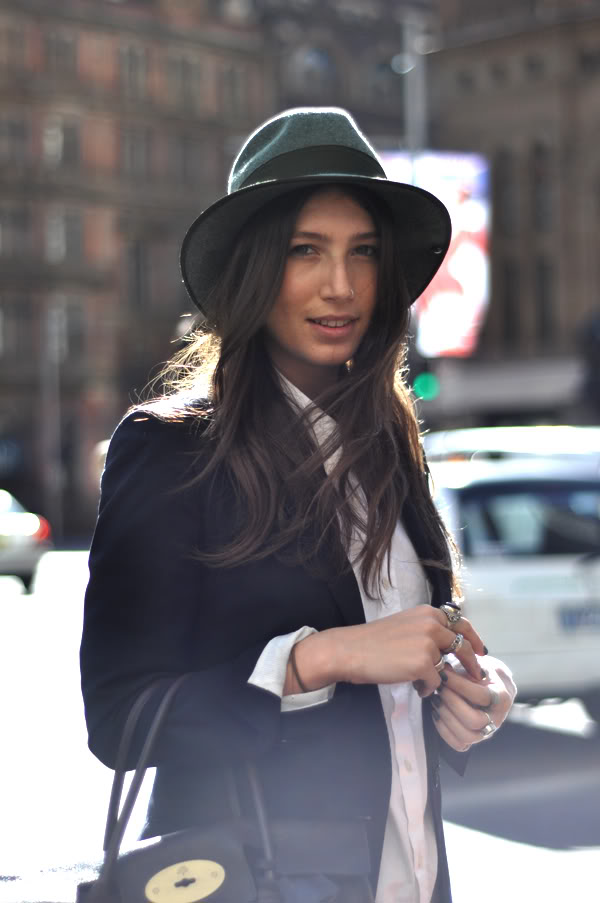 This winter, no outfit is complete with a stylish piece of head gear. All sorts of hats are 'in' right now, from fedoras to cloches to bowler hats. You can't go wrong with black, but colours like jade, oxblood, and violet are all great options for hat colors as well.
---
13

Layers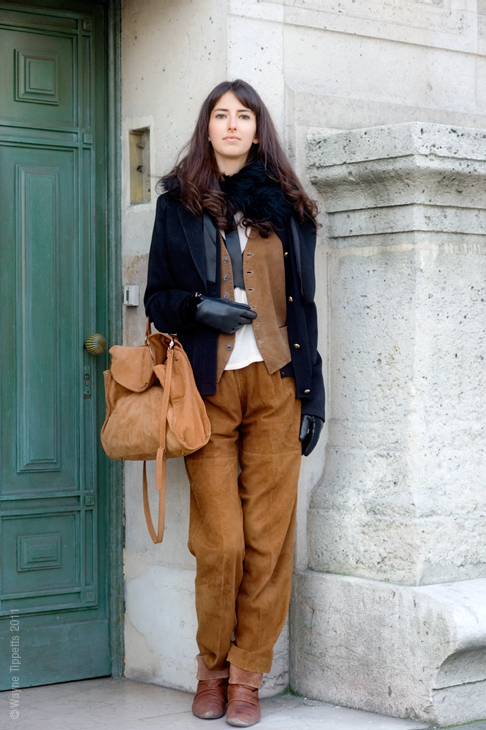 Winter is the perfect time to pile on the layers and when done right it's a look that can look all sorts of stylish. Take a lead from this street style look and layer different textures to create an interesting look. Sticking to one or two colors will also keep your outfit more streamlined and less fussy.
---
14

Long Leather Gloves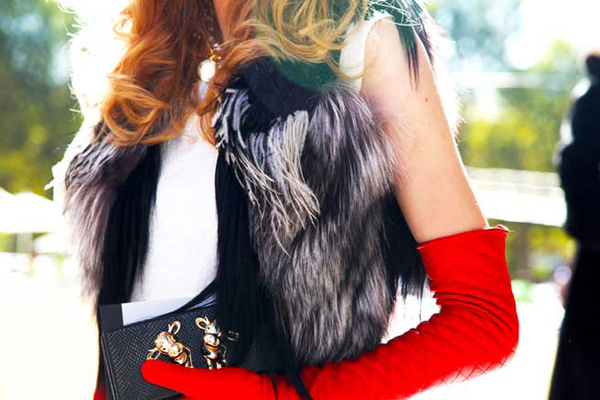 Embrace all things ladylike and glamorous with a chic pair of gloves this winter. The main rule? The longer the better! Elbow length gloves are perfect for adding some glamour to your everyday look. They'll not only add some oomph to your outfit but help keep your mitts warm as well!
---
15

Metallic Shoes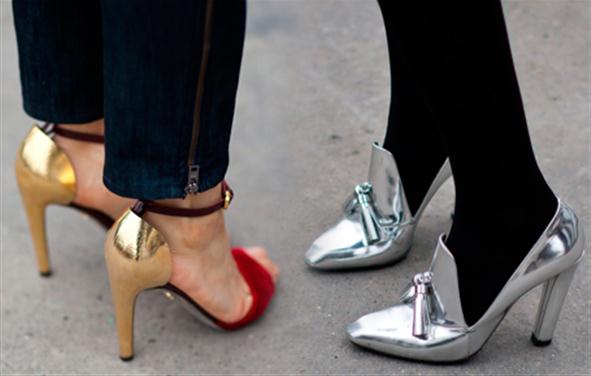 Get set to shine this season in a pair of metallic shoes. Whether they be a statement pair of stilettos or a cool sneaker, just make sure they've got a metallic finish. Gold and silver are firm favourites but if you want to stand out from the crowd try a colored or embellished metallic finish.
---
16

Oversized Coat
Oversized coats ruled the runways at recent fashion weeks. While many designers favoured structured, boxy coats, this look can be harder to pull off in real life. The trick? Stick to oversized coats in slouchy designs that can be belted to create a more flattering shape.
---
17

Oxblood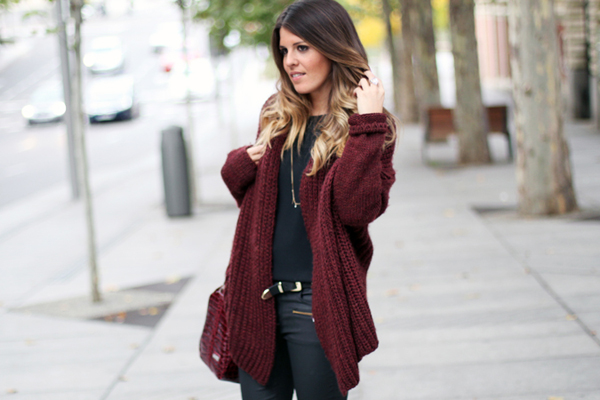 Oxblood, burgundy, wine – whatever you want to call it, there's no denying this is one of the hottest colours to be wearing this winter. An oxblood knit or jeans are simple enough ways to wear this color trend. Pair them with neutrals for something simple, or, take a cue from this lady and try color clashing it with bright orange.
---
18

Pant Suit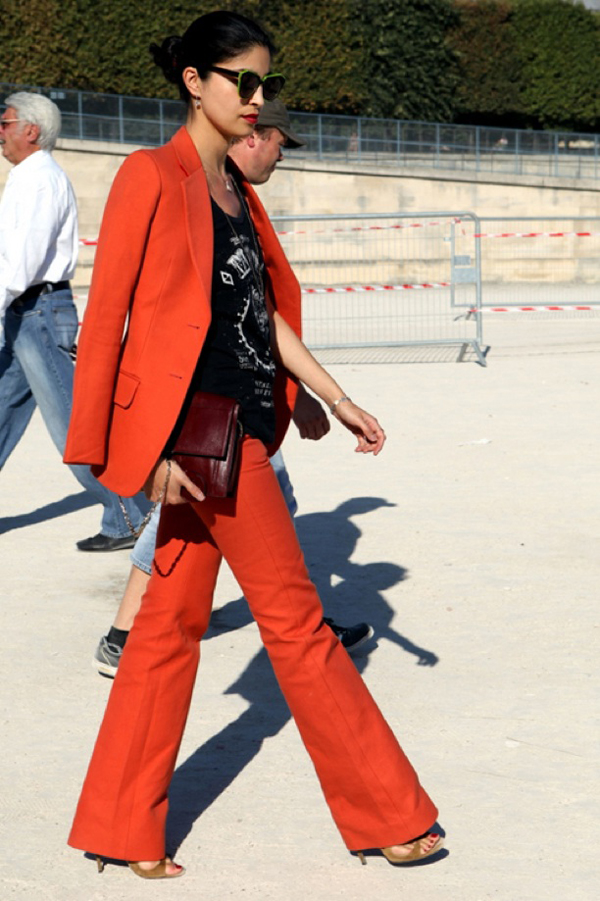 Embrace your inner power dresser with a chic pant suit this season. Stick to tailored styles that are sophisticated and polished. Finish off your outfit with some sleek heels and accessories for a truly put-together look.
---
19

Peplum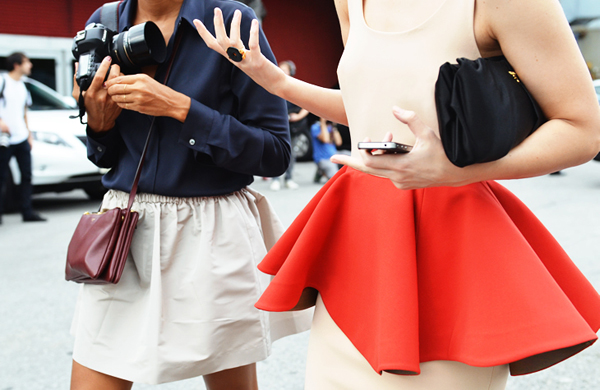 Yep, peplum is still having a major fashion moment! A little bit of peplum is perfect for adding a ladylike touch to an outfit. A structured peplum jacket or top, like this one, is perfect for creating an office appropriate look.
---
20

Plaid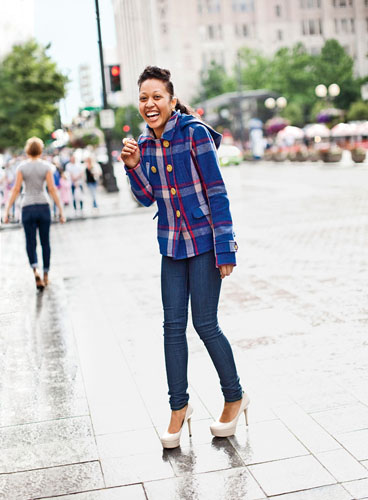 Plaid patterns just scream autumn/winter dressing. They're perfect for creating a traditional looking outfit. You could try a plaid coat, like the one pictured here, or maybe something like a plaid skirt or pants. Stick to tailored pieces to really keep your look polished.
---
21

Printed Leggings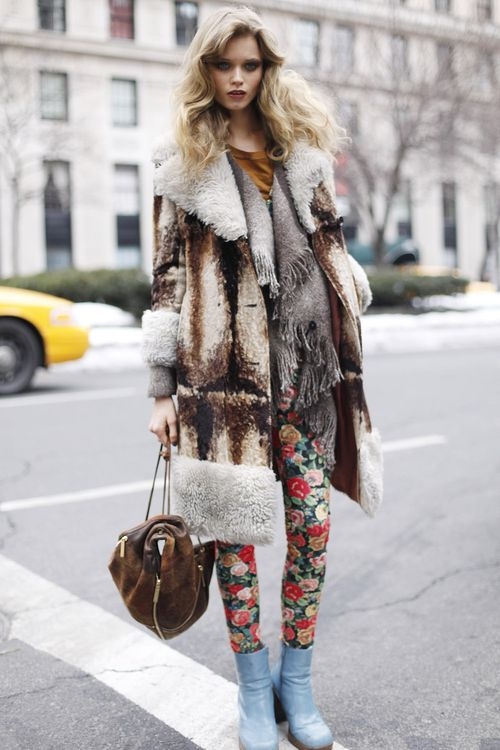 There are a variety of ways you could wear prints this winter and printed leggings are just one option. From abstract prints to traditional Fair Isle patterns, there are a number of different styles to deck ourself out in this season. While I wouldn't necessarily pair them with ugg boots, instead choosing an ankle boot or loafer, they'd look great worn with long tunics and oversized sweaters and jackets.
---
22

Puffer Jacket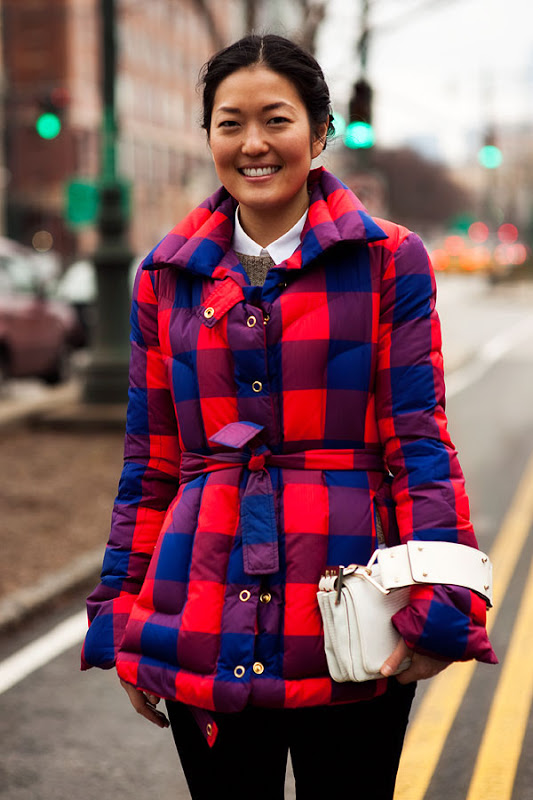 Plenty of designers have taken on the challenge to make the puffer jacket a much more stylish outerwear option this winter. A fun color blocked pattern is a great way of standing out from the crowd, while neutral colors are probably more wardrobe-friendly. Choose puffer jackets with less noticeable quilting and that can be cinched in to create shape.
---
23

Purple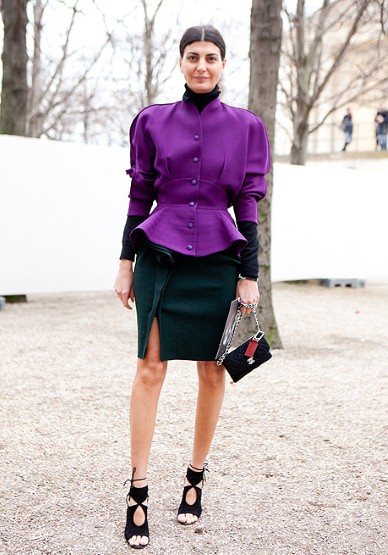 Jewel tone colors are popular this winter and purple is leading the pack. It's rich and regal and works well with a lot of the opulent Baroque-isnpired trends this season. Incorporate some purple into your wardrobe in the form of a statement coat or maybe some statement accessories.
---
24

Riding Boots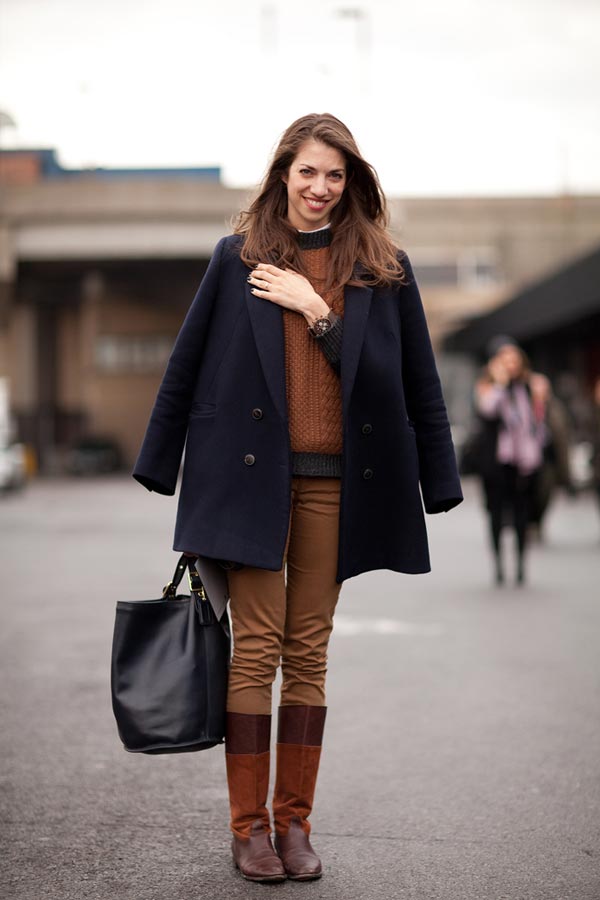 Winter is the perfect time to break out longer length boots. Riding boots are always a popular choice as they have a simple and sleek design. Work a classic, sophisticated look by teaming your riding boots with fitted pants and a structured coat.
---
25

Trench Coat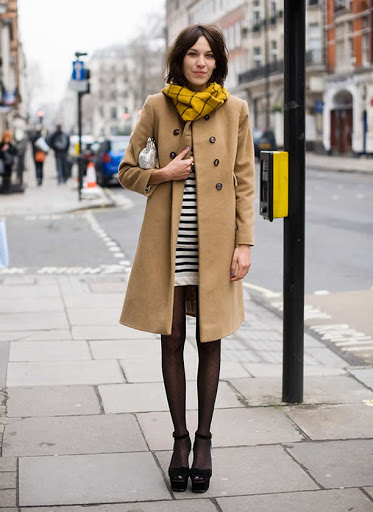 The trench coat is a wardrobe staple that will last you year in and year out. A classic beige trench coat is perfect for throwing on over all your winter outfits. Wear it open over skinny jeans and a sweater for a cool and casual look or belted up and with classic accessories for something more polished.
---
26

Turtleneck Layer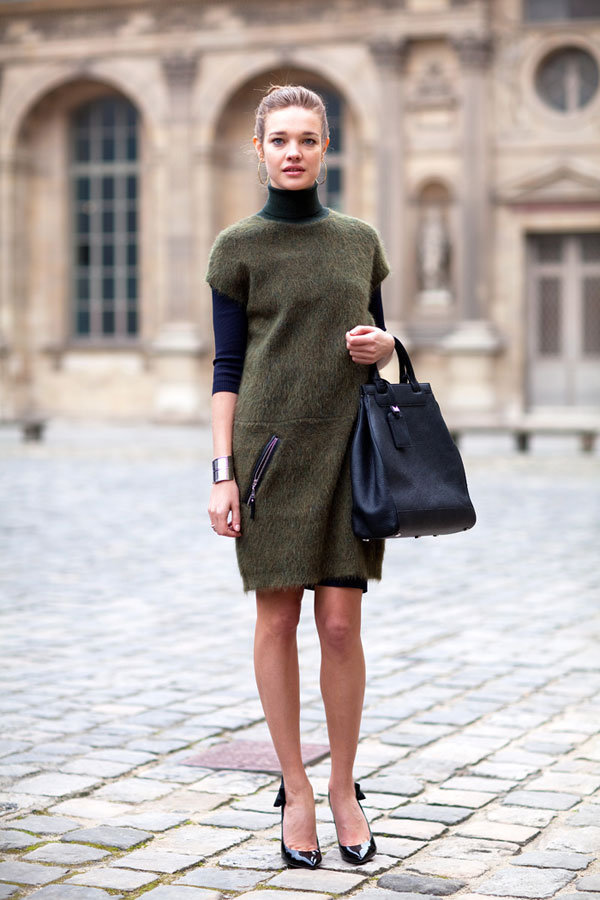 One of the hottest ways to wear the humble turtleneck this season is layered underneath your clothes. It's kind of like an alternative to a statement collar. Best of all? It'll protect your neck from the elements this winter.
---
27

Velvet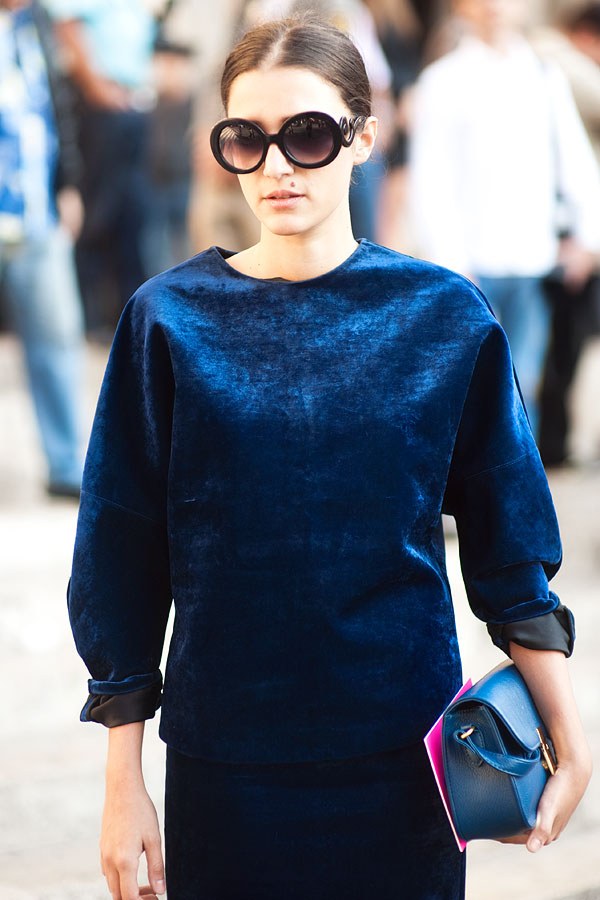 Rich textures are 'in' right now and velvet is at the top of the list. From velvet jackets to pants to shoes, velvet is a go-to this winter. Black velvet is great for something more subtle while jewel-toned colors will definitely have you turning heads this winter.
---
28

Winter Florals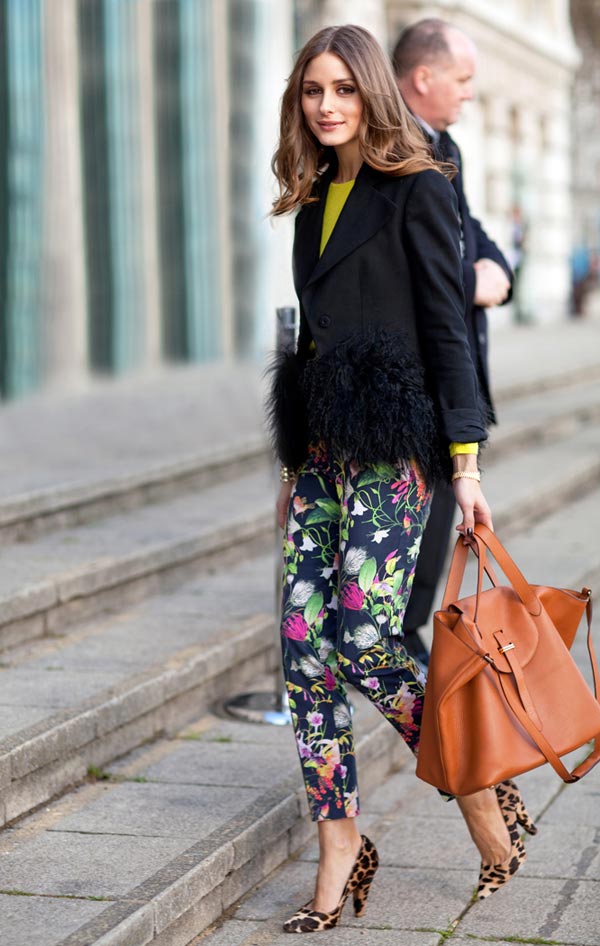 Florals seem to stick around all year long. For winter, darker floral prints are your best bet. Also, bigger and bolder patterns tend to generally be more popular this time of year. Instead of the predictable floral dress and tights combination, try a bold floral printed pant this winter.
---
29

Winter White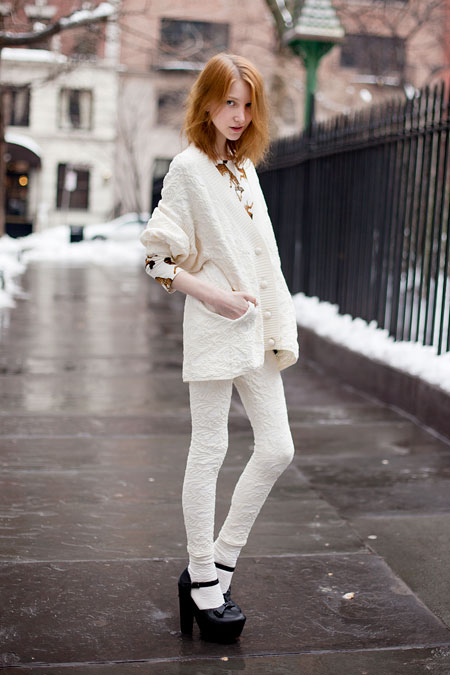 The person who invented the "no white after Labor Day" rule had clearly not heard of the term winter whites. While the colder months usually have us reaching for blacks and greys, white is perfect for freshening up your winter outfit. Choose items like a white shaggy jacket or chunky knit to make your winter whites pop.
---
30

Zig Zag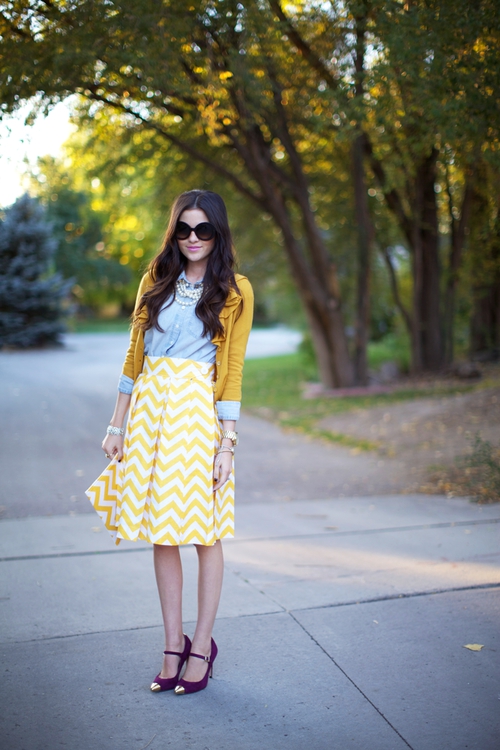 Zig zag, chevron-style patterns are a quirky alternative to the timeless stripe. Look out for tops, dresses and skirts that feature this funky pattern. Make a statement in a bold, colourful design like the zig zag skirt pictured here.
These are just a few street style looks covering some of the most covetable trends this winter. Which of these street style looks do you like best? What are your top tips for pulling off this season's hottest trends?
---
Popular
Related
Recent