If you're like me, you've been actively following all of the trends from NY Fashion Week as of late. Although many of us can't score those coveted seats to watch the runway up close and in-person, lucky for us, social media has been posting pictures of the show and backstage, almost every minute of the day. There have been so many different looks so far that are totally worth trying out and experimenting with. Check out these trends from NY Fashion Week and get some style inspiration!
---
1

The Plum Pout (as Seen in Rebecca Minkoff's Show)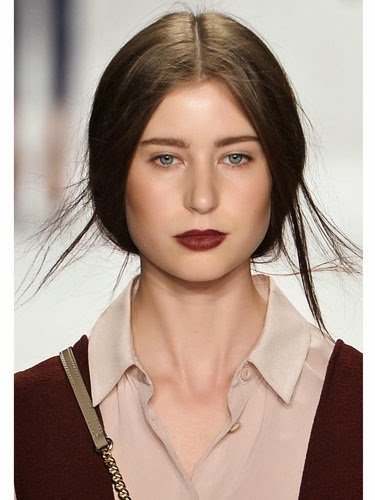 One of the trends from NY fashion week that I picked up on was a deep plum lip color used on Rebecca Minkoff's models. Rebecca has a real knack for style and has put out some absolutely to-die-for pieces since she stepped on the fashion scene. Her models were sporting the color Amore by Stila cosmetics, which is like a dark plummy-oxblood shade. Dark vampy lips are totally in this season and can take any look from basic to dramatic in no time.
---
2

Pretty Florals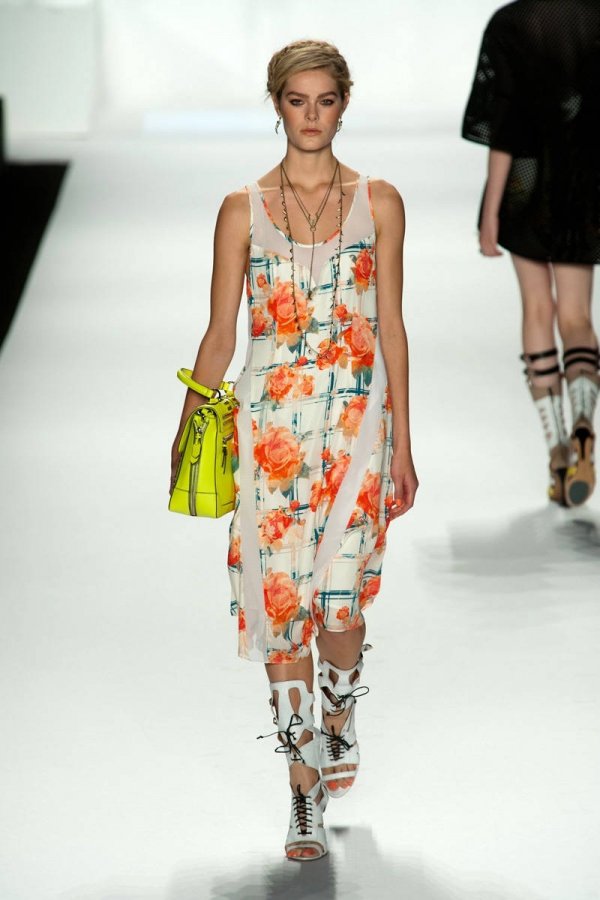 Another look trending in Rebecca Minkoff's Spring '14 collection was floral prints. Floral has been around for ages but is making a huge comeback this season. In her show, flowery prints could be found on flirty dresses and flouncy tops.
---
3

Big, Bold Oversized Coats (as Seen in Diane Von Furstenberg's Show)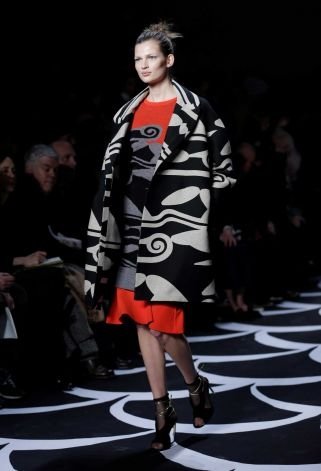 Diane Von Furstenberg once again brought her A game to NYFW. A prominent trend in her Fall '14 collection was oversized coats, either in furs or large, bold prints. I'm definitely a huge animal lover, so I don't condone fur coats, however, many stores are on board with faux, so finding an alternative shouldn't be difficult.
---
4

City Chic (as Seen in DKNY's Show)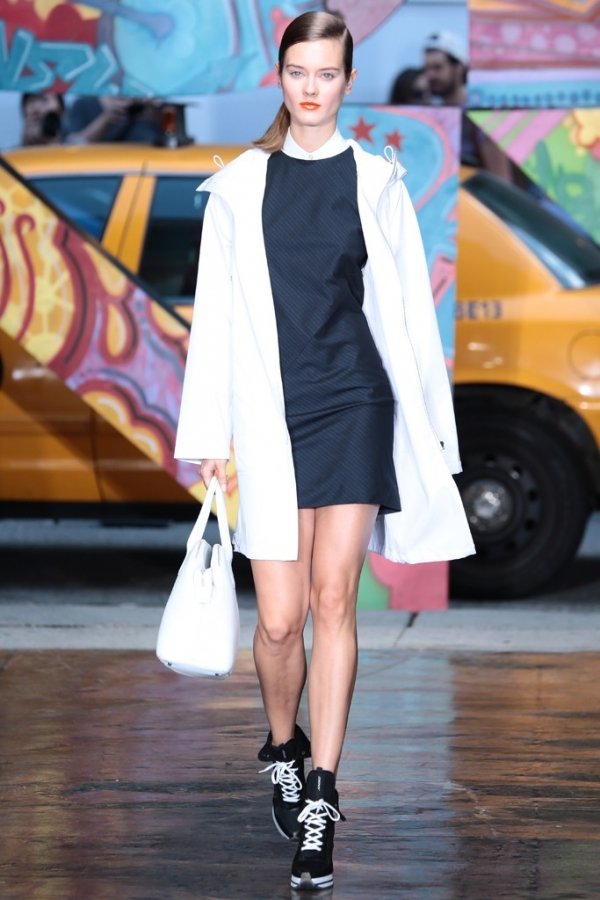 DKNY's Fall 2014 collection epitomized the idea of city street style. Think leather, edgy black pieces, suit jackets, and (on the opposite spectrum) varsity jackets.
---
5

Sexy and Sleeveless (as Seen in Victoria Beckham's Show)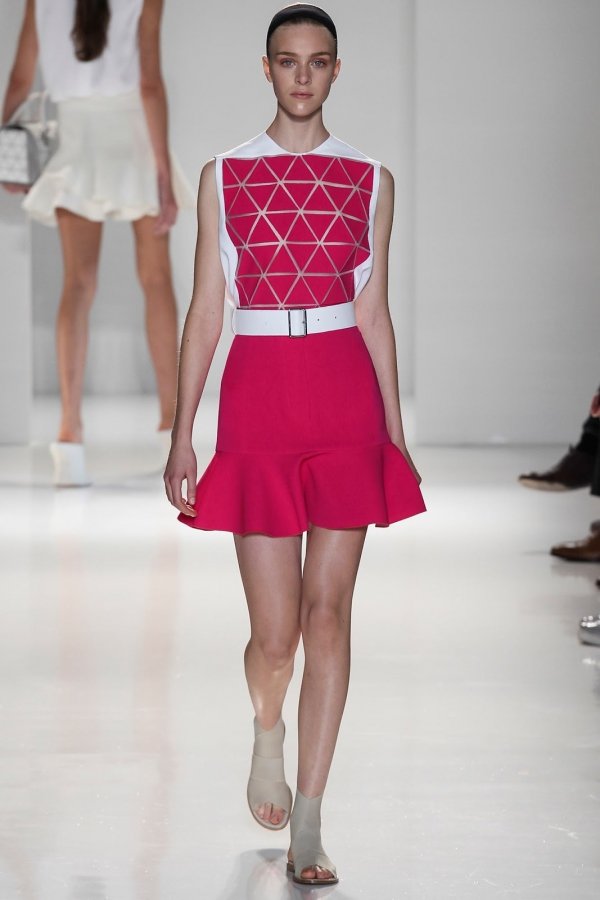 Posh can put out quite the line and has a zillion things going for her these days (did you see her extremely handsome family in the audience? So cute). Victoria's line was polished and classy as always, and featured the trend of sleeveless wrap-front collared tops. These tops are extremely hot for spring, especially those with a deep V, American Hustle-style.
---
6

Nude Nails (as Seen in Multiple Shows)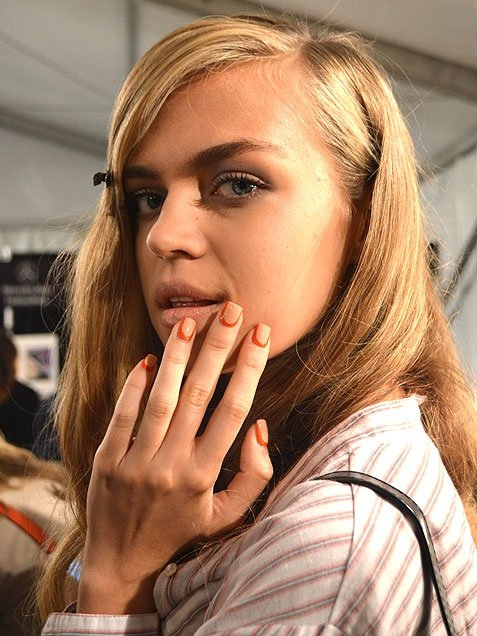 Nude nails are a classic way to dress up your fingers without going overboard. Some models even just had buffed nails for an extra simple yet pretty look, but this spring, nude and milky-nude colors are totally in.
7

White Hot (as Seen in Rachel Zoe's Show)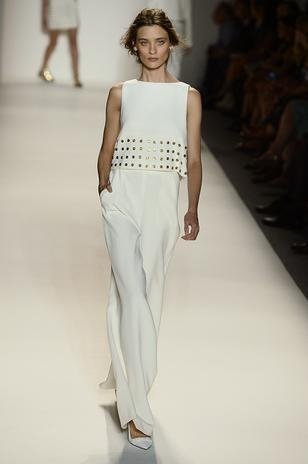 Rachel Zoe is always on point when it comes to fashion, but her Spring/Summer '14 Collection was ba-na-nas. A trend in her line was super-chic all white pieces like flow-y dresses, edgy jackets, and incredible ankle pants.
New York Fashion Week was definitely the place to be , and the designers really helped to heat things up in the frigid weather. Fashion Week, regardless of which country it's held in, is always a great place to look for fashion inspiration. Consider yourself officially fashion-forward by following NYFW's trends and go get a head start on the latest looks! Did you see any trends or pieces from NYFW that you loved? Please share!
---
Comments
Popular
Related
Recent