Being one of my favorite style icons, I have decided to compile some of Lauren Conrad's best looks. She has such a feminine and classic aspect to her style and always manages to look put together. She has come a long way from jeans and tank tops in Laguna Beach to being a style icon across the nation. And it is easy to tell why when you see some of Lauren Conrad's best looks.
1

Yellow Coat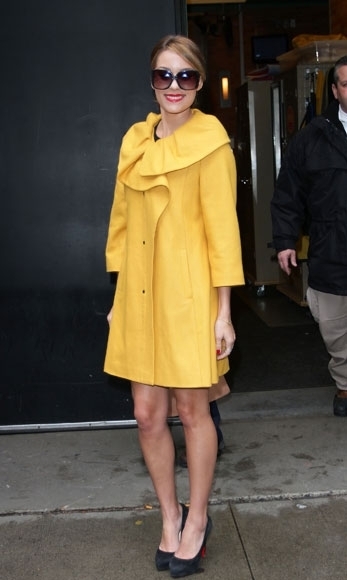 This is one of the bolder but no less fabulous outfits that make up Lauren Conrad's best looks. Not many people can pull of such a bright jacket and still look this incredible. With a 60's flair to this outfit, she pulls off the jacket, shoes, sunglasses, and updo with such finesse. And that bright red lipstick? It is the perfect topping off for this stand out Lauren Conrad outfit.
2

Sequin Sight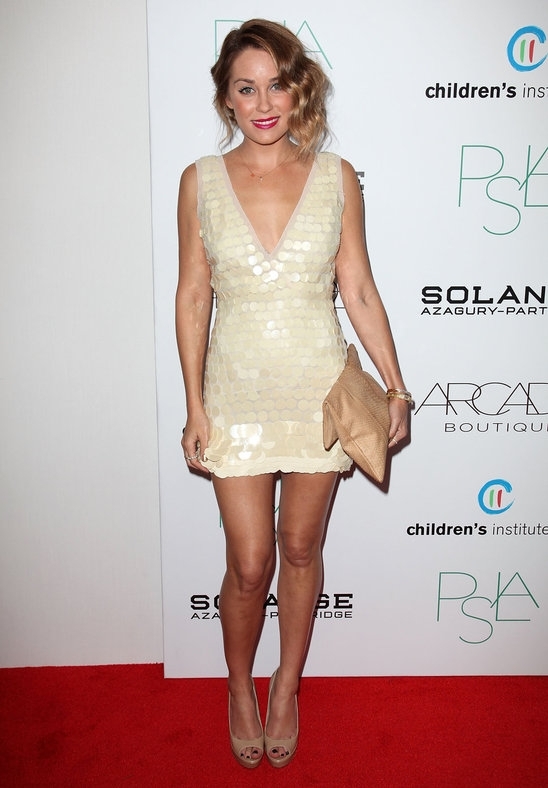 Few can pull off a sequined dress like Lauren Conrad. The sequins are subtle enough to not seem tacky and cheap, and her hair adds a refined touch to the look. The nude heels and clutch blend in perfectly and cause her make up to pop even more. The updo adds a small flapper girl touch which is just enough to make this one of Lauren Conrad's best looks.
3

Show Some Skin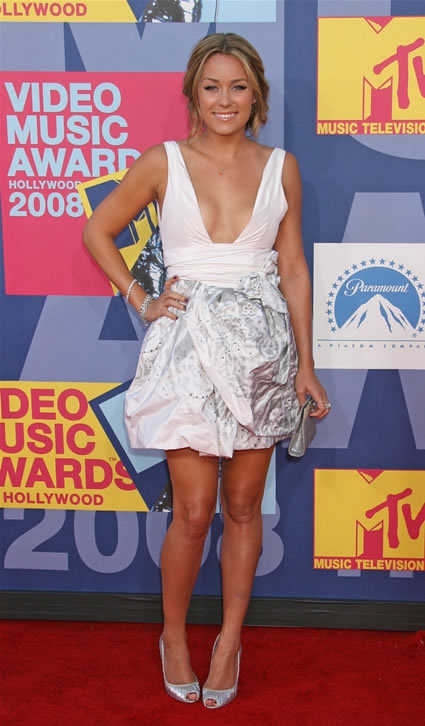 Conrad usually sticks to modest and classy outfits, but decided to go daring with this deep fronted white dress. But while most people would look too sexy, she pulls it off while still looking classy and put together. Your eyes are drawn to her cleavage, but in the most respectable way possible.
4

Little Black Dress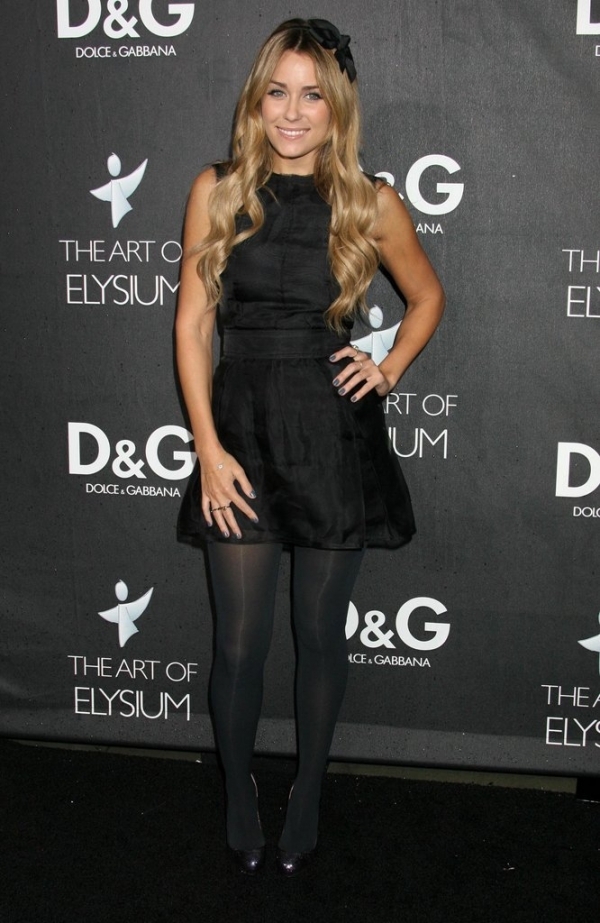 The LBD has been done over and over again but Conrad manages to make her LBD outfit stand out against the rest. The dress is fitting in all of the right places and she makes her blonde hair and tan skin stand out even more against the black tights. Tights are a great addition to any outfit because they show off your incredible legs while staying modest and keeping you warm. Add in an adorable black headband for embellishment and you have one of Lauren Conrad's best looks.
5

Sparkly Jacket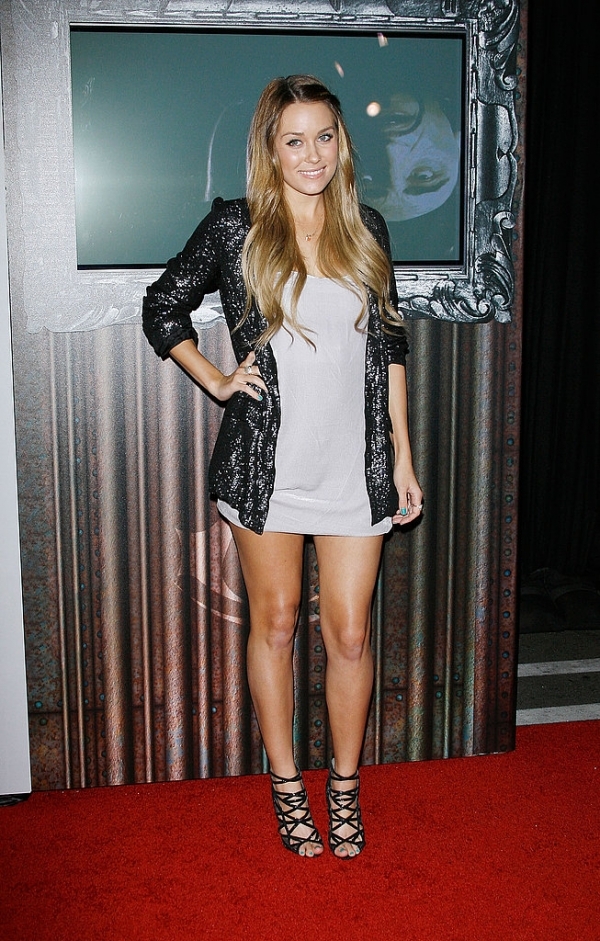 Leave it to Conrad to take a simple neutral dress and turn it into a show-stopping ensemble. My eye is immediately drawn to her incredibly sparkly black jacket. It adds spice to her simple dress. Her shoes are a perfect balance within the outfit of being simple yet eye catching. And of course, her hair is perfect like always.
6

Tea Party Time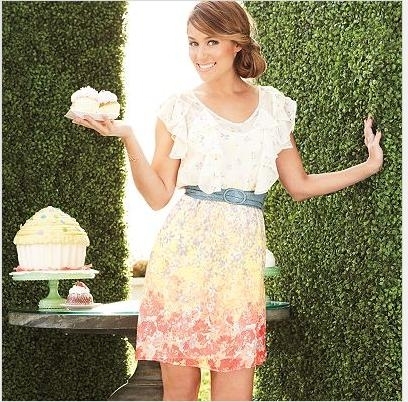 Something about this outfit reminds me of tea parties and Alice In Wonderland. It has such a fairy-tale feel to it. The ruffles and ombre with different colors are a perfect and feminine combination. Her belt is the perfect accessory and she touches it al off with a perfect updo.
7

Casual & Chanel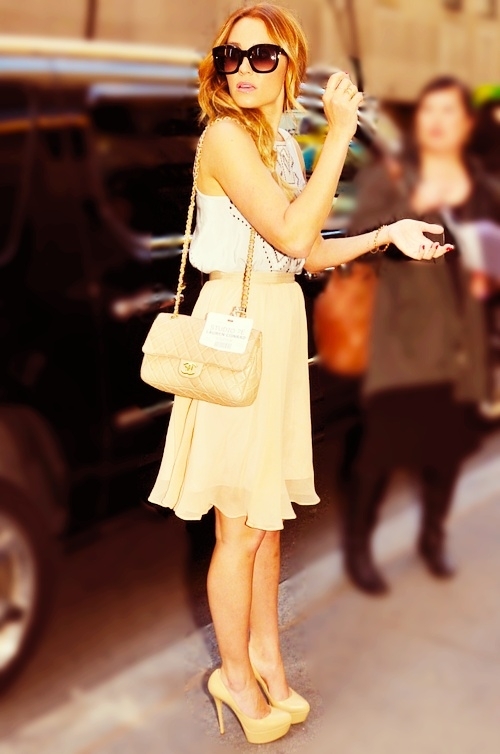 It might be the flouncy skirt, Chanel bag, or oversized sunglasses; or it might be everything that causes me to love this outfit. Conrad is the queen of rocking neutrals and she is at it again in this casual outfit. She pairs a simple flouncy beige skirt with an embellished tank top. She polishes the outfit with oversized sunglasses, and adorable Chanel bag, and perfect nude pumps. She keeps her jewelry minimal so it doesn't distract from her polished and put together outfit.
From the red carpet to daily errands, Lauren Conrad always looks incredibly put together. She manages to combine bold, feminine, and lady-like all at the same time. I have always admired her sense of style. What did you think of these best looks from Lauren Conrad? What are some of your personal favorite looks from Conrad? What do you think makes Lauren Conrad's style so incredible?
Sources: posh24.com, pinterest.com,