As one of the most influential people in France today, these elegant looks from Marion Cotillard speak of her exuberant character. Her knowledge of finding the right cut and color to compliment the silhouette of the body seems infinite; as a fashionable French woman, her innovative style positively elevates her country's title as one of the most fashion forward places in the world today. Whether it is sleek pants or form-fitting dresses, she is not afraid to experiment with diverse trends; this is evident by the fact that her red carpet and personal wardrobe consist of pieces that are highly versatile in nature. It is no secret that Ms. Cotillard is often hailed as the best dressed woman in the fashion industry. These magnificent looks from Marion Cotillard will quell any doubts that this chic Parisian actress is nothing less than a fashion queen.
1

2009 Public Enemies London Movie Premiere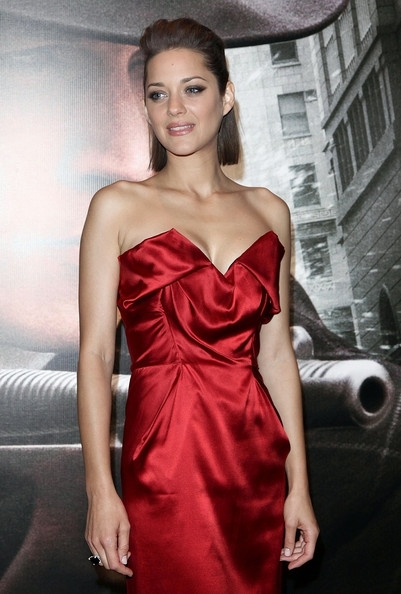 From her expertly slicked back hair to the shape of this smooth number, it is easy to see why this is one of the most coveted looks from Marion Cotillard. Everything about this satin number by Vivienne Westwood is flawless; the bold cut of the red bodice is my favorite attribute of the dress.
2

2012 Dark Knight Rises London Movie Premiere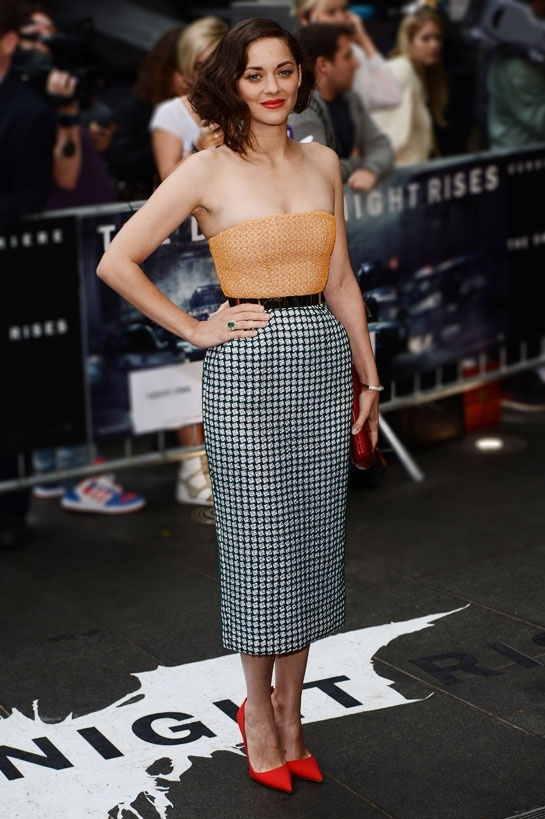 No one else would be able to pull off such a contrasting look as well as Marion Cotillard does here. The orange hue compliments her light skin tone and adds an element of freshness to her overall look. Pairing her checkered pencil skirt with bright red stilettos was a brave but phenomenal choice. I was not surprised to hear that Ms. Cotillard is a spokesperson for famous fashion label Christian Dior.
3

Christian Dior Haute Couture Paris Fashion Week 2012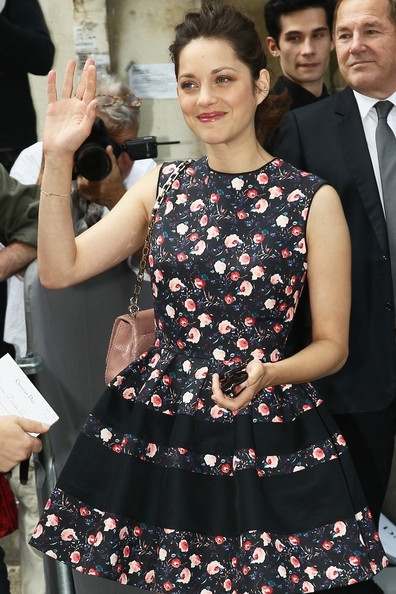 This next outfit is certainly one of my favorites. I love a woman who is not afraid to play with different prints! The classic A-line shape of this floral dress fits her perfectly. This is one of the most trendy, flattering and universal silhouettes for dresses in today's fashion industry.
4

2013 Critics' Choice Awards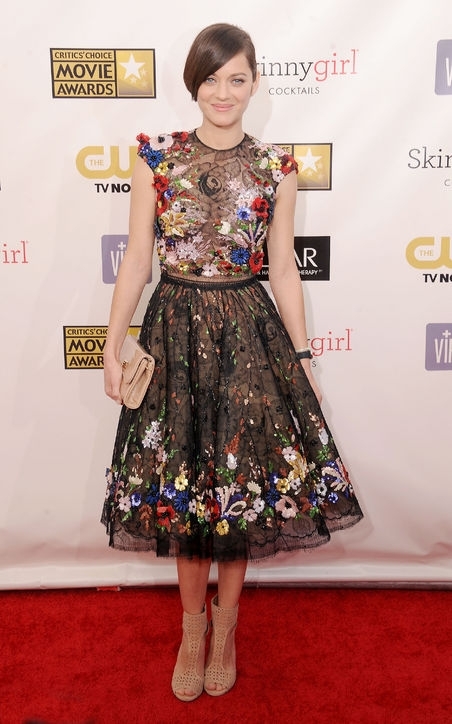 The bold design on this fabulous dress by Zuhair Murad is absolutely stunning. Instead of going for the traditional route and pairing this busy dress with black shoes, Cotillard opts for a nude heel. The back of this wonderful number is just as daring as the lace detailing featured on the front.
5

2013 Maud Fontenoy Foundation Annual Gala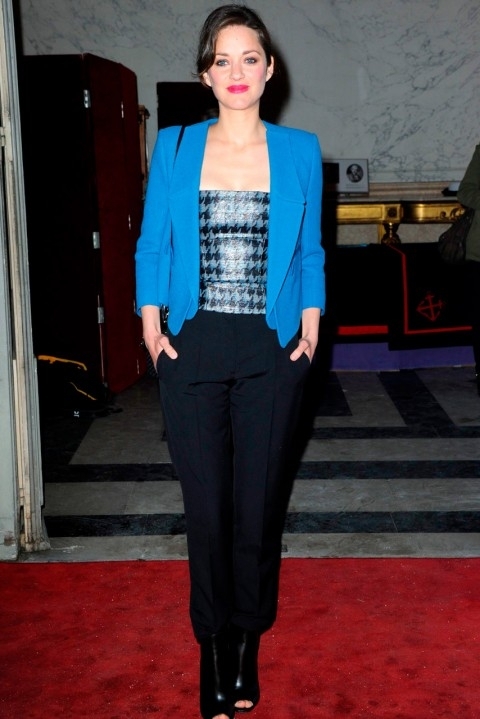 From the rich teal color of her blazer to the intricate print on her top, I am loving everything about this marvelous ensemble! She cleverly pairs various shades of blue in this trendy look. Her peep toe ankle boots add a slight edge to her outfit.
6

2012 Rush and Bone London Movie Premiere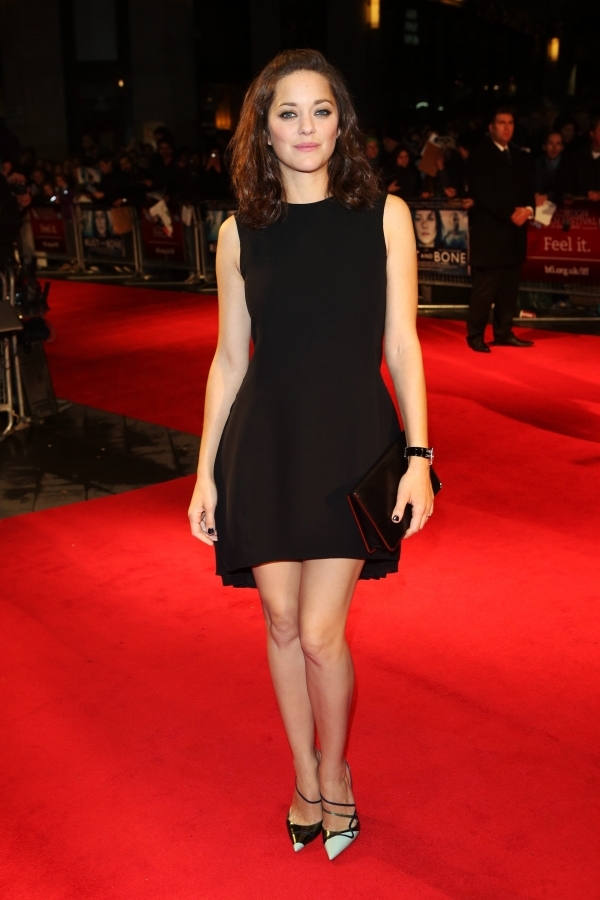 Marion Cotillard is no stranger to the magic of the little black dress. I love the twist that she adds to this look with her two-toned heels. The high-low trend will be around for a long time to come.
7

2012 Chaumet's Cocktail Party for Cesar's Revelations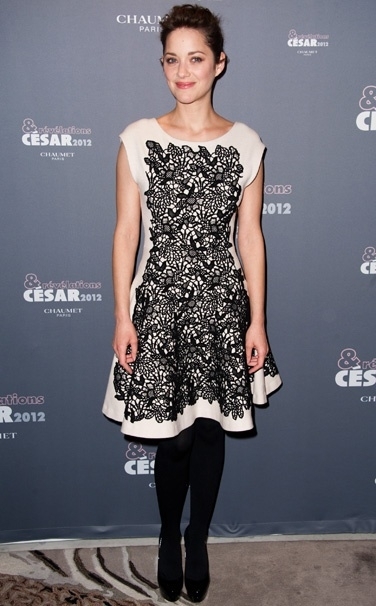 I am in love with the lace detailing on this white and black dress by Christian Dior. This fashion label certainly knows how to inject fashion with cutting edge elements.
8

On the Set of "Blood Ties" in 2012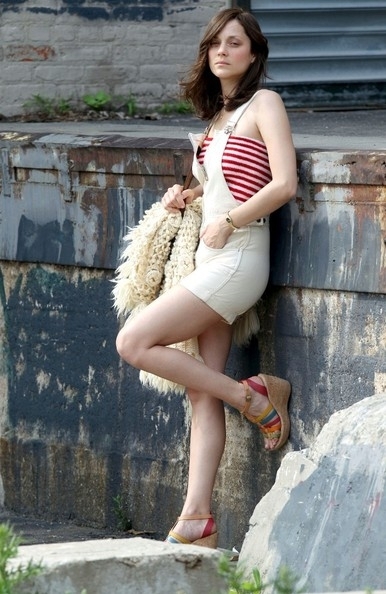 This casual but stylish cream jumper certainly caught everyone's attention on the set of her film "Blood Ties". The bold red stripes on her tube top compliment the cream color of her jumper very well.
9

2012 AFI Fest at Grauman's Chinese Theatre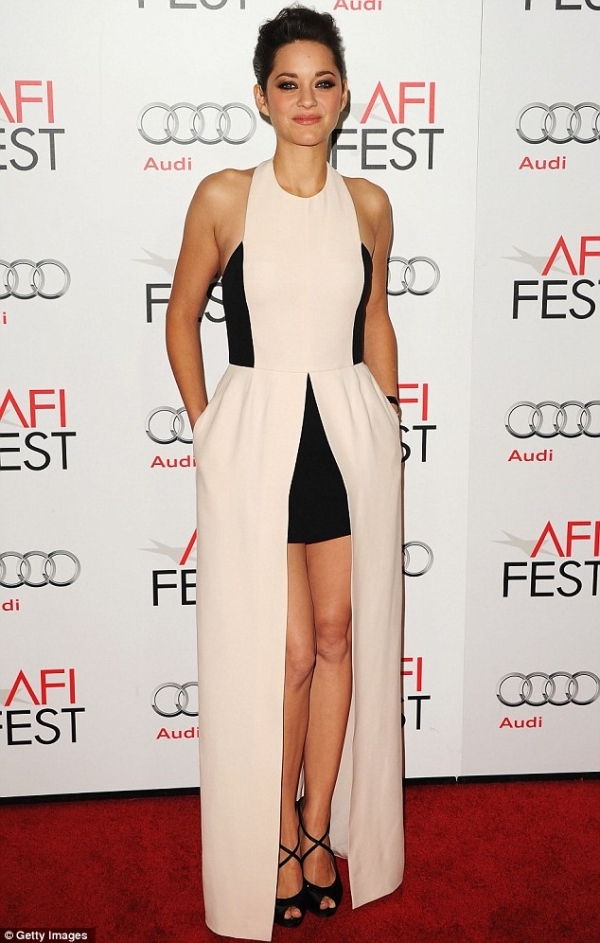 Lastly, she takes the monochromatic color trend further in this elegant Christian Dior number. The diverse layers featured in this ensemble are quite beautiful; the modern yet classy elements of this dress are timeless.
This French beauty's fashion sense has landed her on the top of copious best dressed lists. It is no wonder that she is regarded as one of the biggest style icons in France. What are some of your favorite looks by this Parisian fashionista?