I may as well mention up front that this list of Princess Diana's best looks does NOT include her wedding dress. It's not that I don't like it (I'm not totally crazy about it); it's just that you've all seen it a zillion times. Maybe some of Princess Diana's best looks listed here are some you haven't seen that often and will be a bit of a surprise.
---
1

Di at the Races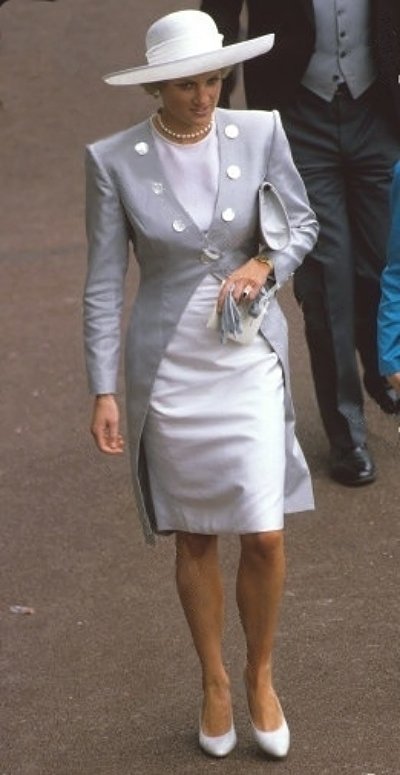 Wearing a beautiful dove-grey coat over a white linen shift by Catherine Walker, Princess Diana wowed them at Ascot Racecourse. A white hat by Philip Somerville completed the outfit. This dress and coat ensemble is one of Princess Diana's best looks and a great example of why she was always at the top of the best dressed list.
2

White Asymmetric Gown by Hachi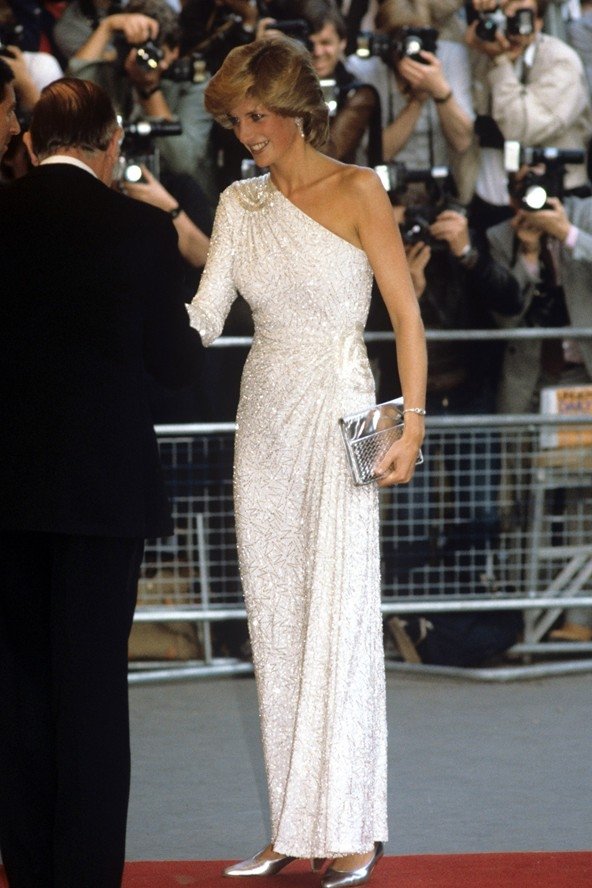 Diana looked smashing in this Hachi gown covered in silver bugle beads that she wore to the premiere of Octopussy, the new James Bond film, in June of 1983. She's carrying a slim silver clutch and wearing matching silver heels. This is such a flattering look that shows off her great collarbone and toned arm. This is a great representation of fancy dress in the '80s.
---
3

Polka-Dot Curve Appeal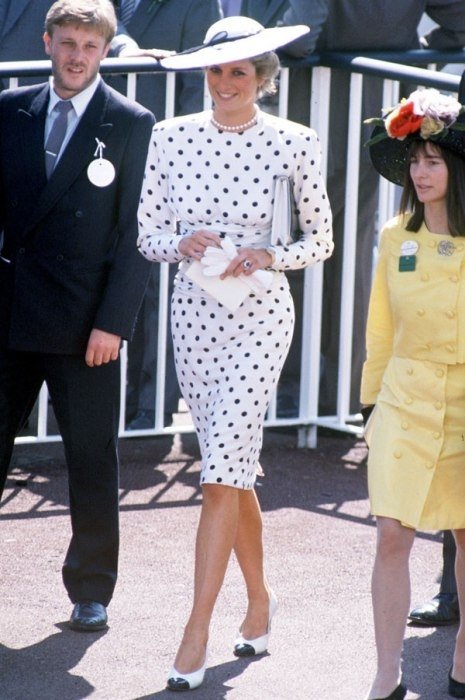 This was an unusually close fitting daytime dress for Diana, but it hugged her body in all the right places and looked sensational. You can't really see it in this photo, but starting directly under the bust plus the entire waistline is all ruched. Diana had scads of polka-dot dresses, as it was one of her favorite patterns. Mine too!
---
4

Striped Coat Dress by Catherine Walker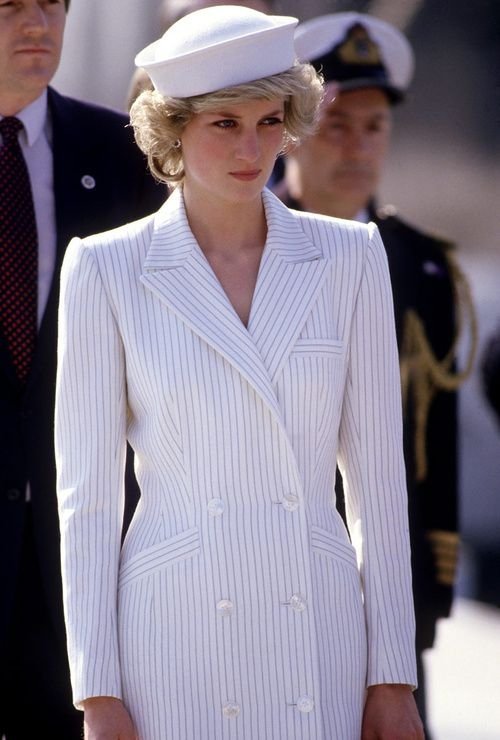 This is a fierce look on the Princess. A very becoming hat by Kangol tops this double-breasted pinstripe coat dress by one of her favorite designers. Diana wore this at a naval base during the 1985 Royal Tour of Italy.
---
5

The Elvis Dress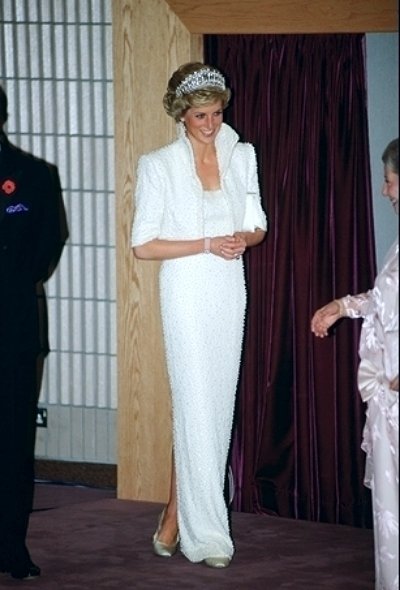 Due to the stand-up collar, this was referred to as The Elvis Dress. Catherine Walker designed this white silk strapless dress encrusted in pearls and sequins, with a matching bolero jacket. I imagine it might have been quite heavy. The Franklin Mint purchased it at a charity auction at Christie's.
---
6

Dynasty Dress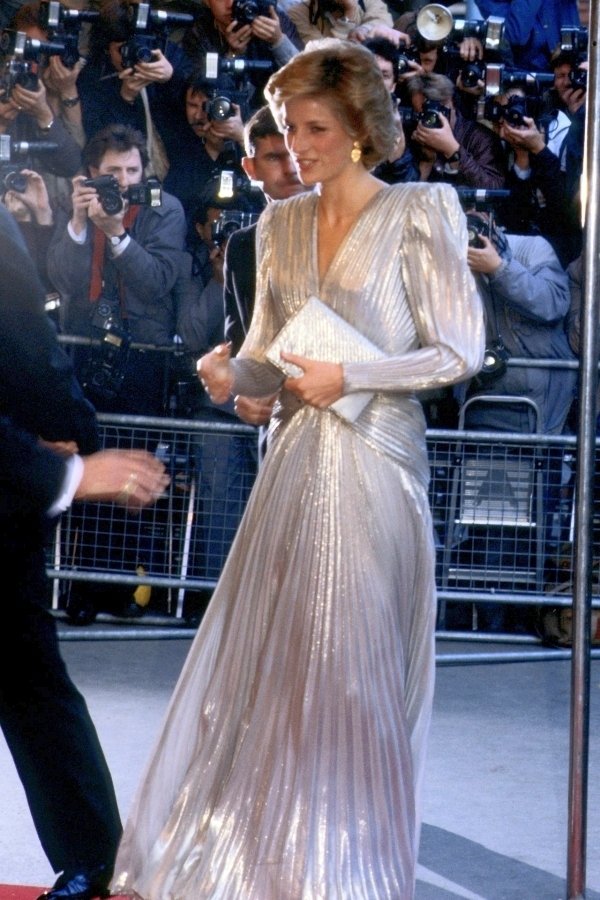 Reminiscent of dresses worn by the ladies on the Dynasty TV show, this shimmering silver pleated gown by Bruce Oldfield also had an exposed back. Diana was partial to silver and it was a very good color for her. Diana wore this only once, to a charity fashion show in 1985.
---
7

Viva Versace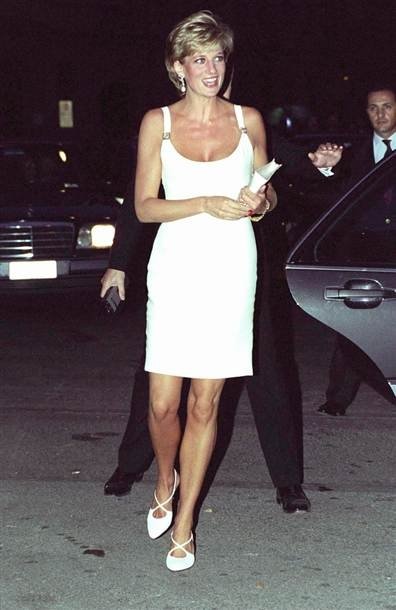 Diana looks incredibly contemporary in this white sheath dress by Gianni Versace circa 1995. She was very fit and looked terrific in clothes that showed off her collarbones, toned arms and great legs. Her hair is just a tad longer in this photo and it suited her. I loved Diana's royal looks, such as coat dresses and all of her stunning hats, but she also looked fabulous in modern dresses like this one. It makes you wonder how her style would have evolved in the years to come.
What great style Princess Diana had, and really, when you think about it, who were her role models? Grace Kelly? Jackie O? Certainly nobody in the royal family was a clothes horse. Fortunately, Kate Middleton has Diana's good fashion sense. What is your favorite Princess Diana look?
---
Comments
Popular
Related
Recent