Sweaters, scarves, boots and layers all symbolize this season, but I'm hoping to give you some ideas on dresses for fall that you can either wear to work or for that special occasion. The greatest thing about dresses is the fact that there are so many ways to wear them (with tights, leggings, socks, boots, etc.). I hope you'll find some inspiration for some great dresses for fall below.
---
1

Zara High-Neck Straight Dress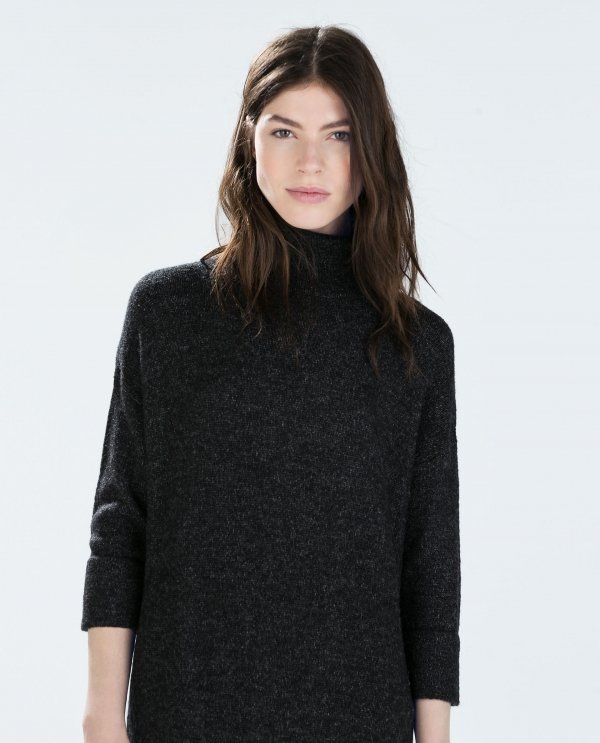 I love Zara's dresses for fall.With seasonal hues of dark greys, blacks and purples, they have a great range of dresses to choose from. Not everyone likes high-necks or turtlenecks, but depending on where you live, they can come in handy. This dress certainly lends itself to the darker, shorter days and can either be belted, or worn with tights and a pair of boots or ballet flats. Composed of acrylic, nylon, wool and a bit of elastane (to give it a stretchy composition), it's priced at $79.90, and is available from Zara boutiques as well as online zara.com
---
2

ASOS Placement Print Floral Dress with Cowl Back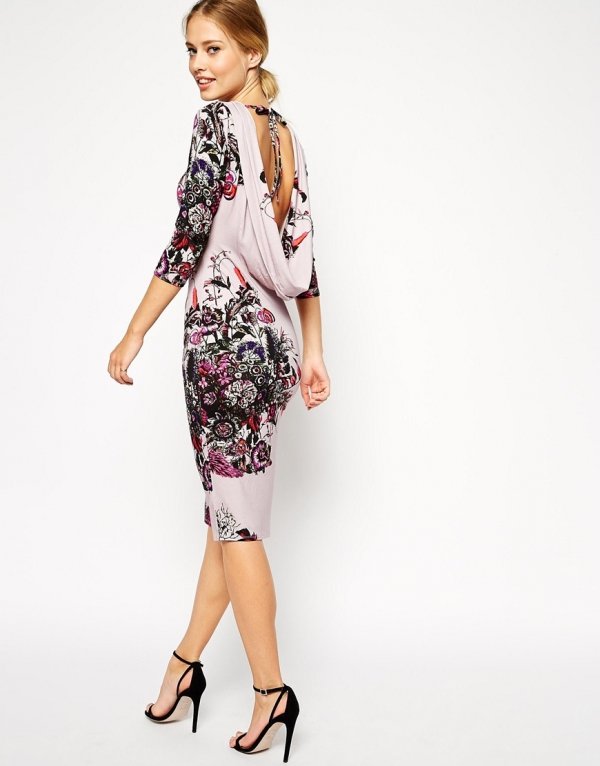 This pretty pale pink dress works wonders on all figures due to both the crew neckline and the unusual back hanging cowl design. I love the pink color and the darker purple flowers give some contrast. I recommend pairing this dress with some strappy metallic sandals. The dress pulls over the head, it's polyester and you can throw it in your machine. Priced at $72, you can find this feminine dress online at us.asos.com
---
3

Urban Outfitters JOA Knit Dot Print Dress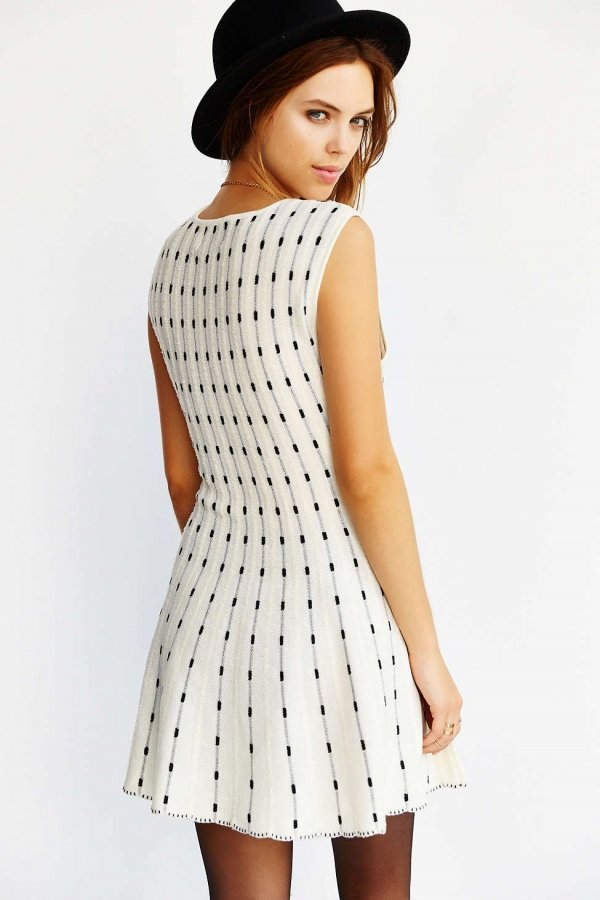 I love the allover black dots on this white knit dress. It's got a V-neckline and is cut pretty short, but would look cute with contrasting tights (as shown here in the image), as well as ankle or knee-high boots and a moto jacket. Composed of nylon, acrylic, cotton, polyester and priced at $99, this dress is available from urbanoutfitters.com and Urban Outfitters boutiques.
---
4

H&M Shirt Dress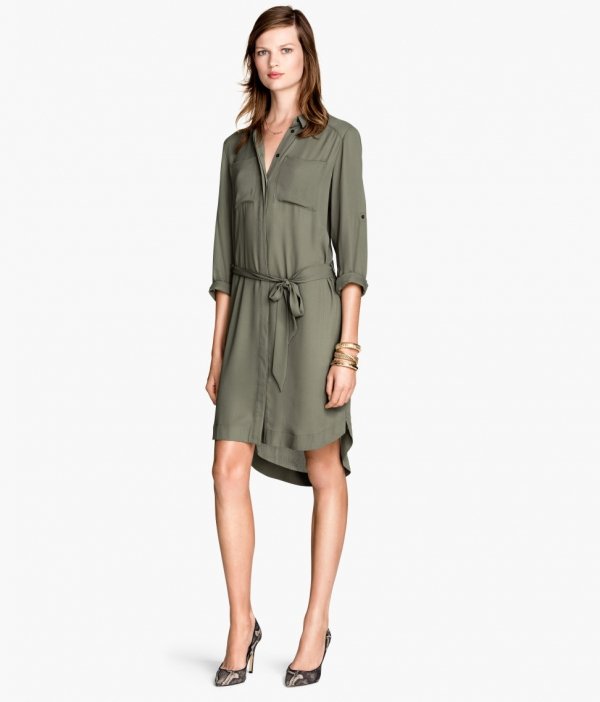 Not only do I love this khaki color especially on blondes and brunettes, but I also really like the natural, casual flow of this dress, and of course the price! It's straight cut so it's great if you have hips and the removable belt hits above your hips so it won't accentuate them. There are two structured chest pockets and sleeves that you can roll up or down. It is 100% polyester and luckily you can machine wash it. Available from H&M stores and online for $29.95 hm.com
---
5

French Connection French Frou Frou Dress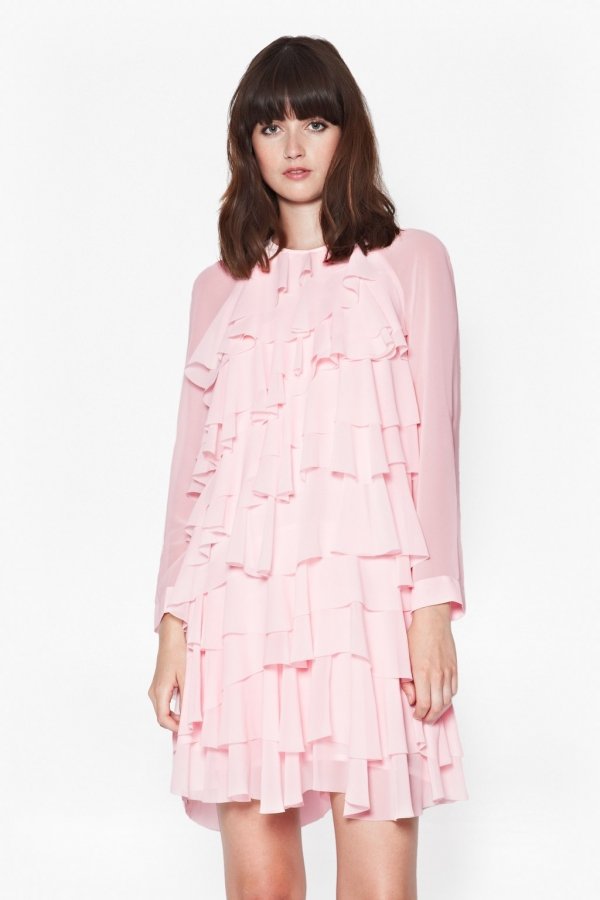 I absolutely adore different dresses like these. The eye is always drawn to the uniqueness and the sheer sleeves and frilly layers make a great contrast. If you're heading to a party or other special occasion, this is an ultra-feminine dress to wear. I also think the color is unusual too (in fact it's not even close to autumnal), but still, it's a classy dress and if it's worn with black, metallic or even nude heels, you're sure to get some compliments on this dress! Priced at $268 you can find this online at usa.frenchconnection.com or French Connection boutiques.
---
6

Banana Republic Gemma Diamond Print Wrap Dress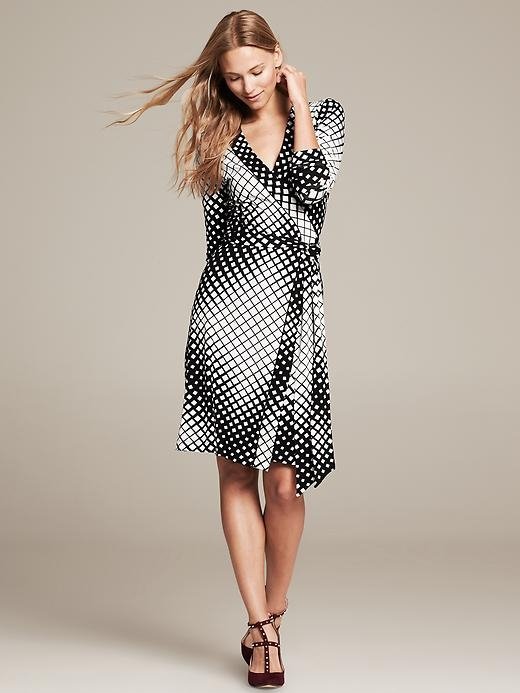 I couldn't leave a wrap dress off an article like this! Banana Republic always comes out with some great wrap dresses each season and for some reason they really flatter every body type. They have wrap dresses like this one and they also have the faux type (the kind with ruching at the waist). Available in numerous colors and patterns, they're priced around $75 (lesser for petites) and the bonus is you can wash them in the machine too. Find them online at bananarepublic.gap.com and in Banana Republic boutiques.
---
7

Anthropologie Mona Dress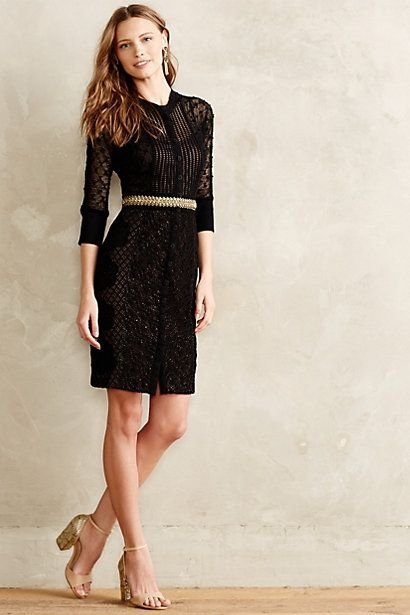 A delicate black dress which is a little on the pricey side, but has rave online reviews. If you've been looking for a different LBD or you enjoy a touch of lace, then this is for you. It has a button down front and the skirt shape at the bottom hits just above your knee. Reviewers say it runs a little larger than usual too. Priced at $258, it is exclusive to Anthropologie boutiques and their website
anthropologie.com
Whatever the occasion and however you like your dresses (long, short, wrap or high-neck), there's a good range here to choose from. Which one will you buy? Have you recently purchased a dress for the fall? If so, where did you buy it from?
More
Popular
Recent