Holiday Frocks come in a variety of styles and colors, it all depends on your personal style. One thing is certain, though: if you'll be attending any parties this season, you'll need some fashionable holiday frocks. From longer cocktail dresses to cute little knee high numbers, cocktail and casual dresses will definitely come in handy. If you need some ideas for what to look for when you're buying new holiday frocks for the month of December, have no fear! I've got you covered!
---
1

Time after Timeless Dress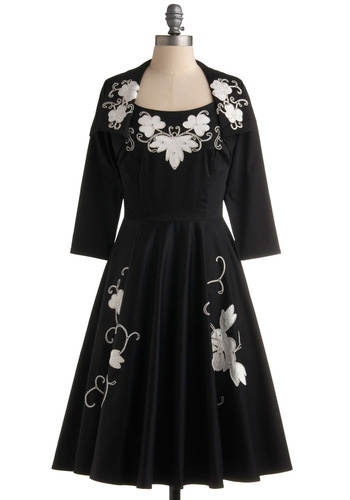 Price: $263.99 at modcloth.com
Vintage holiday frocks are extremely popular right now. Wasp wasted silhouettes, flared skirts, fitted sleeves – it's a Mad Men kind of world, y'all. If you love 1950s fashion, then a dress like this will take you right through the holiday season. It proves you don't need a lot of sequins and spaghetti straps to bring the sex appeal.
---
2

Golden Gumption Dress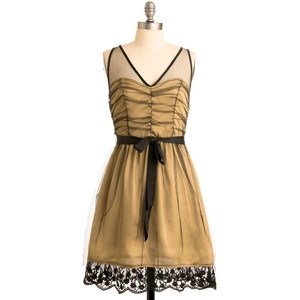 **Price: $52.99 at modcloth.com
** Even though I'm not a gold girl, I thought this dress was precious, right down to the lace detailing and that lovely bow. If you're not a fan of the silhouette or shape, no problem. Just keep the color in mind, because shades of gold and champagne really work this season. Depending on your skin tone, look for something lighter or darker, but don't get too close to bronze.
---
3

Just Too Cute Dress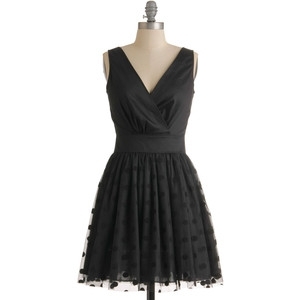 **Price: $109.99 at modcloth.com
** At least one of your holiday frocks should fall under the LBD category. The look is timeless, so you know you'll be able to wear it well past the holidays. I love this sweet little number because it's simple but sexy. The neckline will allow for a mere hint of décolletage, and the subtle dots on the skirt? It really is too cute!
---
4

Stylish Self Di-Sequin Dress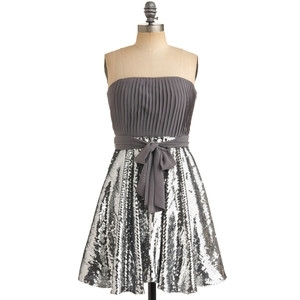 **Price: $94.99 at modcloth.com
** You'll look like a silver streak of hotness in this dress! It's a little bright, yes, but it would be ideal for, say, a New Year's Eve party. All you have to do is keep your makeup and shoes subtle, and stay away from any jewelry – your dress will shine enough, and you don't want to overpower it.
---
5

Coolest Party Dress Ever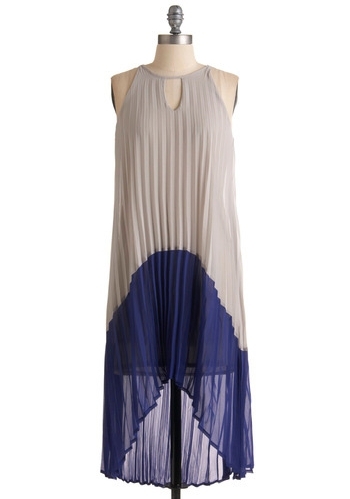 Price: $54.99 at modcloth.com
I confess, the name of this dress first caught my attention, so I had to take a second look. I love holiday frocks with accordion pleating, though, and cobalt is my favorite shade of blue. This makes an excellent holiday dress simply because you wouldn't expect it. The color combination is really innovative, and it's not something you usually see in the winter.
---
6

Champagne Indie Party Dress by Effie's Heart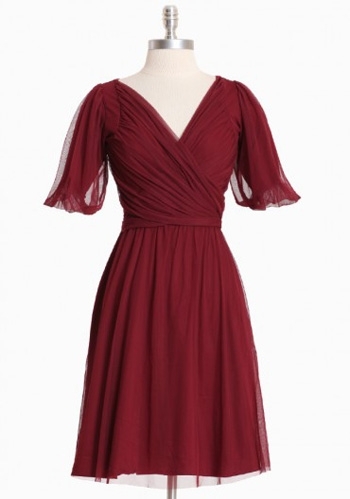 Price: $107.99 at shopruche.com
My reason for choosing this dress? First off, the color, but I love that fitted silhouette, too! Tulle is just fabulous, always; from the sleeves to the overlay on the skirt, I love every inch of this dress. You'll be a stunner too – that color is ideal for any skin tone, and it's incredibly festive!
---
7

Clink about It Dress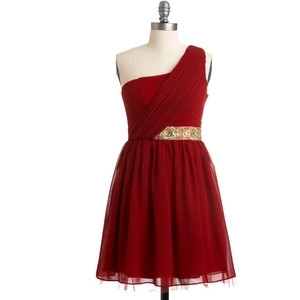 **Price: $89.99 at modcloth.com
** Speaking of tulle – regardless of whether you go with the fabric or not, one-shoulder dresses are totally on trend, so keep an eye out for appropriate holiday frocks that catch your eye. From the color to the sashed sleeve to the belt detailing, though, I love this embodiment of the style. You'll knock everyone's socks off in a dress like this, there's something so goddess-like about it.
I think these are some of the cutest holiday frocks I've ever seen! Long or short, I love getting dressed up for winter parties; this season is one of the few times you'll catch me in a dress. When choosing holiday frocks, make sure you pick something classic too – that way you can mix it and match it, so you'll be able to wear it more than once. Patterned or wildly colored holiday frocks are cool too (as you can see!), but if you're buying several dresses, I'd stick to just one wild one. What kinds of outfits will you be wearing to this year's holiday parties?
Top Image Source: weheartit.com
More
Popular
Recent