When you have a professional job, finding office outfits can be tough. You don't want to sacrifice your personal style, but you also want to dress professionally. I have the best job ever working at home now, but if I ever headed back to the office, I would need all the help I could get. If you're ready for a new wardrobe or just got your first office job, you'll love the office outfits on this list. Use them as a guide when you get dressed and you'll get it right every day.
Table of contents:
1

Purple and Yellow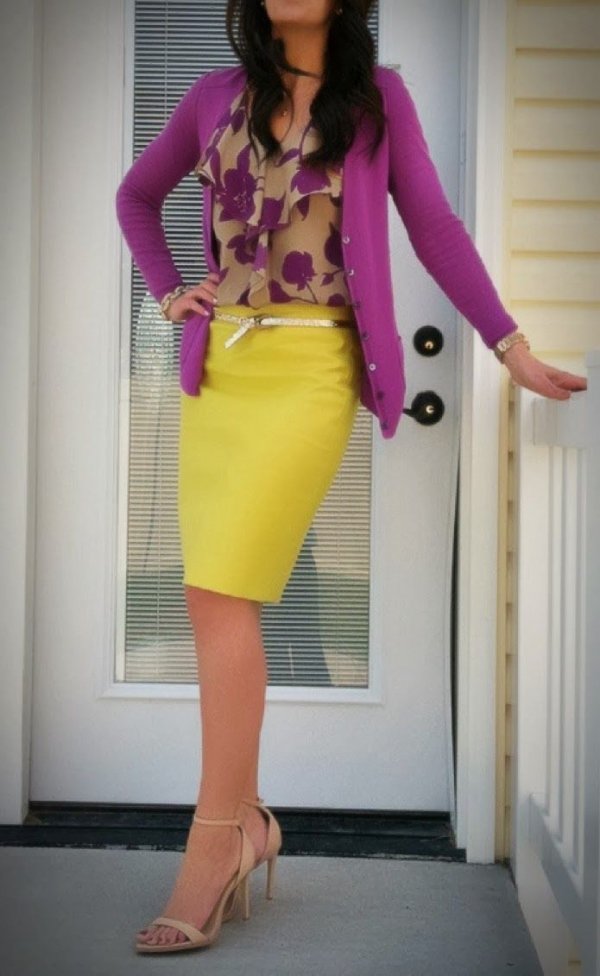 Via Mrs D's Corner: Teacher Fashion ...
Your office outfits don't have to be bland and boring. Check out how great this yellow and purple ensemble looks.
2

Belted Dress

Via Styletag
Adding a belt to a dress instantly pulls an outfit together.
3

Ankle Pants

Via To Wear at the Office
These causal pants go from casual to office worthy by adding a blazer and heels.
4

Black and White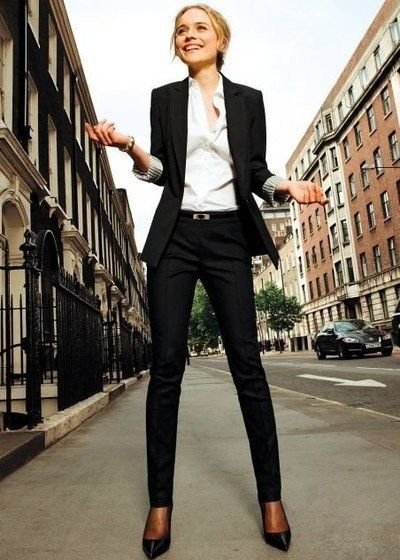 Via A Queens look*
Black on bottom and white on top always works for the office.
5

Laid Back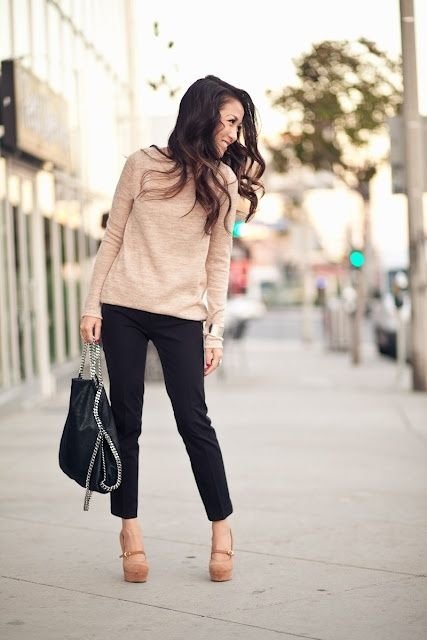 Via fashion116.tumblr.com
I can see this outfit working perfectly on causal Friday.
6

Dress It up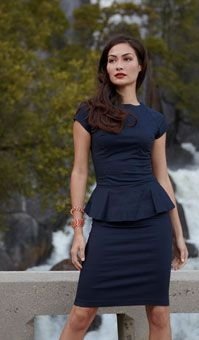 Via A trend in dresses comes ...
This simple dress is ideal for going to the office.
7

Pink Pencil Skirt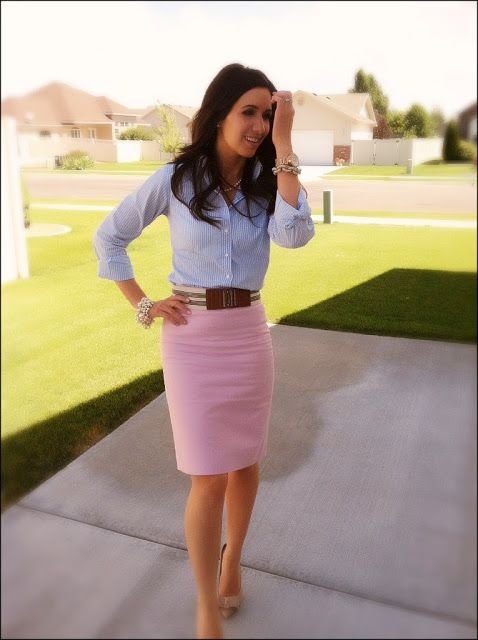 Via Sequins & Stilettos: A Checkered ...
This pencil skirt is professional but also has personality.
8

Wear Pastels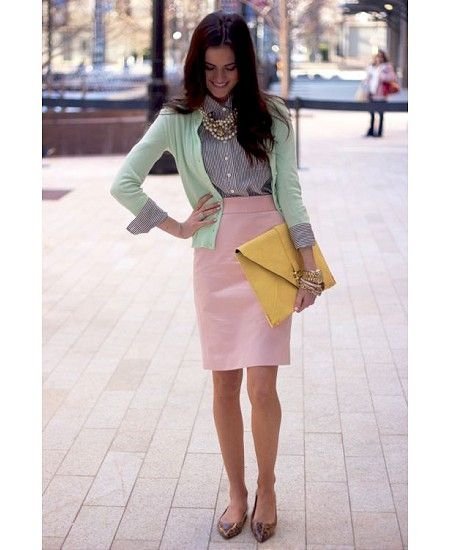 Via What to wear to work: ...
Get away with pastels at the office by pairing a couple of them together in one outfit.
9

Red Shoes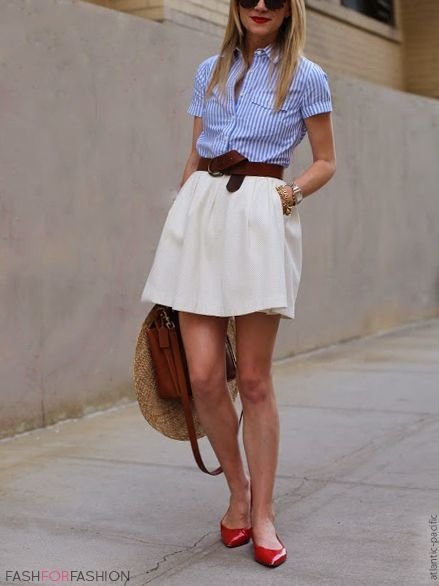 Via fashforfashion -♛ STYLE INSPIRATIONS♛
Top off any work outfit with a great pair of red shoes.
10

Wide Leg Pants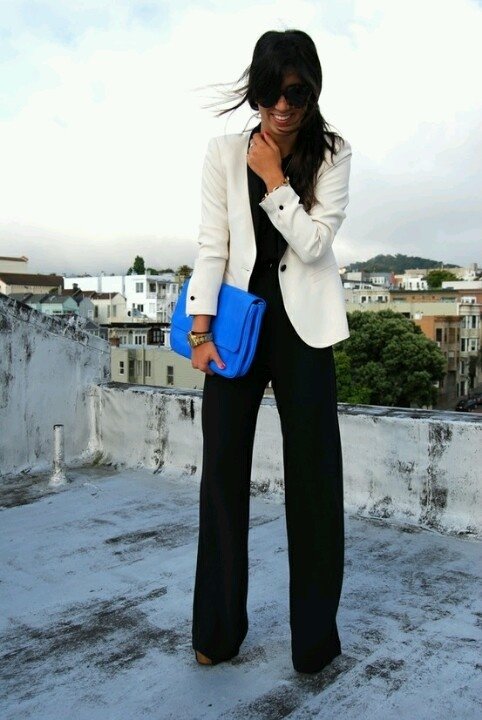 Via Emory Ladies Dress For Success!
There's something really professional about a pair of black wide leg pants that simply can't be matched.
11

Neutrals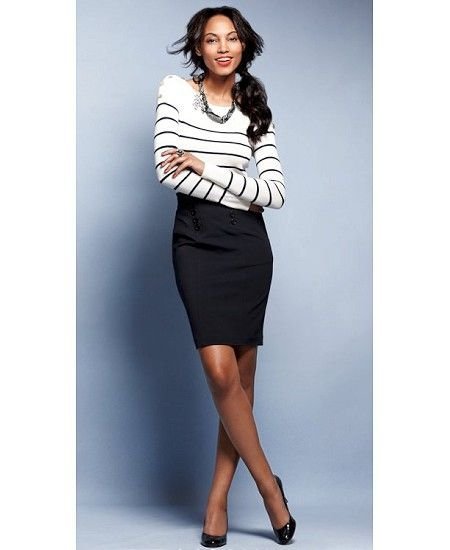 Via What to wear to work: ...
All over neutrals make this outfit attractive and perfect for going to work.
12

Tan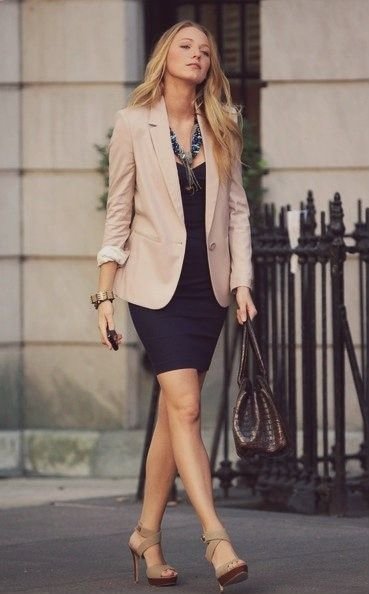 Via Standout Southwestern Infinity Scarf Tribal ...
Wearing tan sandals and a tan jacket pulls the black dress together just right.
13

A Bit of Tweed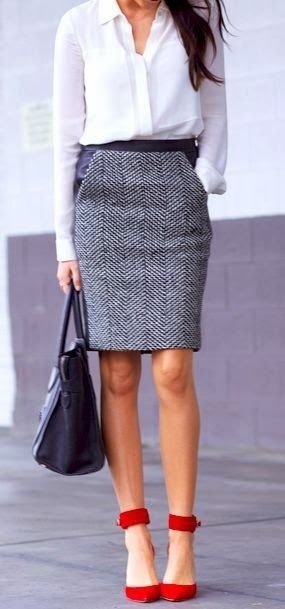 Via Women's Fashion: Pencil skirt
I love how this tweed skirt looks with the red shoes.
14

Sleek and Beautiful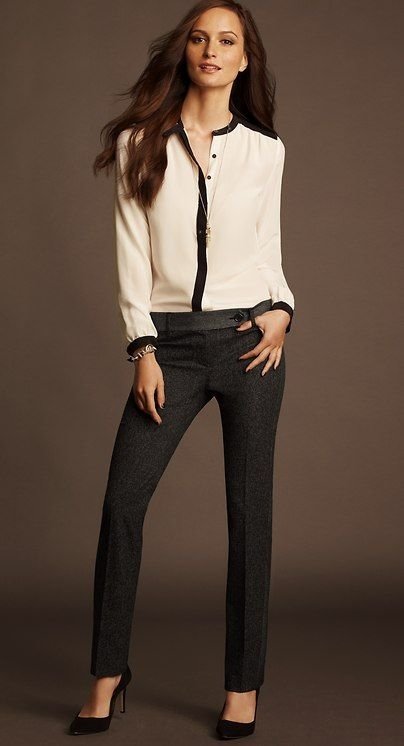 Via Ann Taylor Outfit
There is nothing about this outfit that I don't like.
15

Red Sweater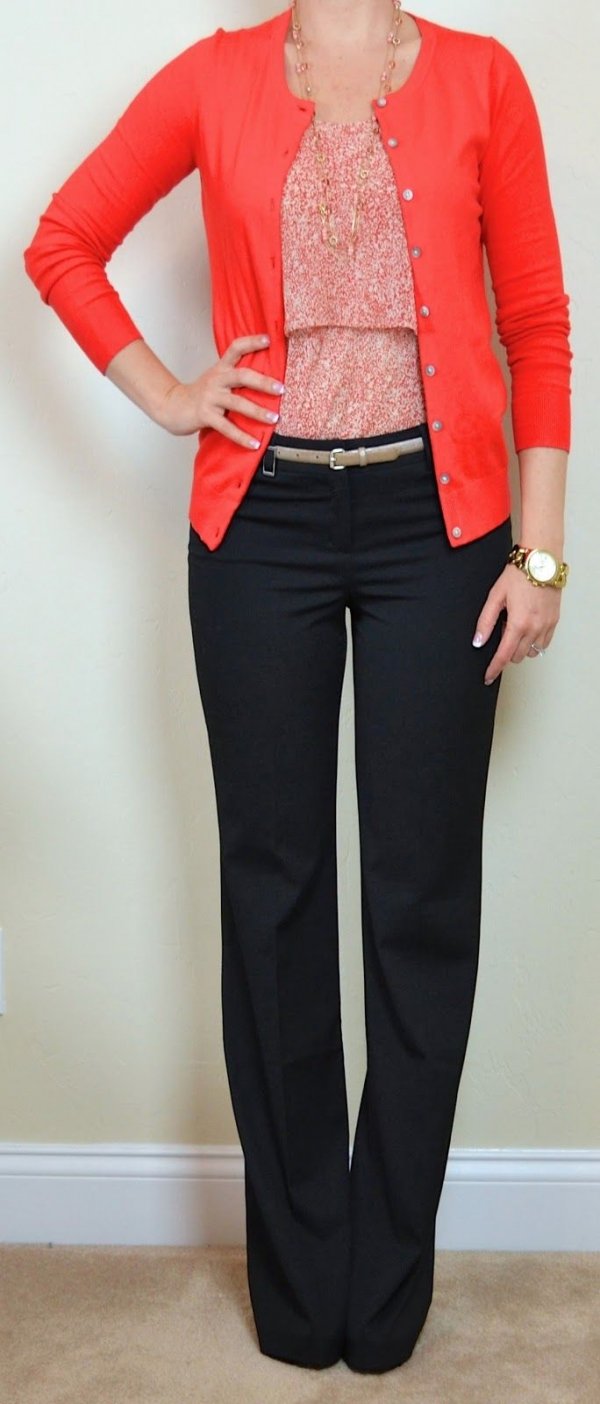 Via Outfit Posts: outfit post: red ...
The red sweater is bright, but it is great for showing your style at the office.
16

Big Necklace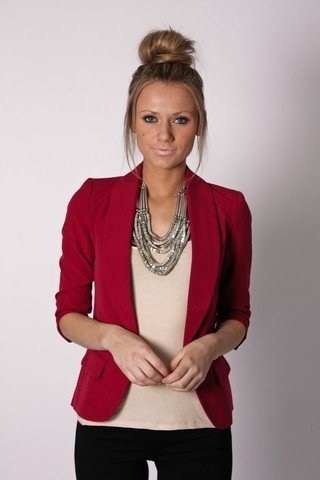 Via esther.com.au
Adding a big necklace to a plain shirt gives it style and I love the one in this photo.
17

Skinny Jeans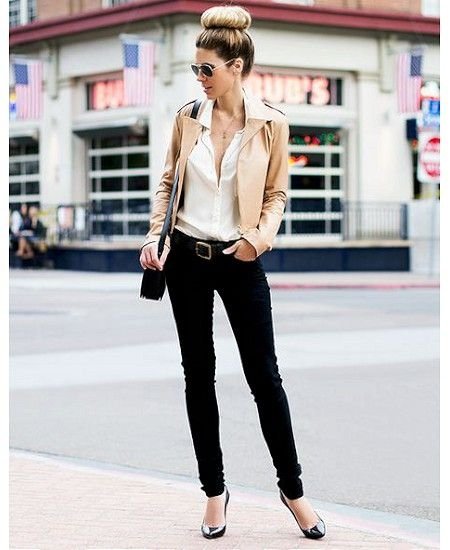 Via What to wear to work: ...
Here's another great example of a perfect casual Friday outfit.
18

Floral Button up Shirt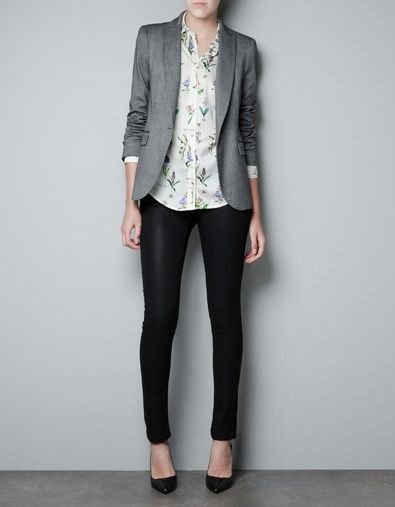 Via Projects to Try
This shirt is so cute and it looks great with the pants and blazer.
19

Sophisticated

Via Personal Stylists New York City ...
This outfit shows a little skin, but in a totally modest and professional way.
20

Fun Sweater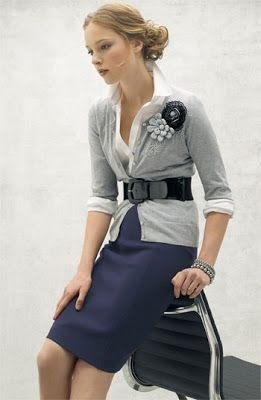 Via Stylish Tailor: Fall Fabulous.
I love the details on the sweater. They are cute without being over the top.
21

Collarless Blazer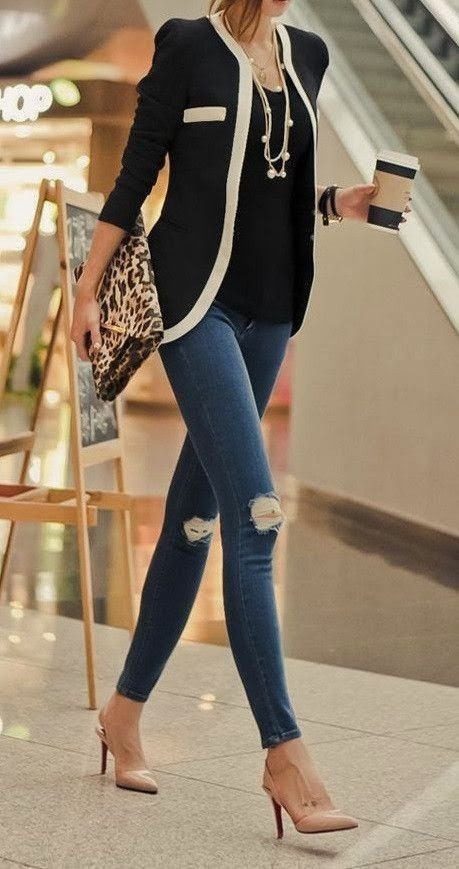 Via high-waisted bikini. - yourfashion.co
If you work in a laid back office, you might be able to get away with something this cute.
22

Leopard Print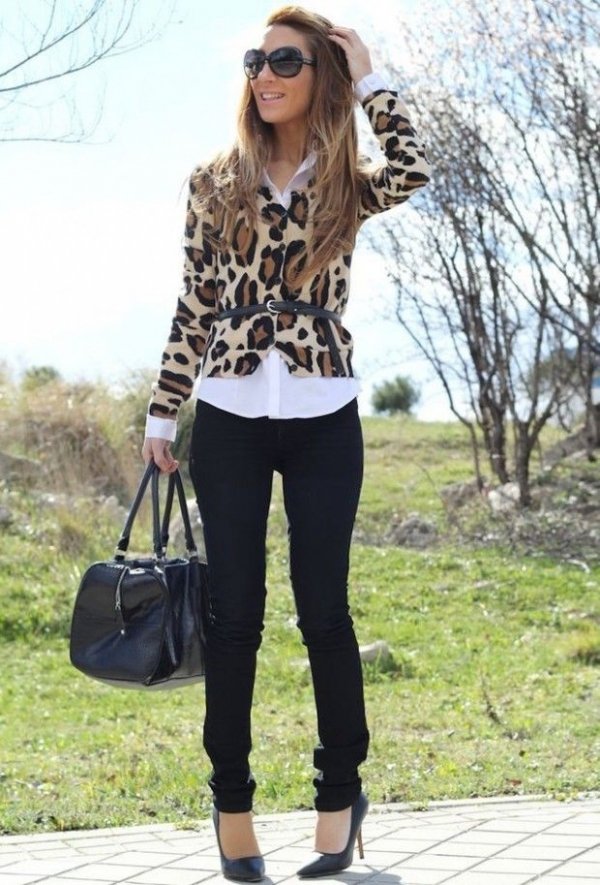 Via 20 Amazing Office Chic Outfit ...
Yes, you can wear leopard print to the office if you do it like this.
23

Pink Blazer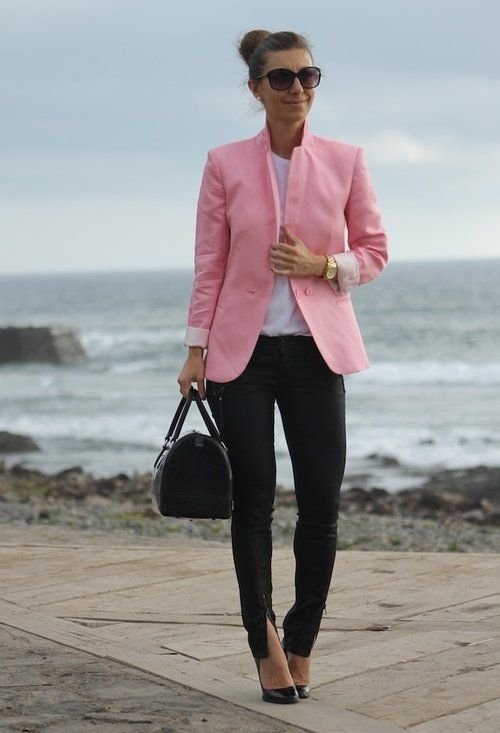 Via 25 Stylish Office Outfits
Bring your blazer to the next level by choosing one in a great color like this pink one.
24

Trouser Jeans

Via Chic & Chambray
Your boss might be ok with jeans if they are dark washed and tailored like these.
25

Brown Slacks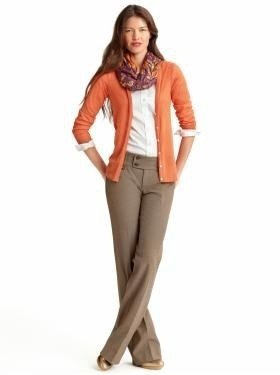 Via Career Re-Entry Series: How to ...
Your office wardrobe isn't complete without a great pair of brown trousers.
26

Capris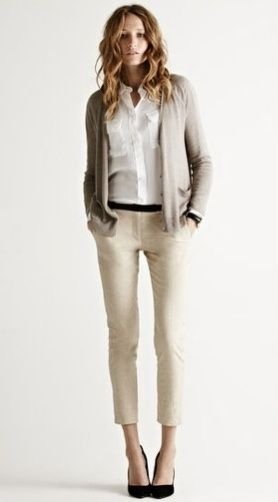 Via LoLoBu - Women look, Fashion ...
Capris don't have to be limited to your days off.You can wear them to work if you dress them up with the right accessories.
27

White Pants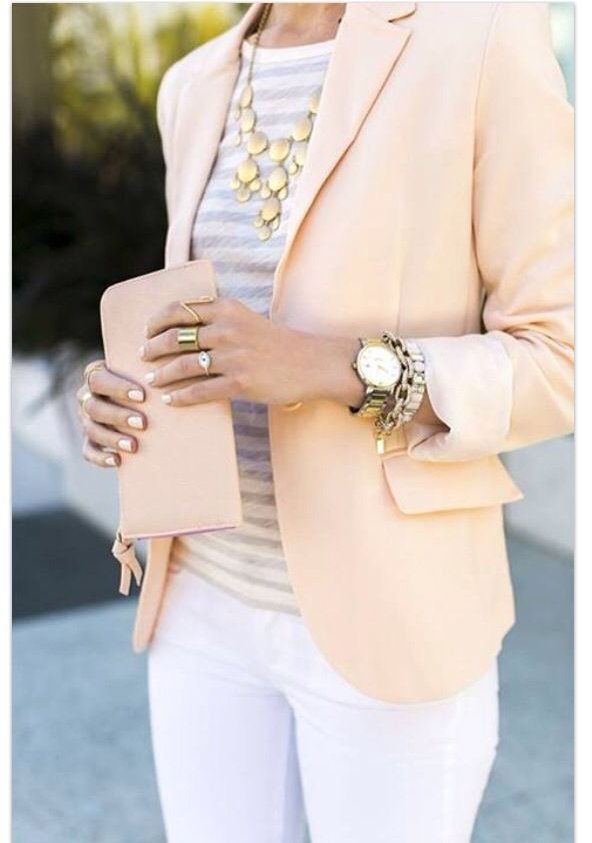 Via Office
You really can wear white pants to work if you do it with the right blouse.
28

Turquoise and Gray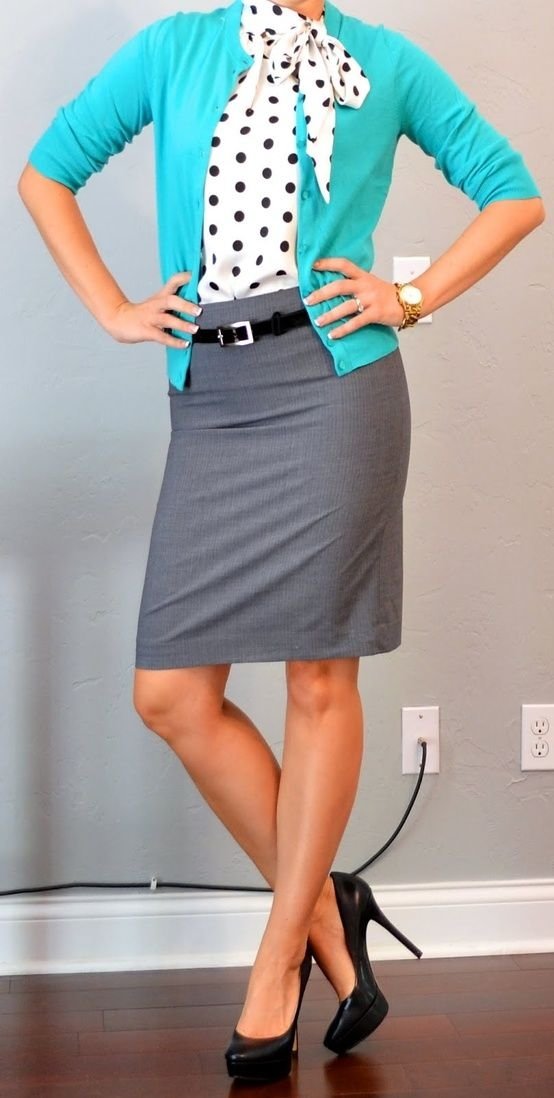 Via Outfit Posts Dynamic: outfit post: ...
I would want to wear this outfit every single day.
29

Beige and White

Via bexoxagydow.tumblr.com
If you prefer neutrals, this is the outfit for you.
30

Red Heels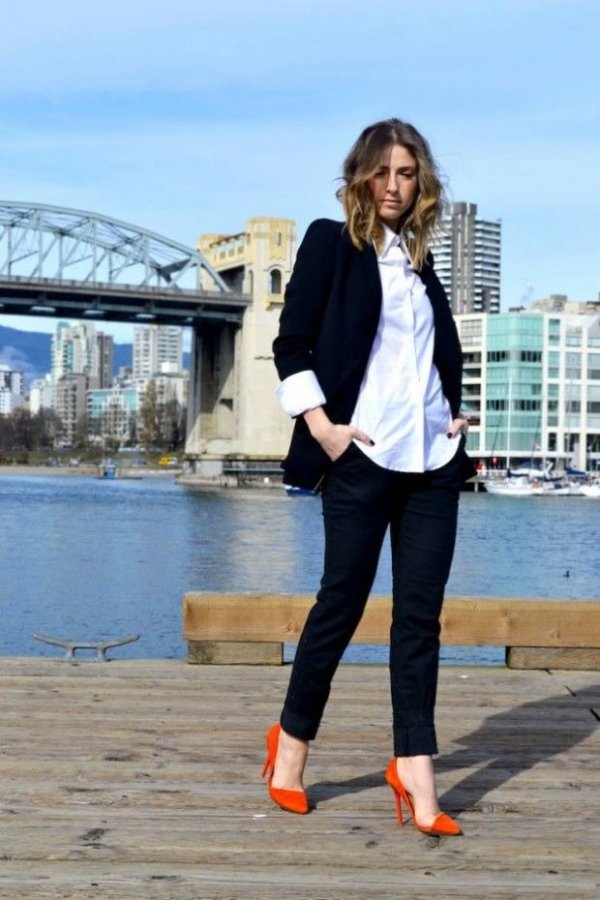 Via Fashion for Work: 16 Lovely ...
This is another great example of how to pull off red shoes at work.
31

Long Blazer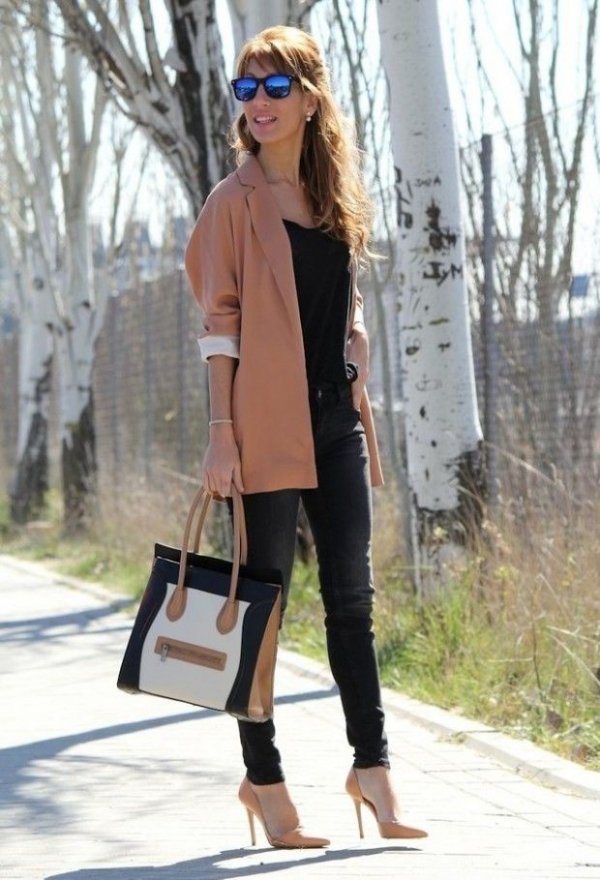 Via Fashion for Work: 16 Lovely ...
This long blazer is totally perfect and couldn't look better than it does with the rest of the outfit.
32

Bright Yellow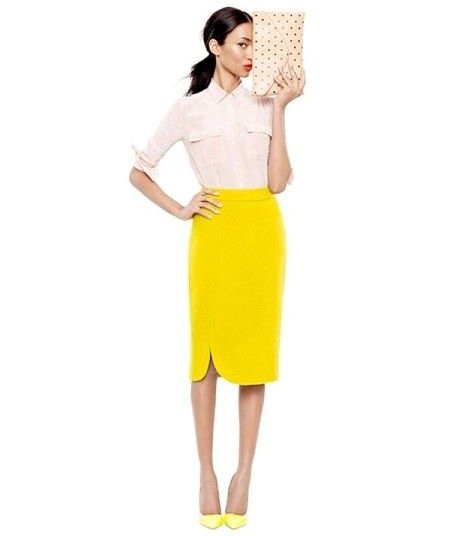 Via What to wear to work: ...
The bright yellow skirt and shoes are a great new way to wear some color to the office.
33

All Black

Via Hot Womens Clothes | Hottest ...
Of course, you can't go wrong with an all black skirt suit.
34

Floral Skirt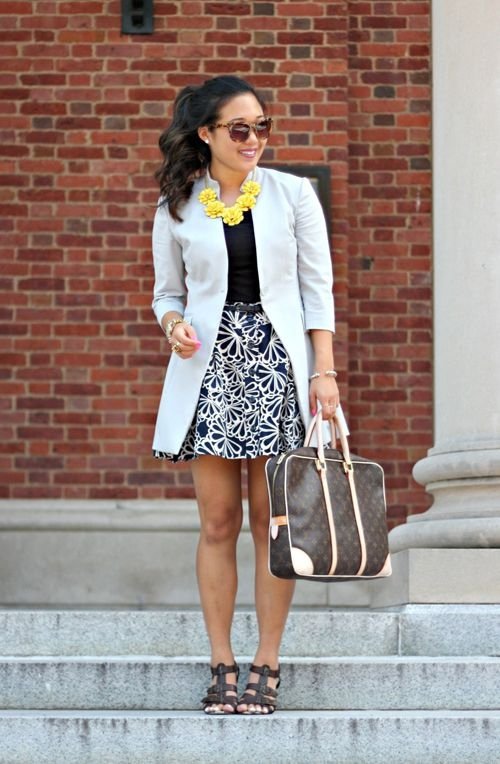 Via laurenconrad.com
You can definitely wear prints to work. The pattern on this skirt is simply wonderful.
35

Sheer Blouse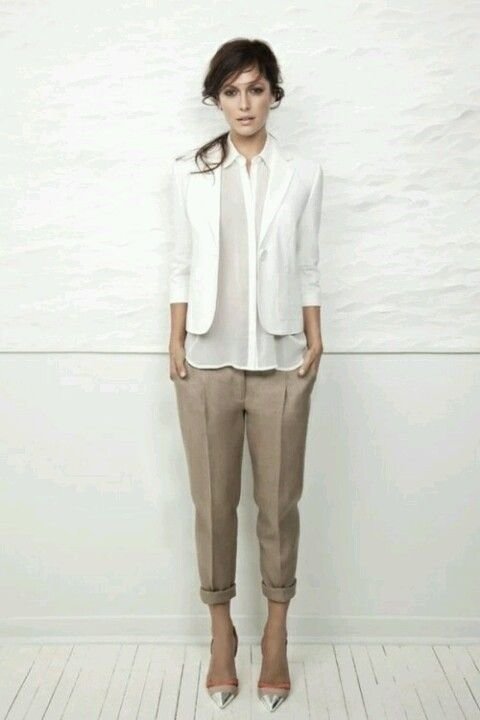 Via Dress for Success - Women
The sheer blouse works for the office by covering it with a blazer in the same color.
36

T-shirt on Top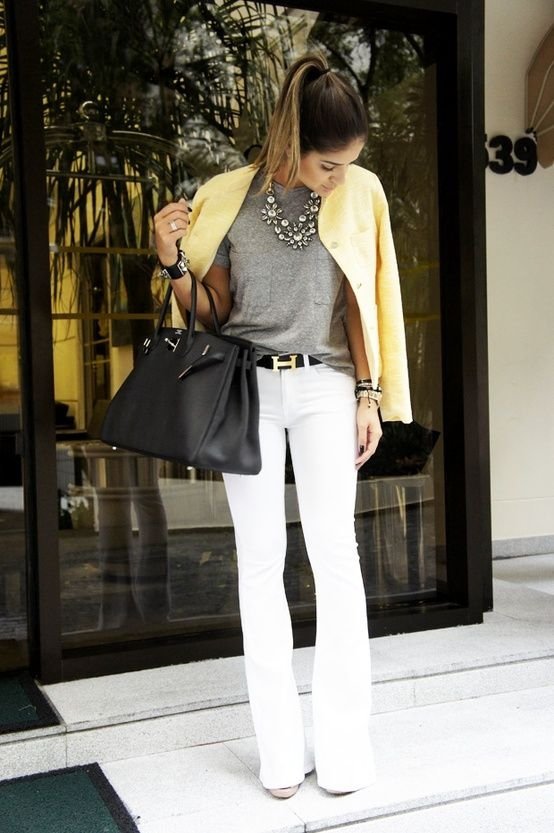 Via Mobile Food
It might be a humble t-shirt, but it totally works in this outfit.
37

Mustard Cardigan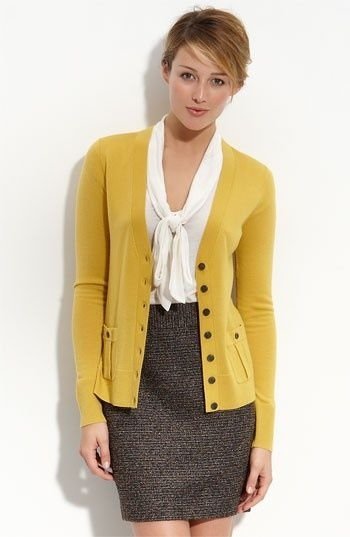 Via s40.photobucket.com
Mustard yellow is trendy right now and it looks great with white, black and gray.
38

Bright Blue Pants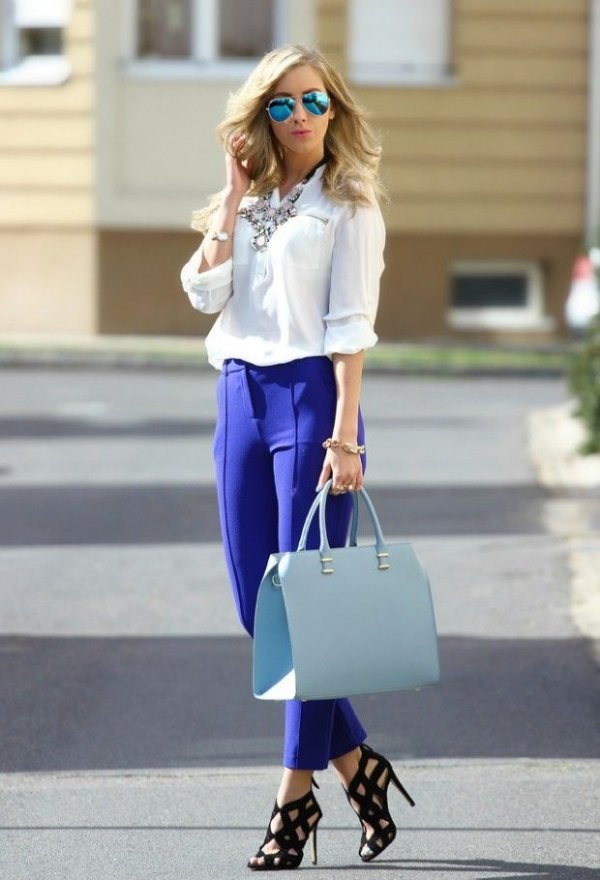 Via Fashion for Work: 16 Lovely ...
I love these blue pants! Tone them down with a white shirt and black shoes.
39

Polka Dot Tie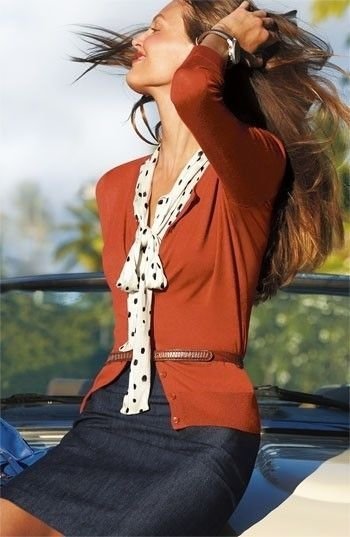 Via workoutfitstyles.blogspot.com
I love how this polka dot tie looks with the red sweater.
40

A Little Bit of Green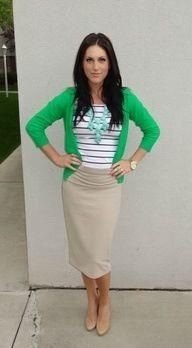 Via Basic Work Wardrobe for Women ...
Green doesn't have to be off limits at work either. Look how professional this green sweater looks!
41

Casual Blazer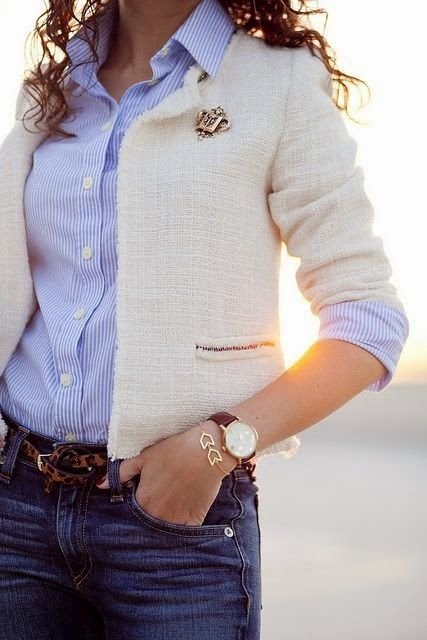 Via fashidea.info
This outfit is definitely casual, but I think it works for a low-key office environment.
42

Long Jacket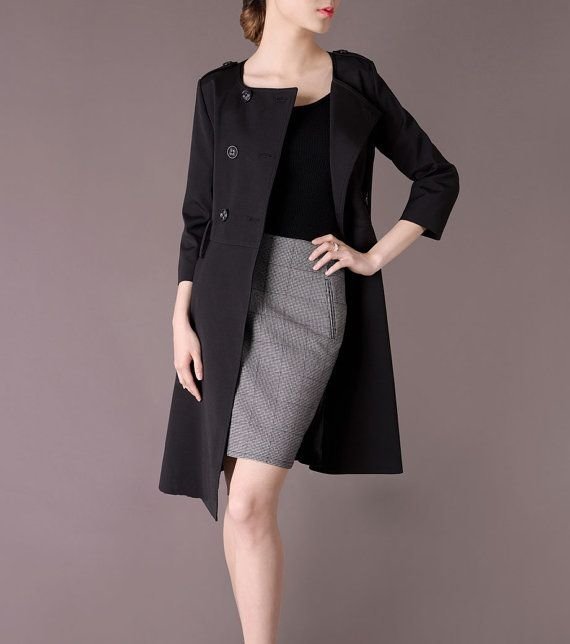 Via Etsy :: Your place to ...
I love how this jacket looks! What do you think?
43

Another Casual Look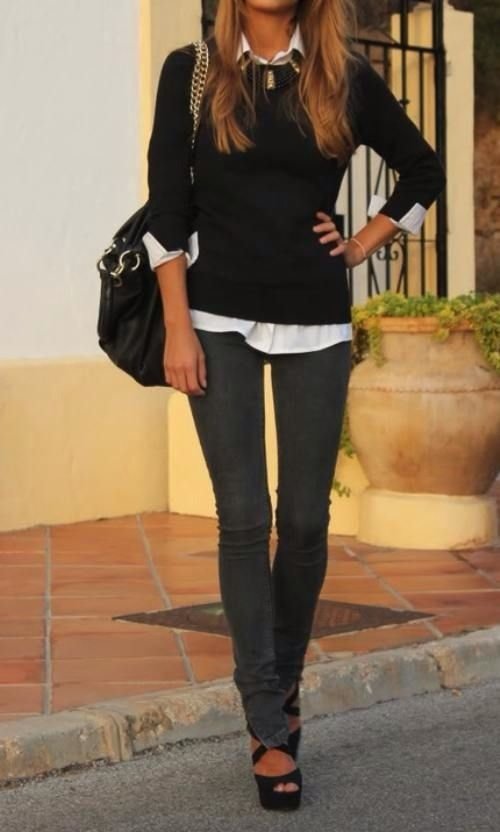 Via work
Again, it's casual, but it could work in plenty of laid back offices.
44

Lots of Color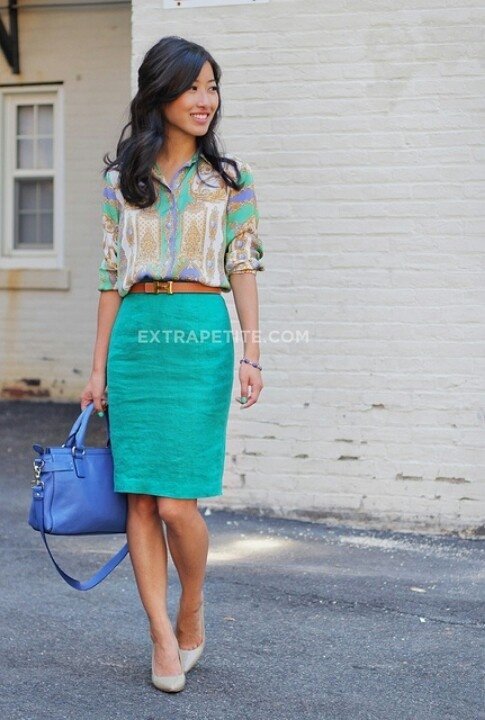 Via Business Outfits
This outfit is definitely more colorful than the others, but it still manages to look super professional.
What do you wear to the office? Which outfit is your favorite?
Please rate this article