Spring is a great season, but trust me, you're going to need a few spring jackets, and here's why. You've got beautiful, warm and breezy days, and cooler nights. For those cool nights, you're going to need a noteworthy jacket. This spring, there a lot of fantastic jacket trends, that I'm going to tell you all about. Here is my list of the 10 most chic spring jackets you'll love.
---
1

Moto Jacket

This spring jacket is super cute. It comes in a fun, flirty, pale pink. The color is very spring and with the trend this year. You definitely need to have this in your closet. The structured detailing gives it that edgy look. It would look great when you're out on a date or having a casual day out with friends. I found it at Lulu.com and it's only $90! It's all vegan too, so you'll feel guilt-free about wearing it!
---
2

Windbreakers

Windbreakers are a good solution for the unpredictable weather that spring brings. Windbreakers are made of a light material and look pretty cool when they're in a funky color like orange or green. This spring jacket by Billabong comes in a nice peachy-orange color that would work great with most skin tones!
Trendinig Stories
More Stories ...
3

Military Jackets

Camo Prints and other military-like prints are so in right now! It definitely fits the 90s inspired fashion that is seen everywhere. It can add a little bit of spice to your outfit. It also has the ability of making you look like a girl who can handle her own too. This cool spring jacket by Vila is light-weight, a little bedazzled, and it looks comfortable as well! It's on sale at Asos.com now!
---
4

Cute Printed Blazers

Printed Blazers are awesome as a standout piece of your outfit. Free People (one of my favorite stores) has a great selection of printed blazers to help you look your best! This blazers comes in a few different prints, and among the best is the floral one. Nothing really says spring like floral print! It would be great on a date, or having lunch, or a picnic with your best friends!
---
5

Bombers

Bomber jackets are the epitome of casual cool. They fit nicely and are comfy. This spring jacket by Asos is floral too! Floral prints just make everything pop a little more. It has a flattering shape too. Looks great for a day of shopping and Frozen Yogurt afterwards.
---
6

Denim

You just can't go wrong with a denim jacket. The lightweight, durable material of denim makes it ideal for spring weather. You could either dress denim down or up - it is so versatile! Denim jackets also come in different styles. Some are plain, some have different material sleeves, and others are structured. This one from Forever 21 is bleached and collarless. It is a fierce alternative to the traditional jean jacket.
---
7

Oversized Jackets

Watch out now, down. This spring jacket is only for the cool kids. This jacket is nice because you don't have to be all dressed up to wear. It's for one of those days where you just want to be in your skin, and dressed down. It's good for a relaxing day, involving leisurely activities. This one can be found at Nordstrom's, and it's very on trend right now.
---
8

Varsity Jackets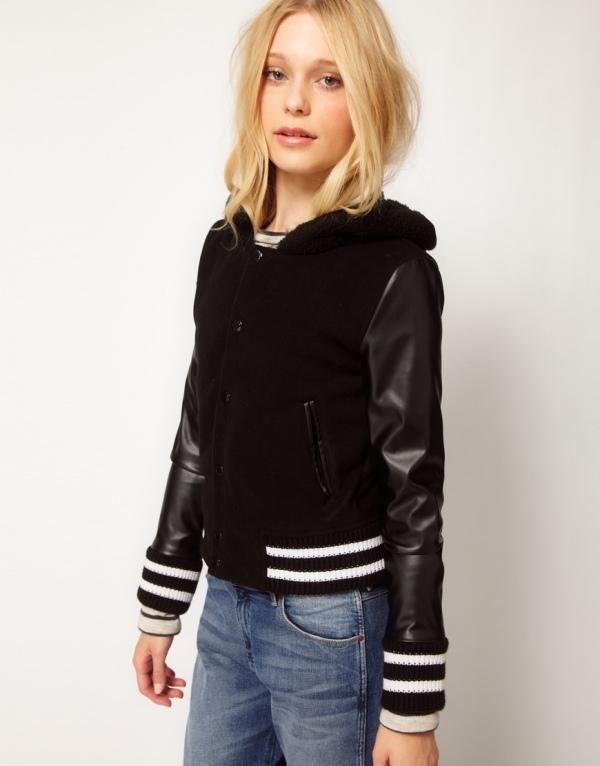 us.asos.com
Varsity Jackets bring up memories from high school when you were just learning about how fabulous you are! They are cute and fun, and often remind you of some muscle-y guy on a sports team. If you want to look casual, cute, and sporty, this jacket from ASOS should do the trick! It's a steal at such a low price too!
If you find these spring jackets. You'll be the best looking gal in the area. Jackets are a major part of your outfit, and it's important that it makes a statement, unless you don't want it to. They can be very versatile to fit everyone's style. I especially love printed jackets. Which spring jackets do you like?
---
Popular
Related
Recent