Striped Dress **fashions are ideal for late summer and early fall! Do you own one? If not, you have a great list just ahead of you! No matter you shape, size or style taste, you'll find a **striped dress you love from my list. Dresses are probably my favorite item of clothing to wear, and I'll admit that a striped dress can be tricky to pull off. But you'll be sure to find something you love if you just keep reading my list with 8 fabulous striped dresses!
1

Stripes 3/4 Sleeve Dress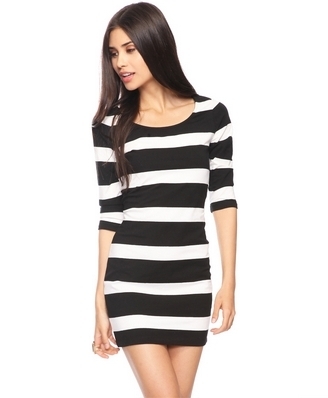 Price: $11.50 at forever21.com
I'm loving the teal and black combo in this striped dress. It's so fresh yet sophisticated! And this fit will be very flattering no matter your body type. Can't you just picture it with a pair of great boots?
2

Smocked Sweater Dress

Price: $22.80 at forever21.com
This dress would pull off a jean jacket so well! It has a tribal/retro inspired combo that meshes so nicely together. And with just a tiny smidge of a 90's feel, you'll be rocking with the best of them! You will be glad you added this dress to your fall collection!
3

Sailor Contrast Dress

Price: $24.80 at forever21.com
Here is a striped dress with a little more class and structure to it. Maybe you are a little hesitant to go completely stripy. If that's the case, try this dress on for size! It will add the perfect amount of stripes without overwhelming you.
4

Chevron Stripes Dress

Price: $17.80 at forever21.com
I am totally and completely in love with this dress! It's so unique and adorable. The belt helps cinch in the waist and the stripes have a super slimming effect. With these vibrant colors, you can go right into fall by adding a cardigan and boots!
5

Retro Zig Zag Dress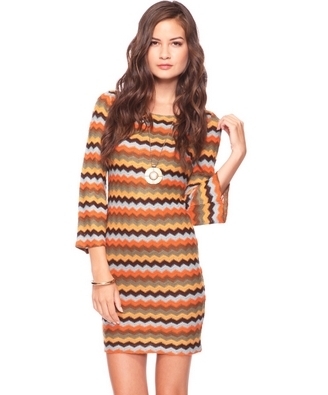 Price: $24.80 at forever21.com
The 70s have always held a little bit of fashion whim that I love, and this striped dress is no exception! I love that it has basic, neutral colors, but at the same time makes a huge, splashy statement! You will have all eyes on you in a good way when you walk into a room wearing this dress for sure.
6

Fitted Knit Dress

Price: $24.80 at forever21.com
Do you love bright colors and unique patterns? You will love the pink, girly shade of this dress and the striping on it is just so unique you can't pass it up! My favorite part about this dress is how the stripes don't extend to the back. This creates a unique stripe effect, but makes you look totally slim!
7

Seaside Stripes Dress

Price: $24.80 at forever21.com
Tailored, straight dresses are cute and sexy, but they can get uncomfortable after a while. So why not slip into a flowy, loose fitting yet flattering dress to enjoy the remainder of summer in? Black and white may be pretty basic, but it never goes out of style and you can spice this striped dress up with any color of accessories or shoes you desire! Now that's versatility!
8

Criss Cross Colorblock Dress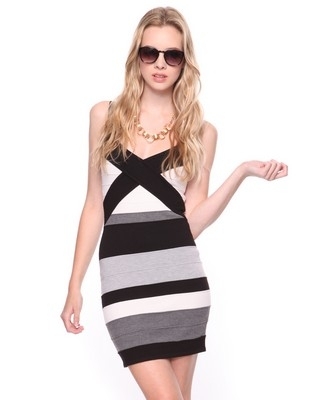 Price: $24.80 at forever21.com
If you have a more chic taste when it comes to dresses, here's the perfect dress for you! It's trendy, fun and fashionable all in one! Plus you can very easily dress it up with heels and the right jewelry, or wear it with flip flops and bangles for a fun day out on the lake!
Striped dresses are not as difficult to pull off as you might think. You can choose a striped dress with stripes that draw attention only in areas you feel comfortable with. I hope you found a striped on my list that you totally adore today! Please comment below and tell me which dress is your favorite! If you're not into stripes, what is your favorite pattern?