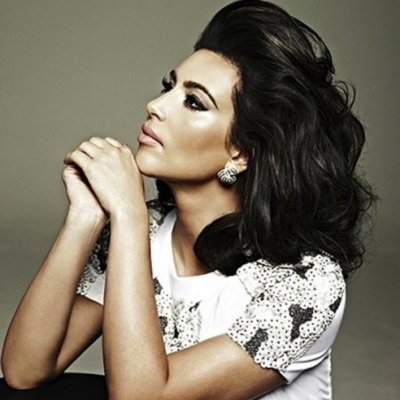 When she isn't busy making headlines for her controversial photoshoots, tweets and selfies, trendsetter Kim Kardashian West turns heads on the streets on a regular basis with her sexy and incredibly edgy style. With over 24.8 million followers on Instagram and countless magazine covers under her belt, I can't help but be in awe of just how much her fashion sense has evolved over the years. Whether you love to hate her or hate to love her, you have to admit that her style is ridiculously versatile. In fact, her ever-changing style has pretty much guaranteed her a spot on this year's hottest style icons' list (and the year has only begun).
1.

Fun & Flirty Neutrals

There is no denying that Kim Kardashian West (or just Kim K) is the queen of neutral tones. From this simple yet chic outfit alone, it is easy to see that she knows exactly what pieces to pair together to give off a stylish, not to mention ridiculously sexy vibe. I still can't stop staring at just how well her flirty peach top fits with her light pencil skirt.
2.

Monochrome Everything!

I hope that this classic look never goes out of style. I really like the cut and shape of her trousers (and her trendy suitcase). The draping from both her blouse and pants help accentuate her fabulous waistline. Also, I'm totally in love with her nude heels.
3.

Lady in Red

This picture is pretty much proof that Kim Kardashian West's red carpet looks are always as flawless as her street style ones. The sleek outline of this gorgeous dress really hugs her hourglass figure. Also, that mermaid hemline is too flawless for words.
4.

Decked out in All White

I'm totally in love with the pockets on this little number; in my opinion, that small detail really rounds out this look. The pearl neckline and buttons are also a nice touch. I think I would love this even more if she added a dash of color to her accessories although it is just as hot without it!
5.

Cute & Casual

In spite of skyrocketing to fashion fame seemingly overnight, she still does casual so well! The daring slit on her blue maxi skirt definitely adds a spark to her overall cute outfit. The gold belt really compliments her lovely shape.
6.

All Dressed in Black

There's a reason why black is every style maven's go-to color, aside from its slimming qualities. Not only does it look great on all body types and skin tones, it can automatically take your style from drab to fab. Finding the right pieces is key to achieving a fiery look like this one.
7.

Military Trend

Honestly, this has to be my favorite Kim Kardashian fashion choice of all time. From her cropped olive shirt to her form fitting high-waisted pants, this outfit just screams perfection. Although it's pretty simple in nature, her execution of this popular trend is just ace. Plus, those heels are killer!
8.

Sexy Lace

This crop top and fitted lace maxi skirt combo is everything! Look at how utterly stunning the detailing is on her beautiful black number. Her earrings and sleek ponytail give this outfit some extra "oomph" and are also the perfect finishing touch.
9.

Sassy V Neck Gown

The spicy v neck cut on this gown surely speaks for itself. With an outfit as ridiculously sexy as this, there is no way that Kim Kardashian wasn't the center of attention. Her makeup also brightens the room, which is always a plus. Her sheer confidence makes this one of my favorites, hands down.
10.

Skin Tight Leather

Can we talk about how gorgeous and absolutely spot on this next look is? Her whole outfit is on point! I'm not surprised that she was able to pull this look off so flawlessly. Also, how hot is her pulled back hairdo?

There are so many more looks from this fashionista that I've been obsessed with that I would need a whole pinterest page just to follow her sassy style. What are some of your favorite looks rocked by this trendy reality star?