Street fashion is a great place to get inspiration for new outfit looks and combinations. It's also a great way to see how outfits look in the 'real world'. The exception to this rule, however, is fashion week. Thanks to street style fashion photographers, every fashion week we're given glimpses into how the fashion set dress. This means that outfits can range from well put-together outfits to the downright zany (Anna Dello Russo I'm looking at you). While it's not always possible to recreate these looks, we can always take inspiration from recent fashion weeks around the world and the street fashions that go with them.
---
1

Paris Street Fashion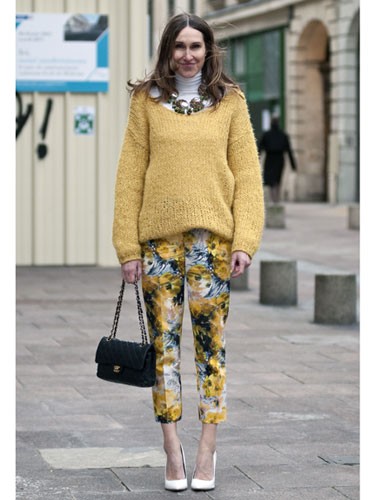 The shows may have been showcasing fall/winter fashions, but this woman's outfit was very summer. Her brightly printed pants are complemented by a coordinating yellow knit. The Chanel bag is a classic touch.
---
2

Paris Street Fashion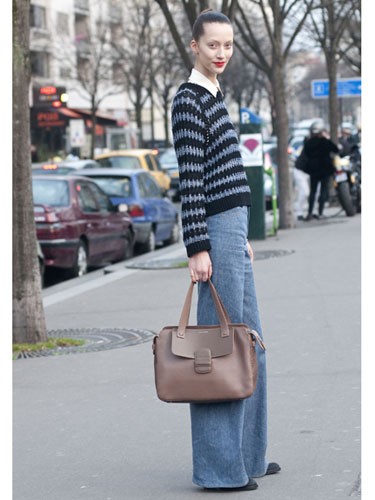 Parisian fashion seems mainly to be about understated, feminine dressing. This lady has it down to a tee. She's styled her wide-legged jeans incredibly well, with a patterned sweater and simple beige handbag. The bright red lip tops the entire look off perfectly.
---
3

Paris Street Fashion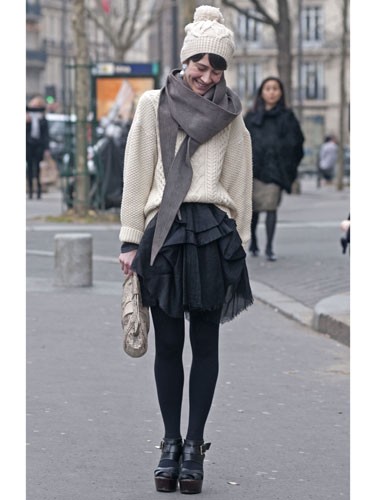 While fashion week outfits tend to be more about cutting edge and avant garde looks, I love the playfulness of this look. The length of the ruffled skirt works well with the oversized knit, and the glitter clutch adds a nice contrast.
---
4

London Street Fashion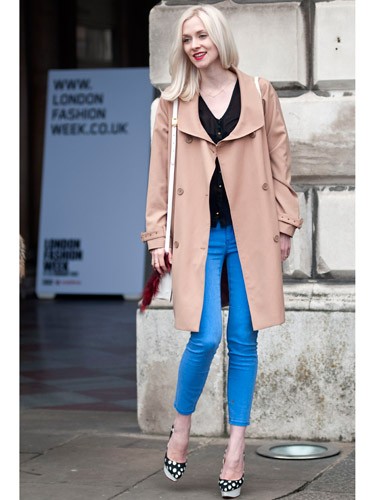 This combination of bright blue jeans and a beige coat is seemingly quite simple, but what really makes this outfit work is the balance between the cropped jeans and the oversized coat. The polka dot shoes are a quirky touch.
---
5

London Street Fashion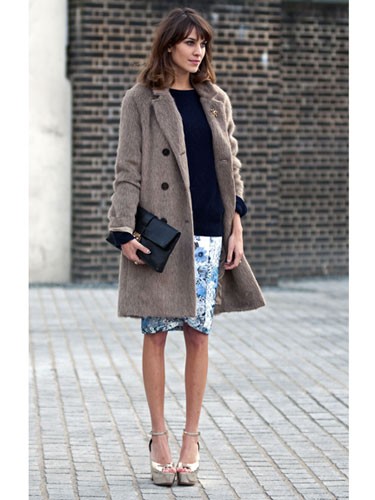 This outfit is an exercise in modern, feminine dressing. The coat, navy top and clutch are classics, while the printed skirt and metallic heels lend more modern touches to the outfit.
---
6

Milan Street Fashion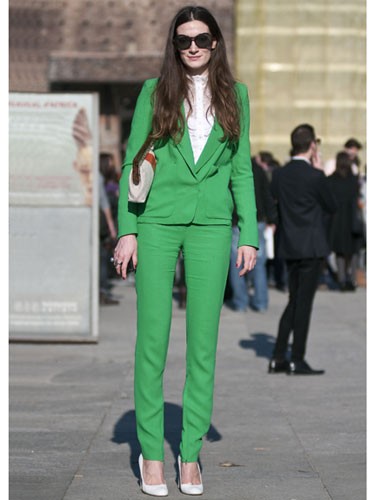 This outfit is one of those looks that you'd probably only ever see at fashion week. I'm not sure how a matching green pantsuit would work in the 'real world', but here it is a fun and fresh fashion week look.
---
7

Milan Street Fashion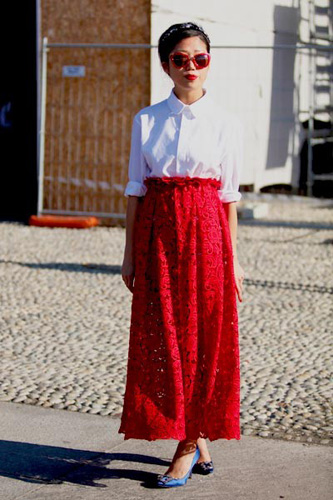 This bright red lace skirt was bound to get this lady noticed. It looks great teamed with the crisp white shirt and coordinated with red sunglasses and feminine blue heels.
---
8

New York Street Fashion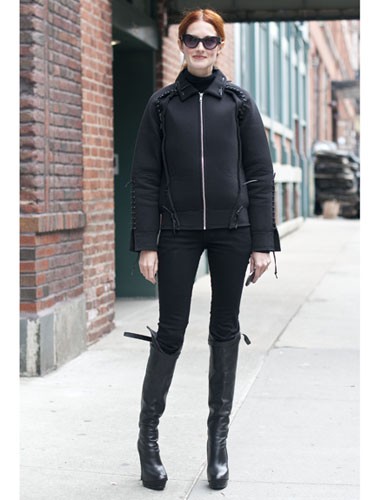 Black is always in fashion, and this head-to-toe black outfit is a great off-duty look. The boxy jacket is a key shape this season, and the trick to pulling off this look is to balance it out with streamlined bottoms.
---
9

New York Street Fashion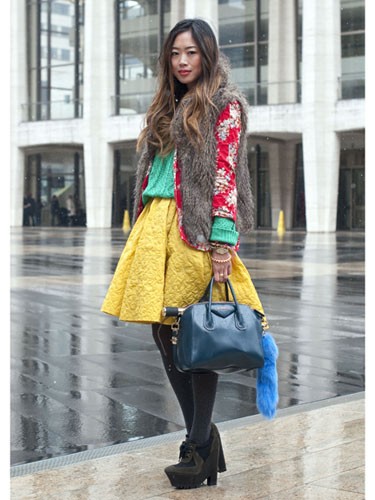 This is one of those looks where 'more is more'. The combination of yellow, mint and red shouldn't work, but it does. To make this look work outside of fashion week, I'd remove the gilet and red jacket, and change the shoes.
---
10

New York Street Fashion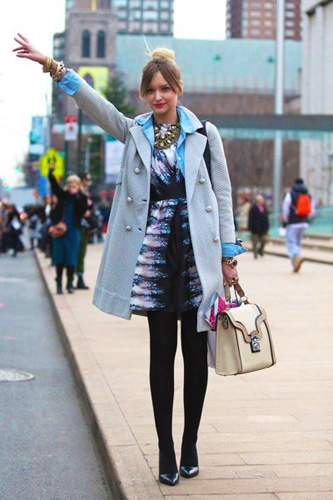 Layered outfits can be hard to pull off, but when it is done well it can look extremely chic. This printed dress looks great layered under a collared shirt and powder blue coat. The collar necklace and layered bangles are a youthful touch.
From New York to Paris, street style fashion photographers have their work cut out for them. While I personally prefer the street fashion from the spring and summer shows, there was still plenty of eye candy on offer at the recent fall/winter shows. What do you think of these particular street fashion looks?
Top Image Source: pinterest.com
More
---
Comments
Popular
Recent