Collars finally get their time to shine with trendy and chic embellished collar tops that sparkle for the season. A chic embellished collar acts as a bold statement necklace when paired with the season's coolest clothes and trendiest tops. The discerning femininity of an embellished collar is a top ladylike accent that has vintage quality and retro flair for the contemporary chic woman. For a sweet touch add these trendy collar tops to your fall wardrobe and forgo your jewelry entirely this season.
---
1

Embellished Collar Button up Top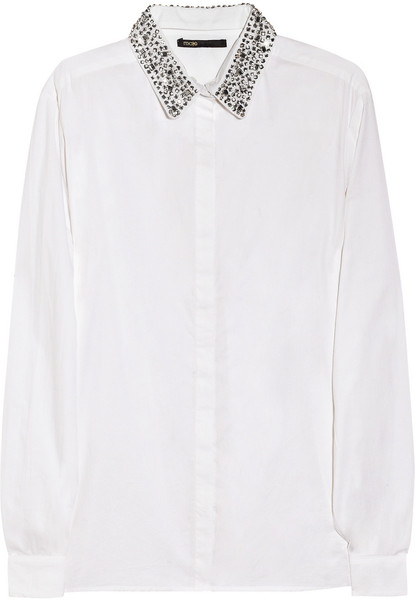 The white button up shirt is timeless and should be a staple in all wardrobes. The business-formal and professional white button up shirt is re-invented and made modern with trendy and chic collar embellishments. To keep your white button up classic, opt for embellishments that are clear or opaque white for a more reserved feel. Embellished collar tops like the Maje one shown above fit the bill perfectly, with other options from Topshop, River Island, House of Fraser and high-end designs from Miu Miu to Tara Jarmon in the $50 to $1,000 range.
---
2

Embellished Collar Short Sleeve Top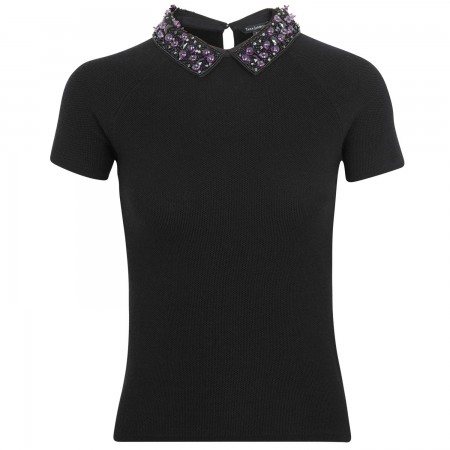 Colored collars and embellishments really pop against muted and neutral tones for fall, keeping your look subtle yet bold. Pair with a sleek pencil skirt and pointed toe pumps for sartorial sophistication still reserved and professional enough for a daytime office setting. You'll be able to find tops like these from all your favorite stores for practically any price range.
3

Embellished Collar Long Sleeve Top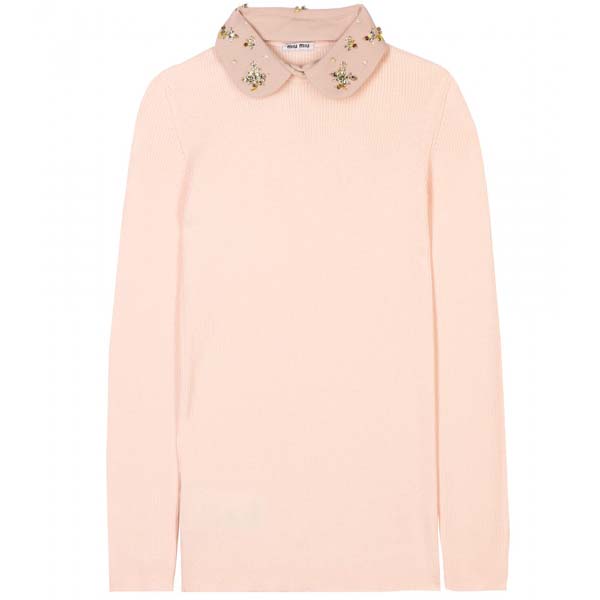 Dress up casual and laid back long sleeve tops for fall with a little sparkle and shine in the form of embellished beading and jewels. To keep your look relaxed and informal, pair a long sleeved embellished collar top with slim, skinny denim and boots for a cool off-duty look. You instantly have an ensemble that's perfect for weekend wear.
---
4

Embellished Collar T-Shirt Top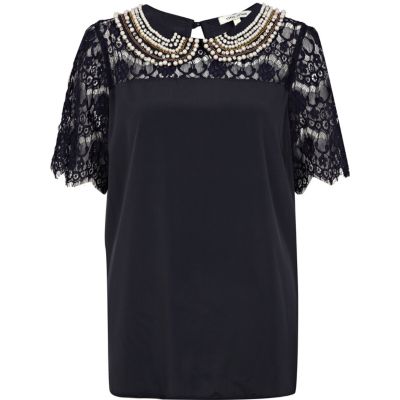 The revival of the art deco era means the roaring 20s get to roar once more with flapper-esque inspired duds like an embellished collar t-shirt top. The boxy silhouette of a t-shirt top is reminiscent of the loose fitting and shapeless silhouette of the 20s woman. When worn in this fashion with an embellished collar in pearls and beads, a t-shirt top is ultra-luxurious in fabrics like silk and lace. Pair with a fringe skirt or slim cropped trousers for a chic look that won't verge on the edge of costume-y.
---
5

Embellished Collar Peplum Top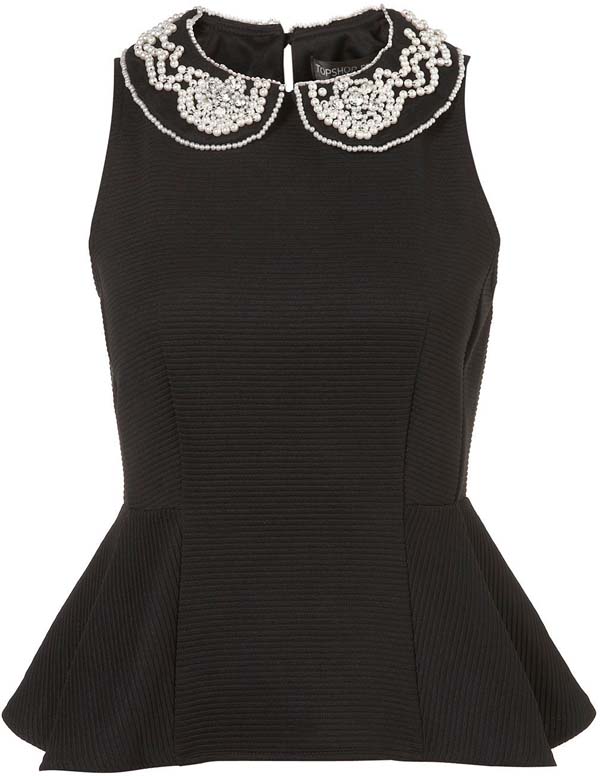 Peplums are the ultimate shape of the season. Transition from summer peplums and take on cooler fabrics like leather and knit material, and darker, prominent colors. To keep your peplum top ladylike and refined, stick to embellished collars in the pearl family for a feminine polish. Wear your embellished collar top with sleek and slim pairings like fitted trousers or denim to counterbalance the wide peplum.
---
6

Embellished Collar Sleeveless Top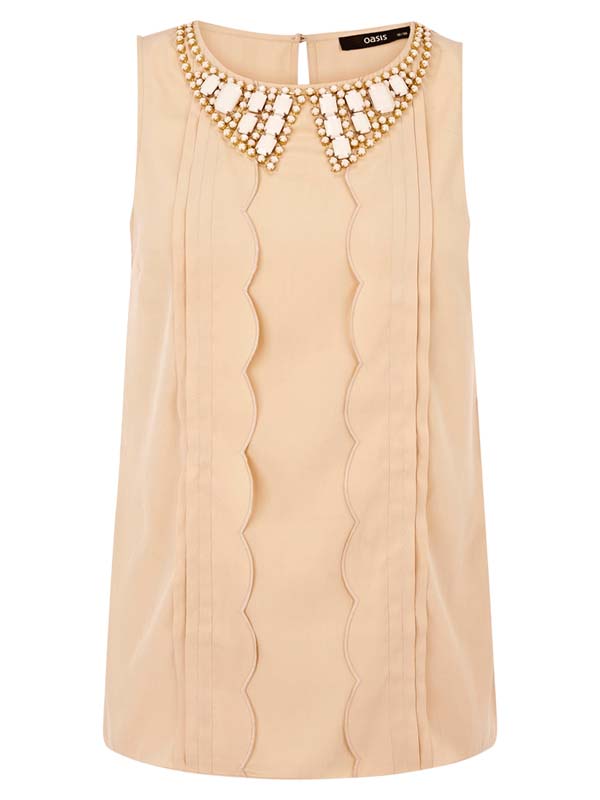 For a little evening edge in your nighttime dressing, include a sleeveless embellished collar top into your wardrobe. To toughen up this feminine piece, try pairing it with edgy accents like a leather skirt and heeled ankle booties suitable for a fun night out on the town. Textures help make the outfit, especially for an evening do.
---
7

Embellished Collar Knit Top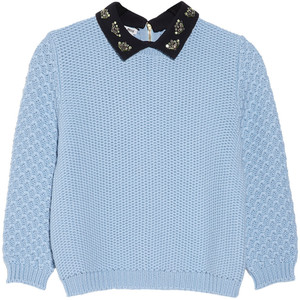 Add some neck appeal to your cozy knit top for fall by looking for sweaters with cool collar embellishments. A cool collar embellishment easily dresses up basic sweaters and knitwear with a charming touch that can be dressed up or down. Wear with a figure hugging pencil skirt and ladylike pumps to reinforce your knit top's refined side.
---
8

Sequin Collar Top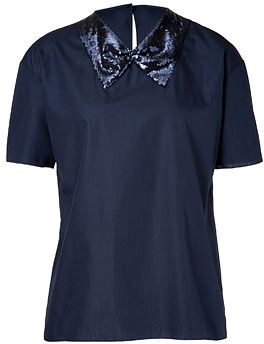 If you want something a little less flashy in the way of an embellished collar top, try adding sequins into the mix instead. The best way to do this is to look for a top with tonal embellishments that match the base color of the garment. This way the end result is subdued and muted yet still sparkles and shines with sophisticated shimmer.
From Peter Pan collars to oxfords, embellished collar tops are bold and on point this season with cool and chic trimmings. Remember to work your embellished collar as a fine piece of jewelry and avoid wearing necklaces or anything that will take the shine away from your cool collar. How will you rock embellished collar tops this season?
Top Image Source: belladermmedspa.com
---
Popular
Related
Recent