She may not be so lucky when it comes to her love life, but Taylor Swift's style is certainly worth stealing. She's sweet, flirty and fun, and you can be too! Taylor Swift's style is easy to re-create without too much fuss. Flawlessly sweet, simple and vintage is the way to go!
---
1

High-Waisted Pinup Shorts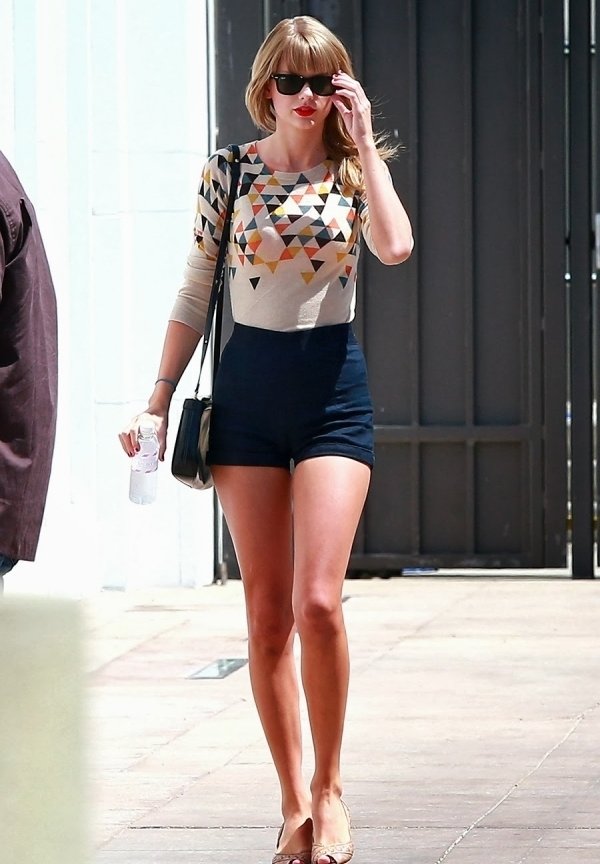 As the saying goes, if you've got, flaunt it! Taylor Swift has long gorgeous legs and it would almost be a crime to not flaunt them. She shows them off during her RED tour in black leather and red high-waisted pinup shorts. Match them with a lace blouse to emulate Taylor Swift's style of sweet yet sexy.
2

Collared Blouses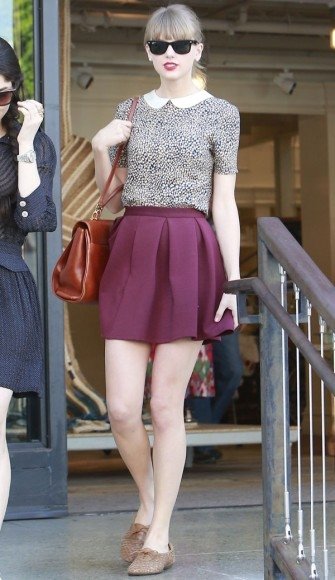 Want to look effortlessly elegant like Taylor? Collared blouses are your solution! Taylor has worn them all from long sleeves, ¾ sleeves and sleeveless. If I dare say, collared blouses are a must-have item in your closet. You can dress them up or dress down them with anything, which makes it the quintessential items of clothing if you're going to ape Taylor Swift's style.
---
3

Polka Dots and Stripes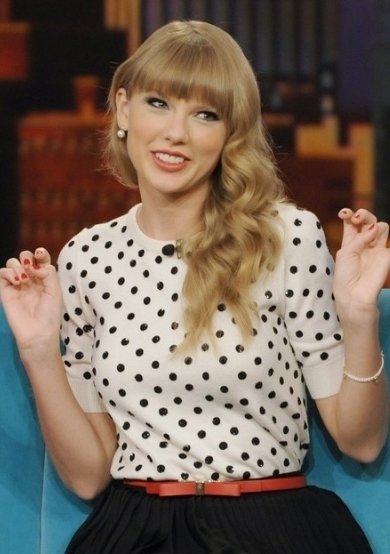 If there's one pattern (or two in this case) that the Grammy winning singer has donned oh-so-often, it's polka dots and stripes. She loves the dots and stripes and is all about the retro flair. Simply retro-fy your outfits with polka dots! Why not imitate two of Taylor's looks in one go with a blue and white stripe dress for a nautical-inspired look? After all, her girly-girl style would be half-done without a dress!
---
4

Skinny Ankle Pants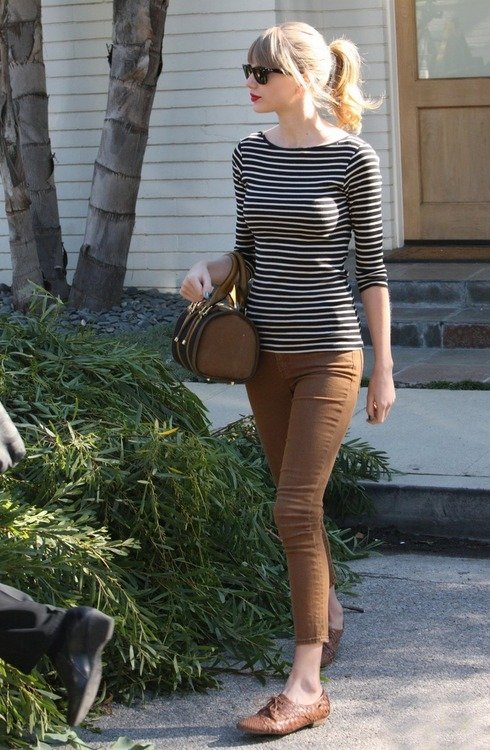 Taylor can be frequently spotted strutting the streets in a pair of skinny ankle pants. She adores this look so much that she rocks it in various colours. Taylor's vast collection of the skinny ankle pants brings a colourful twist to the Audrey Hepburn black cigarette pants. The slim cut not only highlights her slender figure but brings attention to the shoes since they cut off at the ankle.
---
5

Keds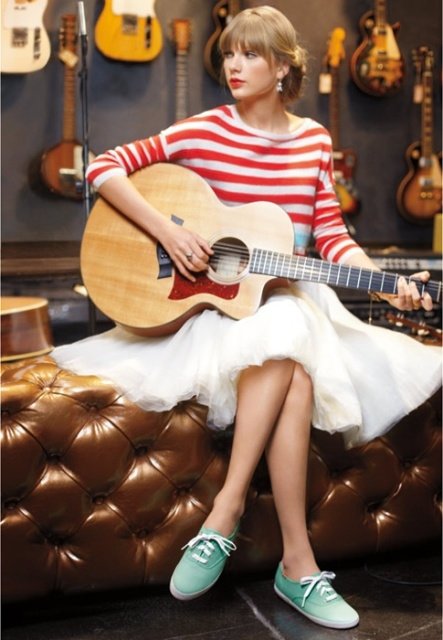 What better shoes to draw attention to with skinny ankle jeans than Keds? Here's why! Taylor Swift just launched her 2104 Keds "Be Brave" campaign and it gives you every reason to gush over them! You can literally wear Taylor Swift's style down to your very toes with a pair from her daintily cute line of Keds sneakers. They are reasonably affordable too, at only $45.
6

Beautiful Bangs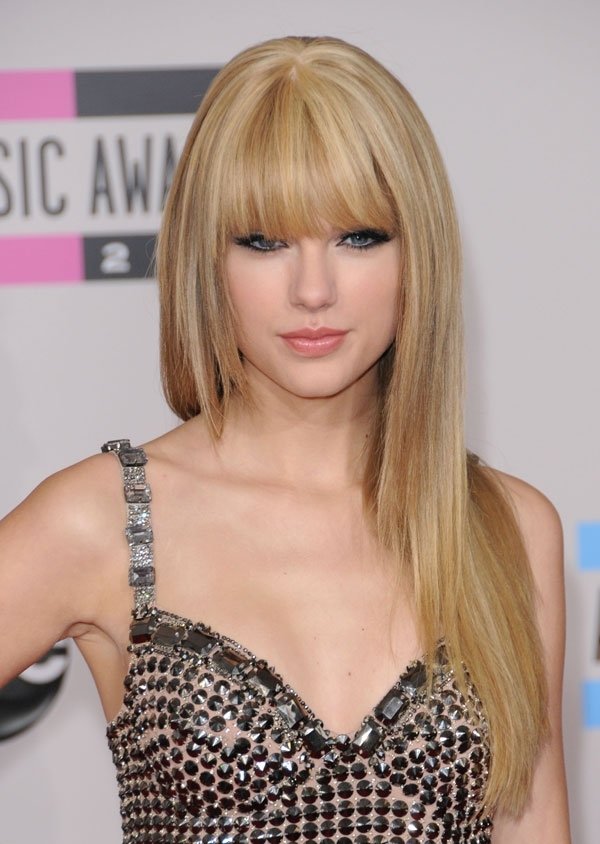 Bangs envy? Then go bold with blunt bangs, only if you dare. Taylor Swift greeted the New Year with a new hair-do when she traded in her long golden locks of hair for a chic wavy bob. But if there's one thing Swift's kept consistent throughout her hairstyles, it's her bangs. Taylor-inspired bangs will make an instant statement to your hairstyle whether you choose to wear them loosely curled and swept to the side, or silky straight and down.
---
7

Red Lips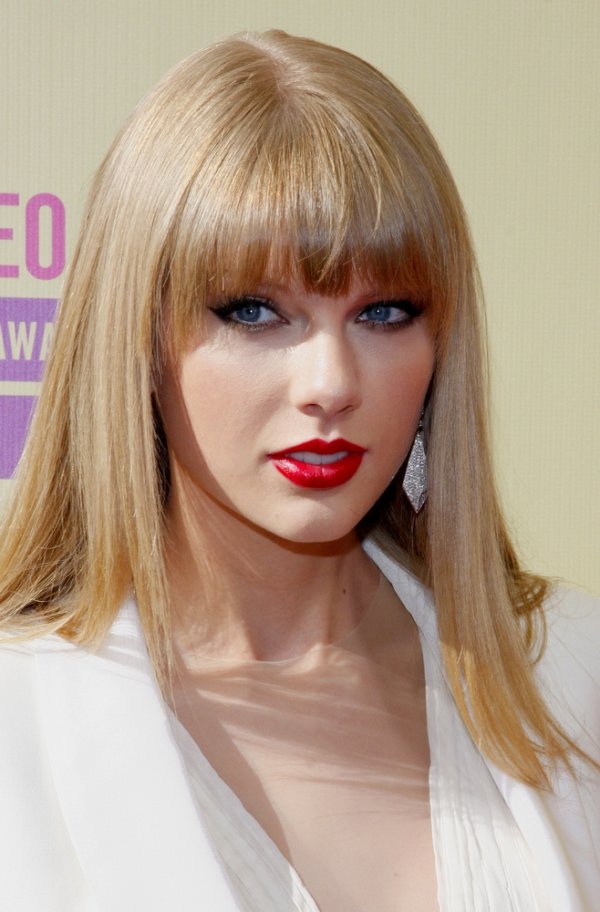 Your Taylor-inspired look would be amiss without her signature red pout! The singer-songwriter is all about the red lips even when rocking a casual outfit. It adds a pop of colour to her otherwise pale skin. Swipe on a lovely shade of crimson that works for you and keep it from staining your teeth by simply putting your index finger into your mouth and pulling it out.
That's it! That's about all you need to look like Taylor Swift from head to toe! The country and pop sweetheart keeps it simple and bares the right amount of skin for subtle sexiness. Which of Taylor's look do you like most?
---
Comments
Popular
Related
Recent