Ladies, don't be weary of this denim trend—there are so many ways to wear chambray shirts that you're bound to get it right. Whether dressed up or down, chambray is such a fun and casual piece to mix and match with. If you're unsure of what to pair with chambray, I've put a list together to help give you some ideas. Check out this list of ways to wear chambray shirts:
---
1

Skirts

One of the many ways to wear chambray shirts is by pairing them with a skirt. Full mini skirts are the perfect fun and flirty piece for spring, so try tucking a chambray shirt into one for an instant femme look. If you're really looking to push the envelope, try a full leather mini skirt for a great juxtaposition against the denim. To go a bit more casual, try a loose printed maxi skirt instead.
---
2

Lace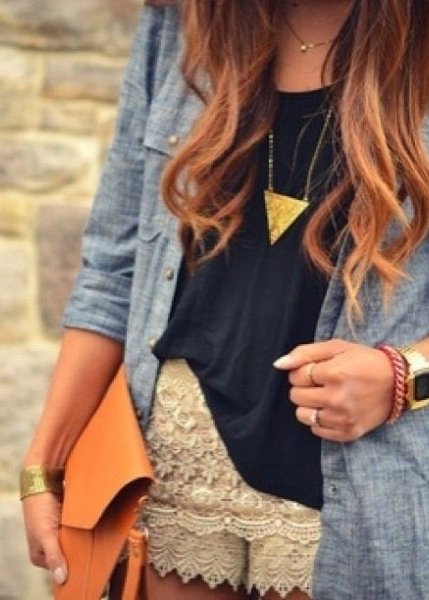 Lace is always an easy way to add a touch of elegance to an outfit, so why not try it with chambray? Tuck a denim shirt in to a pair of lacy, tiered shorts (I recommend an ivory pair) for a feminine twist on the classic chambray.
---
3

Vests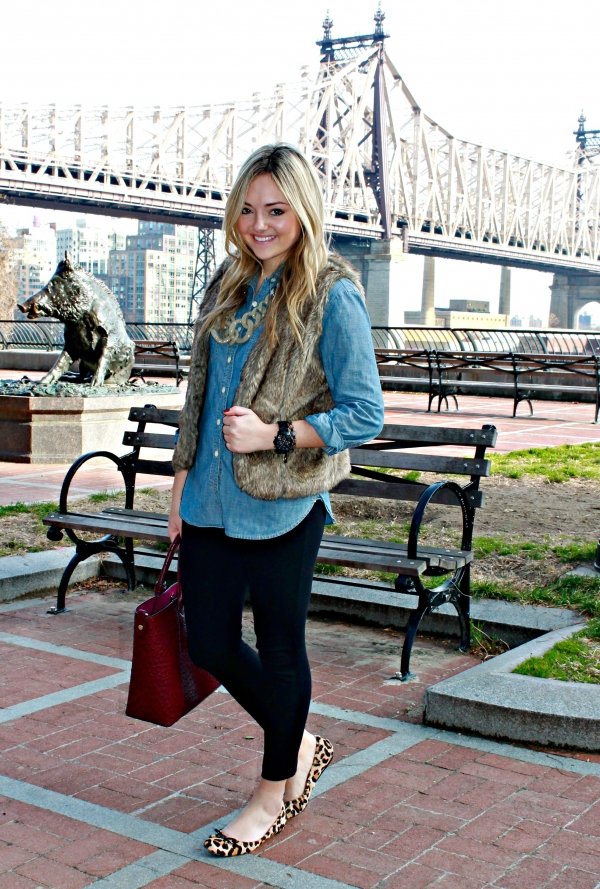 Vests can really transform the look of an outfit, without the heaviness of a jacket. Try an olive green cargo vest (it looks great against light denim) or a faux fur vest. If you'd like a little more of an outdoors-y look, try a puffy vest.
---
4

Denim on Denim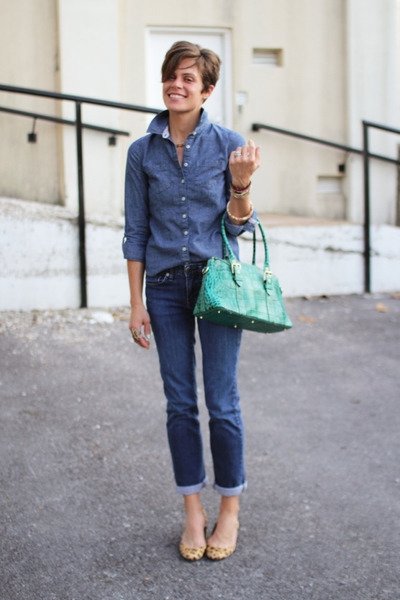 No, I'm not talking about the denim disaster circa Justin and Britney at the 2001 VMAs. If you're planning to wear denim on denim, it's important to make sure that you keep the washes opposite. For example, if wearing a light, faded chambray shirt, pair it with deep denim pants. You can also play it safe by pairing chambray with colored or printed skinny pants or trousers.
---
5

Sweaters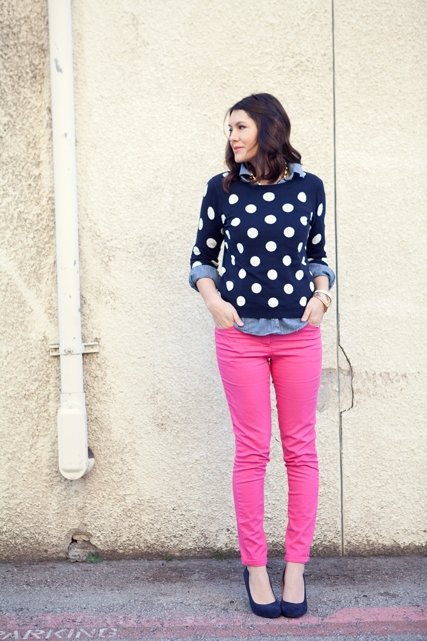 Sweaters look great with chambray and give you a lot of different style options. Try wearing a cable-knit sweater over a chambray shirt and let the denim collar and bottom hem peep out for a bit more of an un-done look. You could also wear a colorful cardigan over chambray, and roll up the sleeve to create a denim cuff.
---
6

Top Button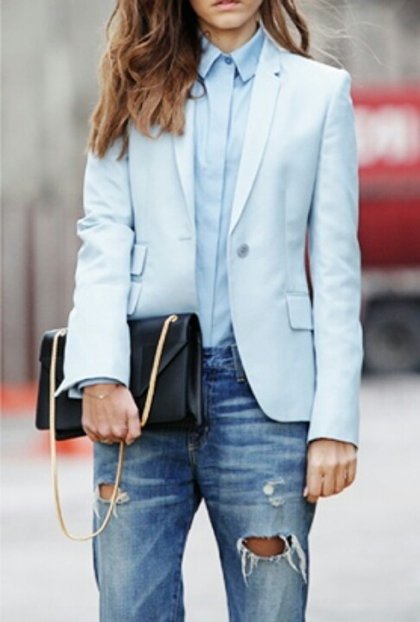 Button-downs buttoned all the way to the top button are a great new trend giving a nod to nerd-chic. Try this look with a chunky statement necklace that hits right at the collar bone. You'd be surprised how much the way you button a shirt can change your overall look.
---
7

Overshirt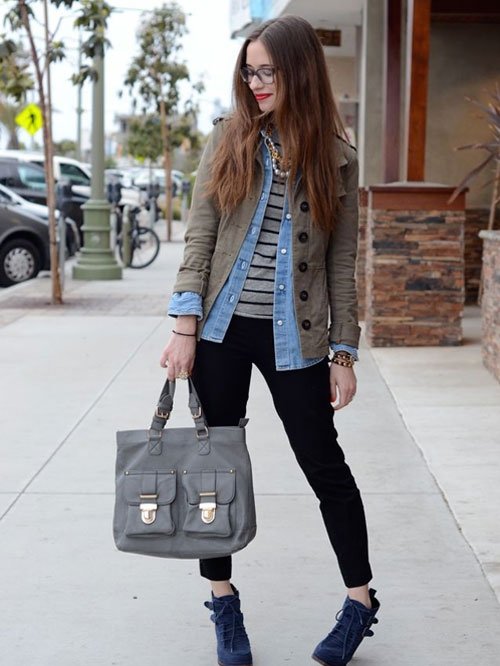 While chambray is usually worn alone or underneath an item of clothing, it can also be worn as an overshirt. Try wearing chambray unbuttoned over a printed collared shirt or over your favorite tee.
---
8

Blazers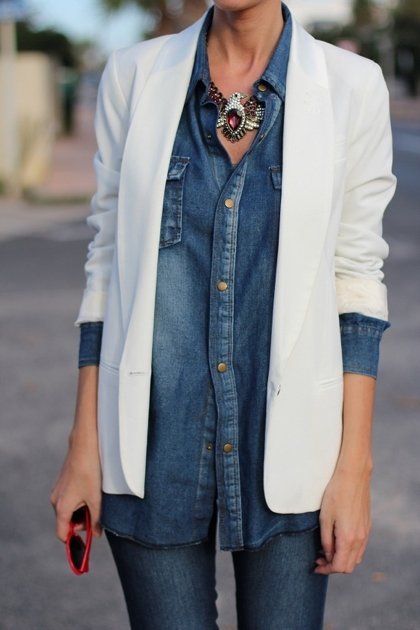 For a more formal and tailored look, place a colorful blazer over a tucked-in chambray, or keep it casual and leave the shirt untucked and the sleeves rolled.
---
9

Tied-up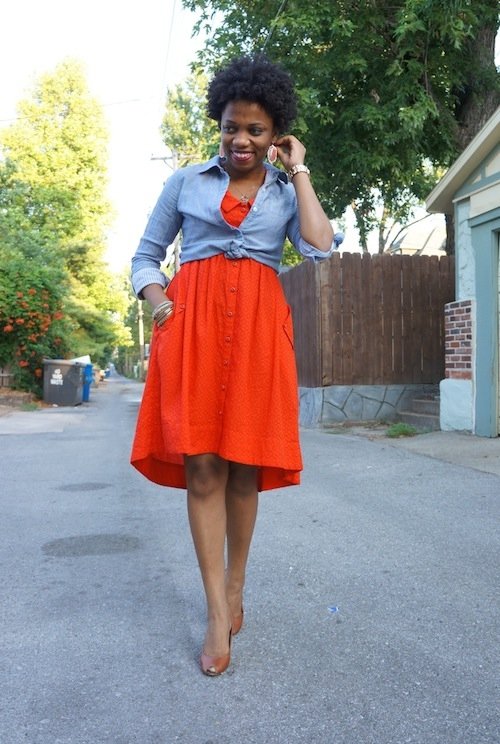 Look for a chambray shirt that's a bit longer or larger than your normal size so that you can tie the front tail. Just tie a simple knot right where the buttons sit to really switch up the classic denim shirt.
There are so many different possibilities to transform a chambray shirt and take it from basic to super-trendy. All you need are a few key pieces and a little innovation. Hopefully with these suggestions, you'll be stylin' your chambray in no time. Do you have any other suggestions for how to wear chambray? I'd love to hear them!
More
---
Comments
Popular
Recent