Did you notice the monochrome trend at the 2013 Billboard Music Awards? Las Vegas has a habit of attracting glittery outfits and skintight monstrosities, but our leading ladies ditched the trend in favor of much more elegant monochrome styles. Want to get the look? Here's some of the easiest ways to rock the monochrome trend…
---
1

Miley Cyrus…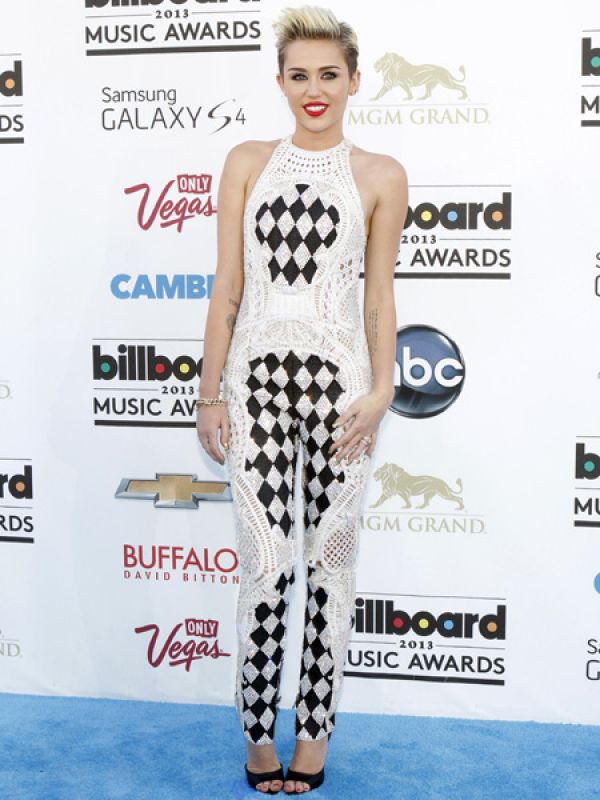 This is one look that Miley totally rocked. Some had expected the singer/actress to shy away from the cameras, mainly due to continued rumors about her engagement to Liam, but it seems the starlet decided to do the opposite. She totally owned the monochrome trend in this crocheted jumpsuit, and her bleached, spiked hair and red lips give it an androgynous edge, too. This Mango jumpsuit is an effortless way to get the look: asos.com.
2

Selena Gomez…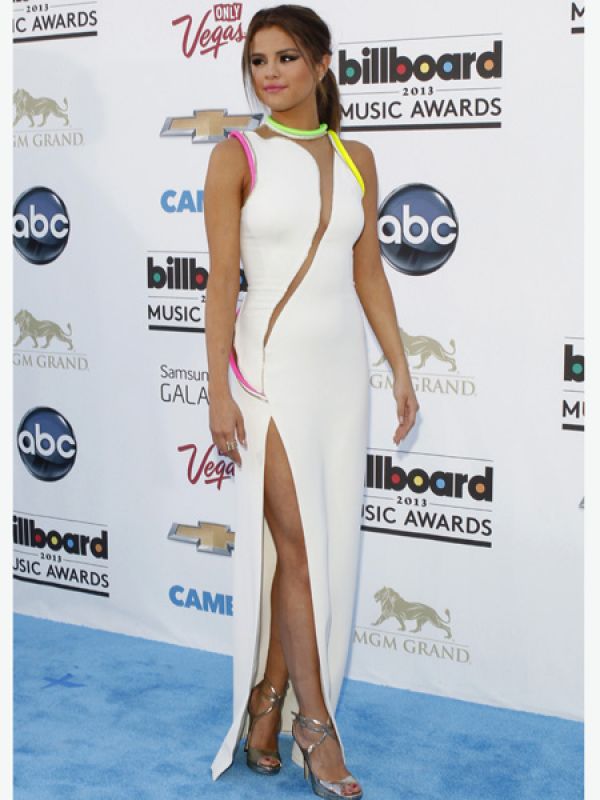 I love Selena's dress! Strategically-cut gowns were all over the red carpet, but Selena made hers stand out by opting for added neon detailing. She teamed it with understated grey shoes and a black clutch, along with black bracelets. This is the way to wear cut-out clothing: make sure it's a perfect fit for your body to avoid flashing, and keep the cut-out areas small and slender. Gorgeous. For something a bit more wearable, opt for a cut-out dress with lace detailing, like this ASOS skater dress. Dreamy, and oh-so-easy to wear: asos.com.
---
3

Madonna…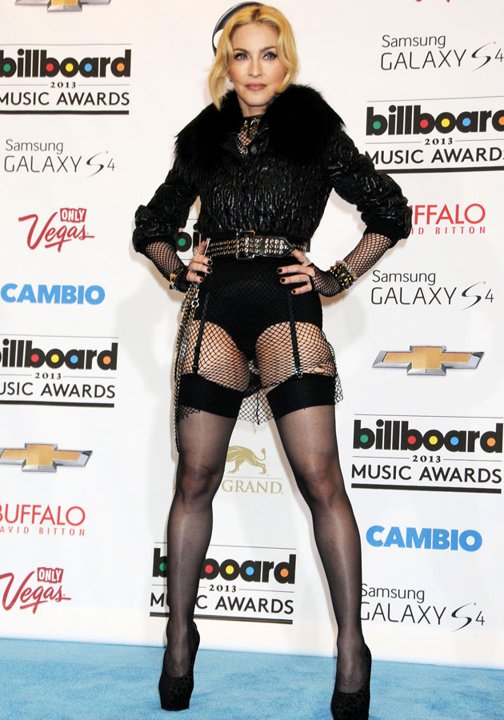 This look is sure to divide. Some think Madonna looks great, and congratulate her on taking on stars half her age… and others think she should cover up. Whatever side of the fence you are on, there's no denying that it looks like she forgot her trousers… it's a bit too lingerie for me! Try combining suspenders or patterned tights with tailored shorts or a cute skirt instead, for an edgy look that's still suitable for wearing in public: asos.com.
---
4

Hayden Panettiere…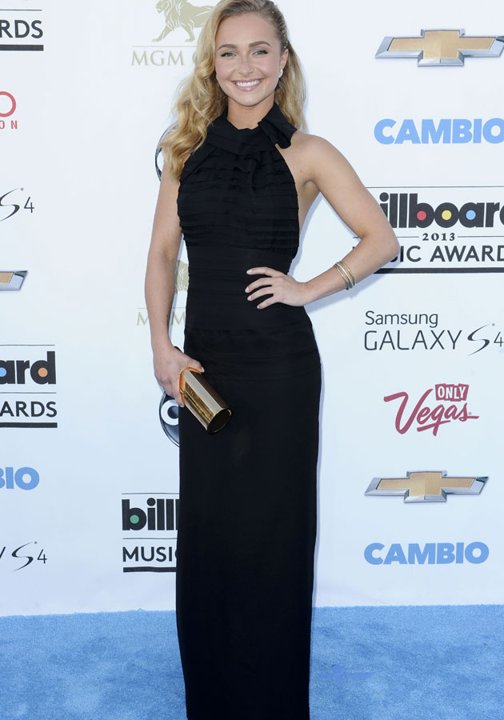 Hayden's been under the spotlight a lot recently, with the media heavily speculating on whether she's had plastic surgery. She silenced everyone by turning up in a stunning floor-length black gown, with a ruffled halterneck and a shiny gold clutch. I love her bangles and jeweled hair, too!
This look is so easy to rock, and it's super-cheap, too. A simple black maxi dress can be instantly dressed up with heels and a cute clutch, and I love the bow strap detailing on the back of this ASOS number: asos.com. Subtle make-up and jeweled hair make great finishing touches, and you just know you'll be wearing it again and again.
---
5

Kelly Rowland…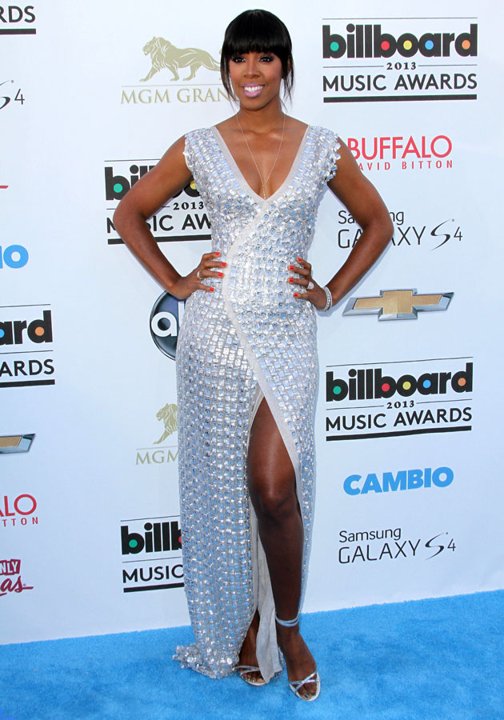 This striking silver Rami Al Ali SS13 Couture gown looks amazing on Kelly Rowland! A plunge neckline and high split can be tough to pull off, but this is just the right side of conservative. Her silver and white gown stood out among all the monochrome, and I love her silver sandals, too. The key to rocking this type of gown is to make sure that nothing is cut too low – you want to stay decent! – and keeping accessories understated. Red nails, a delicate necklace and jeweled bracelets are ideal. For a more everyday way to wear the look, check out this Lipsy VIP sequin gown; I love the scalloped hem: asos.com.
6

Ariana Grande…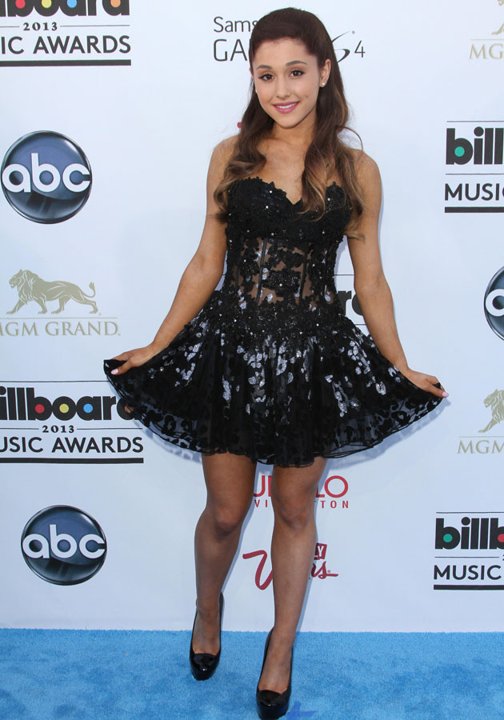 What do you think of Ariana's prom dress? While this easy-to-wear style is usually perfect for the red carpet, it seems Ariana missed the mark a little. The combination of sequins, lace and see-through panels was heavily criticized by the media, and Ariana quickly ditched her white handbag and hairband for a much more toned-down look. I love the sweetheart neckline and flared skirt, though; it looks so youthful and pretty! For that classic prom-dress look, opt for this pastel pink skater dress, instead: asos.com. The Spring shade is right on trend, and the sequin and lace embellishments give it a super-stylish feel. Just add heels!
---
7

Avril Lavigne…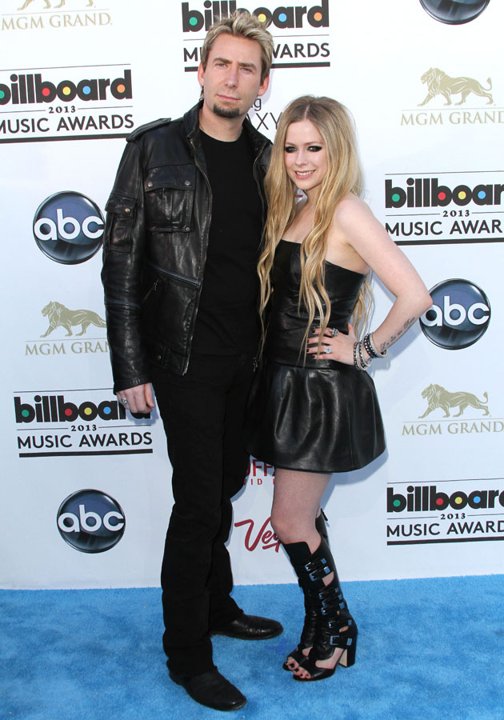 Avril decided to half-embrace the monochrome trend, going for an all black look that matched her partner. Which is fine, but leather dresses aren't the easiest things to pull off! The singer teamed her long blonde hair with a strapless leather dress, piles of bangles, black nail varnish and strappy knee-length boots… and altogether, it looked a bit too dominatrix. That doesn't mean you can't totally own the leather trend, though. Go for a structured piece like this TFNC leather dress, and team with modern ankle boots: asos.com. Keep the rest of your look subtle and simple; a delicate necklace is all you need, and will keep the look perfectly chic.
So what do you think of the monochrome trend this time round? Are you loving the new take, or do you prefer the red carpet flooded with color? While it's definitely a good look for some, and I love Miley's take, it seems some celebs need a new stylist… let me know what you think!
---
Comments
Popular
Related
Recent