Even if you are conscious of standing out in a crowd, there are many beautiful and fun ways to wear tie-dye that will make you the classy bell of the ball while still looking fashionable. Even though my generation is far beyond being the '60s flower children our parents were, we can still take away multiple fashion tips from the amazing people who raised us. One of those awesome tips is incorporating tie-dye into our daily wardrobes-without looking too silly or ridiculous. So without further ado, I would like to introduce the modern compilation of the many ways to wear tie-dye!
---
1

Headband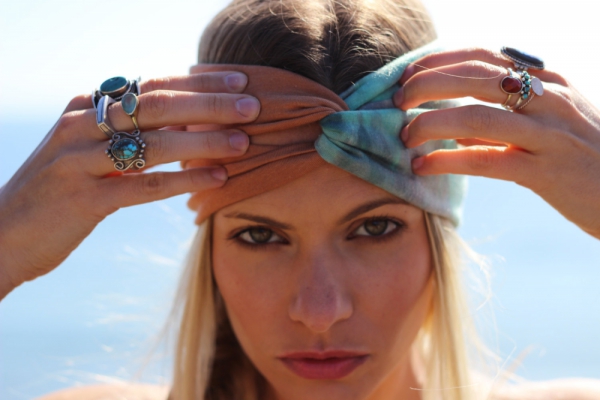 Some people think headbands are for little girls but I love wearing them, and honestly, one of the coolest ways to wear tie-dye is in a headband. Headbands like the one pictured can be found at almost any clothing store and even in the hair section of your local pharmacy or supermarket. Headbands serve multiple purposes, one of which is keeping your hair tamed (especially when you're having a bad hair day), so why not keep things fashionable by making one of your headbands a tie-dyed one?
---
2

Nails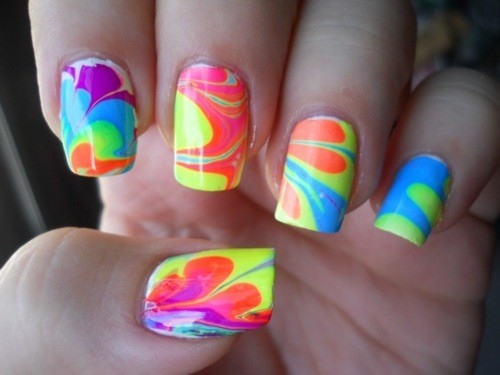 How cool are these nails!? And believe it or not, they are actually pretty easy to do. Tie-dye in itself is very unique, so it's only natural that the ways to wear tie-dye would be pretty unique as well. The best way to get nails like these is to get fast drying nail polish and paint layer over layer, or mix several colors and swirl them around. Your nails actually won't turn brown and the colors will mix together like they do in the picture above. If you're nervous about getting this right, try using a cotton swab or soft nail file instead of the polish brush.
---
3

Jean Shorts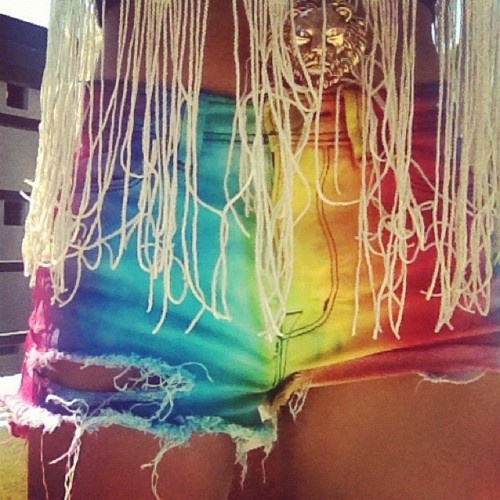 I love jean items, and when I get bored of my old jeans or they are starting to rip, I just cut them and turn them into tie-dyed shorts. There are several ways to wear tie-dye and they don't all have to look the same. One of the best things about tie-dye in general is that it's all about blending and mixing bright dyes. In the photo above, the shorts have several colors and they almost look like stripes-but they're really not!
---
4

Hair Ties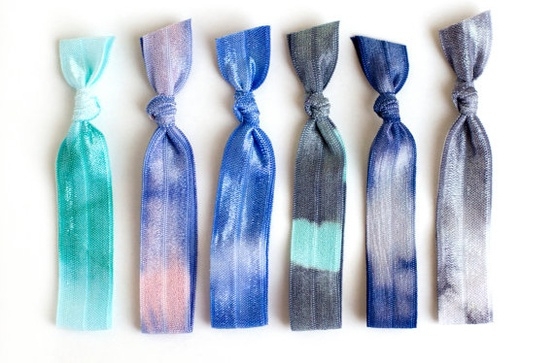 I see these small beauties in stores like Madewell, Free People, Delia's, Brandy Melville, and Urban Outfitters, but they are actually very easy to make yourself. You can even make them by cutting out the elastic on an old pair of soffe shorts or pants and tying them up, then just tie-dye away. I like to think that the many ways to wear tie-dye end up bringing out the bright colors in everyone!
---
5

Bathing Suit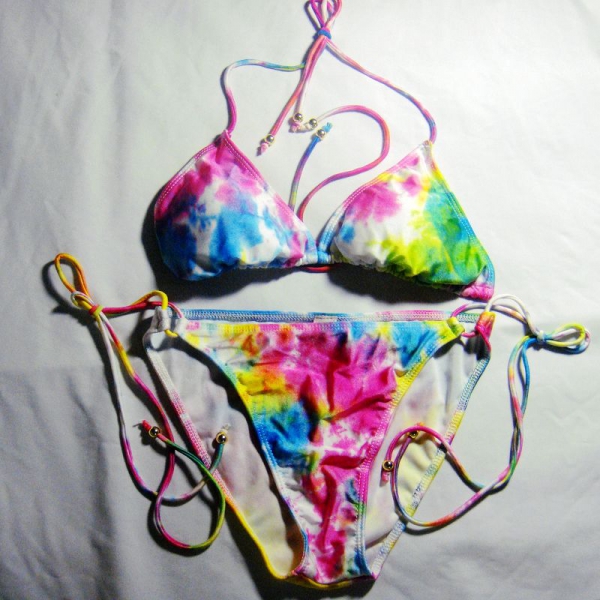 Bar Refaeli, my secret girl crush, modeled a tie-dye suit quite like this, but even if she hadn't, I would probably still be in love with the swimsuit. So yes, one of the ways to wear tie-dye is actually in a bathing suit, and how perfect it is since we are in August. Don't be afraid to be different than everyone else and feel free to tie-dye a white bathing suit. If you have concerns, try just tie-dyeing the top or bottom of a bikini and leave the other piece a solid color. If you don't feel like going through the trouble of tie-dyeing on your own (although it can be really fun), I have seen smashing tie-dye bathing suits at department stores like Wal-Mart, Macy's, Bloomingdale's and Kohl's.
---
6

Sneakers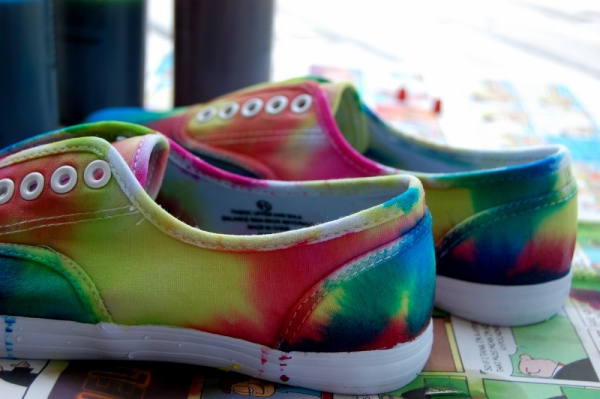 What were once white tennis shoes have become a tie-dye extravaganza. Maybe this look is a bit young for some girls, but I'm in my 20s and I still think these are awesome. A lot of my friends like doing these to white Keds but I know they usually stick to the same color scheme. Summer calls for fun, sunny and happy colors, so go crazy with some pale yellows and ambers. You never thought that sneakers would be included in one of the ways to wear tie-dye, did ya!?
---
7

Scarf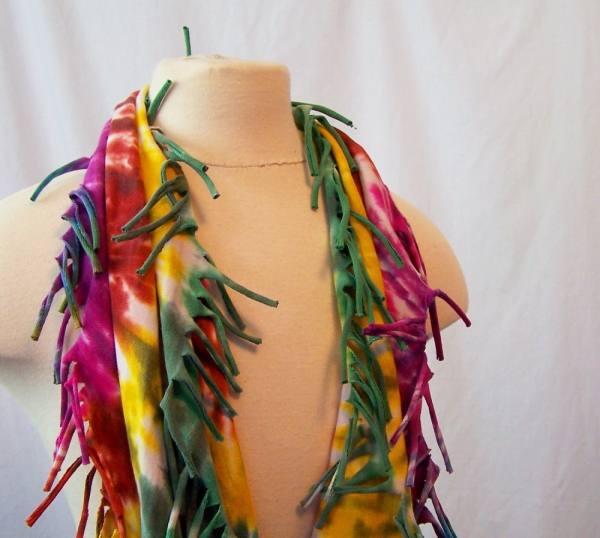 Even though this looks like several scarves bunched up into one, it's really only one scarf. That's the magic of it all, and so a scarf is definitely one of my favorite ways to wear tie-dye. Scarves are also one of the easiest items to tie-dye because everything is connected in one piece and it's a fairly easy shape to maneuver around when dyeing. People make fun of New Yorkers sometimes since we like to wear scarves all year round, even when it's not that cold out. Who cares about the season? This summer think of getting your hands on a light and airy cotton scarf; once you wear it, I swear you will want to keep up the trend all year long.
Tie-dyeing is very easy and it's so much fun to do in groups. Get your friends together and have a tie-dyeing party, then compare your results. You will see that no one will have the exact same shirt. I am so fascinated by this cool trend! Are you convinced that you can wear tie-dye and stand out in a good way? Have you ever tie-dyed something on your own? What is your favorite accessory to tie-dye? Do tell!
More
Comments
Popular
Recent