Marvelous mint, enchanting emerald, kicky kelly – there are so many ways to wear the green trend this season, in so many hues! It can be a little overwhelming, navigating this sea of greens, but I can help. I've scoured my fave fashion site - ModCloth! - and narrowed my green must-haves to this short list of the most fabulously fashionable ways to wear the green trend. Let's get started, shall we?
---
1

Top It off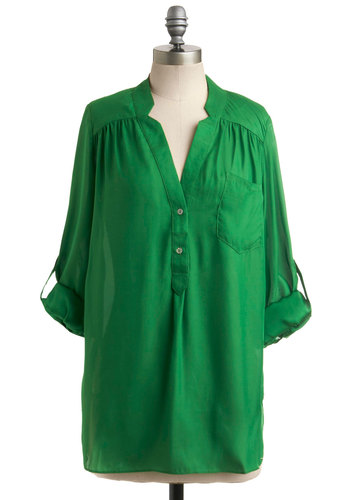 modcloth.com
We already know emerald's been named the Color of the Year for 2013, and this flowy yet subtly fitted top is perhaps the prettiest of the ways to wear the green trend. Layer it with a cropped blazer for chilly days, or layer it over fitted cigarette pants when the weather's warmer. So pretty, so feminine!
---
2

Glossy Green Patent Heels
modcloth.com
Go green, so sleek, go shiny! These bright green patent heels would look smashing with your best LBD, a pair of white skinnies, or just about anything else in your spring wardrobe. The toes are slightly pointed, and the heels measure a sky-scraping 4 ¼ inches, ideal for adding a little height and a lot of style!
---
3

Green Gown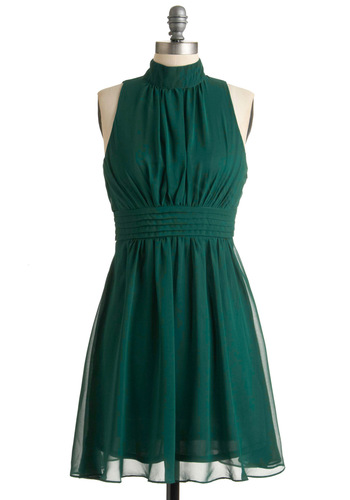 modcloth.com
For formal occasions (like weddings and showers and such), surrender the LBD in favor of an LGG – a little green gown! This gown can be worn so many ways, with so many colors! I'd try it with palest blue or peach, or add a little bling with gold heels and dangly earrings.
---
4

Green Dress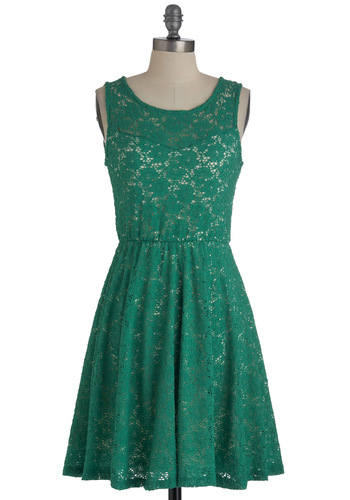 modcloth.com
Featured in a recent issue of Lucky Magazine, this green dress seems made to celebrate spring. Pair it with a white or yellow bubble necklace and your favorite wrap, or dress it down with a cropped denim jacket and ankle booties.
---
5

Flat but Fun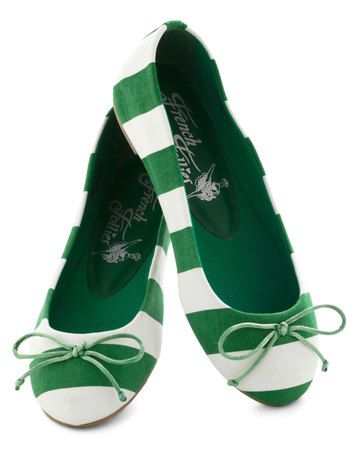 modcloth.com
Though these flats feature wide stripes of white and green, not blue, they still have a somewhat nautical feel, so feel free to wear them in place of your usual boat shoes for a look that's sure to turn heads. I'd wear these with white shorts and a graphic tee… how would you wear them?
---
6

Deco Darling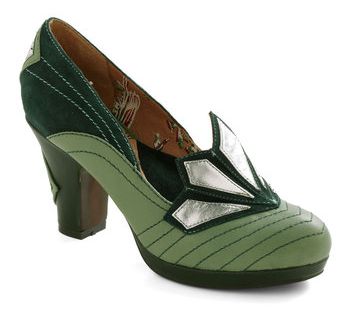 modcloth.com
Channel your inner flapper girl with these deco-inspired heels by Miss L Fire, featuring two lovely shades of green (and a little shine, too). Wear them to the office with high-waisted pinstripe pants and a white chiffon blouse, or go full-on flapper with a drop-waist dress and a feathered headband.
---
7

Mint to Be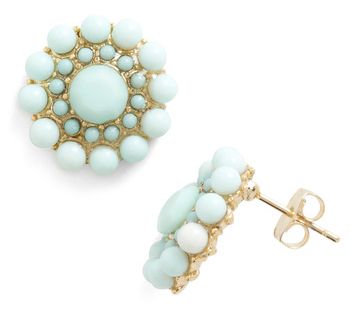 modcloth.com
Your love for these pretty mint-hued earrings was mint to be! They're downright dainty, perfect for adding a little hint of mint color to any spring-time ensemble… but they're also big enough to double as a brooch, if need be.
---
8

Bag It!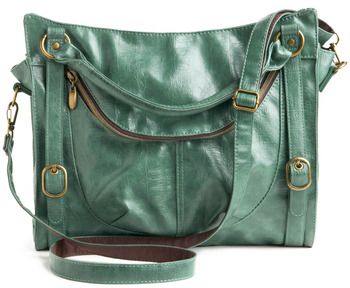 modcloth.com
Roomy enough for all your weekday toting needs, but far fancier than a canvas tote, this shoulder bag is another of the gorgeous ways to wear green this season. I love the bronze-y hardware, and the multitude of pouches, for keeping everything tidy.
If you're as excited about emerald as I am, then which of these gorgeous green pieces are you going to add to your shopping cart first? I'm going for that bag… or maybe the blouse… or one of those dresses! I can't decide… but which of these pieces will you wear, and how will you wear it? Do tell!
More
Popular
Recent