I've been a big fan of KidRobot since its launch in 2002… who doesn't love pop art, the kind that does or does not involve Andy Warhol? What I love most about KidRobot is their dedication to bringing hip art to the world in the form of toys, clothing, and more. Their lines include the popular Dunny, Munny, and Labbit series, to name just a few, and I follow them on Facebook so I know right away when there's a new toy or tee… and guess what? There are, on the KidRobot site right now, a bunch of great tees for guys and girls! Here are 7 fun Kidrobot tees… support pop art and take a peek!
1

KidRobot 'Stache Labbit Tee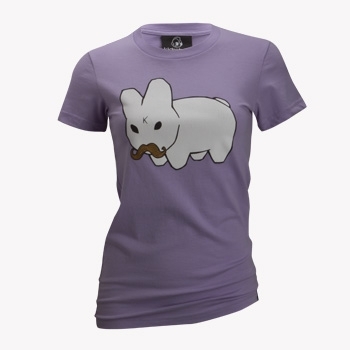 Price: $40.00 at kidrobot.com
Little 'Stache Labbit has a penchant for trouble, but on this lavender-colored fitted tee, made of soft cotton jersey, he looks downright… cute. Artist Frank Kozik's bunny Labbit sports a steely look and a rather dashing moustache, and would look marvelous with your favorite pair of Converse and a cropped blazer.
2

KidRobot Robot Head Tee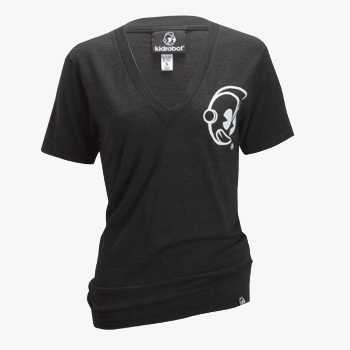 Price: $40.00 at kidrobot.com
Find out which of your friends and co-workers recognize the iconic KidRobot head logo by wearing this tee and waiting for compliments. It's available in black or blue with a deep vee neck and the Robot head logo on the left chest in white. Pair with dark-wash destroyed skinnies and ankle boots for casual Friday with oodles of pop art style.
3

KidRobot Munnyworld Sprinkle Cone Tee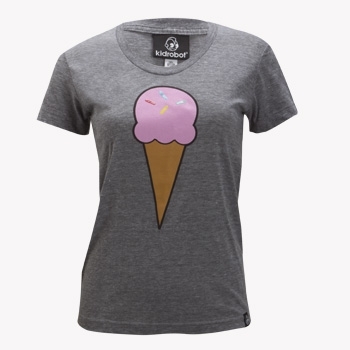 Price: $40.00 at kidrobot.com
Are four sprinkles really enough? I don't think so, but apparently, four is just enough in MUNNYWORLD. The tee is heather grey with a crew neck and a pink ice cream cone on the front. It's made of a poly-cotton blend and is ideal for wearing all spring and summer, with a floral-print mini and skimmer flats.
4

KidRobot Blue Check Munny Tee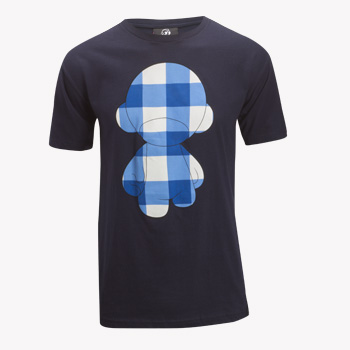 Price: $30.00 at kidrobot.comProudly proclaim your love of all things KidRobot with this fitted black tee featuring the KidRobot logo in a brilliant, eye-catching turquoise check pattern. Swipe it from your boyfriend, and layer it with a funky vest and your favorite jeans, or with a cardi and skirt.
5

KidRobot Wee Ninja Tee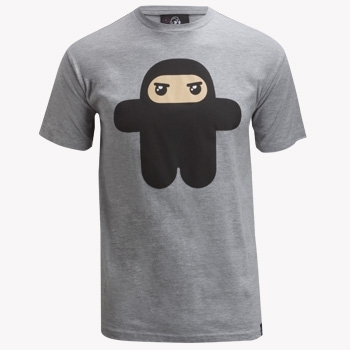 Price: $30.00 at kidrobot.com
Boys need tees too! And this one is super-cute… ahem… I mean super MANLY, with its travel-sized (but still bad-ass) ninja on the front. The tee is made of light grey cotton jersey and features Shawnimals stealthy little ninja on the front.
6

KidRobot This is Not a Dunny Tee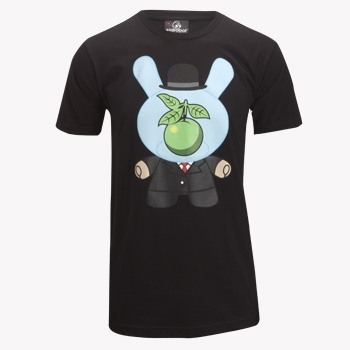 Price: $40.00 at kidrobot.com
Triclops Studios designed this tee with what appears to be a surreal Dunny on the front. It's not though, as is made clear by the script on the back, which reads "Ceci n'est ce pas une dunny," a nod to Magritte. The tee is made of black cotton jersey and is worthy of being "borrowed" from your boyfriend to wear when you need it.
7

KidRobot Trikky Ollie Tee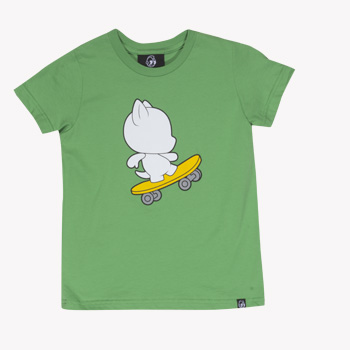 Price: $25.00 at kidrobot.comA tee for you, a tee for your man, and now, a tee for your little sk8er boi! It's made of soft cotton in a sweet pea green with a littel skater on the front. Pair with cargo shorts and Chuck Taylors for a day at the skate park, or just school.
These are just a handful of the fun tees by KidRobot, available right now at the website. I warn you, though — once you get to the site, you'll find all kinds of things you're going to want to buy… so have your debit card handy! Which of these KidRobot tees do you like best, and why? Do tell!