Easter's on its way, so once you've finished stocking your sweetheart's basket with all of the goodies you know he craves (Cadbury Cream Eggs, for instance), it's time to start planning what you'll wear. Might I suggest an adorable bunny accessory, like a necklace, ring, or tote? There are so many to choose from, and they're all so cute… here are a few cute bunny accessories to give you some ideas!
---
1

One Cute Creature Earrings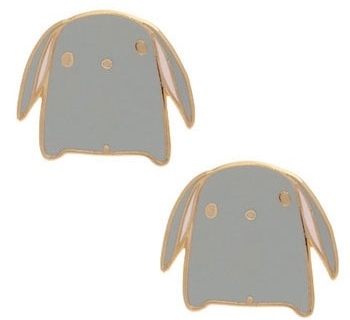 Price: $31.99 at modcloth.com
These floppy-earred blue bunnies may be tiny, but they offer big style. Each measures less than an inch across, but they're so cute, you can build a darling Eater outfit around them! Wear your hair up in a loose bun so everyone can see them, then add a Peter Pan collared blouse, patterned tights, and a knee-length skirt. Cute!
2

Some-Bunny Special Ring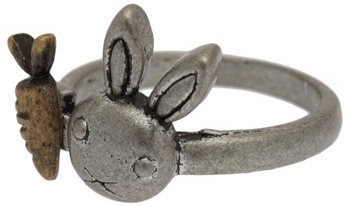 Price: $9.99 at modcloth.com
You can either wear this darling ring yourself, or give it as an Easter gift to some-bunny special in your life. Or… buy two of them and do both! The lead-free metal ring features one adorable pointy-eared bunny with his bestie, a little bronze carrot.
---
3

Cottontail Club Necklace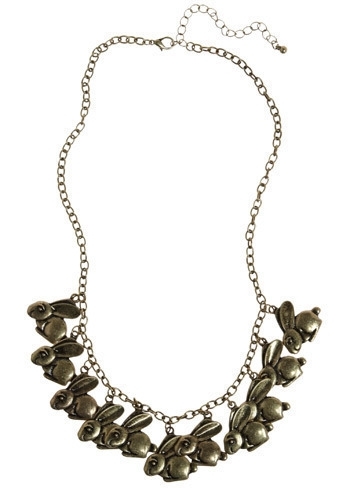 Price: $14.99 at modcloth.com
There's something to be said for belonging to an exclusive club, and the Cottontail Club is no exception. All you need to join is this uber-cute necklace, featuring nearly a dozen darling bunnies, and a spring-time outfit to wear it with. The necklace is made of composite metal with a lobster-claw clasp and an 18-inch chain.
---
4

Be Frank Necklace

Price: $27.99 at modcloth.com
Don't go for subtle this Easter — go bold! This chunky, funky gold-tone necklace features a star-struck bunny pendant that measures 4 inches tall (including his pointy ears). His green eyes sparkle beautifully, and he'd look so pretty with a graphic tee, cropped blazer or cardi, and capris.
---
5

The Bunny Side of Life Wallet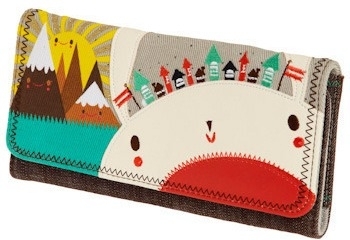 Price: $34.99 at modcloth.com
Some bunny-themed accessories are so brilliant, so much fun, you'll want to use them all year long, rather than relegating them to Easter only. This wallet by Crowded Teeth is one of them, featuring a sunshine-happy bunny and his little world, all smiling mountains and all. If you're as fond of this wallet as I am, be aware — there's a matching tote bag, too!
---
6

Bunny Hop Necklace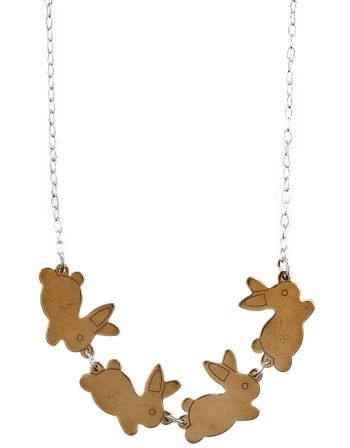 Price: $34.99 at modcloth.com
These four bunnies are on a delightful mission: to make your Easter Day ensemble complete! They hop along together, in one dainty row, on a chain that measures 16 inches long. I love the cookie-cutter cuteness of the bunnies, and the contrast between the gold-tone rabbits and the silver-one chain.
---
7

Case of the Two Bunnies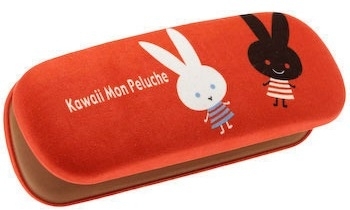 Price: $11.99 at modcloth.com
While the text on this eyeglasses case reads "my cute teddy" these little sweeties happen to be bunnies in striped dresses. Does it matter, though? Choose from Carrot (orange) or Sky (blue), both cases are adorable and are ideal for protecting your sunglasses, now what it's sunny enough to wear them!
With so many cute bunny accessories to choose from, you'll be tempted to try them all together, but resist! You don't want bunny overload on Easter! I plan to wear the Bunny Hop necklace… which of these bunny accessories do you think you'd wear on Easter, and with what? Please share!
---
Popular
Related
Recent