Vintage inspired cat eye glasses are red-hot this season, and they're the perfect way to bring your summer look bang up to date. No longer simply the province of sixties screen sirens, today's designers have really diversified the iconic frame; you'll find it in it's pure, curvaceous, upswept form, and re-imagined in a variety of shapes and styles, from the easy-to-wear and toned down, to the dramatically pointy and exaggerated. In short, there is definitely a contemporary version out there to suit your look and your face shape, and to get you on track to finding it, I've put together this list of 7 adorable cat eye glasses.
---
1

Dior Rounded Cat's Eye Sunglasses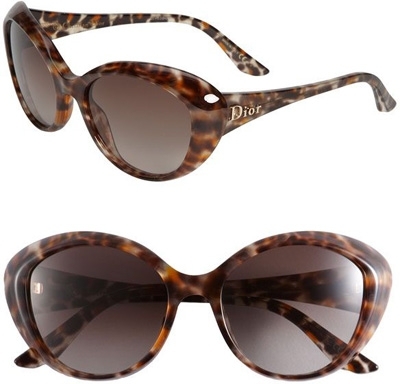 Price: $295.00 at shop.nordstrom.com
Let's start with an easy-to-wear variation on the classic: this pair by Dior is a little pricy, but you'll find the same style echoed in a whole variety of more affordable eyewear. In tortoise shell, they really complement a warmer colouring, and the thick, rounded cat eye frame looks gorgeous on any angular face.
---
2

Asos Oversized Red Cat Eye Sunglasses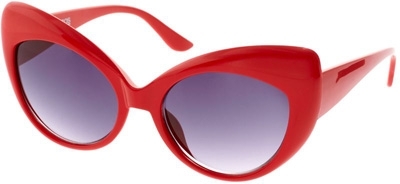 Price: $22.16 at asos.com
This adorable pair of dramatic red cat's eyes from Asos is both affordable and bang on trend for the summer. The super-curvy upswept points give the frame a little bit of edge – a reworking of the classic style for the younger generation. Pair with bold nautical stripes and give your hair a retro inspired wave: fabulous!
3

Make the Gradient Sunglasses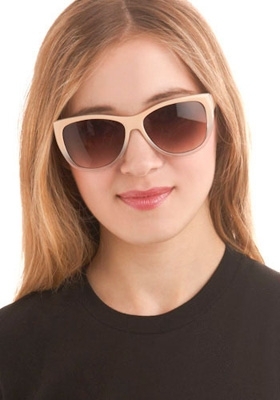 Price: $11.99 at modcloth.com
This super-subtle pair in an oh-so-understated nude is perfect if you have a slightly rounder face. While a narrower and more traditional cat's eye might not work for you, this set is a little bit wider and a just a hint more angular so they'll balance against your cheeks and jaw. They're polarised too: beautiful, practical and affordable – what's no to love?
---
4

Tom Ford Nikita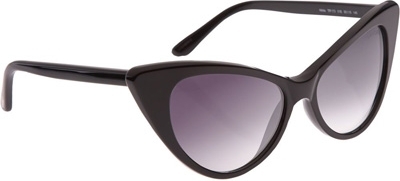 Price: $360.00 at barneys.com
This pair of Tom Ford's really does cat's eye by the book. Their narrow styling and overstated upward curve are straight from the fifties, and for this reason, they'll look the best on an oval, triangular or heart shaped face. If you feel like splashing out but black isn't really your favourite, you'll be happy to know they're available in a warmer tortoise shell as well.
---
5

Gucci Metal Cat's Eye Sunglasses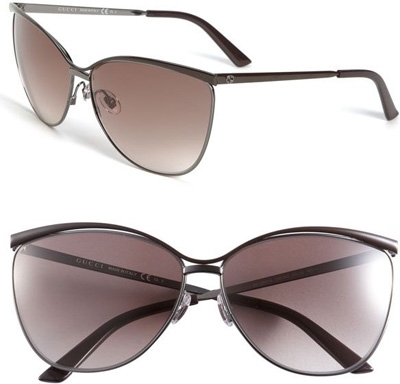 Price: $325.00 at shop.nordstrom.com
This lighter, wire framed take on the cat's eye is subtle, delicate and easy to wear. Gucci have done the style in both chic silver and grey, and a warmer golden cocoa colour, and the frames come with an adjustable nose pad so you can alter them to fit the contours of your face.
---
6

F9182 Sunglasses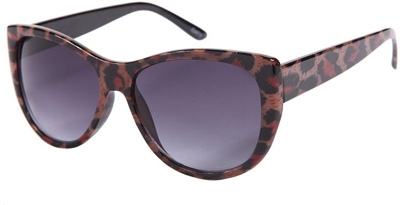 Price: $5.80 at forever21.com
While the leopard print on these frames is bold and a little out there, the wide shape and gentle curve of the cat's eye is easy to wear and flattering if you can't really do the slimmer, more true-to-the-fifties version. The lenses are graduated grey, and the super low price-tag is very tempting. Pair with ballet pumps and a cute summer shift in a plain, dark colour; the animal pattern will give your simple outfit a little 'je ne sais quoi.'
---
7

Alexander Wang Extreme Cat's Eye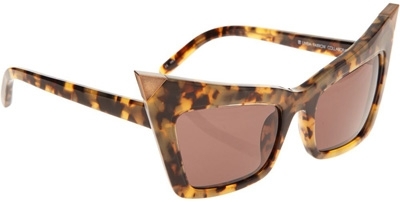 Price: $355.00 at barneys.com
This pair definitely won't be everyone's cup of tea, but they really are just too out-there to be ignored. The rectangle body of the frame, and the swift, pointed upward turn of the cat eye corners make it best suited to a face with softer curves – and a personality keen to take fashion risks in the interest of individuality! Pair with a classic, understated outfit and gorgeous matte red mouth for a real sense of vintage drama.
This season's cat eye is widely varied and surprisingly versatile. You'll be able to choose from myriad variations on the classic, fifties style so that with a little perseverance, you will inevitably find the ideal pair for you. This list of 7 adorable cat eye sunglasses is just a sample of what's out there: do you have comments or suggestions to add to it?
---
Popular
Related
Recent