Sometimes it is fun to wear a piece of jewelry that is completely outrageous. If you want to turn heads, wearing a big ring in a bold design can often do the trick. The new trend on the runways this spring is big chunky rings. You might have seen them popping up in your favorite stores or online in the past couple of months. Here are 8 attention grabbing rings that you can't miss.
---
1

Feathered Owl Ring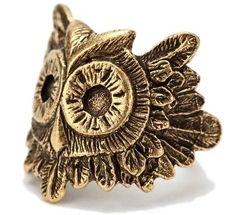 Price: $18.00 at urbanoutfitters.com
Show your mysterious side with this gorgeous owl ring. It is made from mixed metal and would be beautiful for day or night. It is an inch wide so it has the chunky appeal of the season with an intricate design that people will notice every time.
---
2

Quartz Stone and Heart Base Ring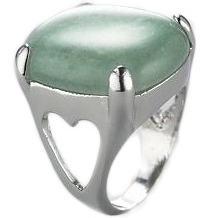 Price: $16.95 at nyandcompany.com
Ease in to the big ring style with this classy quartz ring. The green gem is stunning and it looks perfect on the silver base with a carved heart setting. Wear it with your jeans for a casual weekend accessory.
---
3

Crackled Heart Ring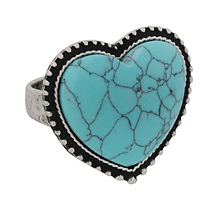 Price: $3.80 at forever21.com
Turquoise is an elegant way to add a pop of color in your jewelry pieces. This beautiful faux turquoise stone is set in a polished silver ring for a look that is classic and modern all at once, and the heart shape is sweet.
---
4

Mother of Pearl Flower Ring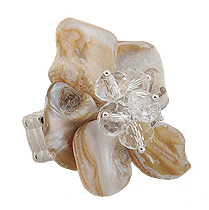 Price: $5.80 at forever21.com You will look like a million bucks with this pretty flower ring. The white lacquered petals are simple and chic. The glittery crystals in the middle look expensive and glamorous, especially since they are set in silver. This ring is a bold way to spice up your look for the office or a night out with your man.
---
5

Jet-Tone Crystal Floral Ring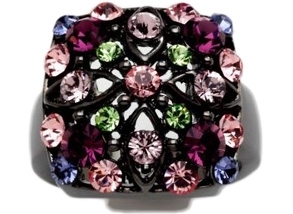 Price: $16.00 at kohls.com
You are bound to be noticed when you wear this sparkly piece! With five different colors, the rhinestones will catch the light every time you move your hand. It is simply beautiful and could go with anything! Add a pop of color to your little black dress with this chunky ring.
---
6

Petal Profusion Ring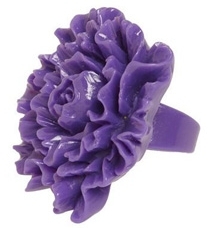 Price: $12.99 at modcloth.com
Violet is a hot color right now! It is the perfect shade of purple that will get you noticed in a hurry. This pretty ring has a floral style that is youthful and fun. Ditch the formal look and wear this ring when you want to be the queen of botanical beauty.
---
7

Octopus Ring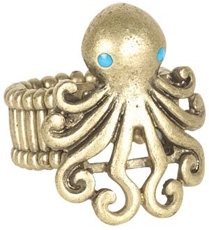 Price: $9.50 at store.delias.com
Add a nautical touch with this dazzling octopus ring. The turquoise eyes are a fun accent paired with the winding legs in a gold tinted metal. Wear it to the beach or wear it on a date. It will be a great funky accent to any outfit.
---
8

Kate Spade New York Date Night Stripe Ring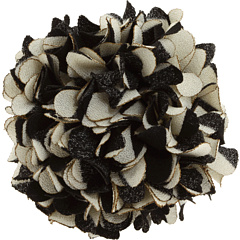 Price: $44.00 at zappos.com
Add some zing to your wardrobe with this beautiful ring. It is classic black and white in color, but the layered look is simply dazzling. Ruffles are a big trend right now and this ring has rows and rows of lush ruffles. It would be a great addition to your jewelry collection and you could wear it year round.
These 8 attention grabbing rings are just a few of the many designs available for jewelry lovers. Don't settle for simple bands and classic pearls. This season is all about chunky rings and bold designs. Add some fun to your jewelry collection with these fabulous rings. Where do you shop for rings and other great jewelry pieces?
More
---
Comments
Popular
Recent