If you don't have a 20-20 vision and you have to rely on "other ways" of getting it, finding stylish prescription glasses that are going to serve their purpose and do your physical appearance justice, might prove to be a very tricky thing. Neutral and rimless is always a good way to go in case you're not interested in making drastic changes although, sometimes, the effect of such changes might be well worth the risk. To be, or not to be… Well, I'd suggest "Be"! Be, live, look great, have fun and enjoy all benefits a new pair of stylish prescription glasses can bring you. And here are 8 lovely ones I'd like to share with you today:
---
1

Leila

Price: $79.00 at glassesusa.com
Marilyn Monroe once suggested that a "birthday suit" can be a perfect attire sometimes and seeing these almost non-existent and, yet, amazingly elegant glasses leads me to believe that there might be some truth in her words. We don't have to walk around naked or try to act sexy in times we don't feel like that, but we're allowed to use the "less is more" policy and pick prescription glasses that are lightweight and hardware-free enough to let out beautiful faces show and stylish enough to show that not having 20-20 vision can't get in the way of looking great, feeling great and doing great things.
2

Just Cavalli 121 Brown

Price: $110.00 at glassesusa.com
Cavalli eyewear is my soft spot, probably because I'm sporting this brand's prescription eyewear too! So, let me be completely honest now and admit that, although paying more for a pair of branded stylish prescription glasses isn't really necessary, it will get you a great, good quality product you'd never want to hide from the world. Some like square frames, others usually go for round ones so, if drastic changes are simply not your style, opt for this fabulous compromise solution for this fabulous price of just $110. And, let me tell you this – most Cavalli glasses I've seen were $150 and up so this price is really THAT good.
---
3

Tommy Hilfiger 3450

Price: $120.00 at glassesusa.com
Well this is one fabulously retro pair of totally stylish prescription glasses, I'll tell you that! Wish I've came across them sooner! But seriously, ladies, all these great looking glasses sometimes really make me rethink my decision and stop buying contact lenses completely! Yup, glasses can be a really cool accessory so I'd suggest a pair of those even if you're a dedicated fan of contacts. Your eyes could use a break once in a while.
---
4

Purple Haze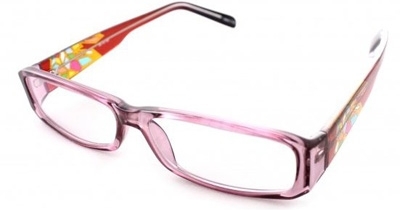 Price: $19.00 at perfectglassesusa.com
Colorful stained glass effect and a clear purple front give these glasses that "je ne sais quoi" thing you'll love. I'd totally get a pair of these to wear when I'm feeling creative and playful and, given their price, I think I might just do that. It's a small price to pay for a stylish accessory that doesn't only look good but help you see well, too.
---
5

Memphis 823

Price: $74.00 at glassesusa.com
This glamorous, fiery red, bedazzled pair of glasses will definitely make you want to try out some sexy red lipstick makeup looks or chic vintage pin-up styles and, honestly, I can't blame you! My new babies are bright red too and I've been experimenting with some new styles too! Yup, when it comes to new ideas and experiments, nothing works better than a new pair of stylish prescription glasses.
6

Calvin Klein 696F

Price: $145.00 at glassesusa.com
Here's another pair of red, although slightly different, babies to help your blood pump faster! They are gorgeous, stylish and sexy in that male-fantasy-teacher kind of way so, don't get too surprised in case you start getting an awful lot of coffee/dinner/movie invites.
---
7

Tommy Hilfiger 3428

Price: $130.00 at glassesusa.com
But let's not forget the neutral, always welcome white and this cool frame by Tommy Hilfiger. These plastic square frames are the hottest thing these days so if black, red or brown are just too much, opt for a white one and enjoy all the benefits of this neutral color and popular style.
---
8

Tommy Hilfiger 3368

Price: $120.00 at glassesusa.com
Good and Evil, Dr. Jekyll and Mr. Hyde, day and night, water and fire, Jin and Jang and, of course, black and white! So, writing about those gorgeous white prescription glasses while completely ignoring these black ones would be totally unfair. So take a peek and maybe even a walk on the dark side as this pair of glasses is definitely worth it.
So, tell me, ladies- which pair of these stylish prescription glasses could help you rise and shine and finally see things clearly? My vote goes to those stylish retro specs and bedazzled red ones.
---
Comments
Popular
Related
Recent