Waist Belts are great for adding extra definition to an outfit. Add a fresh twist to your favourite dress or blouse by cinching it in with a statement belt. For a particularly show-stopping look, choose waist belts with unique features and embellishments. Belts with decadent details are ideal for evening wear. Take a look at a few stunning waist belts below.
1

Maison Martin Margiela Mirror and Leather Belt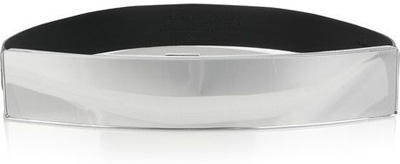 Price: $375.00 at net-a-porter.com
This waist belt has a sleek, minimalist design. The focal point is the mirrored curved front panel. This belt is made from black leather and has a concealed belt loop and adjustable push stud fastening. This belt would look especially dramatic when worn with a draped black dress.
2

Topshop Chain and Suede Inlay Belt

Price: $66.00 at us.topshop.com
This delicate belt features stunning chain detailing. It has a black suede inlay and gold chain link overlay. It is available in small, medium, and large sizes. You can easily wear these kinds of skinny waist belts chic skirt and blouse combinations. Team this belt with a leather circle skirt and printed blouse for an on-trend look.
3

Etro Wide Woven Cotton-Blend Belt

Price: $410.00 at net-a-porter.com
Add an ethnic-inspired twist to your outfit with this colourful woven belt. It's made from a dark red woven cotton-blend and has a leather and gold engraved plaque at the front. The belt also has a hook fastening clasp. It would look great paired with a kaftan-style maxi dress.
4

ASOS Metallic Obi Belt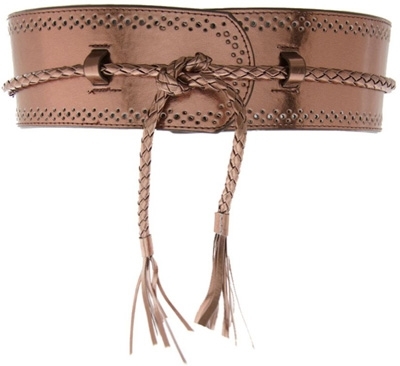 Price: $27.44 at asos.com
Really make a statement this season with metallic waist belts. This wide obi-style belt has a metallic leather-look finish with punched hole detailing and a plaited tie fastening. It comes in small, medium, and large sizes. Team this belt with a loose-fitting wrap dress for a stylish evening outfit.
5

Dolce & Gabanna Crystal Embellished Brass Belt

Price: $1125.00 at net-a-porter.com
This crystal embellished belt is a stunner. This decadent belt is made from brass chains and has multicoloured faceted glass crystals, filigree plaques, and faux pearls. It also features marbled green resin embellishments and a hammered brass drop. Wear this with a simple black dress to create an elegant cocktail ensemble.
6

Miu Miu Glitter Covered Leather Belt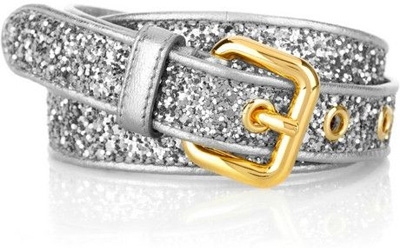 Price: $275.00 at net-a-porter.com
Glitter embellished accessories are hot property this season. Waist belts are a great way to work the trend. This belt is made form silver leather and has all over glitter covering and a gold buckle fastening. Wear this belt with a neutral shirt dress for a cool everyday look.
7

Roberto Cavalli Scale Effect Metal Waist Belt

Price: $1910.00 at net-a-porter.com
Metal waist belts are a great way to add drama to an outfit. This belt has a scale effect design and comes in a burnished gold finish. The belt is open at the back and simply slips on. Wear this with a flowing Grecian-inspired dress for a chic take on eveningwear.
Waist belts don't always have to be bland in black or tan leather. Add some extra 'oomph' to your outfit with a statement making belt. Waist belts with metallic finishes and embellishments are just one such way to add a glamorous twist to an outfit. Which of these waist belts are your favourites?